Spend time outdoors in Singapore exploring new places and having new experiences together as a family. With so many parks, places and attractions all over the island, there is no excuse for families to enjoy outdoor activities together with kids in Singapore.
Not only would you be able to get a dose of Vitamin D, but you can enjoy a mix of fun and adventure at the same time. Outdoor time is great when you want to get the children away from being glued to the screens or when you want to get in some exercise.
We unpack a massive list of 120 different fun and exciting outdoor activities and adventures in Singapore for families and kids.
---
Outdoor Activities & Things To Do in Singapore For Kids & Families
---
-- Story continues below --
Parks
Singapore is blessed with so many parks and outdoor green spaces that you can explore. We are confident that we have one of the largest lists of parks in Singapore here. Here are some of our favourites.
1. Fort Canning Park in the middle of town has a wonderful mix of history and nature. Pay a visit to the old colonial structures around the hill, including the Forbidden Spring, and the picture-worthy Sang Nila Utama Gardens. Get upclose to a lighthouse, learn about a time ball and more.
2. Enjoy the open space of Bishan-Ang Mo Kio Park and take a walk down to the naturalised river that runs through the park to go in search of fish.
3. East Coast Park offers sun and surf. It is a favourite spot for family outings and since it is such a long stretch of park, you can surely find one where you can settle down and enjoy it to yourself. There are also dining options at the park at various hub such as the Lagoon Food Centre; you will never be far away from food and fun.
4. Changi Beach Park is an idyllic location where the coconut trees sway with the wind blowing onshore. It is a good place to do some plane spotting, or take a picture with the sculpture, Inscription of the Island.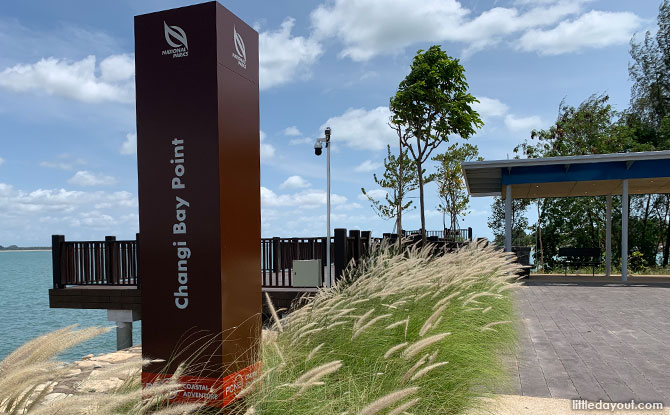 5. One of the latest outdoor spots to open, Changi Bay Point can be reached from the eastern end of Changi Beach Park. Dubbed Jeju in Singapore, you can get some nice scenic views on a walk or a cycle to the lookout point at the bay.
6. An island that we've always associated with adventure is Pulau Ubin. Take a ferry across from Changi Point Ferry Terminal and you will find yourself taken back in time. There are plenty of attractions at Pulau Ubin that you can easily spend the day there. Visit Chek Jawa or take an outdoor hike to Puaka Hill. It's a great way to take the family to experience the outdoors.
7. To get a dose of nature, pay a visit to Coney Island Park. You can pay a visit to its various beaches or have some fun at the Casuarina Explorer. Just be sure to leave be the gates to the island close in the evening.
8. Lorong Halus was once a refuse dump and a sewage ground. However, it has now been turned into a picturesque wetland which you can visit with birds and jets flying overhead.
9. Popular with birdwatchers, Hampstead Wetlands Park may be small but you are more than likely to be able to spot a less common bird or two at the Seletar Aerospace Park. Once you have finished paying it a visit, head over to The Oval for another outdoor experience – watching the planes from the boardwalk overlooking the Seletar Airport runway.
10. Sembawang Hot Spring Park is one of the most unique parks that you can visit in Singapore. When visiting, take along some eggs and a mug to make your own soft-boiled eggs, or just enjoy a soak at the warm waters of the spring.
11. The leafy Sembawang Park is an outdoor expanse in Singapore which exudes old-school charm. From the old dice motifs found all over the park to the beach, jetty and charming Beulieu House, it is always a pleasure to visit this seaside park. Kids will, of course, love the outdoor battleship playground.
12. Pay your respects to those who made the ultimate sacrifice at the Kranji War Cemetery. It is a tranquil place for quiet reflection of the past.
13. Head over to the quarry view at Bukit Batok Nature Park. Walk under the shade of mature trees while exploring the many paths criss-crossing the park.
14. Climb the space age rocket tower at Upper Seletar Reservoir Park. A popular picture spot is by the iconic tree facing out towards the reservoir waters.
15. While Admiralty Park maybe known for the many slides at its playground, we think that it is also well-worth taking a walk through the park's nature area. Enjoy the outdoors as you walk beside Sungei Cina and pay a visit to the mangrove boardwalk too.
16. You will feel as if you could almost reach out and touch Johor Bahru from Woodlands Waterfront's Jetty. Admire the catches of the fishermen or take a walk along the promenade where there are views of the causeway.
17. For a bit of a challenge, take a hike along the Mandai T15 Trail. This stretches from Mandai Road to Bukit Panjang. Do keep an eye out for mountain bikers as it is a shared track.
18. An urban outdoor spot that you can visit is the Pang Sua Pond and its floating wetlands. Together with its neighbouring Bukit Panjang Neighbourhood 5 Park, it provides a little spot of nature in the midst of an urban landscape.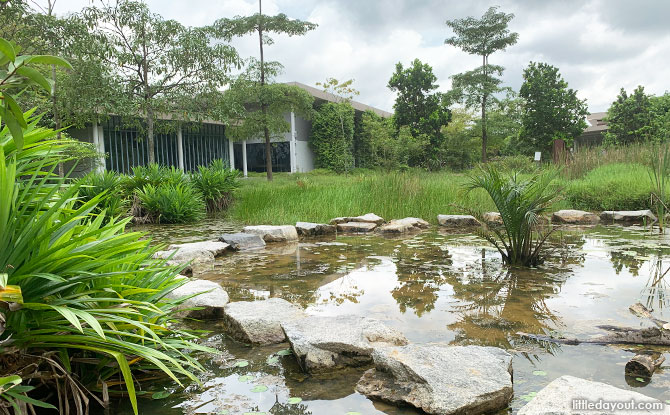 19. Hugging the coast in the northeast of Singapore, Kranji Coastal Nature Park has outdoor trails and boardwalks which families can enjoy together. From the park, it is also possible to pay a visit to the neighbouring Kranji Reservoir Park, a historic location in World War II.
20. Take the main bridge across the Buloh Besar River and you will find yourself at Sungei Buloh Wetland Reserves. The Reserve is a haven for birdwatchers, especially during migratory season. Or, you can try your luck and see if you can spot the legendary croc Tailless.
21. Climbing Bukit Timah Hill is a rite of passage for every local Singapore resident. Start the trek at the bottom and make your way up to the summit to take a picture with the elevation marker. There are also different trails crisscrossing the Bukit Timah Nature Reserve for the intrepid to explore.
22. Don't want to endure the climb up Bukit Timah Hill? At the foot of the hill is Hindhede Nature Park. This is an easy outdoor walk which even families with kids in strollers can do. The payoff is a view of the Hindhede Quarry.
23. Chestnut Nature Park has different sets of outdoor trails which families can explore. The park has separate trails for mountain bikers and hikers, making it safe for those out for a jaunt.
24. Pay a visit to the Wallace Trail or walk over to the Singapore Quarry lookout point. Or stop by the exhibition to learn about flora and fauna. These are some of the highlights of a visit to Dairy Farm Nature Park.
25. A walk through Thomson Nature Park will take you past the remnants of an old Hainanese village. Learn about the residents who once lived there and keep your eyes peel for a chance to spot the rare Raffles' banded langur.
26. Windsor Nature Park has boardwalks and nature paths which run past freshwater streams. Enjoy the sounds of nature all around, including the melody of the running water, as you take an easy walk through the park.
27. For a dose of outdoor adventure in Singapore, take hike out to the TreeTop Walk. Suspended between two of the highest hills in the Central Catchment Area, the 250 metre suspension bridge will provide you with a birds eye view of the surrounding area.
28. MacRitchie Reservoir Park is a good starting point for exploring the Central Catchment Area. Even if you don't wish to do the entire loop around the reservoir, you can still take a stroll along the boardwalks on either side of the park to admire the views of the water.
29. Besides being one of the most well-kept parks in Singapore, the Botanic Gardens also has many themed outdoor gardens that you can explore. These range from the prehistoric looking Evolution Garden to the Bonsai Garden, you can spend plenty of time exploring this treasured park.
30. West Coast Park may be well-known for its playground but there is much more to explore. Head over to the tranquil pond or step into the Marsh Garden to experience a different side of the popular park.
31. Head down to the pond or walk along the Canopy Walk at Kent Ridge Park. Be prepared for some climbing as you make your way around the park.
32. Kent Ridge Park is also the starting point for one of our favourite outdoor activities in Singapore, walking the Southern Ridges. Make the descent from Kent Ridge Park to HortPark and head eastwards towards Mount Faber.
33. The highlight of Telok Blangah Hill Park is undoubtably the Henderson Waves pedestrian bridge and its views. Other highlights include its therapeutic garden and the bougainvillea terraces.
34. Mount Faber Park is a wonderful lookout point. To get a workout, climb the stairs of the Marang Trail. Be sure to head up to Faber Point at the very top of the hill.
35. Not many may know that there is an outdoor nature trail at Sentosa. If you are looking for a free and easy walk, take the Imbiah Nature Trail, which also heads past the ruins of Fort Imbiah. End your journey at the Coastal Trail on the northshore of Sentosa island.
36. Labrador Nature Reserve is a seaside park with a nice promenade. Take a walk from the Bukit Chermin boardwalk to the Labrador Jetty and enjoy the breeze blowing in from the sea.
37. Take a walk around Jurong Lake Gardens and enjoy the view from places like the Rasau Walk or the recently opened floating wetlands. Once of the most scenic spots is the Grasslands with its iconic Lone Tree.
38. Bukit Gombak Park can be found on a low hillock. Climb up the hill and be rewarded with a nice view and pay a visit to its butterfly garden too.
39. Yunnan Garden at Nanyang Technological University has pavilions along with stroller friendly paths. Stroll beside the outdoor Nanyang Lake and enjoy its unique playground too.
40. Take a walk along the Rail Corridor. It can be attempted in different stretches, for example, from Rail Mall to Bukit Timah Road, or Holland Road toward Tanjong Pagar and the Wessex Estate.
41. Hop on board a boat and make the trip over the water to St John's Island. The island is a great place to escape from mainland Singapore and to get outdoors under the sun. The good news is that there are plans for a bike rental kiosk to be set up on the island, making it easier to explore and get around.
42. Connected to St John's Island is Lazarus Island which has one of Singapore's nicest beaches. The crescent-shaped stretch of sand is an idyllic spot for some family time; be sure to pack a picnic basket and mat to enjoy the island life.
43. Kusu Island is yet another offshore island close to St John's Island. While it is a smaller island than the others, it has several landmarks like a turtle sanctuary, Chinese temple and a Malay shrine.

---
Attractions
44. Hay Dairies Goat Farm in the Kranji Countryside is a great place to bring your kids to see other kids – of the goat variety. Buy some alfalfa to feed them – the goats, not your kids. You can even purchase goats' milk and goats' milk popsicles too.
45. Also at the Kranji Countryside is the Jurong Frog Farm. Even if you are squeamish, a visit to the farm can be "ribbiting".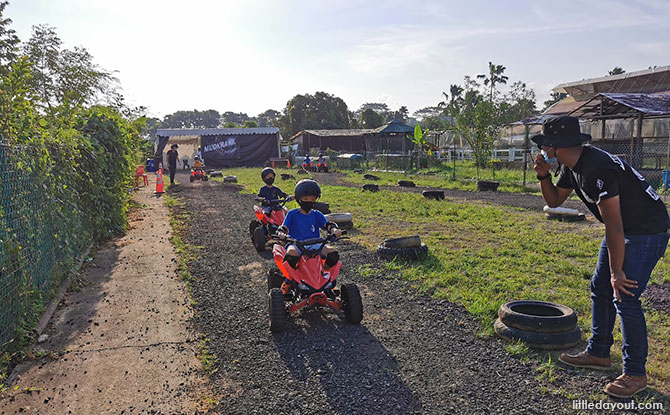 46. Not afraid to get dirty? Hop onboard an ATV at MudKrank. There are ATVs for children and adults; everyone can unleash their inner kid at this outdoor activity in Singapore.
47. Pay a visit to The Live Turtle and Tortoise Museum and have fun feeding the shellbacks who are wandering around. It can be plenty of fun for everyone.
48. When was the last time you rode on a pony? Gallop Stable offers them. Kids can go on a pony ride at Horsecity in Bukit Timah while both Horse and pony rides are available at the Pasir Ris stables.
49. Cycle out onto the water at Water Bike SG. Located at Pasir Ris Park, Water Bike SG offers a unique way to experience the water.
50. Feel the need for speed? Step on the pedal at a go-karting circuit around Singapore. There are different options to choose from, including electric go-karts.
51. Pay a visit to the Singapore Zoo and meet your favourite animals. This is a great place for families with kids, or just about anyone looking for something fun to do.
52. Kai Kai, Jia Jia and Le Le may have air-conditioning at River Wonders but the majority of the park is outdoors. Go on a river cruise or see amazing creatures like the giant Mekong catfish.
53. When night falls, head into the jungles at Night Safari to see the animals at their nocturnal best. Take the tram or, better still, explore the outdoor walking trails on foot.
54. Pay a visit to Jurong Bird Park before it vacates its location and moves to Mandai. Some of our favourite outdoor activities to do at the Park include feeding the birds at the African Treetops and paying a visit to the Waterfall Aviary.
55. For some thrills, take on the outdoor obstacle course at Mega Adventure or strap into a zipline and fly your way on a fast trip to the beach.
56. Skyline Luge Sentosa offers plenty of fun. Let gravity take you downhill as you skilfully negotiate the twists and turns of the course. Book tickets to Skyline Luge Sentosa here.
57. Ride the SkyHelix Sentosa into the air for panoramic views of the coastline and waters off Singapore's southern shores while sipping on drink. It is an exciting way to fly into the sky.
58. Gardens by the Bay's Outdoor Gardens are filled with nooks and crannies that you can explore. We like the Topiary Garden and you can also pay a visit to the new Kingfisher Wetlands close to Satay by the Bay too.
59. Enter the world of myths and legends at Haw Par Villa. Learn about the history of the Villa and take pictures amongst the many unique dioramas.
60. Diggersite offers kids a chance to operate real machines (under watchful supervision, of course). Put on a safety helmet and get ready to rumble.
61. Fort Siloso is Singapore's only preserved coastal fort. Explore its tunnels and learn its history as you roam around the different structures and guns at the fort.
62. Fort Pasir Panjang is the sister fort to Fort Siloso. Explore its ruins and imagine what it must have been like to be stationed at the fort on the eve of World War II.
63. Make your way from tree to tree at Forest Adventure, Bedok Reservoir Park. There are various courses with varying levels of challenge. It can be quite a fun family challenge to do together.
64. Make a splash at Wild Wild Wet at Downtown East. Float along the Lazy River or take one of the thrill rides and slides. Younger kids have a water playground while older ones can try rides like the Royal Flush. Book tickets to Wild Wild Wet here.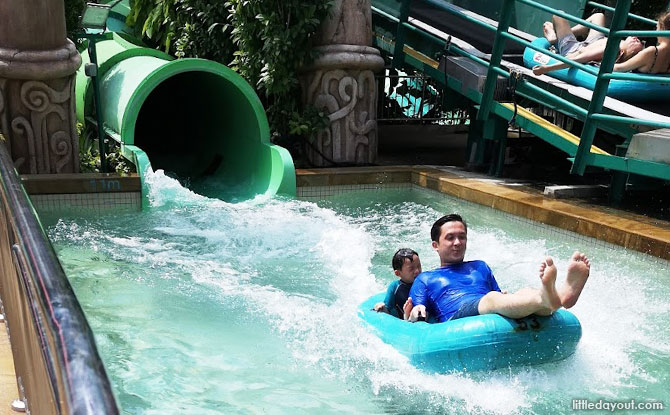 65. Head to Adventure Cove Waterpark if you want to go on a magnetic water rollercoaster or snorkel with fishes. In addition to the water slides, the Adventure River and wave pool are fun too.
66. Numerous public swimming pools in Singapore have outdoor slides too. Some of our favourites are the ones at Jurong East Swimming Complex and Sengkang Swimming Complex.
67. Sticking to the water theme, take on Singapore's first floating aqua park – Hydrodash. There are four different courses available for challengers to scramble over and bounce on.
68. Duck Tours combines the experience of riding an amphibious vehicle on land and in the water. Make a splash on tour of the Marina Bay area from the water.
69. Head out to say "hi" to the dinosaurs along Changi Jurassic Mile. If possible, we recommend cycling there even though you can also walk there. If you or your kids are fans of the Spinosaurus, don't miss out on the moving one closer to T2.
---
Outdoor Activities
70. If you want to go pedal boating, head down to PAssion WaVe at the Kallang Basin for a relaxing time on the water. The Singapore Discovery Centre also has a facility for paddle boating on its lake, but only on certain dates.
71. Those who prefer to kayak, there are also PAssion WaVe locations where you can rent a kayak and take to the water, mainly at the reservoirs. Or, join a kayaking expedition to explore mangroves around Singapore from the water.
72. Singapore is becoming ever more connected. Park Connector Networks and initiatives like the Round Island Route mean that it is easier than ever to go on cycling adventures. Rent a bike or use your own to pedal about and explore.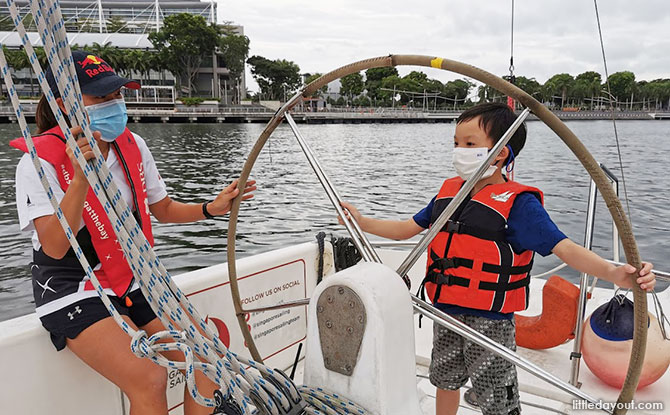 73. It may be hard to get hold of tickets to DBS Sailing at the Bay but when you are able to, you will have a fun time to remember out on the water. The sailboat is a SM40 or Swedish Match 40 and you will be guided to help with the sails and even helm the boat.
74. Give wakeboarding a try at Singapore Wake Park, a cable ski park at East Coast Park. If you are new to the sport, be prepared to take a few splashes and spills but it will be worth the satisfaction once you are able to stand up on your own.
75. Go rock hunting with the kids around the parks in Singapore. Join Facebook group SG Rocks to get the latest on where to go hunting at the parks.
76. Fire up the app and get geocaching with the family. Navigate your way around to located little treasures hidden around Singapore in this outdoor activity.
77. Explore a mangrove ecosystem by the coast. By far, our favourite place to do so is at the mangrove boardwalk at Sungei Buloh Wetland Reserve.
78. Come face to face with mudskippers and other inhabitants of the swamp at the Mud Experience at Sungei Buloh Wetland Reserve. You may have to look hard to spot them but once you do, you'll be able to seem them hopping about.
79. Be whisked away by boat to Smith Marine kelong and enjoy sumptuous seafood in a unique setting over the water.
80. Take a relaxing cruise down the Singapore River and enjoy the sights. While it may be seem touristy, there's nothing wrong with playing the tourist in Singapore, right?
81. Enjoy magical twinkling lights and music at the Garden Rhapsody light show at Gardens by the Bay's Supertree Grove. It is a nice, outdoor, after-dinner activity, especially if you are in the Marina Bay area.
82. Enjoy the world on a string as you launch a kite into the sky. Be sure to go kite-flying at places where they are allowed. Our two favourite spots are at the Green Rooftop at Marina Barrage and the Grand Lawn at West Coast Park.
83. If you are feeling adventurous, try stand-up paddling, a test of your balance and agility. It is a unique way to stand on the waves. Ola Beach Club offers stand-up paddling rentals for those who wish to give it a go.
84. Grab a rod and go fishing at designated spots around Singapore, in a kayak or out at sea. Popular places include Bedok Jetty and Labrador Jetty. Or you can head over to the fishing pond at Pasir Ris Town Park.
85. Kids can enjoy a bit of fun longkang fishing with nets. This outdoor activity can be enjoyed at places likes ORTO and on the rooftop of Bugis+.
86. Prawning is one way to spend the time outdoors. Prawning ponds can be found at ORTO and the ATC Fishing Village at Jurong Hill.
87. If you want to have some beach time, one of our favourites is Tanjong Beach at Sentosa. It may be harder to get to but it is worth it. Other beaches include East Coast Park and Sentosa's Siloso Beach.
88. Help to keep the community clean by organising your own community litter picking efforts. There are even CleanPods in parks like Jurong Central Park and Tiong Bahru Park so that you don't need to take along your own cleaning equipment.
89. Organise a beach clean-up and help to keep Singapore clean and green. It is fun outdoor activity that family and friends can do together while also having a meaningful time. There are also CleanPods at Changi Beach Park and East Coast Park.
90. Feel the wind in your hair as your set sail under canvas on board a tall ship. Join a cruise to view the city lights and have dinner on the Royal Albatross. Find out how to book here.
91. If you wish to have your own private cruise, book a yacht tour around the Southern Islands. Your skipper may also take you to some of Singapore's lesser-known islets and drop you off for a picnic on a sandy beach. Get more details here.
92. Looking for a unique way to explore the Marina Bay area? Make your way around on two wheels – a mini Segway. Find out how to book here.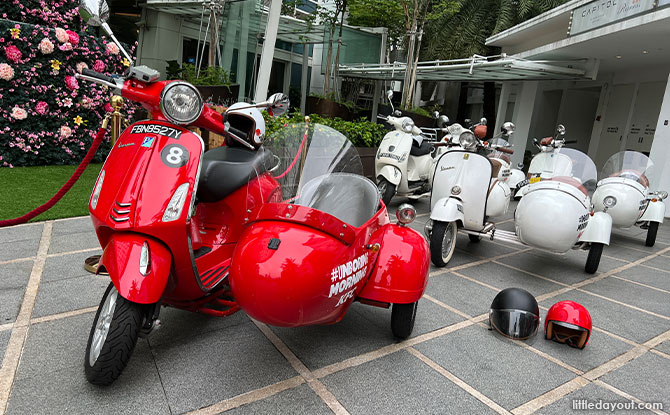 93. Get to view the world from a new angle on board a Vespa sidecar. Take a cruise around different neighbourhoods and discover Singapore's heritage. It is a unique, outdoor experience for the family. Find out how to book here.
94. Keep a look out for outdoor concerts around the city. Check out what's on at the Esplanade – Theatres on the Bay's Outdoor Theatre or for upcoming NPark's events at Singapore Botanic Gardens or Fort Canning Green.

---
Playgrounds
Here's a list of our favourite playgrounds around Singapore; we're sure that many of these will be yours too. We dare say that we have the largest list of playgrounds in Singapore. You can find the list of playgrounds in Singapore here.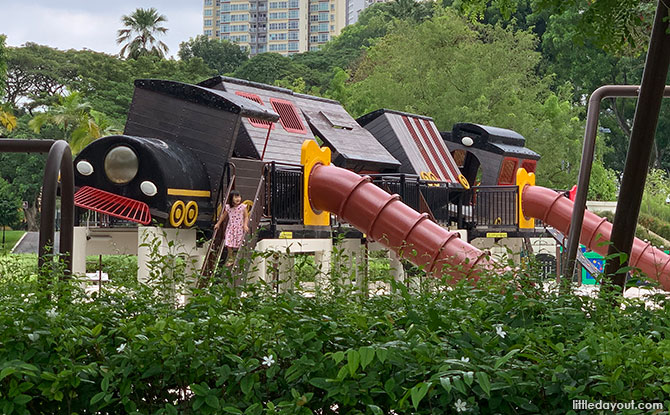 95. Go crazy onboard the crazy train at the Tiong Bahru Park Playground. Step into the whacky train and experience some tipsy-turvy fun making your way from one end to the other. There are slides which kids can enjoy too as they navigate their way around the train.
96. The huge adventure playground at West Coast Park offers plenty of outdoor fun for families. Grab a shaded spot under the trees before exploring the many different play areas found at the playground.
97. Commune with nature at Singapore Botanic Gardens' COMO Adventure Grove at the Gallop Extension. From climbing over a giant cempadek to scaling through the fig tree play structure or climbing up the supersized sago seeds, there are plenty of opportunity for outdoor adventures at the COMO Adventure Grove.
98. Also at Singapore Botanic Gardens is the Jacob Ballas Children's Garden. There are multiple play areas within the Children's Garden but our favourite spot has got to be the tree house. Beside playing at the playground, kids and families can explore different areas and learn about plants too.
99. Based on the movements of animals found in a freshwater swamp, the Forest Ramble playground has so many different ways for kids to play. Go hopping about or pretend to be an otter finding its nest. Just next to it the Butterfly Maze and learning area for kids too.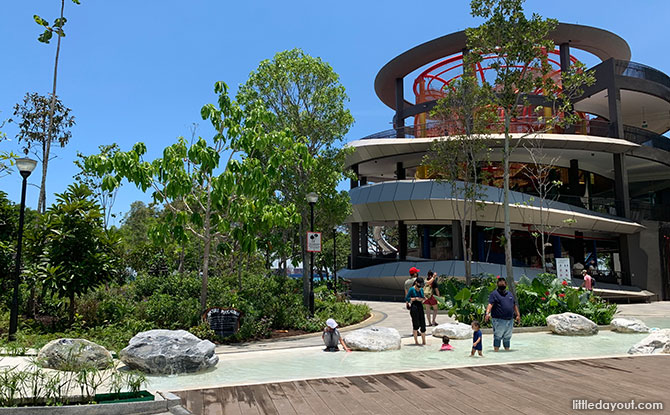 100. The highlight of Coastal PlayGrove at East Coast Park is its play tower. Climb up the nets at the centre of the tower and swoosh back down using one of two slides. There is also a water play area and nature playgarden at Coastal Playgrove.
101. Marine Cove at East Coast Park has a play structure inspired by a lighthouse. Kids can climb their way up the tower for a bit of fun, not far from the beach.
102. At the foot of Fort Canning Park is Jubilee Park. Have fun at a log scramble before moving on to some interesting seesaws and slides which make use of the natural terrain of the park.
103. The Pasir Ris Park playground is a well-shaded playground where kids can enjoy going from climbing obstacles to swings and other play structures. It has the bonus of having the beach nearby too.
104. Climb onto a butterfly playground at Marsiling Park. It is one of several at the park where kids can have fun challenging themselves. The rest of the park is nice to explore as well – from its Chinese pavilions to its lookout tower.
105. If you find yourself in town and looking for an outdoor playground for the kids to pass some time, head over to the Esplanade Park playground. It is has an old-school feel and there is a wall of bells where you can make some music too.
106. Elevated playgrounds can be found in locations like Jurong, Tampines and Bukit Batok. These are great fun for kids and allows them to practice their climbing skills as they make their way up to the elevated platforms.
107. Taman Jurong Park has an interesting "play curl" outdoor playground. The neighbourhood park also has toddler play areas for younger ones and wooden obstacle course too.
108. Fuji Hill playground in Bukit Batok has different play areas for kids of different ages. The highlight would be the slide tower where kids can slide from the upper section of the hill to the bottom.
109. Buangkok Square Park playground is a little village on stilts. There are play areas that cater to both older and younger kids.
110. Nature playgardens is how NParks describes their nature-based playgrounds. Many of these are made up of simple natural materials. They can be found all over the island including places like Yishun Park, HortPark, East Coast Park, Pasir Panjang Park and one-north.
111. Vertical playgrounds are a unique type of playgrounds which make use of a very small footprint. Also known as Wallhola playgrounds, they can found all around the island. Find out where here.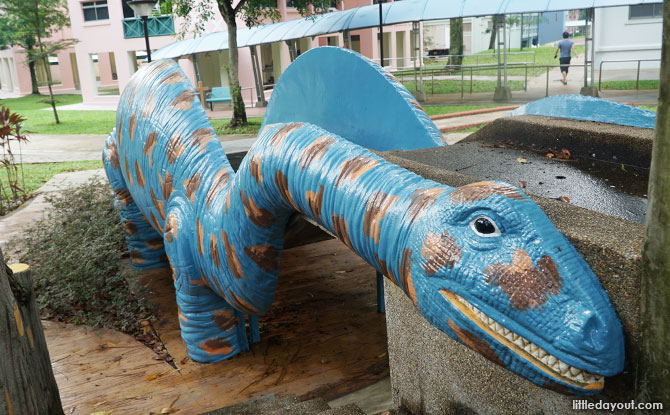 112. Have a dino-crazy kid? Or simply looking for a unique place to visit? Fu Shan Garden has a sculptures of dinosaurs littered all over a hillock.
113. Canberra Park is tucked away in the Sembawang neighbourhood but it has plenty of different swings which can be enjoyed. These range from swings that riders can stand on to swings which face each other. Plus, there's a rope obstacle course too.
114. Want to discover more heartland outdoor playgrounds in the neighbourhoods? There are plenty of interesting ones around for a little day out without having to venture too far. Some unique heartland playgrounds include Toa Payoh Crest, the grasshopper playground at Woodlands, the colourful treehouses at Yishun N8 Park and the Alice in Wonderland playground at Dawson. We also like the Circle Green Park playground. We have an entire list of the best heartland playgrounds here.

---
Neighbourhoods to Visit Explore
115. Go on a Chinatown mural hunt for a fun day out. Many of the murals, especially those by artist Yip Yew Chong, have spots where you can pose as part of the mural.
116. Little India is also filled with colourful murals and historic spots. Take in the sights and sounds of the historic district while learning about its history from the heritage markers on a heritage trail.
117. Kampong Glam is yet another historic district where you can enjoy its charming atmosphere. There are plenty of shops to peer into and visit as well.
118. Wander along the five-foot ways at Joo Chiat to soak in its old-world charm. You will be tempted be the food choices at this eastern neighbourhood, which include popular eateries like Chin Mee Chin.
119. The Tiong Bahru neighbourhood has some of the most interesting architecture in Singapore. Pay a visit to sights around the neighbourhood like an old air raid shelter and its charming buildings.
120. Changi Village has a laidback vibe. Besides trying out the nasi lemak at the hawker centre, you can also use it as a starting point for walks to the park or to explore the old colonial buildings in the neighbourhood.
This story contains affiliate links. This means we earn a small fee if you purchase something through a link from our website. There is no additional cost to you and goes towards supporting Little Day Out's efforts to deliver the best news and reporting for families.