Marina Barrage is an iconic location for those seeking to go kite-flying for its gusty winds and wonderful view. Discover why kite-flying at Marina Barrage is so popular and what else there is to do there. 
Kite-flying has always been associated with carefree days.
As far as iconic kite-flying places go, few locations in Singapore compare to Marina Barrage.
Kite-flying at Marina Barrage
With the scenic Singapore skyline as a backdrop, the Marina Barrage's well-kept Green Roof is a haven for kite-flyers. Gusty winds coming off the shoreline help guide kites from eager hands into the open skies.
---
-- Story continues below --
On weekends, you will find groups of people converging on the rooftop. From teenagers celebrating birthdays to overseas tour groups admiring the view from the Barrage. It is also a popular spot for fireworks-watching on National Day.
Of course, there are plenty of families at the Green Roof too. Kite-flying provides a welcomed alternative to the kids being cooped up at home in front of the TV.
For the uninitiated, Marina Barrage is a dam designed to blockade the Marina Channel, the point where the Singapore and Kallang Rivers meet the sea. By keeping the seawater out, the Marina Barrage creates the Marina Reservoir.
Getting to Marina Barrage
The Barrage is a short distance from Satay by the Bay, and accessible on foot or by car. It also serves to link Gardens by the Bay with Bay East Garden (across the water on the East Coast Park side of the Marina Channel). In fact, it is possible to walk or cycle across the Barrage to get from one side to the other.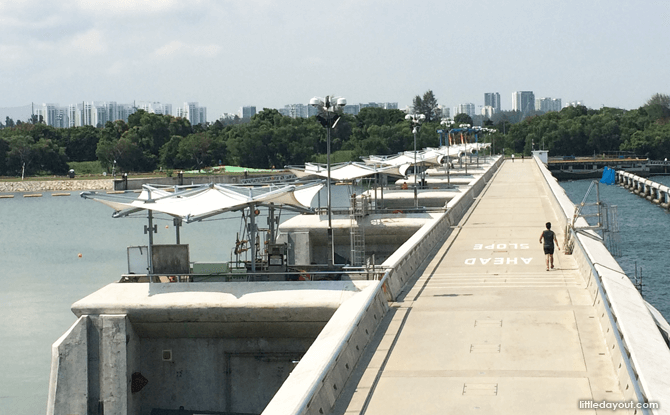 Marina Barrage houses a pumping station (which you can stare at through a glass wall) and theSustainable Singapore Gallery. The latter is divided into six smaller galleries. These collectively tell the story of Singapore's need for water resources and the efforts to secure the country's "national taps" for the future.
One level above the Sustainable Singapore Gallery is the roof garden. On a good day, you can view kites of all shapes and sizes taking to the air, both from the roof and surrounding areas.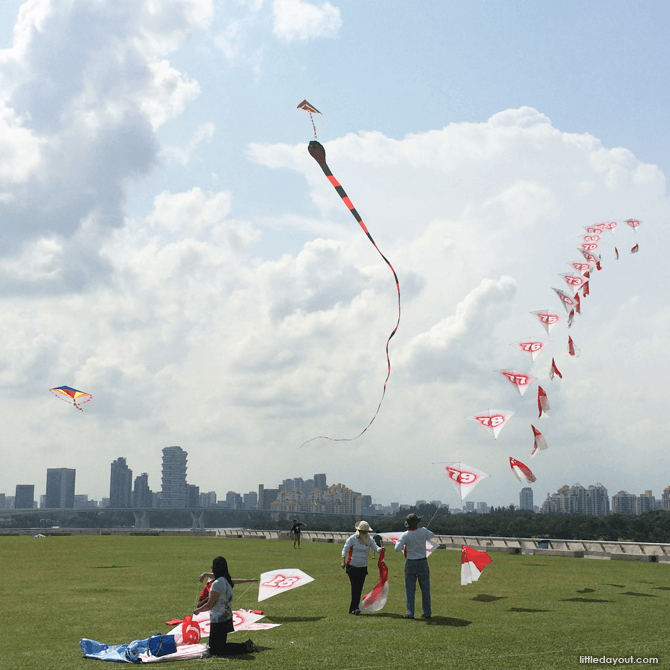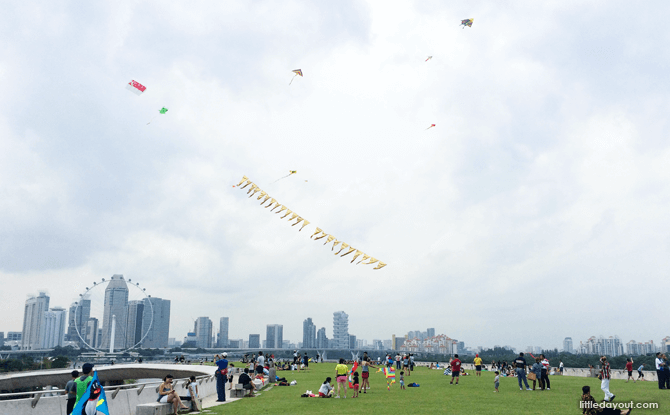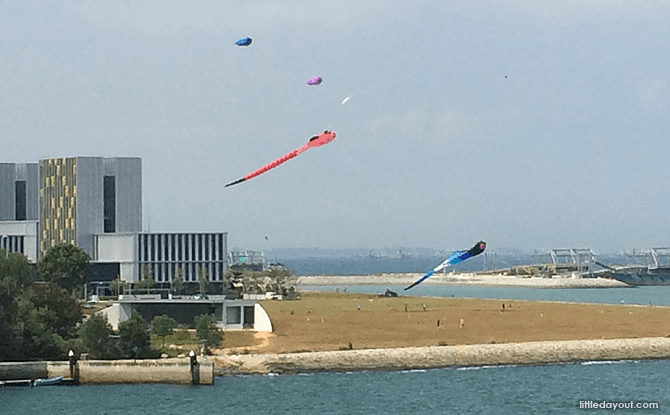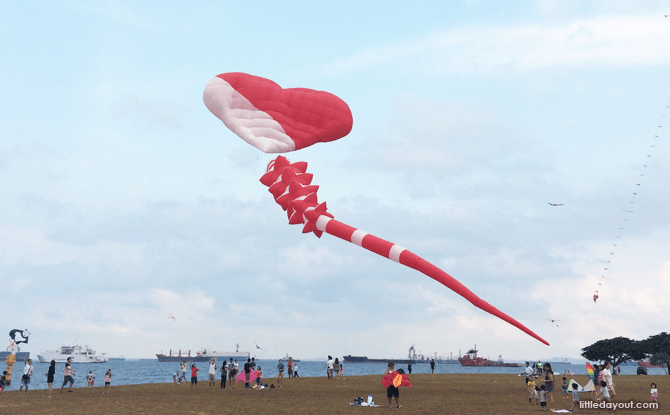 Kite Shop at Marina Barrage
If you haven't brought your own kite, Barrage Cove, a shop on the ground floor stocks a wide variety.
Choose from angelfish, ladybirds, squids, snakes and many more. These start from around $22 for a basic 1.2-metre wide kite and go upwards of $80 for large kite suitable for advanced enthusiasts. Don't forget to factor in the cost of a line and reel too. It costs $9 for a cotton string reed or $13 for a nylon-stringed one.
Barrage Cove sells other conveniences like Solero ice cream, scooters and even solar-powered hats too.
Of course, there is nothing stopping you from bringing your own kite to Marina Barrage either.
Flying High
If you are new to kite-flying, you probably need to know that even in a place as windy as Marina Barrage, some effort is required to get a kite up into the sky.
While some attempt the age-old method of sprinting like a roadrunner to propel the kite into the air, it is probably better to wait for a good gust of wind to pick it up instead.
Launching the kite makes for a fun parent-child activity. Just be sure to add some patience and persistence to get the kite flying.
Thankfully, all the effort pays off once the kite heads to the sky. By then, as the Frank Sinatra song goes, you'll have the world on a string and be sitting on a rainbow.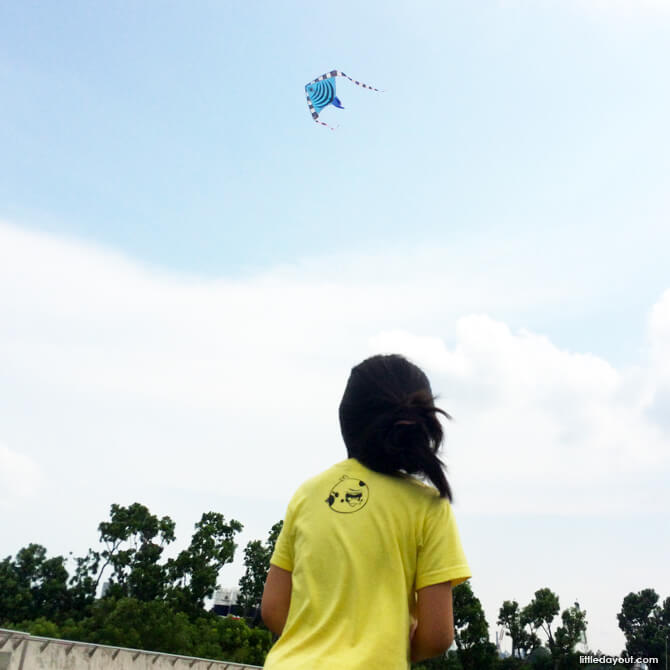 Other facilities at Marina Barrage include a children's water play area and two restaurants, Sembawang Eating House and Bottle Tree Seafood Restaurant.
With the large open space found at Marina Barrage and connections to both Gardens by the Bay andBay East Garden, it makes an ideal starting point for cycling and scootering too.
Have a wonderful day out!
Marina Barrage
Address: 8 Marina Gardens Drive, Singapore 018951
Website: www.pub.gov.sg/marina
Information Counter Opening Hours: 9 am to 9 pm; Phone: 65145959
Sustainable Singapore Gallery Opening Hours: 9 am to 9 pm; Closed on Tuesdays; Free admission.
Barrage Cove: Mon to Fri – 10 am to 6.30 pm, Closed on Tuesdays; Sat, Sun and PH – 10 am to 8 pm; Phone: 62249012