Looking for activities for this weekend? There is plenty going on in Singapore over the weekend of 23 and 24 September 2023. We've put together a list of ideas and suggestions of things to do this weekend in Singapore that include festive lights up and exhibitions.
---
What to Do This Weekend in Singapore: 23 & 24 September 2023
KPMG Wellness Garden
Take a breather at the new KPMG Wellness Garden at East Coast Park. This multigenerational garden is divided up into four zones, including a children's nature playgarden with a sand play area, and a pond trail.
Find out more about the KPMG Wellness Garden.
---
-- Story continues below --
---
Carnival by the Bay 2023
Marina Bay's signature event of 2023 – Carnival by The Bay will be held on 22 and 23 September 2023 at The Lawn @Marina Bay, from 5.00 pm to 9.30 pm.
The carnival ground will be open from 5.00pm on both days with interactive arcade games, and exciting inflatables. An ideal evening outing for adults and children. Movie screening will start after sunset at 7.30 pm.
Get more details about Carnival by the Bay 2023.
---
Now is Not the Time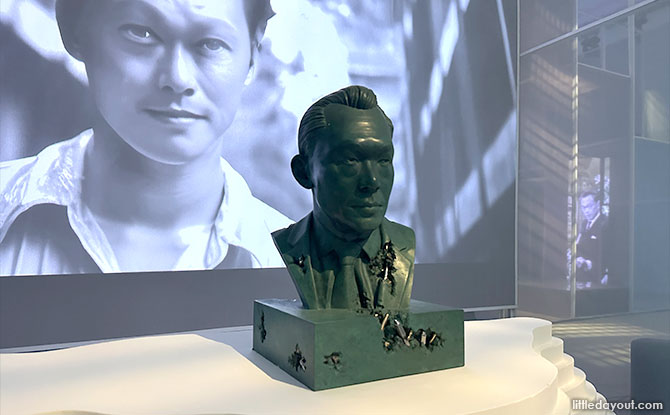 An exhibition that reflects on the life of Mr Lee Kuan Yew on the 100th anniversary of his birth on 16 September 1923, Now Is Not the Time celebrates the legacy of Mr Lee Kuan Yew through technology, film, music, sculpture, augmented reality, generative art and more. It is organised and produced by virtual production and animation house X3D Studio.
Do take note that there is an age restriction and the exhibition is open for ages 13 years and above.
Get more details about Now is Not the Time.
---
Parks Festival 2023
NParks' Parks Festival on 23rd & 24th September 2023 at West Coast Park. Experience a variety of park activities, installations, and immersive nature experiences at West Coast Park as well as other satellite programmes happening at other parks and nature spaces in Singapore.
Get more details about Parks Festival 2023.
---
NParks Concert Series in the Park: Rockestra
Local acts 53A, Jukuleles and SuperSonic will be energising the stage at the Grand Lawn of West Coast Park together with host Justin Misson at Rockestra on 23 September 2023, 6.30 pm. Sing along to your favourite tunes from Backstreet Boys, Britney Spears, Ricky Martin, Foo Fighters, Jennifer Lopez and the like. Soak in the atmosphere and groove down to party beats like it was 1999! This concert is part of Parks Festival 2023.
Get more details about this September edition of Rockestra.
---
Gardens by the Bay Mid-Autumn Festival 2023
Based on the theme Garden of Blooms, this year's Gardens by the Bay Mid-Autumn Festival will be one where family and friends can capture beautiful memories with lanterns inspired by Chinese mythology and bond over food and fun. There will be multiple lantern sets around the Gardens.
Get the details about Gardens by the Bay Mid-Autumn Festival.
---
Out of the Blue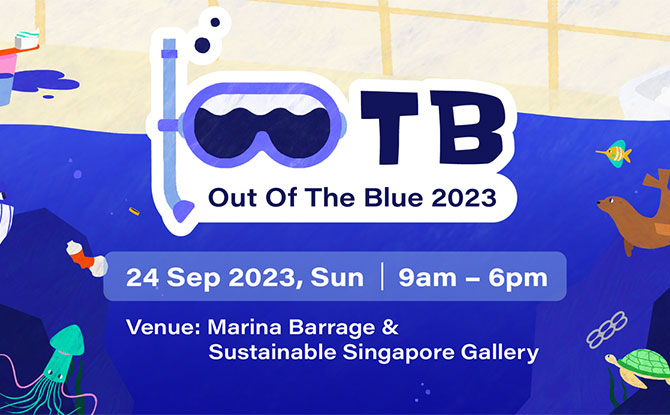 The Sustainable Singapore Gallery's Out Of The Blue event on Sunday, 24 September 2023 will feature activities like games and workshops on upcycling. It aims raise awareness of the marine life that exists in the waters surrounding Singapore and how we can improve these waters.
Get more details about Out of the Blue.
---
Lights by the Lake 2023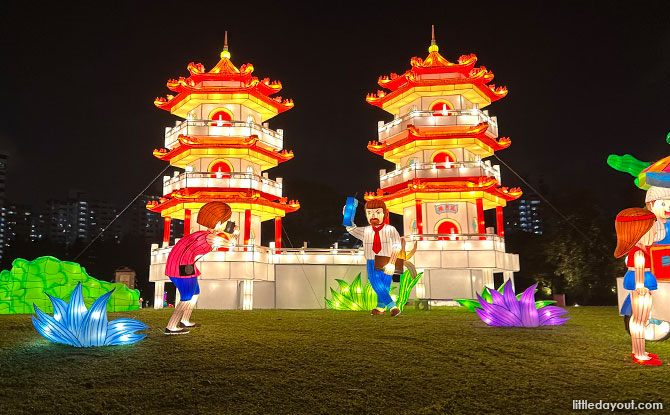 Admire the captivating lantern displays that have been set up at Jurong Lake Gardens for the Mid-Autumn Festival. These lanterns have been hand-crafted by skilled artisans from China and can be found at Lakeside Field. There will also be other Mid-Autumn Festival activities like performances taking place this weekend.
In addition, there will be activities like dragonboat, pedal boat and kayak try-outs this weekend, 23 and 24 September, along with a Nagomi Art try-out.
Get the details about Lights by the Lake.
---
Take Part in a Magic Mee Goreng Ticket Giveaway
To stand a chance to win a pair of tickets to Magic Mee Goreng puppetry performance, part of UNTAME STEAM Festival 2023 by KidSTOP™. This exciting performance is centred around the science of food.
Plus, we've got a discount code to help you save on tickets to the performance and STEAM Festival 2023!
Find out more and take part here.
---
Check out a Restaurant with a Playground
Want to take the family out for a meal this weekend? How about checking out one of the kid-friendly restaurants with playgrounds around Singapore? We've got an entire list of restaurants for you to choose from here.