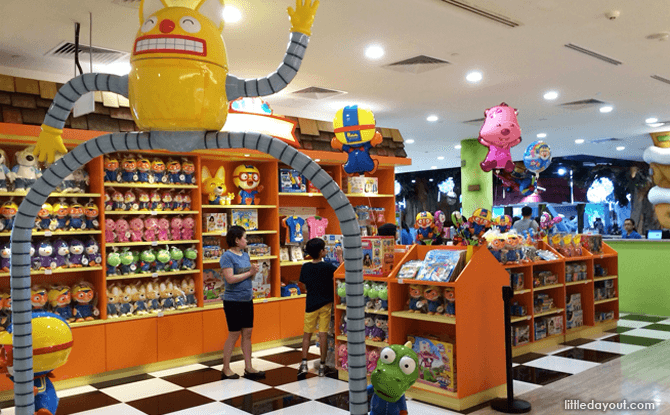 Pop by Marina Square for an encounter with Pororo the Little Penguin. A new themed indoor play park, Pororo Park Singapore, at the shopping centre's new retail wing offers loads of indoor fun for little fans of the blue-and-white penguin.
Pororo Park Singapore hails from South Korea and opened 11 November 2015. It is a character-based indoor play park based on the popular animation series "Pororo the Little Penguin". Its attractions are designed to provide a group play environment and are targeted at children between the ages of one to nine.
At this indoor playground, will find Pororo the Little Penguin and his beloved friends, Crong the Dinosaur, Eddy the Fox, Petty the Penguin, Loopy the Beaver and Poby the Polar Bear. Young adventurers are invited for a journey with them through Porong Porong Forest.
Key Attractions at Pororo Park Singapore
Hop aboard the Pororo Express, slow-chugging kiddie train ride. With Pororo and Eddy the little fox in the driver's seat, the train heads off for a journey around a small circular track that goes through a snow-topped tunnel.
It is ok to get into the "water" with a shark at the Shark Ball Pool. Filled with tons of blue-and-white balls, kids get to "hand feed a shark" or just have a plain-old rollicking ball fight with each other!
Head into Porong Porong Forest to find Pororo's snow-covered cottage. Duck inside where pint-sized, fairytale-like furniture awaits, bathed in twinkling rainbow lights. The snow-covered roof of Pororo's cottage doubles-up as a convenient backdrop for the screening of the popular animated TV series.
Crong is Pororo's dinosaur friend. He is youngest of the group and also Pororo's best friend. It is appropriate then that Crong's Backyard is located beside Pororo's House. You will find toys specially catering to babies and toddlers here. Parents in need of a breather will welcome the seats here too.
Ready for a challenge? Muscle up at Poby the Polar Bear's Jungle Gym. Hardy young adventurers can tackle the multi-storey obstacle course. Navigate through the brightly-coloured play system and escape the maze structure by slipping down one of its slides.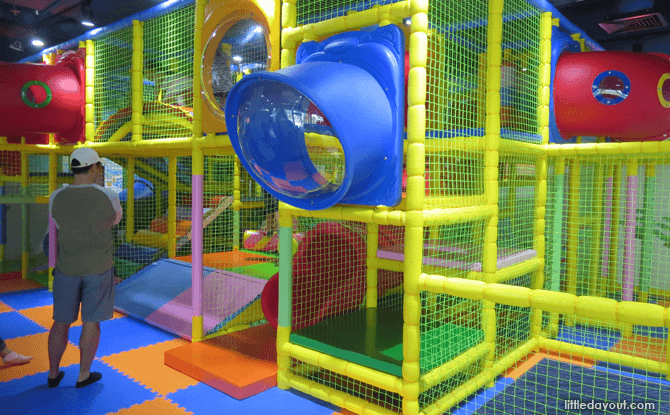 Look out for performances at TongTong's Little Theatre. This live performance space features singing-and-dancing segments by Pororo and his pals. Young audiences can single along with the action songs and there are meet-and-greet opportunities with the cast.
Parties at Pororo Park Singapore
Pororo Park Singapore also has facilities to host children's birthday parties. Eddy and Petty's Rooms are sunlit party rooms, each with the capacity to host a Pororo-themed birthday bash for up to 20 kids.
They also serve as bright-and-airy classrooms for educational classes such as Petty's Art Class and Eddy's Science Class.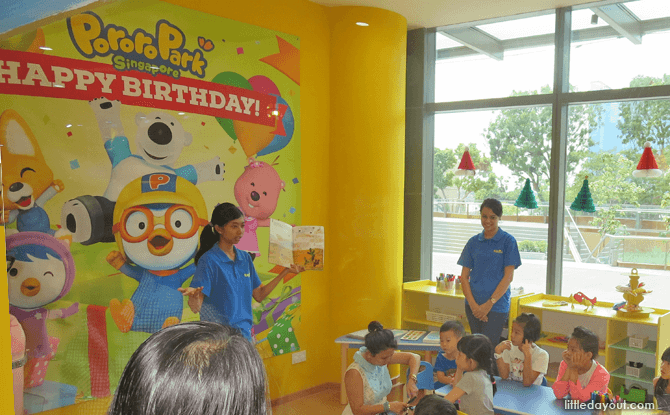 A 60-seater dining area, Loopy's Café, offers a chance for visitors to rest and refuel. Rody's Toy Store carries a wide range of character-themed merchandise, stationery, apparel and toys for Pororo fans.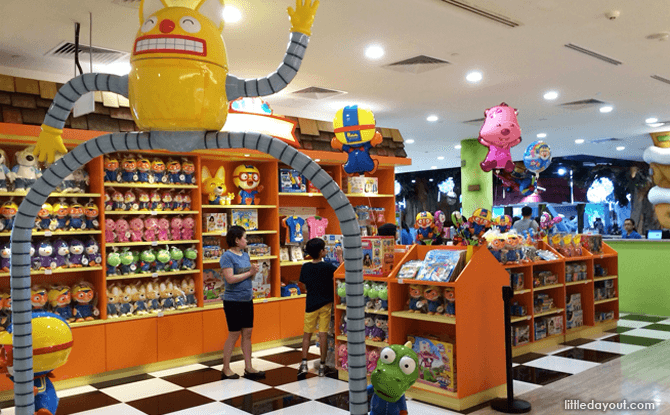 The indoor playground is self-contained and family-friendly. Other facilities include restrooms for children, a storage area for strollers and shoes and a nursing room. Socks are compulsory for both children and accompanying parents.
Pororo Park Singapore
Pororo Park Singapore is located at  #02-29, Marina Square, 6 Raffles Boulevard, Singapore 039594. It is a joint collaboration between Iconix Co. Ltd. And DreamUs Edutainment Pte. Ltd. It is the first Pororo Park in Southeast Asia. Others are found in South Korea and China.
Opens daily at 10.30 am. Closes 8 pm from Sunday to Thursday; 9 pm on Friday and Saturday.
Two-hour non-member admission rates apply: $33.50 for ages two to 12,  $24.50 for toddlers below 2, free for babies below one and $6 for accompanying adults.
More information on member admission rates and discounted prices can be found here.http://www.pororoparksg.com/admission-rates.html.
Visit their website at www.pororoparksg.com.