If you are the parents of a child who loves fire engines and rescue vehicles, then you must pay a visit to the Civil Defence Heritage Gallery located at the Central Fire Station.
This Civil Defence Heritage Gallery houses various types of fire engines and has interactive stations that will allow you to learn about what firefighters and first responders experience while on duty.
Needless to say, this will definitely be a fun adventure for kids and it is educational as well.
---
Civil Defence Heritage Gallery: Housed in History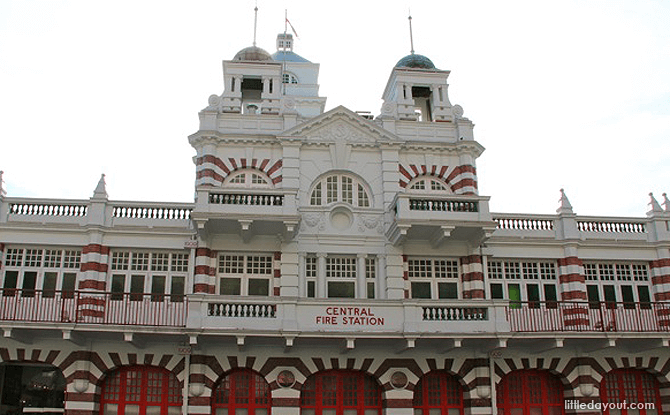 ---
-- Story continues below --
The building which houses the gallery was built in 1908 and occupied on 1 August 1909. It also happens to be a National Monument and can be found at the foot of Fort Canning Hill.
The fire station's tower was once used as a lookout point for firemen to spot fires that may be taking place around town. Now, it is only used for training exercises and was used at one time to hang out long fire hoses to dry.
---
Big, Bright Red Fire Engines at the Fire Station Museum
The Civil Defence Heritage Gallery spans two floors. Inside the gallery, you get to learn about the history of firefighting in Singapore and how it has progressed from late 19th century to modern day.
The first floor will be a big draw for kids. After all who doesn't love looking at bright, red and shiny fire engines.
There are multiple fire engines on display and these span across many different eras.
The first horse drawn steam fire engines arrived in Singapore in 1884. At that time, the fire brigade had to maintain horses to pull the fire engines about.
In 1906, the Singapore Fire Brigade bought the Merryweather Steam Fire Engine. One of these, The Broadrick, is on display at the gallery.
One of the highlights of the Civil Defence Heritage Gallery is a Dennis F12 fire engine that you can actually climb into.
The Dennis F12 fire engine was first acquired by the Singapore Fire Brigade in 1951 and saw service all the way up to 1979. It had a more powerful engine that allowed it to respond faster compared to older vehicles.
Another key difference was that unlike older fire engines where the firemen hung on to the rails outside the vehicle, the Dennis F12 fire engine had an enclosed cab for firemen to ride inside. This increased the safety for the firemen.
Inside the Dennis F12 fire engine, you can watch a video that shows what it was like to race through the streets of olden Singapore to the scene of a fire. It is a vivid depiction of the bravery of the firemen.
---
History and Heritage
There is also other interesting pieces of information that you can read about at the Civil Defence Heritage Gallery.
For example, the Singapore Fire Brigade was formed in 1888 and the main station was initially the Cross Street Fire Station, which became operational in January 1891. There was also a Beach Road Fire Station that became operational in 1893.
While we think of the present-day Singapore Civil Defence Force as managing both the fire and ambulance services, did you know that it was not always the case?
It was in 1917 that an ambulance started to be stationed at the Central Fire Station and it was only 60 years later in 1977 that the Singapore Fire Brigade started taking over all emergency calls for both fire and ambulance services.
---
Bukit Ho Swee Fire
Another interesting exhibit is that on one of Singapore's most infamous fires, the Bukit Ho Swee fire. This took place on 25 May 1961 and started in the Tiong Bahru area.
You can read about what it was like to be caught in the fire and about the experience of firemen such as Mr Abu Kasmi, who was on duty at Central Fire Station when the fire broke out.
A total of 250 acres of land and 2,200 attap houses were destroyed. Four lives were lost and 85 persons were injured.
---
The Men and their Equipment
On the second floor, there are more displays that visitors can explore.
You can come up close to the rear of a fire engine.
Learn about how the marine arm of the Civil Defence Force has evolved and strengthened its capabilities over time. This includes the addition of various vessels such as the Rapid Response Fire Vessel, known as Swordfish, and the Marine Rescue Vessel, known as Dolphin.
One display shows off watermist technology. Press a button and watch as as a water gun activates to dispense a mist to combat fire.
At the far end of the second floor, spend some time to learn about the SCDF's operations today.
If you have paper and a pencil with you, you can also make a rubbing of various firefighting-related designs to bring home.
In the past, it was possible to also take a peek inside an ambulance and there were even kid-sized uniforms for children to dress up like firemen as well.
Even if you can't make it down, you can pay an online visit to a Civil Defence Heritage Gallery virtual tour. This virtual tour can be found here.
---
Visiting the Civil Defence Heritage Gallery
A Little Day Out tip is coincide a visit to the Civil Defence Heritage Gallery with the Fire Station Open House which takes place every Saturday morning.
The Fire Station Open House is a great experience for any child where they will be able to see the firefighters slide down the poles and get up close to the SCDF's actual fire engines and fire fighting equipment.
---
Practical Information
The Civil Defence Heritage Gallery is located at 62 Hill Street.
It is open from Tuesday to Sunday, 10 am to 5 pm. Closed on Mondays. Admission is free.