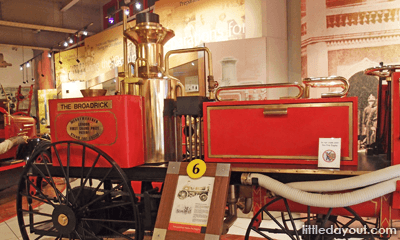 If you are the parents of a child who loves fire engines and rescue vehicles, then you must visit the Civil Defence Heritage Gallery located at the Central Fire Station.
This Gallery houses various types of fire engines and has interactive stations and activities which allow you to experience what firefighters and rescuers undergo in an operation.
Needless to say, this will definitely be a fun adventure for your child and the best part is that you can make it educational as well.
Housed in History
The building which houses the gallery was built in 1908 and also happens to be a National Monument. It is found at the foot of Fort Canning Hill. The tower was once used as a lookout point for firemen to spot any fires that may be taking place around town. Now, it is only used for training exercises and to hang out the long fire hoses to dry.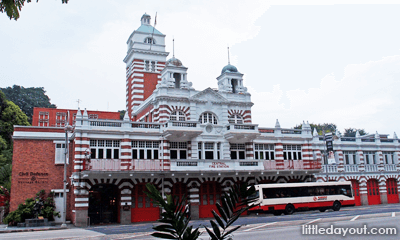 Big, Bright Red Engines
Stepping inside the Gallery, which spans two floors, you get to see how firefighting has progressed from 1900s to modern day. On the first floor, there are multiple fire engines, including a horse drawn steam fire engine, on display. You can come upclose to different fire fighting equipment and there is even an engine your child can actually climb into. From inside this engine, a video that shows what it was like to race through the streets of olden Singapore to the scene of a fire.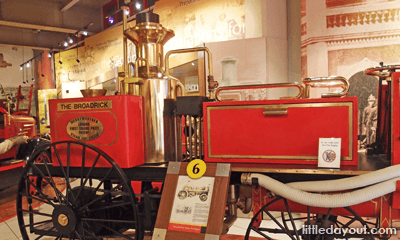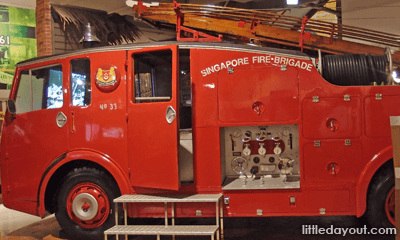 When I Grow Up, I Want to be a Firefighter…
On the second floor, there are more interactive displays for your child to explore. Take a peek inside an ambulance and see how fire fighters train to put out a high-rise fire. You can come up close to the back of a fire engine and there are kid-sized uniforms for children to dress up like firemen as well.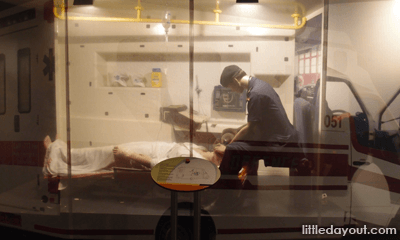 Enthusiastic young fire fighters will want to grab hold of a water-spray gun at the Fire Fight Zone. Take aim and help to extinguish the virtual fire!
At the far end of the second floor, spend some time to learn about the SCDF's operations today. Your child can also take a piece of paper to make a rubbing of various firefighting-related designs and take it home.
Here's a Tip
A Little Day Out tip is coincide a visit to the Civil Defence Heritage Gallery with the Central Fire Station Open House which takes place every Saturday between 9.00 am to 11.00 am. The Central Fire Station Open House is a great experience for any child where they will be able to see the firefighters slide down the poles and get upclose to the SCDF's actual fire engines and fire fighting equipment.
Practical Information
The Civil Defence Heritage Gallery is located at 62 Hill Street.
It is open from Tuesday to Sunday, 10.00 am to 5.00 pm. Closed on Mondays.
Admission is free.
Nearest parking is at Peninsula Hotel or Funan Mall.