Upcoming Events
Events List Navigation
With the June 2019 holidays just around the corner, let your children have time for fun and play at Playeum, a much-needed break from the daily grind of school. Playeum, Singapore's Children's Centre for Creativity, latest exhibition is I-Opener: Play with the Senses, an artful play exhibition open from 1 June 2019 to 26 April 2020 (with soft launch from 14 May 2019). I-Opener: Play with the Senses celebrates Playeum's philosophy of embracing creativity and child development through uninhibited art and…
Find out more »
+ Export Events
Search by:
All | Workshops | Holiday Programmes | Exhibitions | Theatre | Nature | Outings
Oliver Jeffers, award-winning author of 'How to Catch a Star' and 'Lost and Found', returns with an inter-galactic tale about a little boy seeking adventure.
The Yard specialises in providing Gymnastics, NinjaZone, Trampoline, Tumbling and Freestyle camps and programs for all age groups and ability levels. We strive to inspire fun, interactive and technique focused training environments. REGISTER NOW FOR OUR EARLY BIRD SPECIAL! NO REGISTRATION FEE!
Organised by KidsSTOP™ and Preschool Market, this event aims to promote new methodologies and transformation in STEAM education. Look out for showcases, STEAM workshops, hands-on activities and talks by game-changers in the early childhood industry.
Discover the joy of movement and fall in love with dance at da:ns festival's Footwork 2019 - introductory dance workshops for all ages.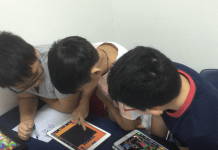 Looking for fun activities to do during the upcoming June school holidays? Choose from a host of exciting programs - popular Science programs, Robotics & Video-Game Creation workshops, there will be one that will suit the interests of your child!
Fantastic Mr Fox is a classic tale of goodies and baddies. It is an inspiring story about the brave and clever Mr Fox who, with the help of his family and friends, outsmarts three farmers' nasty schemes in order to provide food for the animal community.
Gallery Children's Biennale 2019: Embracing Wonder at National Gallery Singapore spreads the message of art as a way to discover and explore new worlds. This...
A fun and immersive parkour and flips experience for kids to discover themselves through movement! Kids will learn fundamentals of learning parkour and flips the principles of training safely.
Through movement, music and fun, join Us as we explore loneliness, understanding, empathy and love. Discover the importance of friends and how simple acts of kindness can change the world.