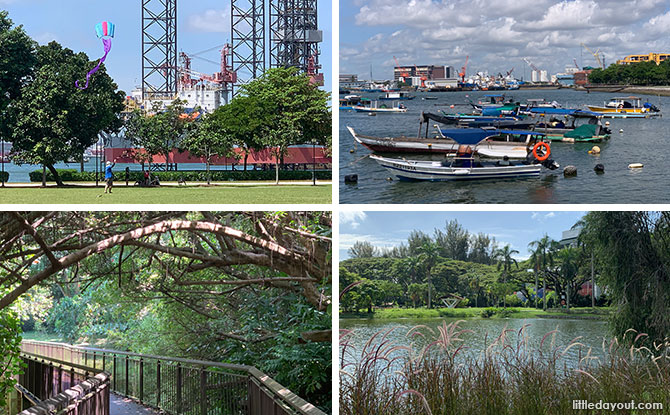 West Coast Park may not be as large as its counterpart in the east of Singapore but it does still have many different spots hidden around its 50 hectares of park land.
Most visitors to West Coast Park will head over to the section of the park where the playground is located. However, there is more to see and do around the park.
On the eastern end of the park is the Pasir Panjang Wholesale Centre. Beyond the Wholesale Centre is ORTO at West Coast, followed by Pasir Panjang Park. Together with Labrador Park and other parks, this will be part of the Greater Southern Waterfront.
The other end of park, close to Pandan Crescent, is bookended by Sungei Pandan Kechil.
Here's a look at all the different areas and facilities found at West Coast Park.
---
West Coast Park Area 1
The eastern end of West Coast Park, or West Coast Park Area 1 as it is called, is the least visited, some would say ulu, side of the park. It is served by the West Coast Park Carpark 1.
Dog Run
Just beside the Pasir Panjang Wholesale Centre at the far eastern end of the park is its dog run. This large enclosure allows dogs to scamper about freely and within the safety of its fenced up compound. Discover more dog runs in Singapore.
---
Dog Wash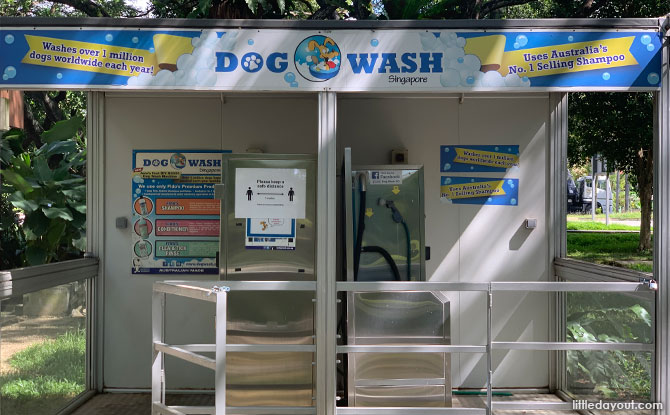 Close to the toilets at Area 1 (and a distance away from the dog run) is a dog wash where owners can bath their dogs before leaving the park. It is touted to be Asia's first DIY K9000 Dog Wash Machine and has shampoo, conditioner and flea & tick rinse too.
---
Mini Forest Area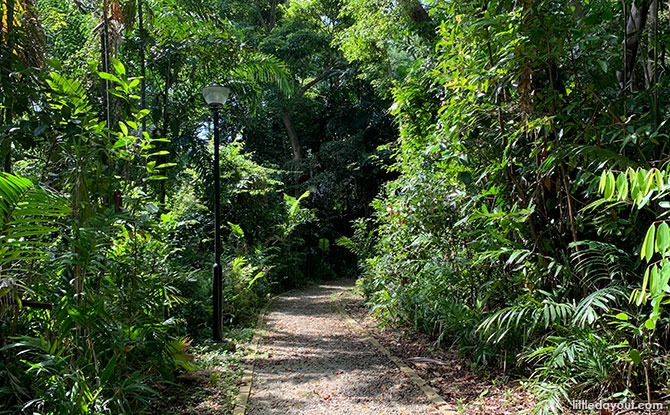 Not far from the Dog Run is a gravelly path. Follow this path and you will end up at a small wooded area with birds chirping, bees buzzing and cicadas all around – if you are lucky.
Even though this forested area at West Coast Park is rather small, it is easy to forget that you are just a couple hundred of metres away from the port while you are wandering inside it.
---
Pond and Fountain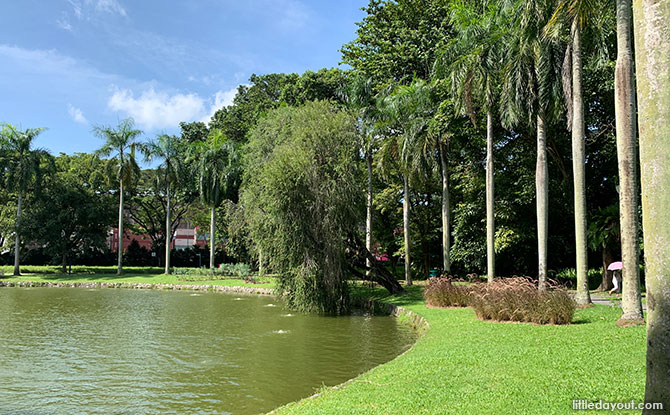 Another nice feature at West Coast Park Area 1 is its pond. Wispy willows stand by the banks of the pond while little fountain jets bubble away around the perimeter of the pond. With stone benches around the water, it is nice place to sit down and enjoy the view.
---
West Coast Park Area 2
Bike Rental Kiosk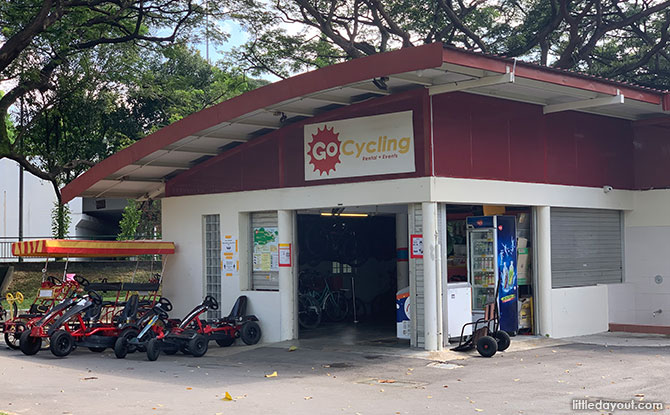 Want to explore West Coast Park on two wheels? You can find the bike rental kiosk at Area 2.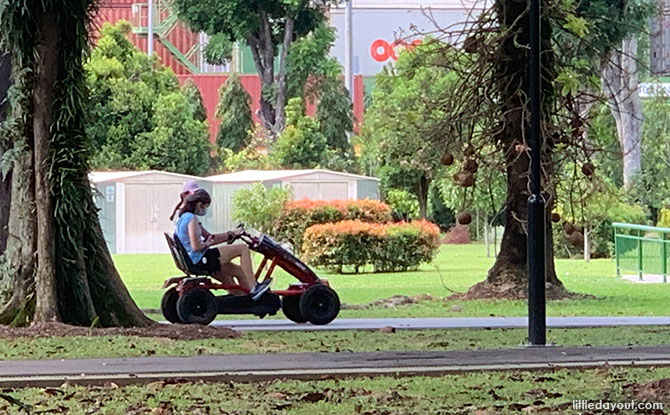 Not only does the kiosk rent out regular bicycles but it also has pedal go karts too.
---
Cycling Paths
It is no wonder that the bike kiosk is located at Area 2 because there are plenty interesting cycling paths laid out around Area 2. These include mini roundabout and a bicycle obstacle course which has a whole series of twists and turns.
Take note that if you wish to cycle from Area 2 to Area 1, you will have to take a tunnel that goes under Clementi Road. This has a rather steep slope, so be cautious when heading down the slope on bikes.
---
Sampan Plaza
A distinctive spot that you will come across at Area 2 is the welcome plaza with a sampan design. Two sampan walls feature distinctively, complete with "eyes" to steer their way forward.
---
BBQ Pits
West Coast Park's BBQ pits can also be found at Area 2. However, they are currently closed due to the pandemic.
---
Salt & Light Archery
Area 2 is also closest to Salt & Light Archery, which is located under the flyover and at the junction of West Coast Highway and Clementi Road. Have some fun with bow and arrows at this unique location.
---
West Coast Park Area 3
West Coast Park Playground
Parents with young children who are living in the west will likely be very familiar with the West Coast Park playground.
The most iconic structure here is the pyramid. However, there are plenty of the other fun play equipment at the adventure playground, which essentially also doubles up as a large sand pit.
Find out more about the West Coast Park Playground.
---
McDonald's
There's no denying that McDonald's at West Coast Park is a very well-chosen spot. You can find plenty of families there on weekends, grabbing a bite before heading to the park.
---
Fitness Area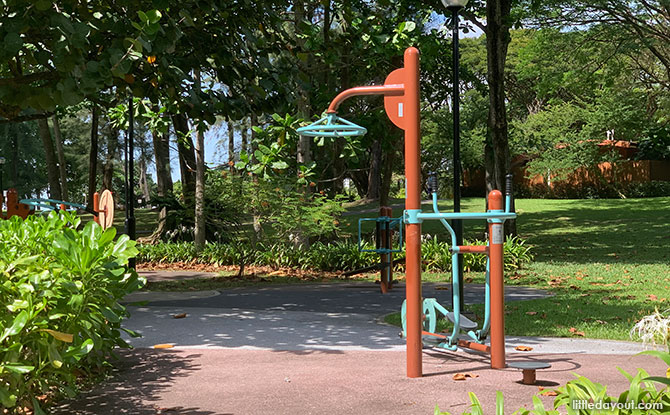 The Fitness Area at West Coast Park has exercise equipment that is suitable for those who may wish to do more of a workout than simply walking or jogging around the park.
---
Campsite
The campsite at West Coast Park provides a spot where campers can pitch their tent and enjoy some breeze blowing in off the water.
---
Lookout Deck & Lookout Jetty
Sticking out like a finger from the shoreline is the lookout deck. From here, you can see the boats docked along the shoreline, offshore islands in the distance and the promenade where the lookout jetty can be found.
---
Grand Lawn
The huge grand lawn is popular for those who want to play sports or kick around a ball, or for those who want to fly their kite as well.
The stage at one end of the Grand Lawn serves as a focal point during events.
---
Promenade
Take a walk beside the water and enjoy the breeze at the West Coast Park promenade.
---
Beach Volleyball Court & Sand Play
A volleyball net marks out where the beach volleyball court is located. The entire section here is one big sand pit. However, it isn't as much in favour with parents and kids because it lacks shade.
---
Marsh Garden
Located next to Sungei Pandan Kecil is the Marsh Garden.
Along this nature walk, you can spot mangrove trees growing along the banks of the river and there's also a platform that stretches out over a body of water.
---
Chess Garden & Foot Reflexology Path
While the Adventure Playground is where energetic kids can run around and expend their boundless energy, the Chess Garden and its foot reflexology is probably better suited to those who wish to take things a bit slower.
There are tables with a chess board built into them.
And there is a path to invigorate tired feet.
---
Bamboo Path
One final spot at most people never visit at West Coast Park is its Bamboo Path. Located near the exit of Carpark 3, this is a gravelly path which runs alongside plantings of bamboo. It has seen better days but is still a unique spot to visit at the park.
If you enjoyed this story, we think that you will also enjoy reading about Pasir Panjang Park or the close by Clementi Woods Park.