West Coast Park is one of the most popular parks in Singapore for families. It large variety of play areas make it an attractive spot for kids and its expanse of cycling tracks invites exploration. While it has many different features and areas to explore, one which few seldom notice is its multiple "lighthouses".
---
West Coast Park "Lighthouses"
The lighthouses are actually bollards or pillars. These are hidden in plain sight close to West Coast Park Car Park 3, the car park where most people will park if they drive and are intending to head to the playgrounds. This is the car park next to the McDonald's car park.
At the mid-section of the car park, there is a semi-circular, red-bricked footpath which leads into the park.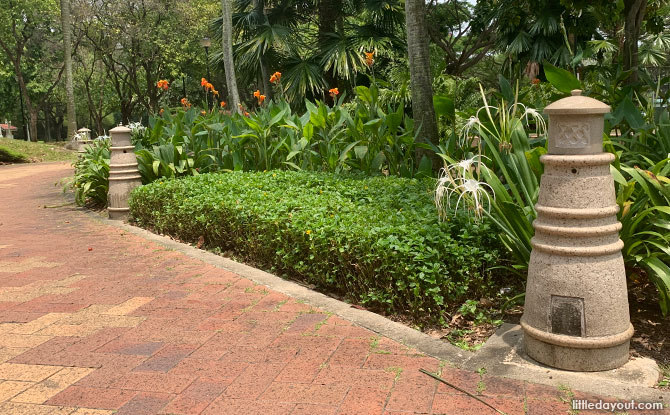 Along the footpath, there are a series of bollards. These bollards have been made to look like miniature lighthouses.
At the base of lighthouse, there is a tiny door, the size of which is suitable for a mouse or little gnome to enter.
We imagine that there would be a spiral staircase inside the "lighthouse", which leads up to the lamp room at the very top.
---
Enid Blyton Vibes
This cute design feature at West Coast Park stirs up the imagination and gives us Enid Blyton vibes. It is nice to give in to imagination, at least for a moment, and wonder if a gnome lighthouse keeper comes out in the dead of night to make sure that the lamp is shining brightly to warn passing vessels of danger.
The West Coast Park lighthouse bollards give a nice touch to the park, one where kids can enjoy their childhood next to the sea. When we were at the park, its iconic pyramid was still under renovation, but that did not stop kids and families from enjoying themselves.
Now that you know about the West Coast Park lighthouses, keep a look out for them when you are at the park!