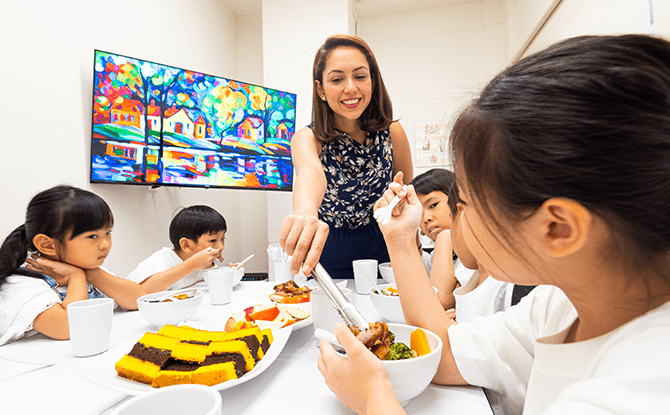 Are you a busy parent who would like reliable after-school student care options for your child? Perhaps you have considered a student care centre in Singapore close to your child's school. How about considering other options in the community or near your workplace? You may even want a student care centre that offers additional programmes apart from academic coaching.
---
What are Student Care Centres Singapore?
As stated on the Ministry of Social and Family Development's website, Student Care Centres "provide care and supervision to school-going children in the Primary to lower Secondary levels outside school hours."
They may either be run by a commercial company or by social service agencies.
For example, primary schools in Singapore have school-based student care centres. Other alternatives include community-based student care centres.
There are also other options of student care centres in the vicinity of workplaces, homes and MRT stations. Depending on your priorities, picking a student care centre based on accessibility and location might be critical. The centres also offer different types of programmes, some focusing on additional enrichment while others ensuring the children pick up life skills.
---
-- Story continues below --
---
Useful to Know: Ministry of Social and Family Development Student Care Subsidies
Families can get up to 98% subsidy of fees for Ministry of Social and Family Development-registered student care centres. To qualify for the Student Care Free Assistance subsidies, the family's gross per capita income has to be below $1125 for a 20% subsidy. The subsidy is capped at $290 depending on household income.
The full set of details on the Ministry of Social and Family Development subsidies can be found here.
---
Student Care Centres in Singapore
While we can't cover all the student care centres in Singapore, here's a round up of some of them.
---
FEATURED
Brave Feats Student Care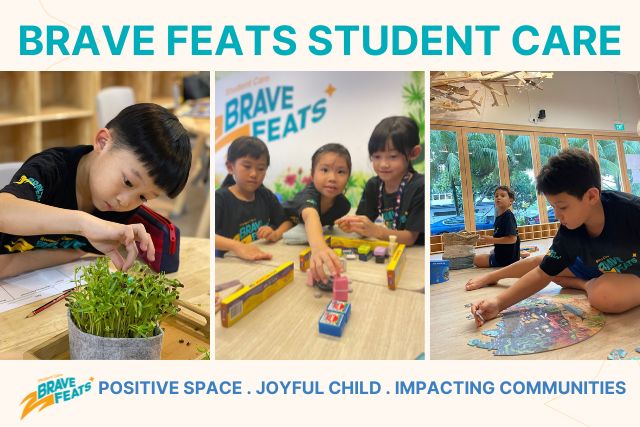 Brave Feats has transformed the concept of after-school care. This changemaker sees itself as a critical part of the "Village of Care", helping to raise joyful children into purpose-led adults.
Brave Feats provides a positive and inspiring space with child-centric and purpose-built environment. Its open concept, flexible furniture, mixed-age grouping and caring adults, allow for children to feel at home, be themselves and explore confidently beyond school and classroom. Brave Feats is not only a space for children, but also builds a community with parents through close communications and parenting support.
Brave Feats believes that every child deserves to be joyful. Each child should be empowered to grow and flourish, so they can have a positive sense of self as well as a committed purpose to impact the community.
Brave Feats' after-school programme is designed by experienced educators who abide by the principles of Positive Education and adopts the Montessori pedagogy. With nurturing and committed teachers facilitating the programme, Brave Feats children can develop both social emotional competences and key executive functioning skills. This sets them apart as confident and joyful children.
Where: 21 Bedok North Street 1, #02-02, Common Ground, Singapore 469659 (Opposite Heartbeat@Bedok)
Email: hello@bravefeats.community
Instagram: www.instagram.com/bravefeats_studentcare
WhatsApp : +65 8518 2651
Find out more about Brave Feats Student Care
FEATURED
Out of Box Academy
Out of Box Academy student care centres are meaningful spaces that help busy parents nurture their children during the after-school hours.
Out of Box Academy programmes for primary school students (P1 to P6) feature bite-sized, daily activities such as reading, writing, Mandarin mastery, current affairs, technology and presentation skills. These are designed to enrich every student with 21st century core competencies. Its centres are designed to be comfortable and homely, with facilities like play areas and libraries for out-of-classroom development. Students are served freshly prepared, well-balanced and nutritious meals so that they eat healthily and stay healthy.
At Out of Box Academy, students maximise their after-school time, balancing between academic work and other activities, developing friendships, character and social skills.
Out of Box Academy has 16 outlets across Singapore with more opening by January 2024. Sign up for the open house for 2023 & 2024 enrolments and receive up to $2,000 off your first term.
Where: Toa Payoh, Ang Mo Kio, Serangoon North, Sixth Avenue, Second Avenue, Coronation, Bukit Batok, Marine Parade, Lorong Ah Soo, Potong Pasir, Bukit Purmei, Goldhill, Guillemard, Marine Terrace, Jurong West & Clementi.
Email: enquiries@outofbox.com.sg
Call: +65 8066 4284
Find out more about Out of Box Academy
---
7Oaks Student Care Services
7Oaks focuses on nurturing children through empowerment. Instilling moral values and equipping children with life skills are top priorities at the student care. Through holistic learning experiences, the centres broaden the children's horizons to allow them to unleash their potential. With a wide variety of programmes and activities, the children can explore their talents.
7Oaks is part of the PPIS network. The centres serve as a second home to every child and strives to give busy parents peace of mind.
Locations: Bedok and Jurong East
Fees: From $297 per month
Read more about 7Oaks Student Care Service
---
Ananias Centre Student Care
Ananias Centre provides student care services as a Voluntary Welfare Organisation to support working parents in care arrangements. Students ages 7 to 14 are welcome at its centres. Apart from homework supervision and academic support, there is also organised play, enrichment and recreational activities. During the holidays, the centres organise learning journeys, excursions and camps.
Students are also provided healthy meals. Ananias Centre developed its own inhouse curriculum and resources in Math and Science.
Where: Ang Mo Kio, Choa Chu Kang, Clementi (multiple locations)
Fees: $450 per month
Learn more about Ananias Student Care
---
Big Heart Student Care
If you are looking for a student care that is community-centred, Big Heart Student Care provides affordable, quality after-school care for students. It is a non-profit, Voluntary Welfare Organisation managed by Self Help Groups Student Care Limited.
Big Heart Student Care is based in 30 primary schools and supported by Ministry of Education in terms of training, funding and programme development. Big Heart Student Care works closely with schools, parents and the community to guide the students. Programmes are fun with activities designed to provide a well-rounded educational environment emphasising good character development in addition to academic achievement, physical health and social and psychological well-being.
Locations: in 30 Primary Schools
Fees: $290 per month
Read more about Big Heart Student Care
---
BlessedKidz Learning Hub
BlessedKidz is a student care centre that offers in-house academic coaching and small group tuition that aligns with the MOE syllabus, ensuring each child's success. The STEAM programme equips students with essential 21st century skills.
BlessedKidz Learning Hub also focuses on instilling vital social-emotional dispositions and character development lessons to build well-rounded individuals. In the specially tailored Primary 1 curriculum, BlessedKidz offer daily small-group instruction in English, Math, Chinese, Science, and Geography, fostering well-rounded academic growth.
Find out more about BlessedKidz Learning Hub
Location: City Square Mall
Find out more about BlessedKidz Learning Hub
---
EduFirst Learning Centre
EduFirst Learning Centre offers after-school care services at centres across Singapore. They offer a programme that incorporates both formal and informal learning. Informal learning includes heuristic language building, socialisation, inculturation, and play. The formal learning component of the student care centre includes homework guidance, tuition classes, enrichment activities, field trips and hands-on experiments to reinforce scientific concepts.
Amongst the facilities at EduFirst Learning Centre are shower facilities at selected outlets, educational television programmes, air conditioned premise and well stocked libraries.
Where: Aljunied, Ang Mo Kio, Bukit Panjang, Bukit Timah, Hougang, Jurong East, Jurong West, Pasir Ris, Punggol, Sembawang, Sengkang (multiple locations), Tampines, Toa Payoh, Woodlands and Yishun (multiple locations).
Find out more about the after-school care services available at EduFirst Learning Centre
---
Kowabunga!'s Kidz Treehouse Student Club
Kowabunga! is a social enterprise focusing on nature-based educational and training programmes. Its student care arm offers before and after school programmes also known as Kidz Treehouse or Kowabunga! Student Club. The student care programme provides an environment like a second home with love, care and trust for both students and parents.
The social enterprise hope to develop students in a holistic manner through all-rounded programmes, helping them to become confident, creative, resilient individuals ready to take on 21st Century challenges. Programmes include lab exercises, creative art and craft, abacus, fun play at Kidz Amaze, water sports such as Flippa Ball, surfing and swimming.
Students are encouraged to engage in service learning projects aside from striving for academic excellence. There are academic support programmes, mentorship and tutoring services. S.T.E.A.M related programmes also let students explore their interests in science, technology, engineering, arts and mathematics.
Where include SAFRA Jurong, Jurong West, Teck Whye, Bukit Batok, Cantonment Primary School, Clementi Primary School, East Spring Primary School, Haig Girls' School and Rosyth School
Fees: From $270 per month
Learn more about Kowabunga! Student Club & Kidz Treehouse Student Care
---
MindSpace by MindChamps
MindSpace by MindChamps offers after-school care at 24 centres in Singapore. It seeks to inculcate a Champion mindset in children, helping them to perform at peak levels and thrive resiliently in an AI-dominated future. Students at the centres also benefit from being taught by MindChamps-accredited Concept & Application teachers for all subjects. MindSpace also provides special crafted meals that are nutritious and optimal for growth.
Where: 24 islandwide
Find out more about MindSpace by MindChamps
---
Morning Star Community Services
Morning Star Community Services places an emphasis on character development through imparting of virtues with a programme that hones cognitive abilities, emotional development, social skills, character development and physical development.
The student care facilitators create curriculum-based learning stations and themed activities to facilitate the children's learning. In addition, parents are regularly updated on their child's progress and invited to participate in various family life and parent-child activities.
Where: Hougang, Sengkang, Bedok North (multiple locations) and St Gabriel's Primary School
Fees: From $270 per month
Find out more about Morning Star Student Care
---
NASCANS Student Care
NASCANS is a student care brand in Singapore with over 30 locations in partnership with MOE schools and residential communities. It provides students with "an Oasis between School and Home".
NASCANS' programmes include Homework Supervision, Character Education, Enrichment, and Outdoor Activities. The programmes at school-based centres are designed to seamlessly integrate with MOE's educational framework, reinforcing the partner school's vision, mission, and core values, while community-based centres offer unique programmes like Impression ARTS™, and TITANS, a framework employed by Singapore's Ministry of Education for grooming the top 1% of Primary School students under its Gifted Education Programme (GEP).
Where: Bukit Merah, Choa Chu Kang, Clementi, Gambas, Jurong East, Parkway Parade, Tampines and Ubi
Fees: From $215 per month
Find out more about NASCANS Student Care
---
PlayFACTO School
PlayFACTO School believes that happy children do better in life – both academically and emotionally. The student care and enrichment centre is certified by the Positive Education Schools Association from Australia. The PlayFACTO School team aims to build strong character values and forges meaningful relationships, providing students with authentic real-world learning opportunities so they can become excellent thinkers, innovators and problem solvers.
PlayFACTO School centres also has collaborative learning spaces. This include thoughtful and artistic spaces that promote creative and critical thinking. The pedagogy assimilates the best of inquiry and play-based learning approaches in a collaborative environment.
Where: 50 locations islandwide
Fees: From $600 per month
Read more about PlayFACTO School
---
Pro-Teach Student Care
With over 30 centres around the island, Pro-Teach provides a friendly, safe and nurturing atmosphere. Pro-Teach teachers are trained to help students develop and maintain a positive and mutually respectful interaction among themselves. Each centre offers a safe environment with space, natural lighting and child sized furnishing.
Pro-Teach uses a curriculum that is customised and designed by field experts. There are appropriate instructional methods suitable for each student, incorporating a skills based approach focussing on improvement. Teaching materials encourage critical thinking, complex problem-solving and team work. Lessons tap into the child's natural sense of curiosity and promote active discussions between peers and teachers to develop concrete understanding.
Where: Multiple locations islandwide.
Fees: From $235 per month
Learn more about Pro-Teach
---
QSF The Enablers
QSF The Enablers has been running both school-based and community-based student care centres since 2010. Their programme seeks to equip every student with essential 21st Century Core Competencies and Social Emotional Learning Competencies. Their programme includes learning journeys and purposeful enrichment activities for every child.
QSF The Enablers has life coaches who are highly experienced and passionate about their work. They also undergo training such as first-aid, facilitation skills, risk assessment management, classroom management and lesson planning.
Their main community based student centre is the Rhapsody Student Care Centre at Pek Kio Community Club.
Where: 4 centres
Fees: From $225 per month
Read more information about QSF – The Enablers
---
Raffles Student Care
Raffle Student Care is a social enterprise and a child-safe organisation. It is values-driven and aims to inculcate core values and life skills in young children to ensure they can become a confident, well-adjusted young adult.
The themed integrated development programme at Raffles Student Care has three components: character development, kinesthetics learning, enrichment programme. Raffles has an in-house reading programme by certified teachers. They also conduct discussion on social topics to teach the children to be socially aware and culturally sensitive, role-play of scenarios and emotions, reflection exercises as well as team-based playtime and outdoor activities.
Where: 14 locations islandwide
Fees: From $215 per month
Find out more about Raffles Student Care
---
Seedlings World Student Care
How about a student care centre that includes Chinese tuition and enrichment in its after school programme? Seedlings World supports parents in several ways – first by inculcating good studying habits and routines and also provides Chinese enrichment. Extra Chinese lessons are incorporated to help the children improve their command of the Chinese language.
Improve your child's proficiency in Chinese language at Seedlings World Student Care programme. The timetable includes schoolwork guidance, Chinese enrichment, moral education, Chinese Music & Arts, Social skills and creative co-learning. There are two student care centres: Joo Chiat and Frankel Avenue.
Where: Joo Chiat Place & Frankel Avenue
Find out more about Seedlings World Student Care
---
Spright Academy
Formerly known as Before and After School Individualised Care, Spright Academy has since expanded to three centres providing care for children between 7 and 14.
Spright provides developmental activities including character development and enrichment programmes such as art and craft, outdoor activities. The centre also conducts character development programmes such as PATHS which strengthens emotional resilience and promotes character building. PATHS is conducted twice a week, it aims to cultivate good habits in the children and encourages them to be responsible in completing daily tasks and observing rules set.
Special outings and enrichment programmes such as English and Science workshops, cooking lessons are conducted during the schools holidays. Children can gain new knowledge and take home memorable experiences.
Where: Ang Mo Kio (multiple locations), Cheng San and Sengkang
Fees: $340 per month
Find out more about Spright Academy Student Care
---
YMCA Student Care
YMCA has been providing after school care service since 1997. It has 23 student care centres located in primary schools. As part of YMCA Education Services, it strives to provide holistic education to nurture caring, honest and responsible individuals. Students are given opportunities to contribute to the community.
The qualified and experienced teachers engage and encourage every child to explore his or her talents and interests in a safe, structured and supportive environment. YMCA Student Care provides an engaging care programme for children after school.
Where: 23 primary schools islandwide
Fees: From $260 per month
Learn more about YMCA Student Care
This feature includes sponsored content.