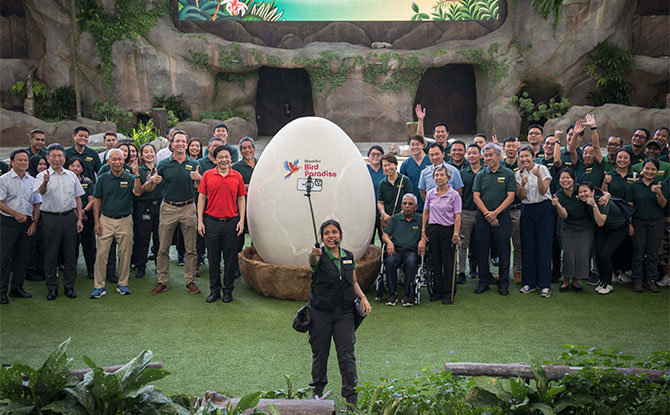 Pay a visit to the new Bird Paradise in Mandai, Singapore, and be immersed into a naturalistic and colourful world, home to 3,500 birds from over 400 species. Bird Paradise is the newest wildlife park in Singapore and the successor to the old Jurong Bird Park.
---
Bird Paradise Officially Opened on 15 November 2023
Six months after first opening its doors for its soft launch, Bird Paradise was officially opened by Deputy Prime Minister and Minister for Finance, Lawrence Wong on 15 November 2023.
He was joined by around 1,000 guests including Bird Paradise's partners and sponsors, as well as community residents from the neighbouring Northwest and Southeast Community Development Councils (CDCs).
Since its soft opening on 8 May, more than 600,000 local and international visitors have visited Bird Paradise.
---
-- Story continues below --
The park's new Breeding and Research Centre was also opened on 15 November. This centre is where visitors can get a glimpse at what goes on behind the scenes to care for the birds at the park.
---
Commemorative Stamp Set
To mark the launch of Bird Paradise, Mandai Wildlife Group, in partnership with SingPost, also unveiled a limited-edition commemorative stamp set.
Three of the stamp designs feature some of the park's most threatened species – the Negros Bleeding-heart Dove, Philippine Eagle and the Knobbed Hornbill.
The other three designs were inspired by the park's most iconic aviaries, the Hong Leong Foundation Crimson Wetlands, Kuok Group Wings of Asia and Nyungwe Forest Heart of Africa.
---
Glamping with the Penguins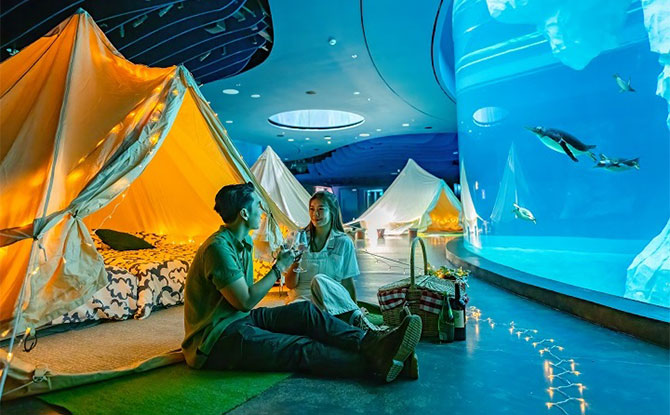 Also unveiled was Glamping with the Penguins, an all-new, two-day-one-night glamping experience.
For the first time, guests will spend a night in Ocean Network Express Penguin Cove in glamping bell tents. They will beging their journey with reserved seating to watch the exciting Wings of the World presentation followed by a scrumptious dinner, before winding down with the penguins.
Each tent is suitable for a family of four who can cosy up together. They will also get to enjoy a special showcase of the breathtaking Southern Lights in hues of blues and greens that light up the penguins' exhibit.
The next morning, glampers will set out to Nyungwe Forest Heart of Africa for a guided tour of the aviaries. There will also be special access to off-exhibit facilities like the nutrition centre and avian hospital to learn about avian care at Bird Paradise, before winding up the glamping stay with a hearty lunch at Crimson.
Get more details about Glamping with the Penguins.
---
Transforming Mandai Wildlife Reserve into a World-leading Nature and Wildlife Destination
Mike Barclay, Group CEO of Mandai Wildlife Group said: "I would like to thank our partners and key sponsors for journeying with us to deliver this outstanding bird park, together with a best-in-class avian hospital and extensive bird breeding facilities". He added, "Bird Paradise and the Mandai Wildlife West public space outside of this park, are amongst the first features to open as part of our Mandai Rejuvenation Project. We have a long-term vision to transform the Mandai Wildlife Reserve into a world-leading nature and wildlife destination, to be a jewel in the crown of our City in Nature."
---
Invitation to Paradise: Year-end 2023 Activities and Promotion at Mandai Bird Paradise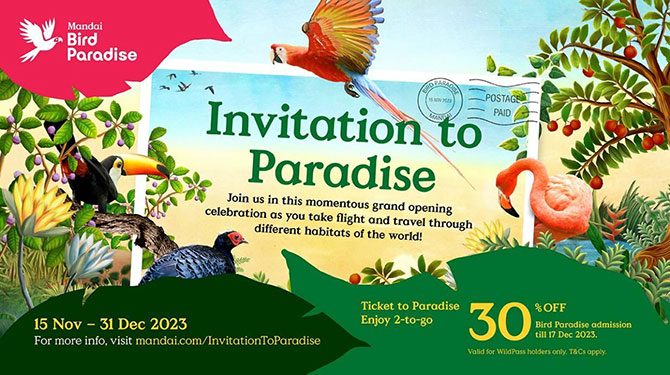 To celebrate the grand opening of Bird Paradise, local residents can also look forward to activities and promotions under the opening campaign theme of "Invitation to Paradise" from now till 31 December 2023.
Ticket to Paradise
Local residents get to enjoy a ticketing promotion where two-to-go enjoy 30% off Bird Paradise admission over the period of 15 November to 17 December 2023.
Secrets of Paradise Trail
From 15 November to 31 December 2023, explore the park with a Paradise Passport and uncover the secrets of Bird Paradise. Complete your Paradise Passport by collecting five unique location stamps to redeem an exclusive Grand Opening pin, while stocks last!
Greetings from Paradise
Pick up a complimentary postcard and send greetings to your loved ones directly from Bird Paradise. Enjoy free local and international postage by dropping them into the respective slots at the post box outside Bird Bakery.
Photography in Paradise
Capture the world through the lens of a camera and participate in workshops by Sony Alpha Creators & Professionals who will be sharing new tips and tricks! All photographers are also welcomed to join a contest to stand a chance to win a Sony camera and other prizes.
Paradise AR Filter
Strike a pose against an interactive photo wall at Central Plaza and share your memories of Paradise on Instagram and Facebook! Tag your post with #MandaiWildlifeReserve and #BirdParadise for a chance to be featured on Mandai Wildlife Group social media page.
Green Giftmas in Paradise
From 1 to 3 December 2023, head to the Bird Paradise Learning Centre to shop for local sustainable gifts, crafts and accessories.
F&B Promotions
In addition, there will be promotions at the restaurants at Mandai Wildlife West from 15 November till 31 December 2023. These include discounts on items such as A&W Pandan Waffle, Collin's sharing platters and more.
Get more details about what's on for Invitation to Paradise at Bird Paradise.
For more exciting ideas for the year-end holidays, visit our Amazing List of Holiday Activities.
If you are planning a visit to Bird Paradise in Singapore, be sure to read our guide to this latest attraction in Singapore with all the details on what you can expect to do and see.
---
Overview of Bird Paradise in Mandai, Singapore
Bird Paradise celebrates birds and their stories. It is home to some of the world's most endangered avian species including the Philippine Eagle, Negros Bleed-heart Doves and Blue-throated Macaws.
Amongst the bird park's key attractions are eight large walk-in aviaries, each themed after a different part of the world. The two largest walk-in aviaries at Bird Paradise are Heart of Africa and Crimson Wetlands.
There are also bird shows, plenty of educational information for visitors and play areas for kids.
Visitors can also get up close with the carers or keepers of the birds via Keeper Talks and feeding opportunities.
---
Bird Paradise Park Map & What To Expect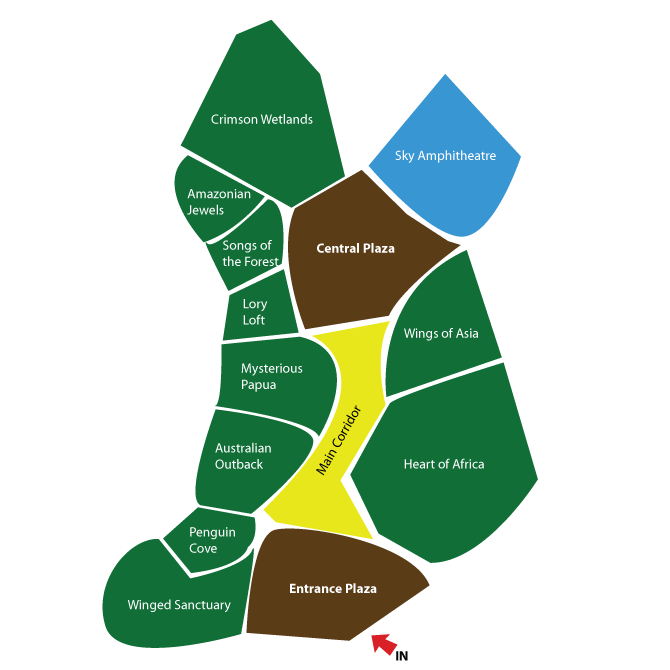 Bird Paradise is laid out along a central corridor. At one end of the corridor is Entrance Plaza and Shuttle Stop 1. The other end of the corridor is Central Plaza and Shuttle Stop 2.'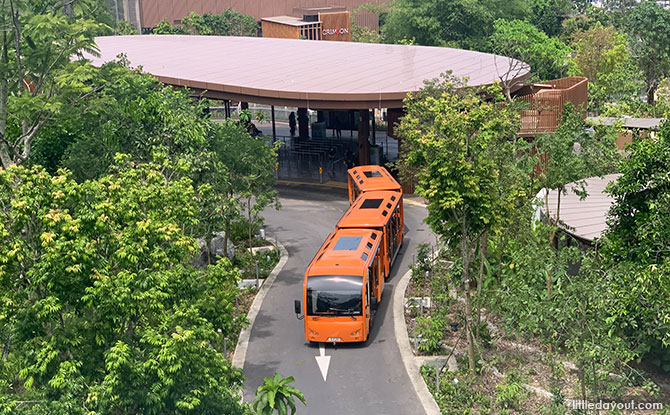 The Shuttle Stops are where visitors can board the free tram service that runs between the Entrance Plaza and Central Plaza. There is also a walking path, Forest Corridor, that runs between the Entrance and Central Plazas.
The aviaries are laid out around the central corridor. Clockwise from the Entrance Plaza to Central Plaza, the areas and aviaries are:
Winged Sanctuary (outdoor exhibit)
Penguin Cove (indoor exhibit)
Australian Outback
Mysterious Papua
Lory Loft
Songs of the Forest
Amazonian Jewels
Crimson Wetlands
Crimson Wetlands then leads to Central Plaza where there is the Sky Amphitheatre, a food court and children's play areas.
Continuing clockwise from Central Plaza back to Entrance Plaza, there are two more aviaries:
Wings of Asia
Heart of Africa
Heart of Africa then connects back to Shuttle Stop 1 and the Entrance Plaza.
The walk-through aviaries at Bird Paradise are inter-connected by air-conditioned hubs (hooray!) where one can cool off from the heat and take a seat to rest their weary legs.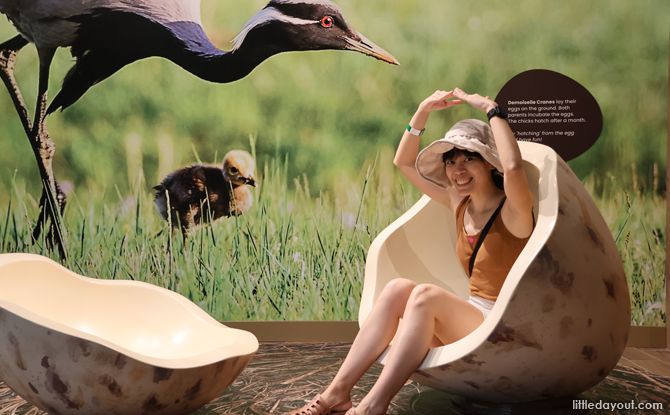 Within these hubs are educational corners filled with bird facts and interactive features like walls, bird-themed seats and some areas where visitors can even pose and pretend to be a bird.
---
Entrance Plaza
Here's a look at the various areas and some tips on what to expect at Bird Paradise.
Once you have entered into the park, you will be at the Entrance Plaza. This is where you can find Guest Services immediately to the left once you have entered in.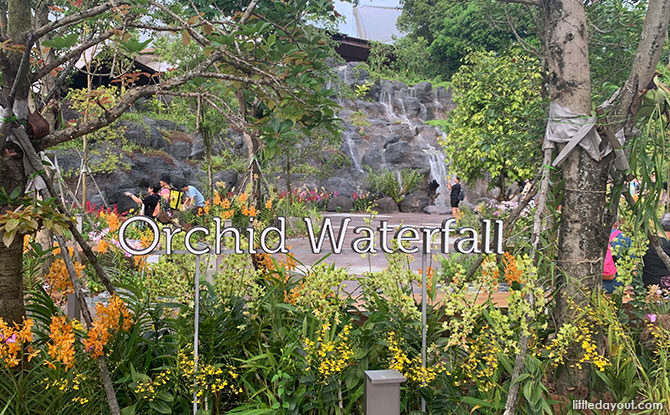 A prominent feature at Central Plaza is the Orchid Waterfall where there are mature trees and a display of orchids. This waterfall pays tribute to the former Mandai Orchid gardens, a commercial orchid garden that used to be located where Bird Paradise is now.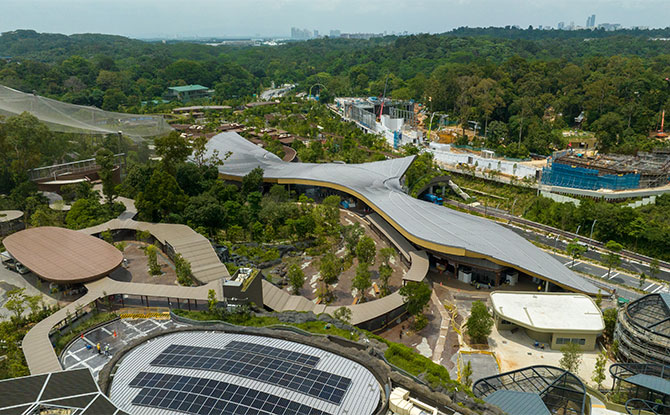 An interesting fact about Bird Paradise is that, seen from the air, the canopy at the Entrance Plaza is shaped like a bird in flight.
From the Entrance Plaza, to the left is the Winged Sanctuary, straight ahead is Penguin Cove, while going up the escalators on the right leads to the Shuttle Station 1, where there is a tram service to Central Plaza.
From the Entrance Plaza, you can choose to explore the aviaries in either a clockwise or anti-clockwise direction. Below, we run through the aviaries and other areas at Bird Paradise in a clockwise direction from the Entrance Plaza.
---
Avian Breeding and Research Centre

At the new Avian Breeding and Research Centre, close to the entrance, visitors will be able to find out more about what goes on behind the scenes at Bird Paradise to care for the birds.
Over at the nursery, guests will get a chance to see chicks being hand-raised to maximise their chances of survival.
---
Winged Sanctuary
Winged Sanctuary features species of high conservation value. You may be able to view the park's collection of hornbills in this area of the bird park.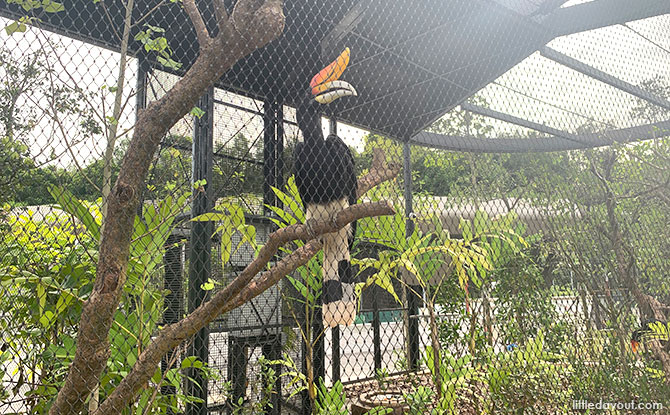 You may also be able to spot rare and predatory species like the Brahminy Starling, Santa Cruz Ground Dove, Maleo and Philippine Eagle too.
---
Ocean Network Express Penguin Cove
The black and white tuxedoed birds have a new home next to Winged Sanctuary. Penguin Cove is a three-storey building.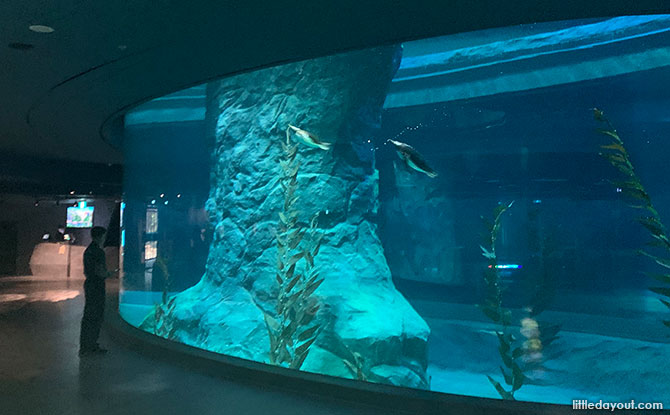 From the Entrance Plaza, you can enter in at the lowest level and may be able to see the penguins swimming through the water.
As you take the ramp up, there is a room screening a video about penguins as well as providing information about different penguin species.
At the top of the ramp, there is a viewing gallery where you can see the penguins on land.
A cosy cafe also sells penguin-themed snacks and gifts.
For a more substantial meal, there is the Penguin Cove Restaurant on the ground level.
There are also interactive elements to learn more about penguins.
When ready, take the escalator up one more floor to Level 3 and the Australian Outback walk-in aviary.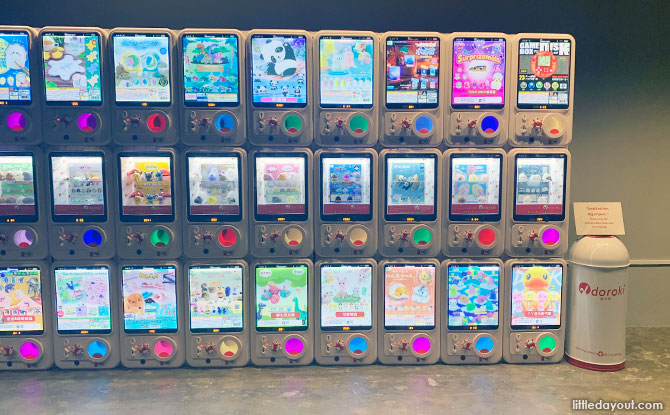 Before we move on, here's two little tips. On the Level 3 of the Penguin Cove, there is a wall of gachapon machines.
If you head outside of Penguin Cove, opposite from the direction of the Australian Outback, you will find a little penguin-inspired slide and you will also be able to get to Shuttle Stop 1.
---
Australian Outback
The noisy lorikeets and cockatoos get their own habitat, Australian Outback.
Lorikeets, endangered cockatoos, emus, cooing pigeons, lapwings and the kookaburra are some birds that will be communicating enthusiastically, even to visitors.
---
Lory Loft
The Lory Loft gets reborn at Bird Paradise. There are bird feeding session held here for visitors to feed the boisterous lories along with parrots.
---
Mysterious Papua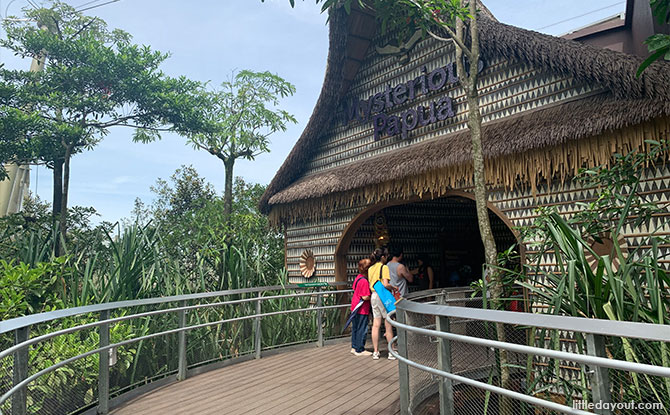 Get to see the avian inhabitants of New Guinea and its neighbouring islands at Mysterious Papua. Wandering around are birds like crowned pigeons and the cassowary.
---
Songs of the Forest
Asian singing songbirds like the Bali Myna and Strawheaded Bulbul are showcased at Songs of the Forest.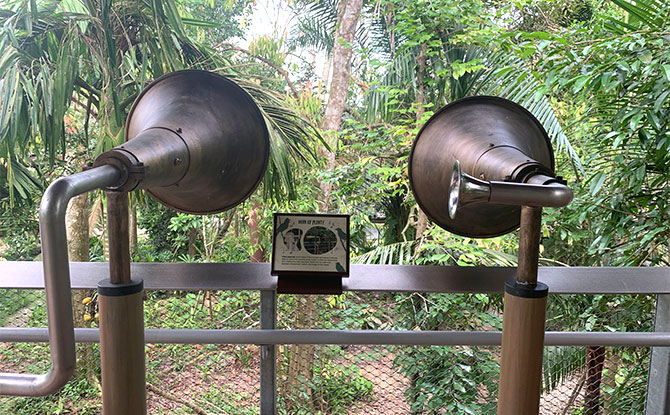 Try listening out for the birdsong coming from the trees.
---
Amazonian Jewels
The rainforest habitats of South America are replicated at Amazonian Jewels. The walk-through aviary has ficus trees, terrestrial and epiphytic bromeliads as well as a shelter made to look like giant buttress roots. You can find birds like the toucan at this aviary.
---
Crimson Wetlands
The Crimson Wetlands aviary has been inspired by flooded savannahs of South America. Besides flamingoes, scarlet ibises and roseate spoonbills also inhabit the Crimson Wetlands. There is also a flock of South American parrots too.
With the backdrop of a floating village in South America, a waterfall over 20 metres high that pays tribute to Jurong Bird Park's Waterfall Aviary. You can take a walk behind the waterfall and experience the roar of the water at its mightiest.
A play area at the Crimson Wetlands features a set of pads set in a pond that you can try to playfully skip across from one end to the other.
Overlooking Crimson Wetlands, there is a restaurant on the second floor called Crimson Restaurant. This is quite an nice and fancy restaurant for those who wish to have an elevated dining experience with a menu by celebrity chef Eric Teo.
The Crimson Wetlands leads to the Central Plaza.
---
Central Plaza
Central Plaza is the major hub with the Sky Amphitheatre, Shuttle Stop 2, food outlets and children's play areas at Bird Paradise.
At the Sky Amphitheatre, you can watch two presentations. Wings of the World takes place at 12.30 pm and 5 pm, while Predators on Wings is at 10 am and 2.30 pm.
The two new shows will have a new format and content while still preserving some of the beloved elements of the old Kings of the Skies and High Flyers shows at Jurong Bird Park.
Central Plaza also has two play areas for children.
Treetop Play is the dry playground and is made to look like an aviary itself, where kids can scramble up and down the netted play structure like birds and bounce on trampolines.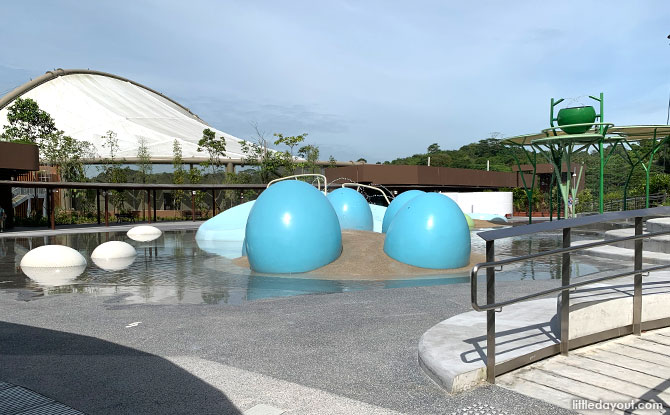 Egg Splash is a wet playground. It features fountains and a water bucket till rings a bell before it is about to splash out. It is a great spot for cooling down in Singapore's hot, humid weather.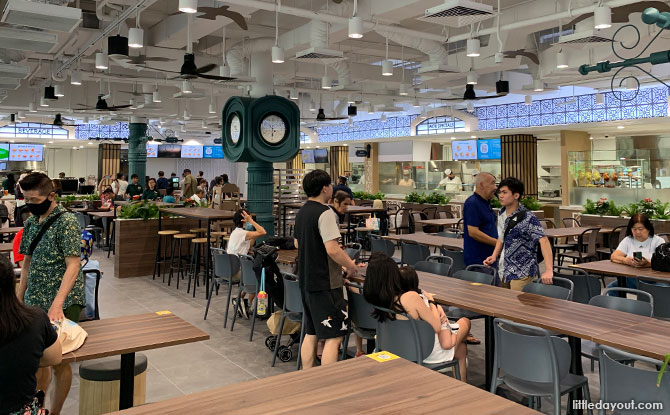 F&B options at Central Plaza include a food court just beside Treetop Play. The stalls at the food court include Western, Wok Specials, Roast and Porridge, La Mian and Japanese. There are vegetarian options available at some of the stalls.
There's also a Ben & Jerry's outlet at Shuttle Stop 2.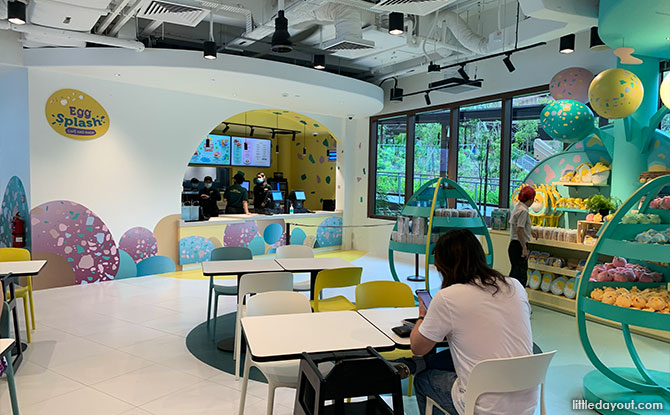 Egg Splash also has an air-conditioned cafe, as well as an outdoor food kiosk.
---
Wings of Asia
From Central Plaza, step through the Balinese-inspired split gate and immerse yourself back into the world of the birds at Kuok Group Wings of Asia.
Themed after the lands of Southeast Asia, this aviary has what looks like terraced rice paddy fields. Catch the sight of pheasants searching the undergrowth for food and birds like the pelicans here. The Hornbill Talk by Bird Paradise's keepers also take place here.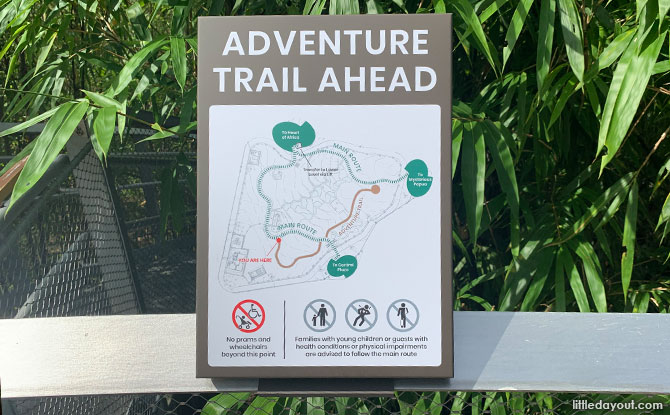 There are also two Adventure Trails here at Wings of Asia.
Follow one path to explore water-based sound sculptures within the habitat.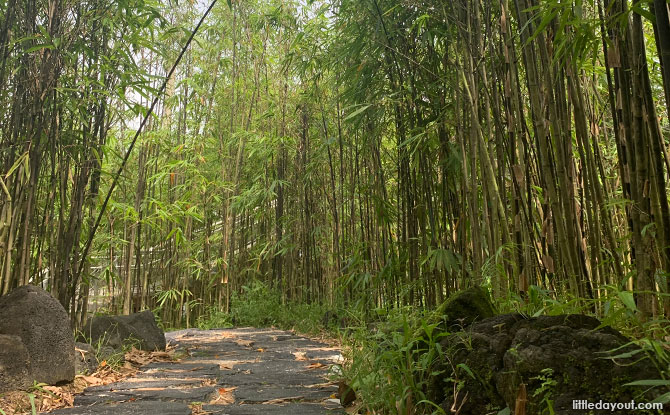 Take the other and find yourself in the midst of a bamboo grove.
It is also probably worthwhile mentioning that the Wings of Asia is also connected to Mysterious Papua by a bridge that goes over the main corridor.
However, to carry on to the next aviary, go through the air-conditioned hub and you will find yourself in the Heart of Africa.
---
Heart of Africa
The walk-in aviary Heart of Africa is one of the largest at Bird Paradise at 1.5 hectares and takes inspiration from the forested valleys of continental Africa.
Visitors can look forward to over 80 species of birds at this walk-through aviary including the Red-fronted Barbet, Blue-bellied Roller and Great Blue Turaco.
One of the most elusive birds at this aviary is the Shoebill. If you want to try to spot it, try asking one of the staff if they can help point it out to you.
A suspension bridge leads to a lookout tower where you can try to spot them in the trees.
One of the suspension bridges is a musical bridge where you can try stomping out a melody as you pass by.
There is a Bee-eaters's Cliff where you may be able to spot more birds.
When you are ready, you can exit Heart of Africa and you will have made a full circle back to Shuttle Stop 1, Penguin Cove and the Entrance Plaza.
---
Bird Paradise Shows & Presentations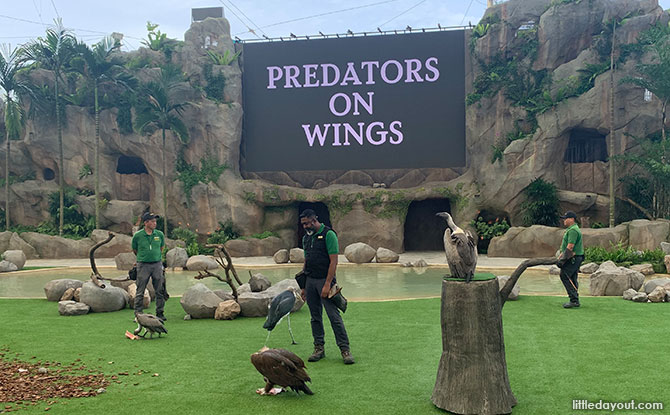 There are two Bird Paradise shows. Both of these take place at Sky Amphitheatre at Central Plaza.
Predators on Wings features birds of prey and takes place at 10 am and 2.30 pm.
Wings of the World takes place at 12.30 pm and 5 pm.
The shows are free with admission. They each last for around 20 minutes.
---
Bird Feeding at Bird Paradise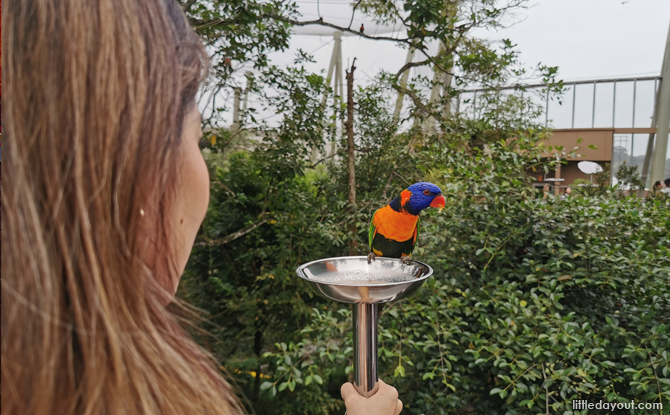 Feeding sessions with the birds are a great way to experience Bird Paradise. These sessions a chance for you to get hands-on and may turn out to be one of the memorable memories that you take back from your time at the Mandai attractions.
Bird feeding sessions take place at
Heart of Africa with starlings, African hornbills and barbets: 9.30 am & 2 pm
Wings of Asia with pelicans: 10 am & 4.30 pm
Lory Loft with lories and lorikeets: 11 am & 3.30 pm
Mysterious Papua with cassowary: 1 pm
The feeding experiences are $8 per session. Book your feeding session online and arrive 15 minutes early.
Find out more about these bird feeding sessions and purchase your tickets here.
For a more intimate experience, there is the Backstage Pass Experience which gives visitors behind the scenes tours at Bird Paradise.
---
Bird Paradise Shop
Before you exit from Bird Paradise, you will pass through the obligatory shop where you can pick up a souvenir from your visit to the attraction.
---
Overview of Dining Options at Bird Paradise
For those who are planning to dine inside Bird Paradise, here's a quick overview at the dining options that you have available.
Bird Bakery – located at the park's entrance, Bird Bakery has a selection of coffee, pastries and sandwiches.
Penguin Cove Restaurant – found on Level 1 of Penguin Cove, this is a buffet restaurant with local and international dishes.
Penguin Cove Cafe – located on Level 2 of Penguin Cove, this is a cafe with beverages and snacks.
Tram Kiosk – choose from a selection of ice cream flavours and drinks at this drinks and food kiosk at Shuttle Station 2.
Food Central – the main food court of Bird Paradise can be found at the Central Plaza, close to the amphitheatre.
Egg Splash Cafe – located at the children's play area Egg Splash, this cafe offers different type of egg dishes.
Crimson Restaurant – overlooking the Crimson Wetlands and its waterfall, this restaurant serves up a menu that has been curated by local celebrity chef Eric Teo.
---
Tips for Visiting Bird Paradise
To help you get the most out of your visit, here are some helpful tips to know before your visit to Bird Paradise.
1. Purchase your tickets online. You can buy your tickets to Bird Paradise in advance before you arrive, or there is a QR code that you can scan on the pillars leading up to Bird Paradise to purchase tickets. The Bird Paradise tickets will be sent to your email address and you can scan the bar code at the entrance gates to enter the park.
2. Wear a hat. It can get very hot at the bird park, especially on a sunny day. Have a hat handy and slap on some sun block. We also recommend bringing along a fan.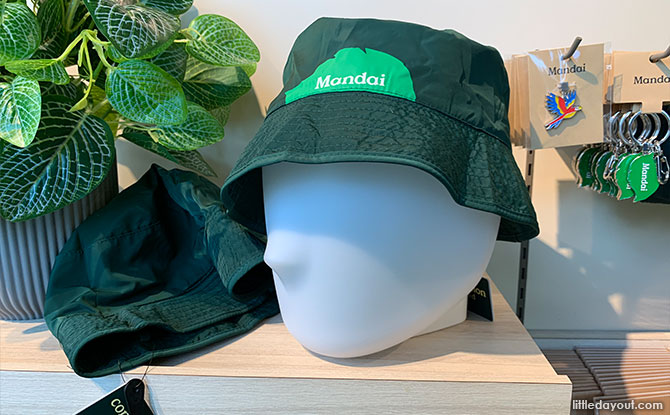 3. If you forgot a hat, you can get one from the Bird Paradise Shop beside the entrance. The bucket hats at the shop retail for $10 to $12. The shop also sells fans.
4. You'll be rewarded if you spend time looking for the birds around the aviaries. One of the joys of the Bird Paradise experience is that the birds are kept in large, naturalistic walk-through aviaries. They are no longer kept in confined cages with metal grills. Instead, it almost feels like you are entering different environments and doing some bird watching (but with a high concentration of birds). We think you'll get the most out of the visit if you come prepared to explore and admire the birds in their natural surroundings.
5. Bring along binoculars. Since some of the aviaries can be huge, a pair of binoculars will help you get a close-up look at the birds.
6. Prices at Bird Paradise's food court at Central Plaza are as you would expect at major attraction. Adult meals cost $12.90 and up. So don't get sticker shock.
7. There are water dispensers around the park where you can refill your bottle. They located close to the restrooms at locations such as the entrance, Mysterious Papua, Sky Amphitheatre and Wings of Asia.
8. Be careful of static shocks at the doors to the aviaries. On multiple times, we have encountered static electricity when trying open the metal doors between the aviaries. We were told that it was apparently due to the heat. Nonetheless, we resorted to just pushing on the doors where we could, or using something to insulate us from the metal door handles when we had to pull it open. Hopefully this get sorted out soon.
9. WIFI in the Park. If you find the signal strength for your mobile data within the park to be weak, there is free WIFI available within Bird Paradise.
---
Bird Paradise Tickets
Bird Paradise tickets can be purchased online. These are the prices for Bird Paradise tickets.
| | |
| --- | --- |
| Adult | $48 |
| Child | $33 |
| Senior | $20 |
The in-park shuttle service is included with all admission tickets.
Local Singapore residents can save by signing up for a complimentary WildPass digital membership to enjoy discounts of 20 per cent for admission to Bird Paradise.
---
Transport & Getting to Bird Paradise
Bus / MRT Options
One way to get to Bird Paradise by public transport is to a train to one of four MRT stations and taking a bus from there.
| | |
| --- | --- |
| MRT Station | Connecting Bus Service |
| Khatib (NS14) | Take the Mandai Khatib Shuttle from Exit A Passenger Pick-up Point. The Bus arrives every 10 to 15 minutes and costs $1 one-way. |
| Choa Chu Kang (NS4) | Take Bus 927 |
| Ang Mo Kio (NS16) | Take Bus 138 |
| Springleaf (TE4) | Take Bus 138 |
Mandai Heartland Express
During the school holiday weekends and public holidays, the Mandai Heartland Express operates between Mandai Wildlife Reserve and three heartland locations: Bedok, Sengkang and Tampines.
The Mandai Heartland Express makes it easier for those making their way down to the wildlife parks from these areas and costs $3 for adults and $1 for children, one-way.
Parking Rates
For those who are driving, it may be useful to know the parking rates. These are:
First hour (inclusive of 10-minute grace period) – $3
Every additional hour or part thereof – $2/hour
Vehicles without IU or cash card – $10 per entry
Maximum parking charge – $10 per entry
---
Bird Paradise in Mandai
We hope that this information has been useful in helping you to plan out your day at Mandai Bird Paradise. It is a wonderful place to visit and somewhere that you can experience avian friends in a novel and interesting environment.
Have a great time out at Bird Paradise.
Where: 20 Mandai Lake Rd, Singapore 729825
Website
If you enjoyed this story, you may also be interested in reading more about the play areas at Bird Paradise or about Mandai Wildlife West. Or, if you are planning to pay a visit to the other wildlife parks in Singapore, we think that you will enjoy this other story of ours on the Singapore Zoo.
This story contains affiliate links. This means we earn a small fee if you purchase something through a link from our website. There is no additional cost to you and goes towards supporting Little Day Out's efforts to deliver the best news and reporting for families.