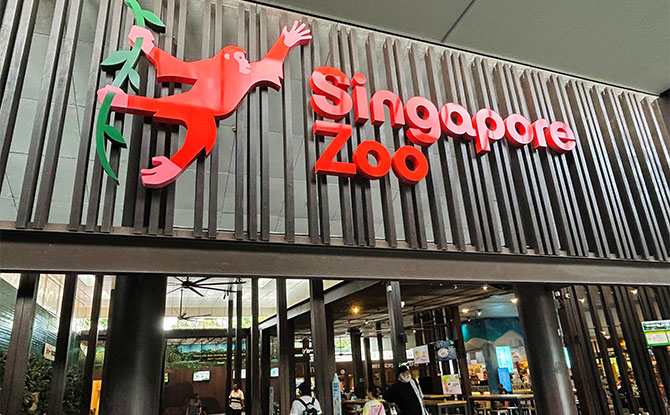 Singapore Zoo is one of our favourite family-friendly attractions of all time. We love visiting the Singapore Zoo with kids. Its world-famous, open-concept design allows curious little ones to get up close with their favourite animals.
From lions and other big cats in the Wild Africa zone to the playful primates swinging from tree to tree, there is something to bring out the child in every visitor at the Singapore Zoo.
For families with children, a visit to the zoo in Mandai is a must-do. The little ones are always fascinated by the chance to get upclose to the many animals found there, making it an educational adventure.
---
The Captivating Singapore Zoo Experience
The idea for a zoo in Singapore originated from the late Dr Ong Swee Law, then Chairman of Singapore's Public Utilities Board in 1968.
---
-- Story continues below --
The attraction opened on 27 June 1973 as the Singapore Zoological Gardens with 272 animals across 72 species. Nowadays, the Singapore Zoo has over 4,200 animals of over 300 species.
And, at a time when many zoos around the world had exhibits with animals in cages, the Singapore Zoo stood out for its open layout concept.
Animals were, and still are, displayed in enclosures that resembled their natural habitats. Instead of cages and bars, the exhibits make use of barriers like moats or glass panes to allow visitors to a clear view to the animals.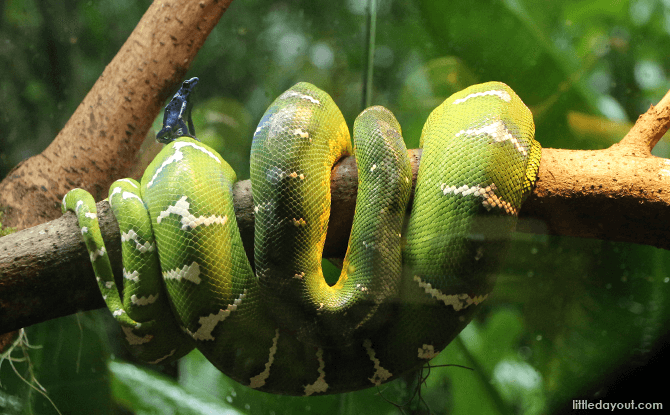 The animals are also presented in thematic zones. These range from that replicate diverse ecosystems, creating an immersive experience.
Here are some of our favourite thematic zones at Singapore Zoo:
| | |
| --- | --- |
| Wild Africa | Encounter the animals of Africa, including predators like lions and cheetahs, along with other iconic wildlife such as zebras and giraffes. |
| Fragile Forest | Step into a rainforest setting filled with birds and small mammals running underfoot. The Fragile Forest is an immersive experience that provides an intimate encounter with butterflies, flying foxes, mousedeer and more. |
| RepTopia | Come face to face with lizards, snakes and other interesting cold-blooded creatures at RepTopia. |
| Great Rift Valley of Ethiopia | Explore a traditional African village and encounter a troop of baboons living in a hidden valley. |
| Australasia | Hop on over to meet the kangaroos and wallabies at this themed area. One of our favourite exhibits here is the charming Tree Kangaroo. |
Other experiences that you should not miss at Singapore Zoo include:
In this story, we will be focusing on practical details about the Singapore Zoo, including ticket prices, where to find the animals, animal feeding times, and play areas for families.
---
To help you navigate your way around Singapore Zoo, here's a Singapore Zoo map.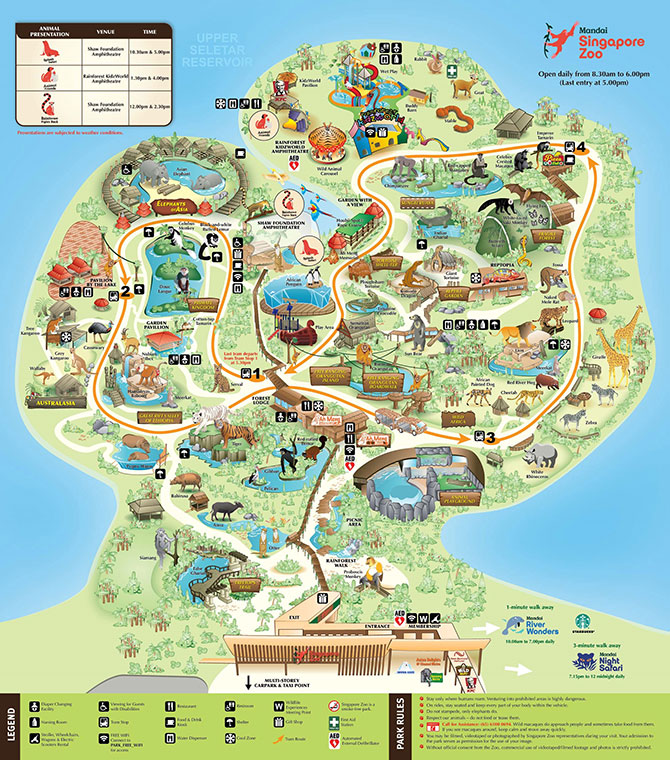 Here's a quick orientation to the Singapore Zoo map shown above. The entrance to the attraction is at the bottom of the Singapore Zoo map.
As you make your way into the zoo, the first crossroads that you will come to is at the Otters exhibit. Go straight, following the sheltered walkway and you will arrive at the amenities hub with the Ah Meng Restaurant. Turn left and it is a short cut to the the tigers, Great Rift Valley of Ethiopia and Australasia.
For first-time visitors, we would recommend going straight toward the amenities area and the Ah Meng Restaurant.
The amenities area is at the heart of Singapore Zoo. Besides the Ah Meng Restaurant, from here you can also see the free-ranging orang utans. Closeby are the African penguins and a short walk away is the Shaw Foundation Amphitheatre where animal shows are held.
Two huge loops spread out from the amenities area, allowing visitors to venture and explore various parts of the zoo.
The loop to the right of the amenities area is the larger one. Following it and you will make your way to Wild Africa, RepTopia, and the KidzWorld children's play area.
The loop on the left contains the Primate Kingdom, Elephants of Asia, Great Rift Valley of Ethiopia and the Australasia zone.
For first time visitors, we would suggest going anti-clockwise along the loops to see the animals. Also be sure to venture into the animal exhibits within the loops to see exhibits like RepTopia, the Sloth Bear and the Primate Kingdom.
---
Mandai App
As an additional tip, you can download the Mandai App which has a wayfinding map of the Singapore Zoo and can help you to navigate around the wildlife park using your mobile phone.
You can download the Mandai App here.
---
Up-Close Encounters: Animal Shows & Feeding Times
One of the highlights of a visit to Singapore Zoo is not just the chance to see the animals at the exhibits but to also see them in action, or even have a memorable encounter with the animals.
There are five animal presentations at Singapore Zoo – two at the Shaw Foundation Amphitheatre and three at Kidzworld.
The shows at the Shaw Foundation Amphitheatres lasts for approximately 20 minutes. The shows at Kidzworld last for around 10 minutes.
Animal Shows Timings
Splash Safari
View the playful antics of the California sea lion at this animal show. Watch as the sea lion charms its way into your hearts with its skills like balancing a ball on its nose and more.
10.30 am & 5 pm;
Shaw Foundation Amphitheatre
Rainforest Fights Back
This animal presentation features a diverse range of rainforest creatures. Be awed as they show off their abilities by jumping and flying above. Find out how their lives have been affected by humans.
12 pm & 2.30 pm;
Shaw Foundation Amphitheatre
Meet Our Hooved Friends
This 10-minute animal show takes place at the Animal Buddies amphitheatre at Kidzworld.
11 am, daily;
12.30 pm, Mon to Fri; Kidzworld
Animal Heroes
This 10-minute animal show takes place at the Animal Buddies amphitheatre at Kidzworld.

12.30 pm on Sat, Sun & PH,

Kidzworld

Dance Your Heart Out
This 10-minute animal show takes place at the Animal Buddies amphitheatre at Kidzworld.
3 pm, daily; Kidzworld
Animal Feeding Sessions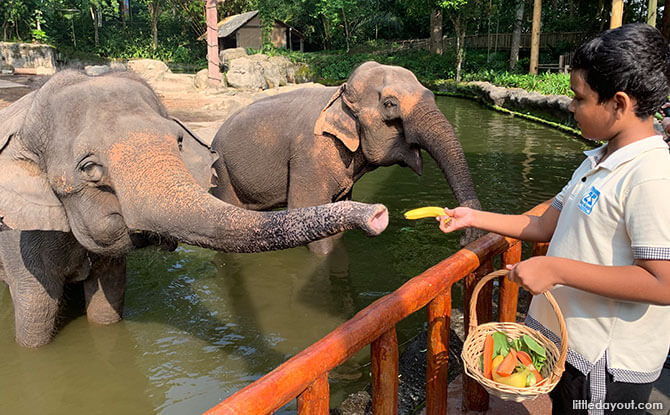 Beside the animal shows, we highly recommend taking part in an animal feeding session at Singpaore Zoo. During these feeding sessions, keepers will also be present to share their insights and information about the animals too.
It is a wonderful and memorable way to interact with the animals with the zoo and could well turn out to be one of the highlights of your visit to Singapore Zoo.
The animal feeding times can change, so it is best to get the latest timings closer to the day of your visit to Singapore Zoo.
Feeding are on a first-come-first-served basis and you should book your feeding session online before your visit to avoid disappointment. You can book feeding sessions here.
To help you plan your day, here are some of the animals that you can look forward to feeding at Singapore Zoo, subject to changes of course:
Get the latest feeding times and available animal feeding sessions here.
---
KidzWorld & Other Children Play Areas
KidzWorld at the Singapore Zoo is specially designed for families with children in mind. It is located opposite from Tram Stop 4, close to the Fragile Forest.
Kids can get to meet the farm animals and have a splashing good time at the water play zone. There is also a Ranger Buddies Base Camp where kids can embark on a quest.
All these make the Singapore Zoo's KidzWorld a must-visit if you are visiting the zoo with young children.
One of the highlights at KidzWorld is the falabellas pen at Animal Land where kids can meet this breed of small horses.
The head over to Little Paws, an indoor animal petting area with rabbits and other small mammals.
For those who have more time, there is the Wet Play area where a water maze awaits.
If you are planning to allow your kids to enjoy the Wet Play area, remember to pack their swimmers and sunscreen for a great time!
Find out more about what to expect at Kidzworld, the Singapore Zoo's children's play area.
Wild Animal Carousel
At the Wild Animal Carousel, kids and adults can go on a ride on tigers, rhinos and prehistoric dinosaurs. Additional fees apply to ride on the Wild Animal Carousel.
The Wild Animal Carousel is located close to the chimpanzees.
Children's Play Area
In addition to KidzWorld, there is also a smaller ship-themed children's play area at the African Penguins exhibit, closer to the Ah Meng Restaurant.
This is nice spot for kids to have some simple play time without having to go all the way to KidzWorld.
Houbii Spot
For those who may be more adventurous, there is a rope course, Houbii Spot, at the Garden with a View. There are two rope courses available:
Mini course (for 110 cm and below). One parent can accompany their child without admission ticket for the mini course. The small course is designed that allows parents to be on the same level as their child as they challenge themselves on the small rope course.
The Real Thing course (for 110 cm and above). This is a two-storey high rope course with swinging obstacles that both kids and adults can do. For first timers, it is recommended that an adult to follow along with their child.
There are additional fees to participate in the Houbii Spot rope course. Get more details about Houbii Spot.
If you are looking for more fun activities with kids, you may also enjoy some of these stories about things to do with kids, including games and other education and fun things and challenges that you can do when organising children's parties.
---
Behind the Scenes: Conservation and Education
In addition to animal husbandry, Singapore Zoo and the Mandai Wildlife Group (which manages the wildlife parks in Singapore) play an active role in animal conservation.
The zoo takes care of rescued wildlife and is a member of the Southeast Asian Zoo and Aquarium Association (SEAZA) and the World Association of Zoos and Aquariums (WAZA). It also participates in conservation programmes by associations such as the European Association of Zoos and Aquaria (EAZA).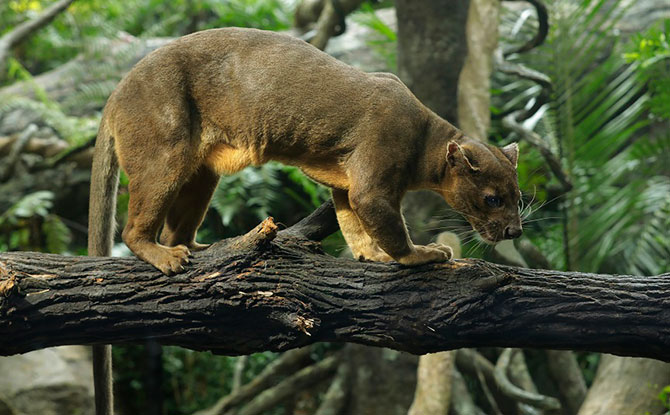 For example, the Singapore Zoo's fossas were brought in on the recommendation of European Endangered Species Programmes (EEP), a breeding programme by the European Association of Zoos and Aquariums (EAZA).
If you wish to get an even more upclose look at what Singapore Zoo does, you can join one of their private tours. These aren't necessarily cheap but they can are an exclusive experience that could be a great treat for a special occasion. Plus, they also help to support the work of the zoo.
Here are some of the guided private tours that you can join:
Zookeeper for a Day (Kid's edition) – recommended for 6 to 12 years old
Zookeeper for a Day (Junior adition) – recommended for 13 years old and above
Zoo Adventure Tour – for up to seven persons; comes with a personal guide an private buggy.
Backstage Pass at RepTopia
Learn more about these educational tours and experiences at Singapore Zoo.
Breakfast in the Wild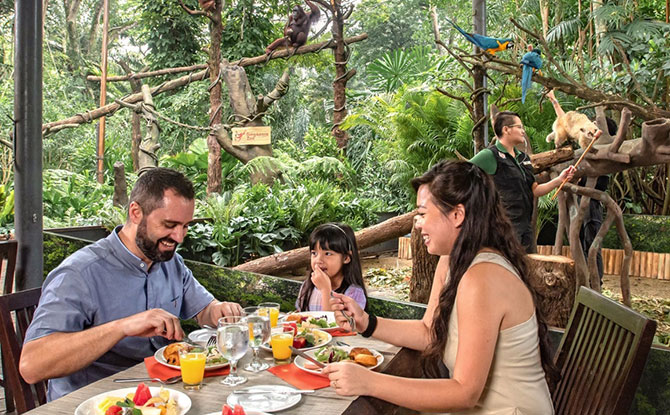 Another signature experience at Singapore Zoo is the Breakfast in the Wild.
The Singapore Zoo breakfast programme has its roots with Breakfast with Ah Meng. This was first launched in 1982, with the late Ah Meng, Singapore's well-loved Sumatran Orangutan who was an icon of the zoo.
Now called Breakfast in the Wild, the experience at the Ah Meng Restaurant includes a spread of local and international flavours and a 90-minute presentation featuring animals such as Coatimundi, Macaw and Orangutans.
There is a free-and-easy interaction area and photo points to meet with the animals and their care team, and capture snapshots for keepsake.
Find out more about Breakfast in the Wild.
---
Singapore Zoo Food: Where to Eat
The main dining area at Singapore Zoo is the Ah Meng Restaurant. The food available here includes local and western food such as chicken rice and BBQ chicken.
The Ah Meng Bistro, next to the restaurant, serves up light foods like sandwiches and pastries.
Another dining option within the park is at KidzWorld where there is a KFC and a food court.
Or if you can pack your own food, you had over to one of the picnic areas at Singapore Zoo to enjoy your food. These picnic areas are found at:
Pavilion by the Lake
Garden with a View
Picnic Area near Rainforest Walk (close to the otters)
Other Singapore Zoo food options can be found at the park's entrance where there a cluster of restaurant like KFC, Inuka Cafe, Chomel Bistro and Chawang Bistro.
If you love discovering new places, check out this list of dining spots in Singapore and this other one places to eat at an iconic destination in Singapore. As the Mid-Autumn Festival is just around the corner, we think that you may also enjoy this story on mooncakes in Singapore and Mid-Autumn Festival events.
---
Ticket Prices and Packages
If you are planning to visit Singapore Zoo, here are the standard ticket prices as of August 2023. Tram service is included in the price of the ticket.
Adult: $48
Child (3 to 12 years old): $33
Senior (60 and above): $20
Local Residents can enjoy 20% off these rates by signing up for a free WildPass.
Membership Annual Passes
If you are planning to pay a visit to Singapore Zoo regularly, there are two membership passes that you may want to consider:
Friends of Wildlife – Comes with annual access to Bird Paradise, Night Safari, River Wonders and Singapore Zoo.
Friends of Wildlife Plus – Comes with annual access to Bird Paradise, Night Safari, River Wonders and Singapore Zoo, complimentary Members' Parking Pass and other perks.
---
Planning Your Visit: Practical Tips for a Great Experience
Here are some of our practical tips for you when planning your visit to Singapore Zoo.
Book Your Tickets Online
Book your Singapore Zoo tickets before your go. By doing so, you won't need to queue up at Singapore Zoo's ticketing counters. Instead, you will receive an e-ticket via email and you can head directly to the turnstiles to enter the Singapore Zoo.
Local Singapore residents also get to enjoy discounts when booking online too, resulting in savings for your visit to Singapore Zoo.
Plan Out Your Day
It is a good idea to consider what you'd like to experience during your visit to Singapore Zoo. If there are certain must-see animals or token feeding experiences that you'd like to attend, time your route to be at the exhibit at the correct time. You can get a guide the various animals found at Singapore Zoo here.
Rent Stroller and Wagons
Visiting Singapore Zoo with young children? Bring a pram because there is a lot of distance to cover. Alternatively, you can rent a pram and wagon for young children while you are at the zoo. These rentals can be found immediately to the right of the entrance after entering Singapore Zoo.
Bring a Hat
Singapore's tropical weather can be blazing hot. You can expect to do a fair bit of walking in the open at Singapore. Bringing a hat to Singapore Zoo is always good idea.
Bring Your Own Bottle
Singapore Zoo aims is spread the message about conservation. You can play a role in conservation by bringing your own reusable water bottles to the zoo. The bottles can be refilled at special filtered water dispensers found around the park and this practice is a green alternative to purchasing one-time-use bottled water at Singapore Zoo.
Don't Stand Under the Orangutans at the Free-Ranging Area
Orangutans are Singapore Zoo's flagship species. You can view them at the Orangutan Island exhibit close to the Ah Meng Restaurant.
Just next to Orangutan Island is a free-ranging area where orangutans can swing freely above.
They are wonderful to observe but don't stand directly underneath them. We have seen them release a downpour of "golden showers" before and you wouldn't want to be caught in one of those.
Intersperse the Animal Shows
Singapore Zoo's animal shows are held twice every day, once in the morning and once in the afternoon. This means that if you are planning to stay at Singapore Zoo for the entire day, you can view a show in the morning and catch another in the afternoon. This allows you to break up your day with different experiences.
Stay Around After the Animal Shows
Animal shows are a big part of any visit to Singapore Zoo. Once the show is done, rather than jostling with the crowds heading towards the exit, you can stay behind and meet the animals or have your photo taken with them.
Eat Early
The restaurants at Singapore Zoo fill up very fast, especially on busy days. You may find yourself waiting in queue or hunting for a seat if you arrive at the restaurant between 12 pm and 2 pm for lunch.
Instead, we recommend having an early lunch, at around 11 am if possible, to beat the lunch crowd. Then when everyone else is queuing at the restaurant, go and watch a show or explore the Reptile Garden area which has some shade.
Birthday Privileges for Members
Want to celebrate a birthday at Singapore Zoo? Those who are Friends of Wildlife and Friends of Wildlife Plus members get some exclusive privileges such as a free souvenir birthday badge. Get more details here.
School Holiday Programmes
Every school holidays, Singapore Zoo organises special holiday programmes. Past programmes have included animatronic dinosaurs and the world of giant insects. Many of the holiday programme activities take place on the weekends, so you can head down for a wonderful time with the family when the holidays are on.
Mandai Wildlife Run
Mandai Wildlife Group also organises the Mandai Wildlife Run each year. This is a unique opportunity to run through the park, past the animals at the zoo. The run has a family-friendly segment too, known as the Ranger Buddies Family Dash.
Find out more about the Mandai Wildlife Run.
---
Must-See Animals and Zones at Singapore Zoo
To round off this article, we would like to spotlight some of the exhibits and animals that you can see at Singapore Zoo, so that you can plan out your day.
Treetops Trail
One of the first zones that you will come across upon entering Singapore Zoo is the Treetops Trail. It simulates a clearing in a rainforest and consists of an elevated boardwalk that takes visitors high above the jungle floor. Look for the Siamang gibbon or peer down to the waters below the boardwalk and you can spot the False Gavial lurking in the jungle pond below.
Otter and Otter Den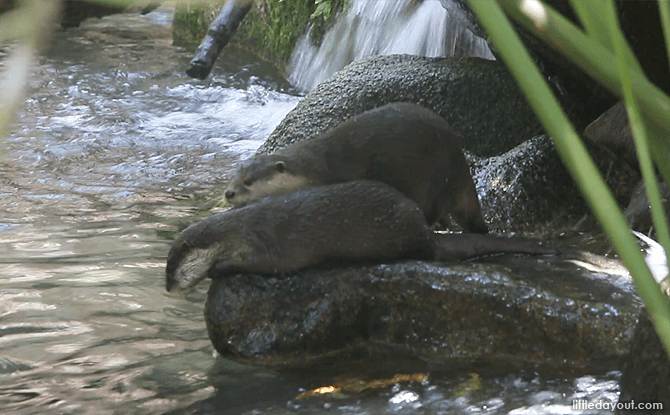 The playful otters are one of the first animal exhibits that you will come across. Most people admire them in front of their open-air enclosure.
However, you can get an alternative perspective of "Otter World" by walking into the Heliconia Walk slightly past the enclosure and follow the little path downwards.
This leads to a small alcove on the left that provides a waterline-level view of the cute otters and their living habitat.
Wild Africa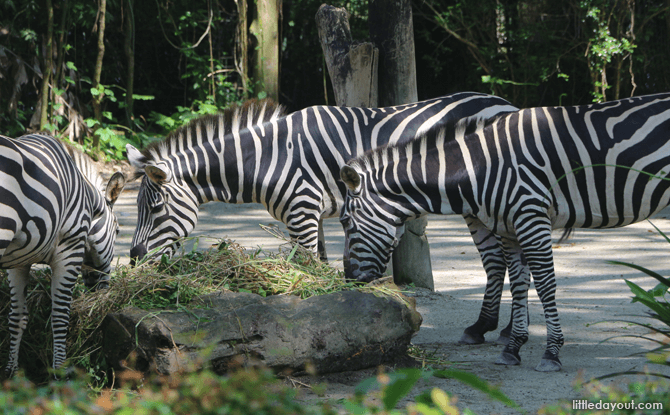 Experience the plains of the savannah at Singapore Zoo's Wild Africa zone where you can view the majestic White Rhinoceros, the second largest land mammal in the world. Neighbouring the White Rhino are zebras with their distinctive black and white stripes. Also nearby are the Giraffes.
The apex predator of the African plains, the Lion, can also be found at the Singapore Zoo. The lions are located in the open enclosure opposite the giraffes and zebras. Other animals at Wild Africa include African painted dogs.
Mole-rats
At the heart of cat country are a pack of rats – mole-rats to be exact. These creatures, also known as sand puppies, have their own miniature condo block of burrows and recesses. Kids can even pretend to be mole-rats themselves by ducking into a tunnel to dig out the facts about these hairless East African natives.
Fragile Forest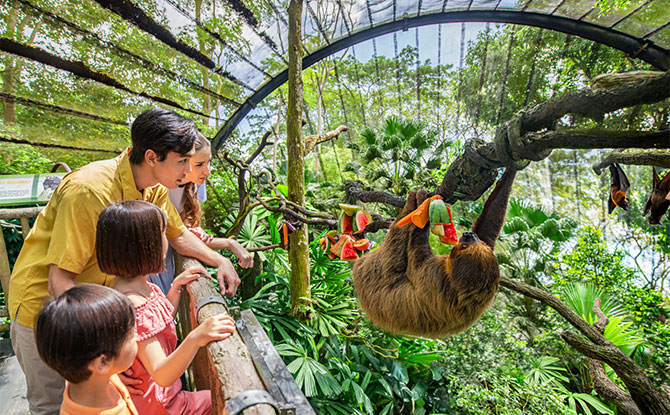 The Fragile Forest is a walkthrough enclosure where you can experience the flora and fauna of the rainforest.
Starting with an introduction to frogs and toads, creatures that dwell on the lowest layer of the rainforest, you can then trek up through the layers of the forest. Along the way, you will encounter birds flying overhead and ducks floating in a pond.
Keep an eye out for the Lesser Mousedeer moving stealthily through vegetation.
At an elevated platform, get an intimate look at Malayan flying foxes feasting on juicy fruit before they take flight through the 20,000 cubic metre flight area of the Fragile Forest.
Reptile Garden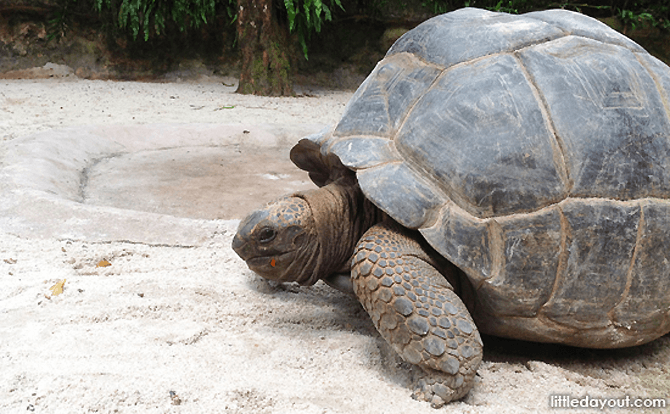 Located on a hill behind the Fragile Forest, Reptile Garden provides a look at reptiles, amphibians and other cold-blooded animals.
Come and see the largest lizard in the world, the Komodo dragon. Another highlight is the Aldabra giant tortoise. These humongous tortoises are natives of the Aldabra islands off the East coast of Africa.
RepTopia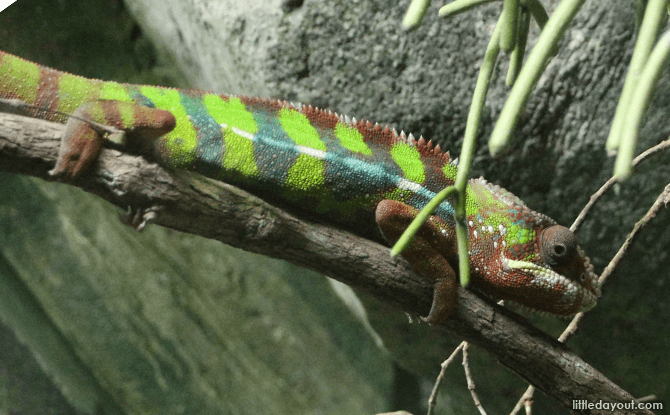 RepTopia is home to an amazing array of cold-blooded creatures. Inside the air-conditioned exhibition area, visitor can meet colour-changing chameleons, crazy Gila Monsters, slithering snakes including the Gaboon Viper which has the longest fangs among snakes, poisonous dart frogs and many more.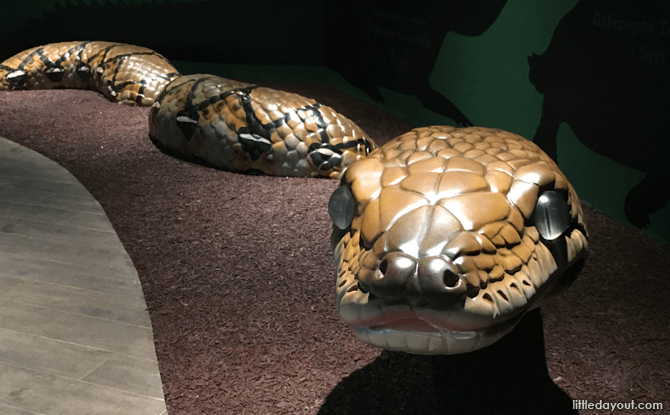 There are also interactive displays that provide information about reptiles and the illegal wildlife trade. An educational ranger station allows kids to explore the world of cold-blooded animals.
A visit to RepTopia is a chance for kids learn more about the diverse world of reptiles and the need to protect them as well.
Primate Kingdom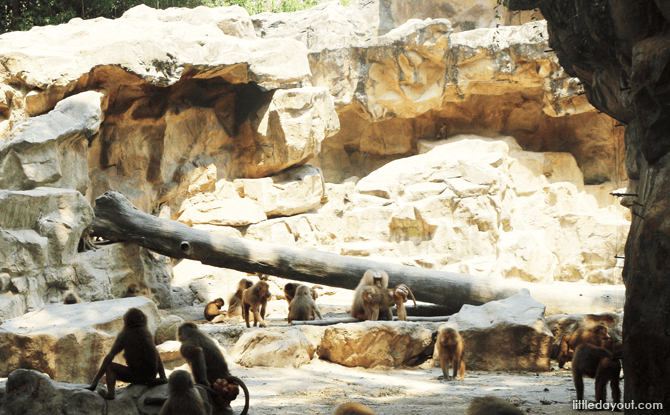 Wander around the Primate Kingdom and you will encounter the many species of primates that call it home. Each species has its own little kingdom in the form of an island.
Look out for primates such as the Douc Langur, an orange-faced monkey from Vietnam.
For an impressive view of a troop of baboons, stop by the Great Rift Valley of Ethiopia exhibit. Witness the social behaviour of tens of baboons as they feed, groom and play with each other.
Elephants of Asia
Elephants are amongst the world's most majestic creatures. The largest land animals on Planet Earth are not only intelligent but can be playful and have loads of personality too.
At the Singapore Zoo, you can view the amazing elephants from the spectator area at the Elephants of Asia exhibit. The exhibit is fashioned to look like a logging camp in Myanmar, providing a playground for the elephants.
Australasia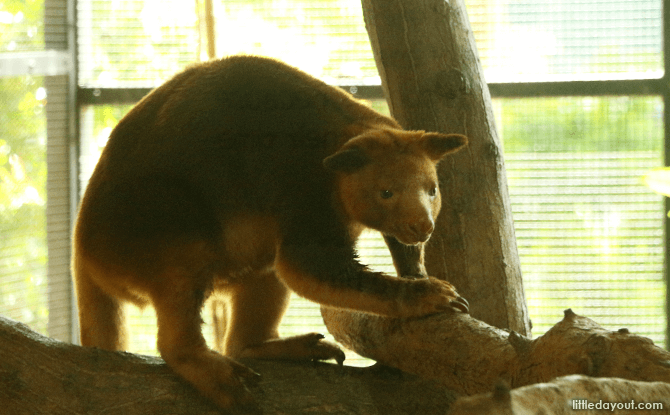 For us, the stars of the Australasia zone are the Goodfellow Tree Kangaroos. Step into an indoor, air-conditioned viewing area to observe these tree-dwelling marsupials from Papua New Guinea as they laze around simulated tree branches. Goodfellow's tree kangaroo is one of the 12 species of tree kangaroos and have soft reddish-brown fur and golden bands on their long tail.
In 2020, Singapore Zoo even successfully had the Goodfellow Tree Kangaroos breed and welcomed a new joey.
Outside, you can spot grey kangaroos and wallabys in an open grassy area.
Free Ranging Orangutan Island
Singapore Zoo's key species is the Orangutan. Meaning "man of the forest", the orangutan is a great ape native to Southeast Asia.
The Singapore Zoo is home to two species of Orangutans, the red-haired Sumatran Orangutan and the darker-haired Bornean Orangutan. View them from the free ranging area or head up the nearby ramp to the Orangutan Boardwalk for an elevated view of these great apes.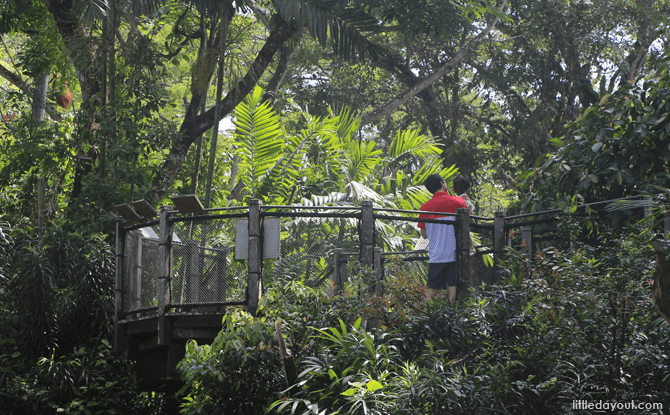 The raised Orang Utan Boardwalk platform provides a great vantage point to observe these arboreal "Men of the Forest".
Sun Bear
Named for the golden crest found on its chest, the Sun Bear, which caused a stir in China recently, makes its home in tropical forests in Southeast Asia and Southern China. The Sun Bear is the smallest bear in the world but don't be fooled by its size because it is known to be a very fierce fighter when confronted in the wild.
White Tiger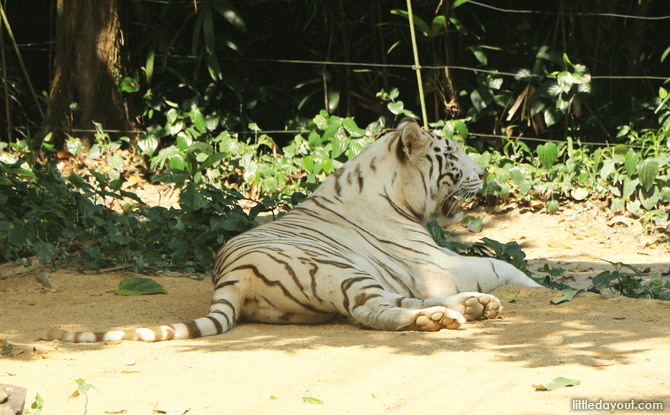 Singapore Zoo's White Tigers are housed in an exhibit designed to look like a jungle clearing. Visitors can view the tigers from across a moat and learn about tigers an educational corner at the exhibit.
Pygmy Hippo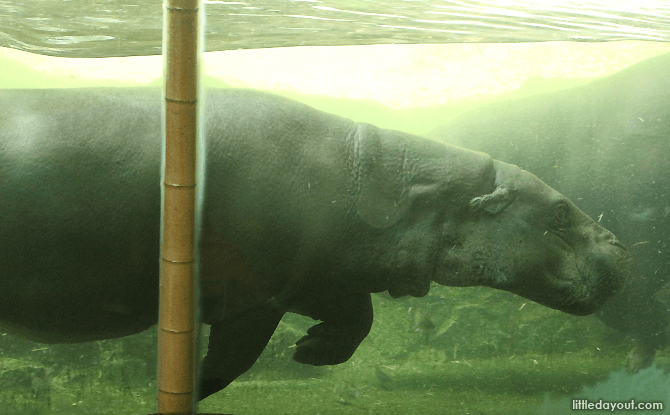 A native of West Africa, the Pygmy Hippo is a much smaller version of its cousin, the common hippopotamus. You can view these mammals at their enclosure where a special underwater channel lets you watch them bounce through the water on their toes.
Proboscis Monkey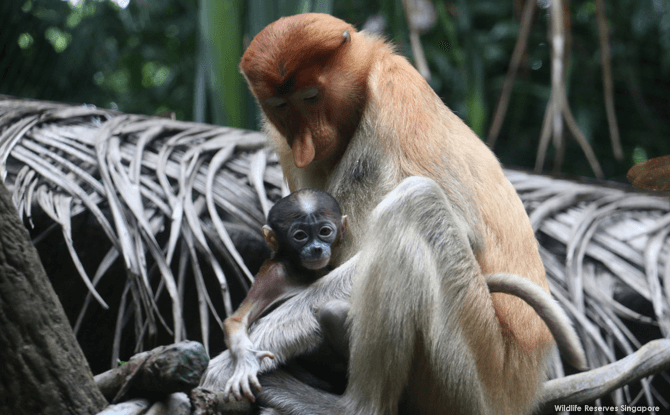 Once you see the Proboscis Monkey, it is evident where the species gets its name.
The males have a huge nose or proboscis that is related to their social status. The larger the nose, the higher likelihood of being further up on the social ladder. You can pay a visit to the Proboscis Monkey on your way out of the Singapore Zoo, near the exit.
---
Embark on a Wildlife Adventure at the Singapore Zoo
Singapore Zoo is a wonderful place to visit for a wildlife adventure in Singapore. You can can come up close to its many animals, taking away wonderful memories of the day spent at the Zoo.
Young children love the Singapore Zoo because it allows them to view animals that would otherwise only be pictures in storybooks. Older children and adults learn to appreciate the biodiversity found in the world and the need for animal conservation.
Add on animal shows where visitors get charmed by the animal's antics and it is no wonder that Singapore Zoo has a lasting place in local and overseas visitors memories.
---
Singapore Zoo
Where: 80 Mandai Lake Road, Singapore 729826
Opening Hours: 8.30 am to 6 pm, daily (Last entry at 5 pm)
If you enjoyed this story, we predict that you will also enjoy these stories about other attractions in Singapore like Sentosa, Gardens by the Bay, Science Centre Singapore, Singapore Botanic Gardens, Pulau Ubin and Jurong Lake Gardens.