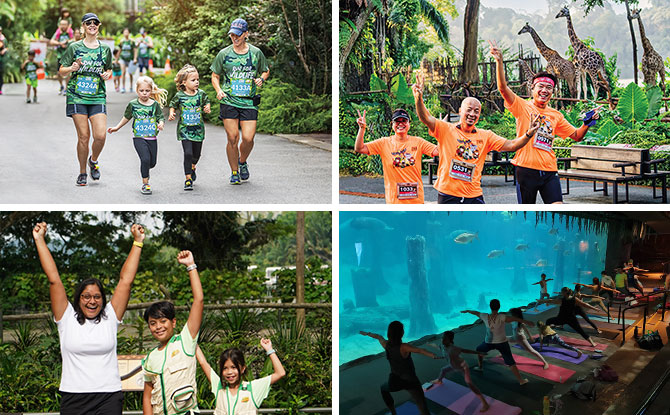 Looking for activities for the family that are fun and great for bonding? Look no further than the Mandai Wildlife Run, returning on 23 and 24 September 2023 in conjunction with Singapore Zoo's 50th Golden ZOObilee!
This iconic run, previously known as the Safari Zoo Run, is back after a three-year hiatus and it is even bigger and better. There are new race categories, as well as kid-friendly activities and pre-run prep sessions to get everyone's fitness levels conditioned up.
Here are five reasons to sign up for the Mandai Wildlife Run.
---
Five Great Reasons to Sign up For Mandai Wildlife Run
1. Race Categories for All, Including a 3.5km Ranger Buddies Family Dash
---
-- Story continues below --
This year's Mandai Wildlife Run caters to runners of all ages and inclinations with four race categories.
Competitive runners can strive for their personal best in the 5km Competitive Challenge on Saturday, 23 September. Fitness enthusiasts and Seniors can opt for the 5km Fun Run and 5km Silvers Leisure Walk respectively on Sunday, 24 September.
Also on 24 September, families looking for a fun way to work out together can sign up for the 3.5km Ranger Buddies Family Dash. This race category pairs one adult with one child between 3 to 12.
The Ranger Buddies Family Dash is a great parent-child bonding opportunity that ends with an interactive mission at the race village. Kids will get to enjoy hands-on activities while learning about protecting the planet as a Ranger Buddy. Once they have completed the mission, they will earn an exclusive Ranger Buddies reward pin.
Plus, we've got a bonus tip for you.
Children under 3 years old can join their families who have signed up for the Ranger Buddies Family Dash for free. This means that if you and your older child are going for the race, your under-3 can join in the family fun too!
---
2. Unique Way To Experience & See Wildlife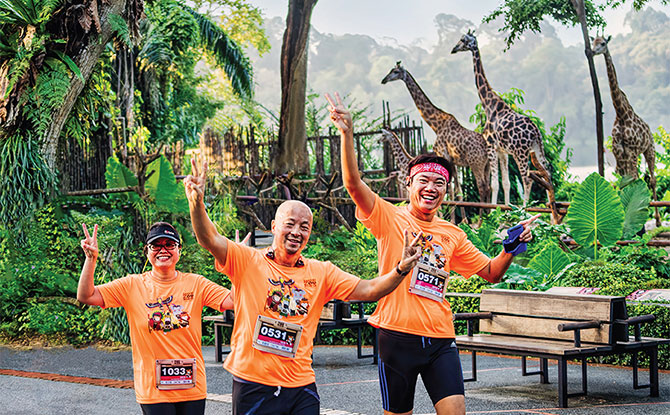 Mandai Wildlife Run will flag off at the Night Safari and take participants through River Wonders before ending at Singapore Zoo. It is a unique chance to run alongside animals and experience Singapore's wildlife parks like never before.
Take the opportunity to soak in the fresh morning air while listening to the calls of the wild, enjoying the verdant green foliage and relaxing views of Upper Seletar Reservoir.
Kids will be especially thrilled to run alongside their favourite animals. You might even want to slow down the pace to admire the wildlife and take a few snaps to capture precious memories together.
After the run, you can spend even more time with the animal friends because each Mandai Wildlife Run ticket comes with race day admission to Singapore Zoo and River Wonders (worth $92).
---
3. Attractive Race Pack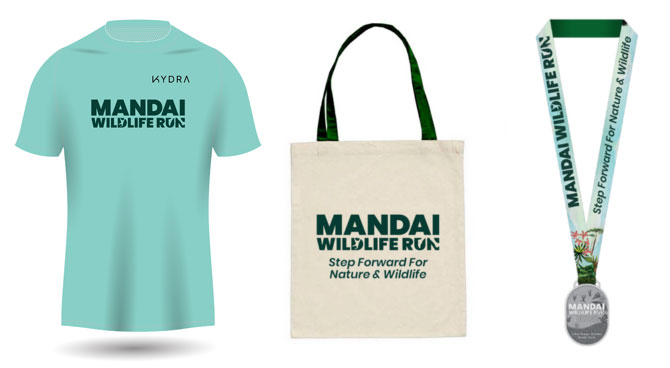 It's always fun to have something to take home as a memento from a run and that's certainly true of the Mandai Wildlife Run.
Runners will receive an exclusive Mandai Wildlife Run T-shirt (worth $42) along with a tote bag and medal. Kids in the Ranger Buddies Family Dash will receive a special Ranger Buddies T-shirt along with an exclusive Ranger Buddies drawstring bag and bucket hat. Specially for kids, the medal will also be accompanied by a unique Ranger Buddies lanyard!
In addition, runners will also be able to enjoy 50% off Night Safari and 30% off Bird Paradise admissions.
Other race perks include $20 off Kydra products, complimentary selected classes at Absolute Cycle, 20% off Collin's ala carte menu items and $10 off LEGO products.
---
4. Support Conservation and Sustainability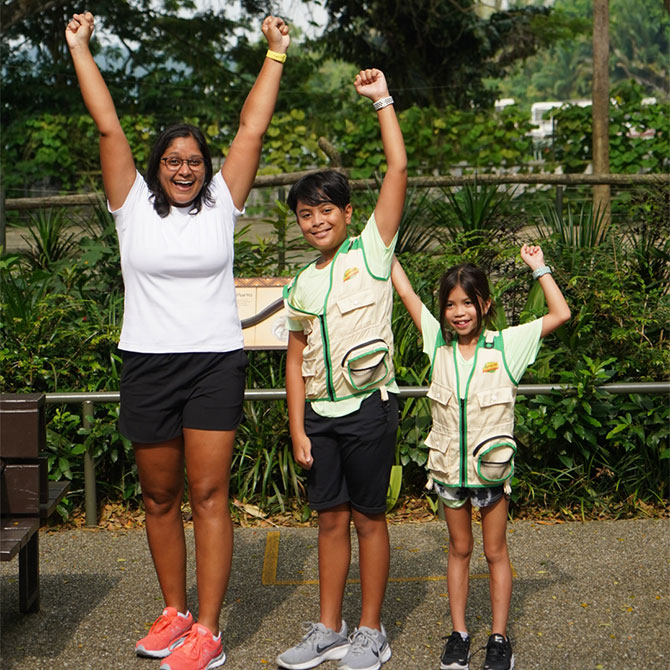 Each Mandai Wildlife Run sign-up comes with Conservation Included. This is where a portion of the proceeds will go towards conservation projects in Singapore and the region.
By simply signing up for the run, you will be making a difference for animal conservation.
The Mandai Wildlife Run also encourages participants to think about how we can live sustainably to conserve nature and wildlife. Runners are encouraged to Bring Your Own Bottle to refill at water points throughout the parks to avoid using single-use plastics. Finisher medals are made from metal recycled from past race medals. E-vouchers will also be issued as part of the race packs to reduce the race's carbon footprint.
Parents can also use the Mandai Wildlife Run as an opportunity to introduce their children to the importance of sustainability.
Even before embarking on the interactive mission activities at the race village on race day, parents can sign up their kids as Ranger Buddies online for free. The Ranger Buddies web app is filled with animal-themed games, quizzes and even craft ideas for kids to learn all about conservation and sustainability.
Visit the Ranger Buddies website here.
---
5. Six Weeks of Wellness Activities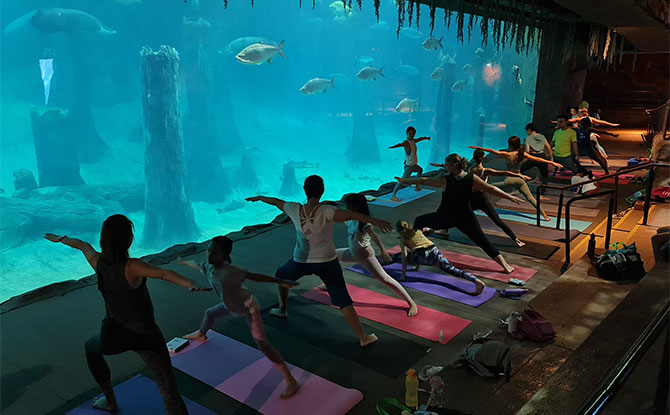 All hyped up about the Mandai Wildlife Run and want to get prepared for it?
Good news! This year, a 6-week Wellness Journey has been introduced to help you get ready for the September run.
Attend running clinics in August and September, or join certified forest therapy guides at Bird Paradise to go forest bathing and relax your mind.
Families will enjoy the Sports for Kids activities at Mandai Wildlife West on 13, 27 August, and 10 September where there will be different games and sports to try out. Or sign up for parent-child yoga sessions with the Orangutans and Manatees to improve your flexibility and balance while bonding together. You can even cap off the session with the Orangutans with Breakfast in the Wild at Singapore Zoo.
These Wellness Journey activities are charged separately and open to both Mandai Wildlife Run participants and the public. Find out more about all the 6-Week Wellness Journey activities here.
---
Mandai Wildlife Run Registration is Now Open
Registration for the Mandai Wildlife Run is open from now till 4 September 2023.
Local residents can sign up for a free WildPass to enjoy 10% off registration fees while Friends of Wildlife members get 15% off.
Ranger Buddies members also get to enjoy 10% off registration fees with promo code MWRUN10RB.
Ready to join in the fun? Sign up and get set for a memorable day out with the entire family at Mandai Wildlife Run.
When: 23 to 24 September 2023
Where: 80, Mandai Lake Road, Singapore 729826
Website
This feature is brought to you by Mandai Wildlife Run.