In Singapore, one of the most iconic neighbourhoods that you can visit is Little India. The heritage precinct is full of life and colour, inviting and rewarding those who visit with a rich experience.
Whether you are planning to view the sights of Little India or to do some shopping, you won't be disappointed as there is so much to take in.
And let's not forget about all the Little India food, with dishes that will tantalise your taste buds and leave you wanting more.
Planning a visit to Little India soon? Here's our guide to Little India and all the treasures it holds within.
---
Overview of Little India in Singapore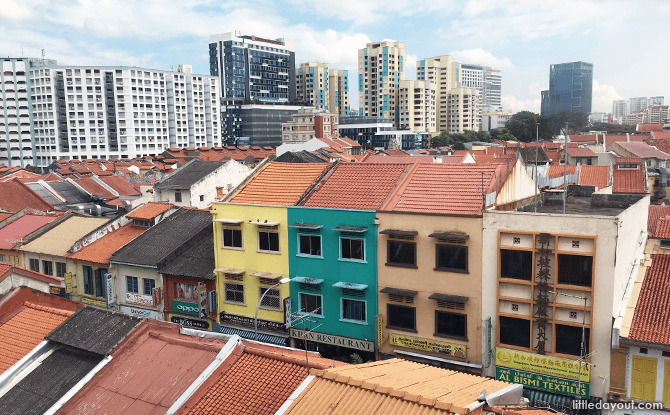 Little India is one of several heritage districts in Singapore and is centred around Serangoon Road. The name Little India is a fairly recent term that only came about in the 1980s. Before then, the area was just mainly referred to as Serangoon Road.
Together with Kampong Glam and Chinatown, Little India is one of three cultural and heritage districts in Singapore.
You will find Serangoon Road lined with shophouses where businesses sell goods from clothing to electronics to toys to jewellery.
Running parallel to Serangoon Road is Race Course Road, where there are many popular shops and restaurants.
---
Landmarks in Little India
Tekka Centre
The junction of Serangoon Road and Sungei Road is a good starting point for an exploration of Little India.
Tekka Centre, located at the junction, is a building complex where you can find market stalls selling produce, small businesses selling clothes including sarees, and a food centre with a wide selection of dishes available for sale.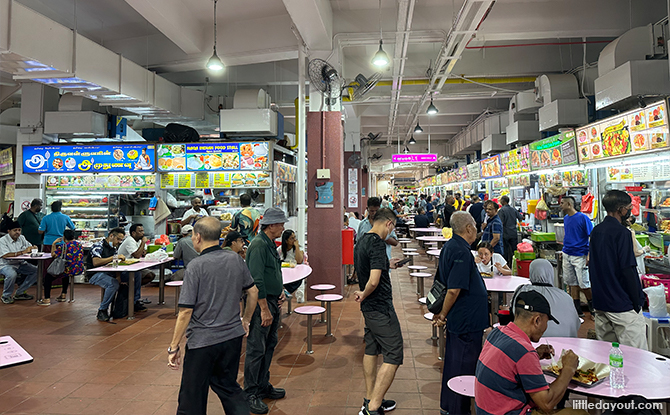 In addition to Chinese vegetarian, North Indian, and Malay food, the hawker centre on the ground floor of the building has stalls selling vegetarian meals from India that are served on banana leaves or on stainless steel platters.
On the same level there is a wet market. Here at the market, vendors sell vegetables and fresh seafood, particularly crabs from Sri Lanka. Vegetables that have been specially flown in from India are also sold at numerous stalls.
---
Indian Heritage Centre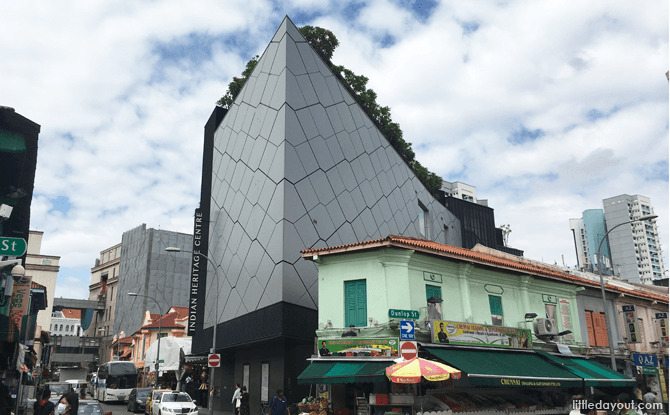 Next to the Little India Arcade, along the pedestrianised Campbell Lane, is the Indian Heritage Centre which opened in 2015.
Pay a visit to the Indian Heritage Centre to learn about the early Indian immigrants to Singapore and their contributions.
The permanent galleries are organised around five different themes where you can learn more about the culture and heritage of the various Indian groups in Singapore.
Where: 5 Campbell Lane, Singapore 209924
---
Tan Teng Niah House
Another prominent landmark in Little India is the House of Tan Teng Niah. This colourful stop is often on any visitor's list if they are visiting to go on the Instagram trail around Little India. The villa is the last remaining Chinese villa in Little India and just a stone's throw away from Tekka Centre.
Where: 37 Kerbau Rd, Singapore 219168
---
Sri Veeramakaliamman Temple
When visiting Little India, for a cultural experience of Indian customs, you can pay a visit to the iconic Sri Veeramakaliamman Temple along Serangoon Road.
This temple in Little India is unmissable and is decorated with colourful sculptures of religious figures on its roof.
Where: 141 Serangoon Rd, Singapore 218042
---
Other Temples in Little India
Other temples in Little India that you can visit are Sri Srinivasa Perumal Temple and Sri Vadapathirakaliamman Temple.
If you are planning to visit a temple, do remember to dress modestly and remove your shoes when you enter. Respectful attire and conduct are a must when visiting Hindu temples.
---
Little India Food
One of the joys of visiting Little India is the opportunity to taste some deliciously tasty food.
Get your dose of fiery Indian food at well-known restaurants in Little India.
Don't worry, you can request for non-fiery options without chilli, for example, butter chicken, if the hot stuff isn't to your liking.
Banana Leaf Apolo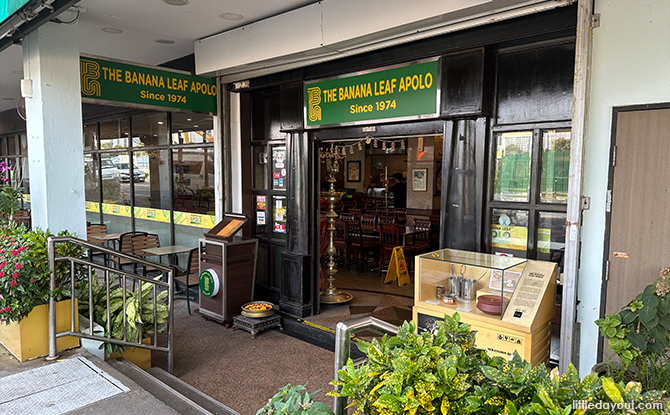 Banana Leaf Apolo was started in 1974. With the idea of serving fresh food on banana leaves, something that came about from India, the Banana Leaf Apolo restaurant is now a popular spot and is especially well known for its Apolo Fish Head Curry.
Where:
54 Race Course Rd, Singapore 218564
48 Serangoon Road, #01-32 Little India Arcade, Singapore 217959
---
Muthu's Curry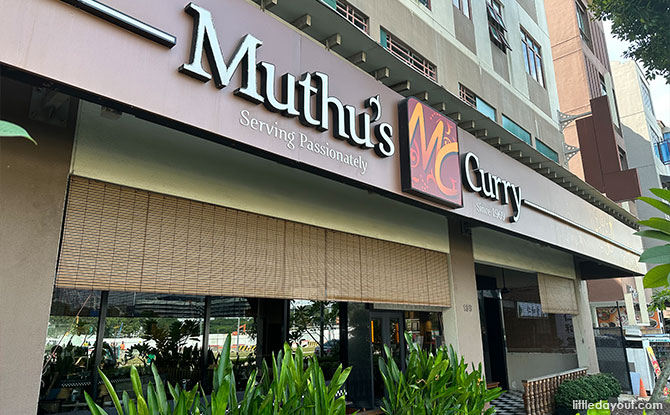 Since its modest beginnings in 1969, Muthu's Curry has grown to become a renowned name in Singapore's culinary world. Thanks to Mr. Ayyakkannu's foresight and tenacity as well as the support of numerous generations of Singaporeans. When Muthu's Curry was first established, it only offered a small selection of traditional Indian dishes, one of which was created by Mr. Ayyakkannu himself: Fish Head Curry in South Indian Style.
Where: 138 Race Course Rd, #01-01, Singapore 218591
---
Anjappar Chettinad Restaurant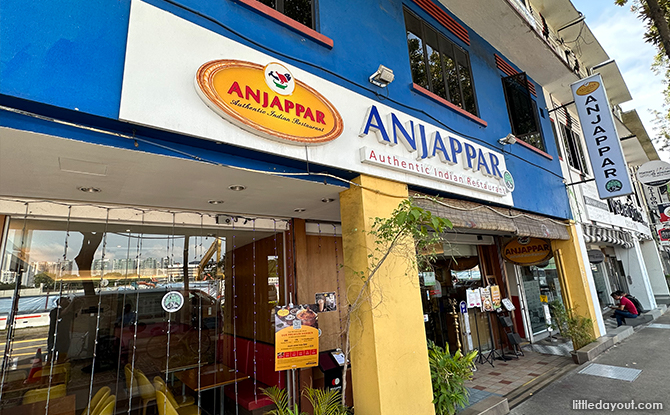 Anjappar's modest beginnings began in Chennai more than 50 years ago by serving some typical Chettinad cuisine to the city. Anjappar eventually came to be synonymous with Chettinad cuisine.
Anjappar has adapted to the passage of time by expanding to meet the demands of today's diners. Nonetheless, it has still preserved its culinary traditions and Anjappar Restaurants have become one of the best ambassadors for Chettinad cuisine.
Where: 76 to 78 Race Course Rd, Singapore 218575
---
Lagnaa Barefoot Dining
Lagnaa Barefoot Dining restaurant along Upper Dickson Road has a Michelin Curry Set at the restaurant has been carefully designed to include all six flavours of Indian cuisine. Sweet, sour, salty, spicy, bitter and astringent are all represented in the set. You can get a sample of different types flavours at this restaurant along Upper Dickson Road.
Where: 6 Upper Dickson Rd, Singapore 207466
---
Komala's Restaurant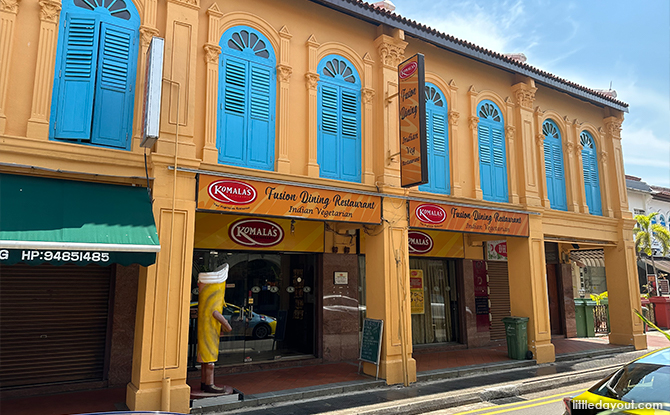 If you want to some vegetarian food quickly on the go, Komala's Restaurant maybe the place for you. It serves traditional Indian vegetarian food in a fast food type setting. Komala's Restaurant can be found directly across the street from Lagnaa Barefoot Dining.
Where: 5 & 7, Upper Dickson Road Singapore 207463
---
MTR Singapore
Samanvay Singapore Pte Ltd and the 90-year-old heritage restaurant brand MTR from Bangalore, India partnered to open the MTR Singapore restaurant. This is the first location of this heritage restaurant outside of India.
The restaurant offers authentic South Indian vegetarian cuisine with the same taste that has been served in Bangalore, India, since 1924.
Where: 440 Serangoon Rd, Singapore 218134
---
Shopping in Little India
While you're walking about, keep your eyes out for the many goldsmith and jewellery shops dotting Little India. There are also many shops where tailors work tirelessly to alter clothes along the five foot way.
Abiraame Jewellers
Abiraame Jewellers is a well-known name when it comes to gold and jewellery in Singapore. Pay Abiraame Jewellers a visit to shop for gemstones, diamonds, temple jewellery, bridal jewellery and more. It is located close to Tekka Centre.
Where: 69 Serangoon Rd, Singapore 217974
---
Ishtara Jewellery
Ishtara Jewellery offers a wide range of stunning pieces crafted with gold, diamonds and gemstones. You also get jewellery customised at Ishtara Jewellery as well as gemstone and birthstone consultations, and jewellery cleaning.
Where: 111 Serangoon Rd, Singapore 218016
---
For Desi by Desi
If you are looking for earrings, bangles and choker sets, pay a visit to For Desi by Desi at Upper Dickson Road. There is a selection of jewellery to complement your favourite outfits.
Where: 25 Upper Dickson Road, Little India, Singapore 207484
---
Jewel Palace
In addition to jewellery, Jewel Palace at Buffalo Road sells elegant sarees. Shop here if you are looking for something special and don't mind spending a bit more. It is located just next to Tekka Centre.
Where: 6 Buffalo Rd, Singapore 219782
---
Haniffa Textiles
Haniffa Textiles Pte Ltd began as a small shop house in 1962. It has since expanded into a multinational corporation with two locations in Singapore, one at 118 Dunlop Street and the other at 60 Serangoon Road, three locations in Malaysia, in Kuala Lumpur, Penang, and Klang, and an export house in India. It main strength lies in the textiles business and its range of silk sarees in Singapore, many of which are exclusively available only at Haniffa Textiles.
Where:
104 to 120 Dunlop Street, Singapore 209439
60 to 62 Serangoon Road, Singapore 217967
---
Yajnaseni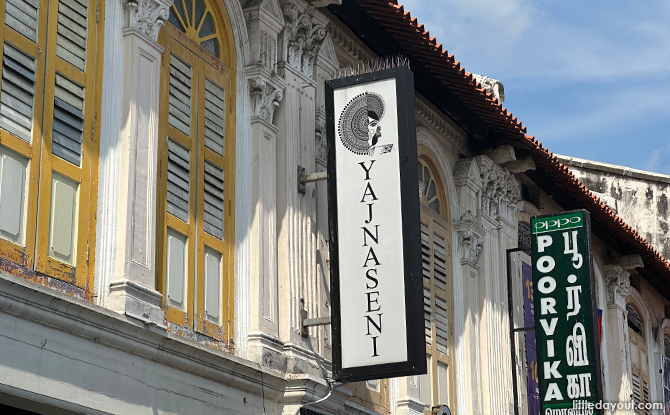 From chokers to bangles, and hipchains to nosepins, you can find your perfect accessory at Yajnaseni.
Where: 9A Kerbau Rd, #2nd Floor, Singapore 219148
---
Tekka Place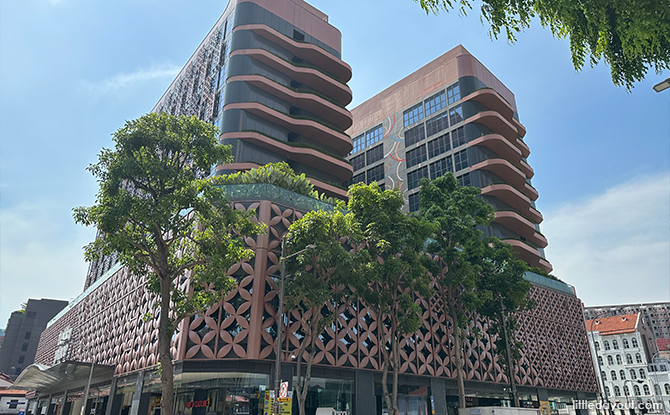 Opposite from Tekka Centre is the modern Tekka Place mall. A hotel, the Citadines Rochor Singapore Hotel, is co-located with the shopping mall. The mall stands at where the former Tekka Market used to be found.
The main block of Tekka Place has an eclectic collection of 80 carefully chosen retail establishments for customers to indulge in retail therapy. A variety of restaurants, themed cafes, gastrobars, and a food hall are available for foodies to enjoy.
The Annex Block at Tekka Place has a Rooftop Pavilion and Sky Terrace with a calendar of fun events taking place all year long. With the various events that are on going, it is a place where visitors who want to learn more about the ethnic cultures of the region and to enjoy Singapore's performance and events scene, often created in tandem with heritage organisations and local communities.
Where: 2 Serangoon Rd, Singapore 218227
---
Little India Arcade
Beside Tekka Place is the Little India Arcade. If you only have an hour or two to spare in Little India, the Little India Arcade is the place for you. This cluster of 1920s shophouses is like an abbreviated Little India.
The shops and stalls here sell spices, gold, snacks, textiles, trinkets, flower garlands, beauty services like henna tattoos, and local Indian food.
Where: 48 Serangoon Rd, #02-07, Singapore 217959
---
Moghul Sweet Shop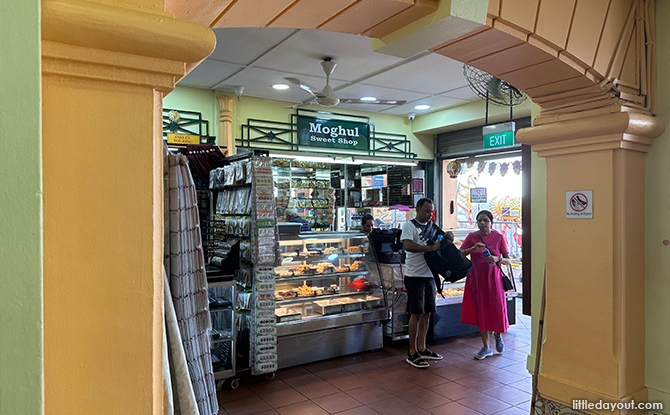 Located at the Little India Arcade, the Moghul Sweet Shop serves a range of traditional North Indian sweets, including, to name a few, gulab jamun, motichoor ladoo, and dodah burfis. It is a great spot to stop and take away something to go.
Where: 48 Serangoon Rd, #01-16, Singapore 217959
---
Mustafa Centre
From humble beginnings at Campbell Lane in 1971, Mustafa has grown to become a giant in Little India. There are over 300,000 items on display across four floors and 400,000 square feet at their huge store along Syed Alwi Road. It even offers business services like money changing and travel services.
Where: 145 Syed Alwi Rd, Mustafa Centre, Singapore 207704
---
City Square Mall
Another major shopping mall along Serangoon Road is City Square Mall. This shopping centre is at the junction of Serangoon Road and Rangoon Road.
The huge modern mall has many different shops, including the Japanese store Don Don Donki, a food court and a Decathlon.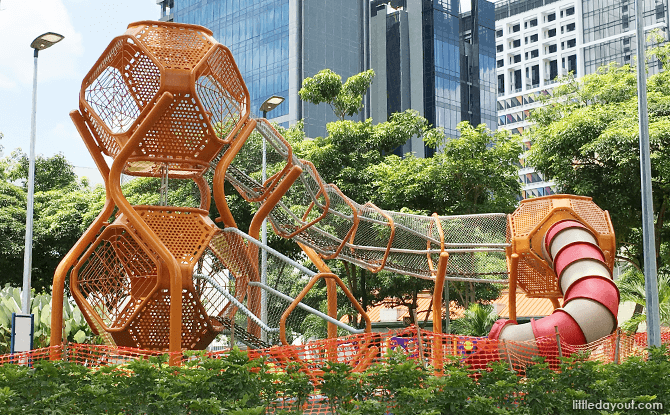 For kids, there is an outdoor playground on the ground level outside the mall.
Where: 180 Kitchener Rd, Singapore 208539
---
More Little India Shopping
Mum can also drop by a beauty salon to get traditional eyebrow threading done; or visit a textile shop to get a traditional Indian sari tailored.
There are also plenty of little mama shops, or convenience stores, available throughout Little India, where you can pick up drinks, snacks, magazines and even toys for the kids.
Oh yes, spot them if you can – there are some kitschy toy shops for kids in the area, too.
---
Other Activities at Little India (including Kid-friendly Things To Do)
Beside the food and shopping, there are a few other places that are noteworthy if you are looking for something else to do in Little India.
---
Catopia Cafe
Catopia Café aims to bring people and cats closer together in a social setting. It is a place where people with similar interests can get together, enjoy their coffee and snacks, and spend time with the cats. For cat lovers, they are sure to find it a therapeutic experience.
Where: 46 Dunlop Street, #02-00, Singapore 209375
---
The Gem Museum
Curious about precious stone and the journey they go through to wind up set in a piece of jewellery? A visit to The Gem Museum will enlighten you. The private museum dedicated to precious stones, The Gem Museum offers visitors a chance an opportunity to take a look at how gemstones such as diamonds make their way from the mine to the market.
The Gem Museum is an interesting place to visit for anyone who is curious about what goes on behind-the-scenes in the gem and jewellery industry. It offers a chance to learn about the journey taken by a precious stone, making its way from mine to market.
Where: 9 Perak Road, Singapore 208130
---
Tekka Centre Playground
The Tekka Centre playground is located at the corner of Race Course Road and Buffalo Road, next to Block 661. The children's playground offers kids at chance have some fun play away from the bustle of Serangoon Road.
They're also play panels for toddlers and younger kids as well as seating for parents and caregivers around the playground.
Read more about this playground here.
Where: Block 661, Buffalo Road
---
SG Mobility Gallery
The SG Mobility Gallery, located at Block 1 of Land Transport Authority (LTA) campus at Hampshire Road, provides a behind-the-scenes look at how LTA plans, designs and builds Singapore's land transport system.
The gallery has interactive and engaging exhibits, allowing visitors to not only learn about land transport in Singapore but to also get a taste of being a transport planner, experience training as a bus captain and more.
Where: Land Transport Authority, 1 Hampshire Road, Block 1 Level 1 Singapore 219428
---
Festivals and Celebrations at Little India
Little India is the site for festivals that take place throughout the year. During major festivals, Serangoon Road and Race Course Road will be decked out with lights, bringing a festive atmosphere to the historic precinct.
There are also events, performances and festive markets set up around Little India. It is a must-visit spot during these times.
---
Pongal Celebrations
The Pongal harvest festival, which takes place in January, gets its name from the dish of sweet boiled rice. The pot of rice overflowing signifies prosperity and abundance.
The festival marks the end of the winter solstice and is named for its signature dish pongal, where rice is boiled with milk and brown sugar in new clay pots till it overflows. Cheers of "pongalo pongal!" (hail Pongal!) erupt when the pot of rice froths and boils over, to signify wishes for overflowing fortunes for the new year.
During these celebrations, you may even find a Little India cattle farm set up, with live cows and bulls brought in as part of the festival.
---
Deepavali Celebrations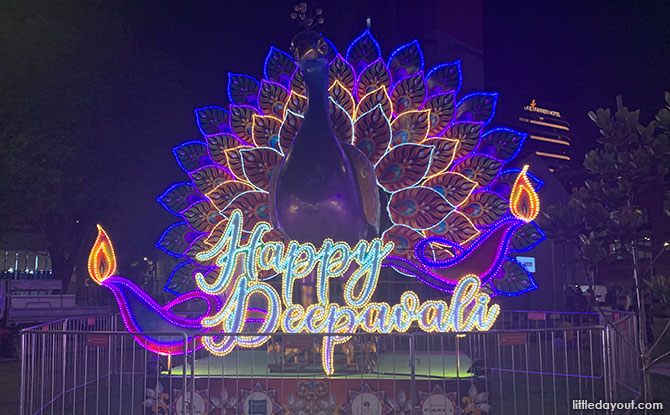 This is a major celebration and the streets of Little India get lit up with festive lights. The Deepavali Street Light Up at Little India usually starts from the junction of Serangoon Road, Bukit Timah Road and Sungei Road with a brightly coloured archway.
There are often many festive events held during that time too with festive goods on sale, along with events and activities for people to participate in.
Festival of Lights usually takes place around October and November each year.
---
Little India Art Trail
Take a walk around Little India and you will notice that the walls of many buildings are painted with colourful murals. The bright and striking art works around Little India further enliven the streets.
You may chance upon these Little India murals at surprising locations, little islands of discovery around Little India's lanes and roads.
Some of our favourites include Traditional Trades of Little India along Beilios Lane.
Another is A Ride Through Race Course Road.
Upper Dickson Road is also home to Kathaka, a mural painted along a five foot way.
---
Little India Heritage Trail
The Little India Heritage Trail was launched by the National Heritage Board in January 2017. 18 heritage markers highlighting more than 40 heritage sites brings into the light the precinct's rich past.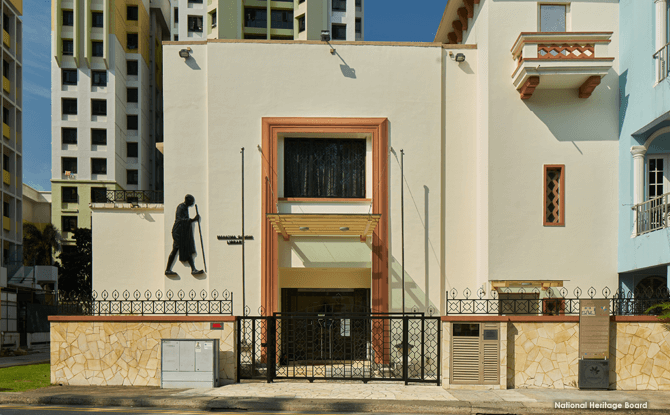 Some of the spots that you can see along the Little India Heritage Trail include the Mahatma Gandhi Memorial at Race Course Road. The foundation stone for this was laid by the first Prime Minister of India, Jawaharlal Nehru, in 1950. This was just two years after Gandhi was assassinated by a fanatic in New Dehli.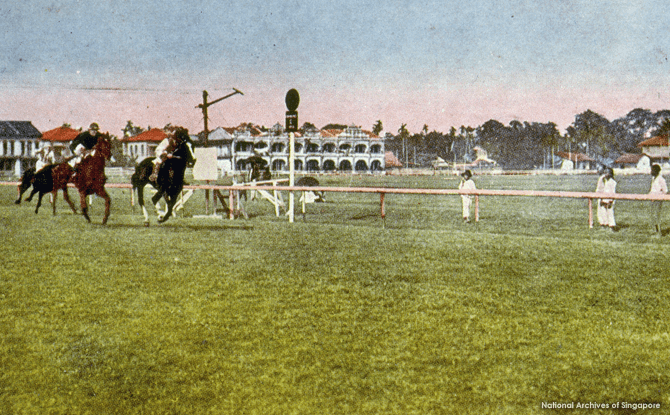 In 1842, a racecourse opened at what is now Race Course Road. Besides being used for horse races, it was also used as a shooting range, golf course and an airfield where the first international flight into Singapore landed in 1919.
Another sight along the Little India Heritage Trail is the Abdul Gafoor Mosque. In 1928, the Dunlop Street Mosque, under the management of the Hindu and Mohammedan Endowments Board, became among the first mosques in Singapore to have electrical lighting installed.
---
Little India Map