The Tekka Centre playground is located at the corner of Race Course Road and Buffalo Road, next to Block 661. The children's playground offers kids at chance have some fun play away from the bustle of Serangoon Road.
---
Tekka Centre Playground in Little India: Flying Away
From one angle, the Tekka Centre playground looks like a sphere that is blasting off from the ground.
The round, orange ball hides a platform that kids can climb up. It is elevated off the ground at an angle by four steel props.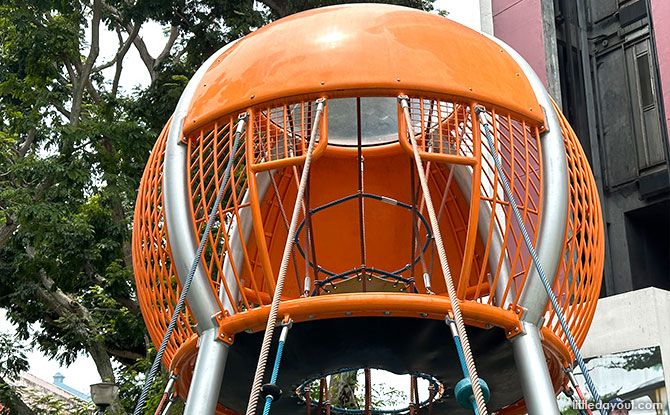 ---
-- Story continues below --
Children can reach the platform using a rope tunnel that leads up to the centre of the orb.
Climbing upwards using the hand and footholds, they will be able to ascend to the fun tilted platform above.
We liked how the design of the Tekka Centre playground also incorporates other ropes around the orb, as if it is holding it down to the ground.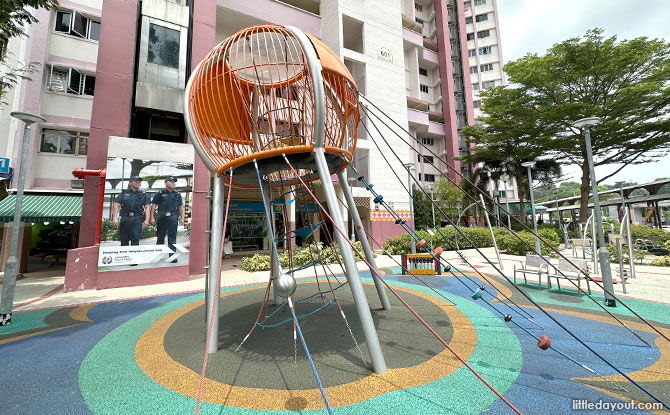 Taken from that perspective, the sphere looks like a hot air balloon that is being swayed by a gust of wind and the ropes are tethering it to the ground.
Some of the ropes also have hand holds. These act as another option for kids to play by climbing up on the ropes.
Besides the main play structure, there are also teeter totters at the playground.
They're also play panels for toddlers and younger kids as well as seating for parents and caregivers around the playground.
---
What Else is Around the Tekka Centre Playground at Block 661
If you are visiting the Tekka Centre Playground, you may also be interested in the visiting the Land Transport Authority's SG Mobility Gallery. This gallery features exhibits about land transport in Singapore with interactive activities like a bus captain simulator.
Another place to visit around the area is the Indian Heritage Centre which provides a look at the story of Singapore's ties with South Asia and a look at the contribution of early pioneers as well as community leaders in Singapore.
If you are looking for more things to do in Little India, be sure to check out our Little India guide.