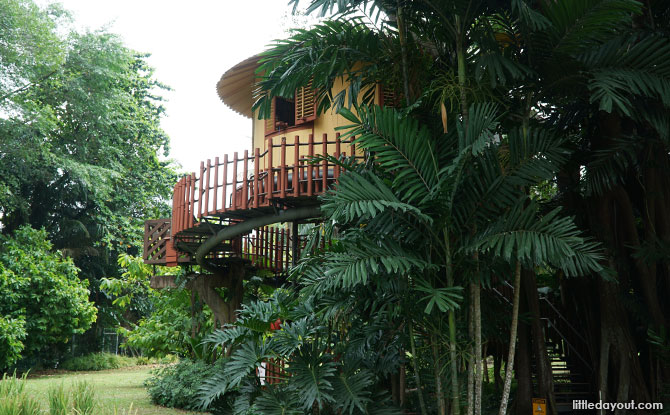 One might often ponder about how common treehouses in backyards are in some countries, but not ours. Fret not, we have an ultimate list of treehouses in Singapore, or at least what is as close to a tree house as possible, easily accessible and most are free to climb into! You don't have to dream about sitting in one anymore, try one of these!
---
Where to Find Treehouses in Singapore
Treehouse at the Science Centre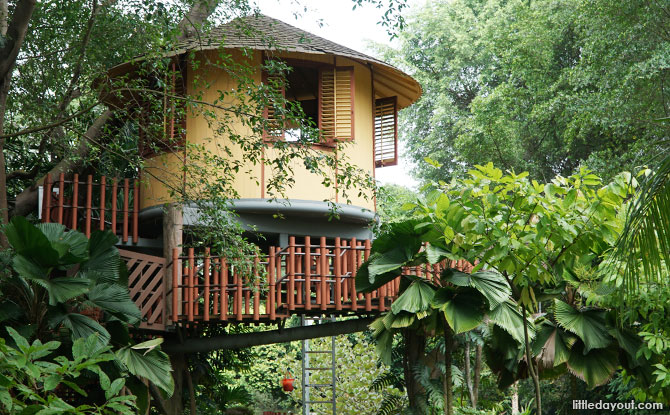 This treehouse is hidden away from plain sight and probably so obscure most don't know about it. Science Centre's treehouse is located outdoors, near the eco-garden. The climb is not difficult as a flight of stairs circling the huge tree will take you to a room with a book about animals, good vantage points of the garden and you can even holler at friends below!
---
Treehouse at Jacob Ballas Children's Garden
Fans of Jacob Ballas Children's Garden will be fond of this treehouse playground situated on the east side of the garden flanked by banyan trees. Children will love getting on to the treehouse platform via the stairs or a ladder then choose to take one of the two slides down to the sandpit. We grew up visiting this playground and it definitely where we made many memories.
---
Far East Organization Children's Garden Treehouse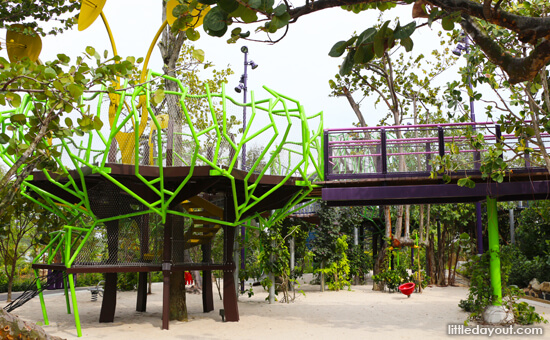 At Far East Organization Children's Garden is a large playscape amidst nature. Of course a "treehouse" is present. Children can climb up the web of ropes or scale one of the "branches" to a tree-like platform and cross the bridge to other parts of the playground.
Explore here.
---
Jurong Bird Park African Treetops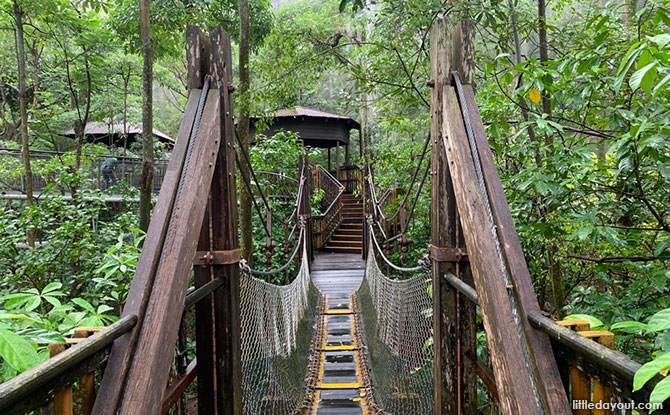 Right in the heart of Jurong Bird Park is the African Treetops exhibit where there is a suspension bridge and a few pavilions that resemble treehouses. You can rest in the treehouses to observe the birds or cross over to the bridges and look down at the birds foraging for food. There is a huge variety of birds here from Africa. It is home to over 37 species of birds including starlings, turacos and crowned hornbills.
---
Learning Forest Canopy Nets
Technically not really a treehouse, but the canopy nets at Learning Forest gives you the feeling of being elevated on a tree. Bounce or just lay down amidst the canopy. For those who have a fear of the nets can enjoy the walk on the platform and try spotting some wildlife. See more details here.
---
Weeping Fig Tower at COMO Adventure Grove
The latest spot at Botanic Gardens is COMO Adventure Grove which has a Weeping Fig Tower, clearly a treehouse in its own right. The tree-inspired playground might make one weep during parting time. The climbing rope, props, swings, hammocks are great fun!
---
Forest Ramble, Jurong Lake Gardens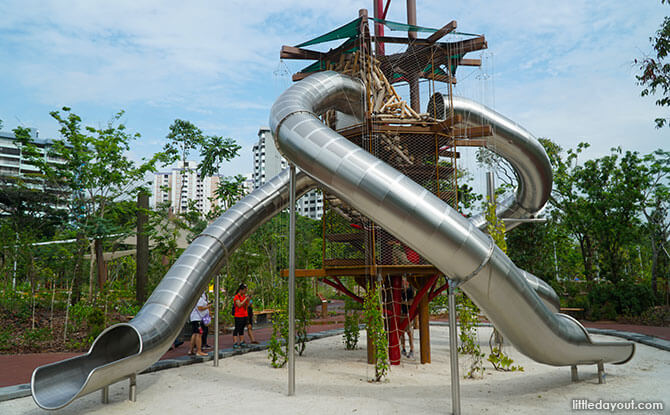 Possibly the main draw of this park is the "Snake Play" playground. It may not technically be a treehouse but it is plenty of fun with three slides, one of them specifically for climbing up. There are several ways to reach the top of the "treehouse" which gains you access to the longest slide. Climb up via one of the slides, or simply scale the rope ladder.
More fun here.
---
A Netted Treehouse Indoors at SMIGY PLQ
How about an indoor treehouse? You will find a netted one full of bright colours at SMIGY PLQ. You can climb up or swing on one if its "low hanging fruits".
---
My Treehouse Library
A treehouse full of books? What a dream! Visit National Library at its Central lending branch, Bras Basah to read at this treehouse. Look up! Its canopy is actually made of recycled plastic bottles. More here.
---
Clementi Crest Treehouse Playground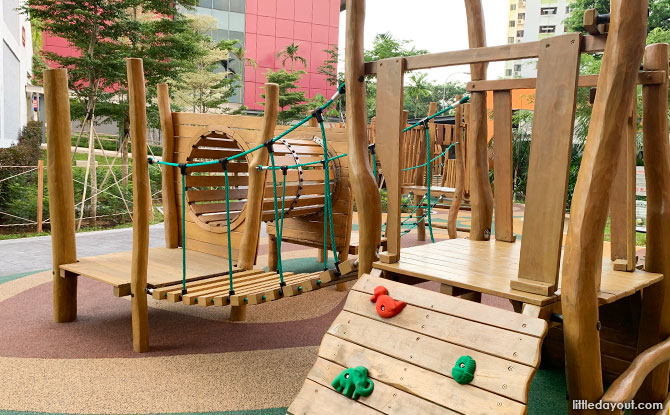 Located in Clementi Central is a treehouse-themed playground. All materials used are modified to look like wood. The treehouse-themed playground features a non-rickety wooden bridge, a cargo net bridge plus a wooden tunnel. Check it out here.
---
Big Bucket Treehouse
Located inside Adventure Cove Waterpark, the Big Bucket Treehouse is the wettest play spot on this list. It is plenty of fun, plus you get to slides down after climbing your way up the "treehouse".
---
Nestopia, Siloso Beach in Sentosa
Ever wanted to scale a tree-nest? Try Nestopia, Shangri-la Rasa Sentosa's outdoor playground. The top of the 7.5m tall Nest is the perfect pirate's lookout at Siloso Beach. Plus, traverse the rope bridges, swing from ropes and scale various obstacles at this very fun playground. More details here.
---
Westgate Wonderland (Temporarily Closed)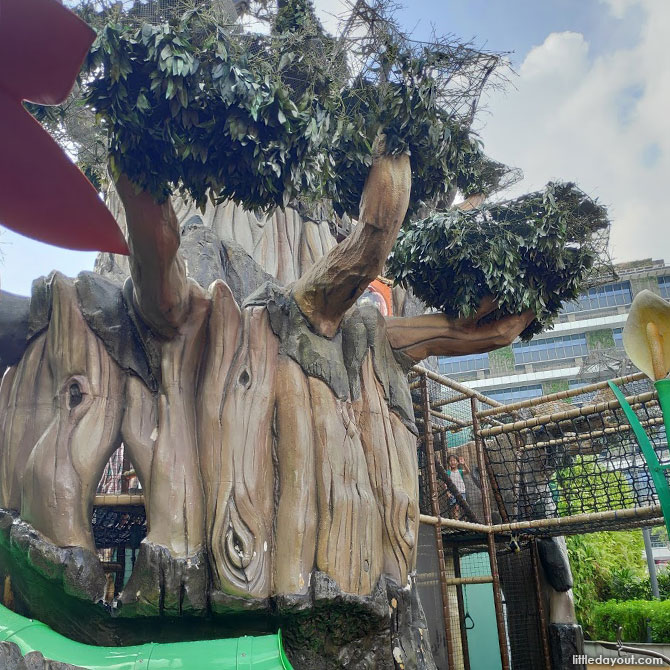 One of the cool mall playgrounds in the West is Westgate Wonderland which is a whimsical play park for children. Besides water play area, there is a treehouse children can climb towards using nets in the tree trunk.
---
Everspring Park Treehouse in Yishun
Yishun is home to many cool playgrounds, including this bugs-themed one. Hang out with a ladybird, grasshopper and bee. You will find a treehouse playground structure here, with "planks" to climb up to the treehouse. Younger children can also climb up a slope full of handholds and the three sets of slides. Get more fun here.
---
Rumah Tinggi Eco Park Playground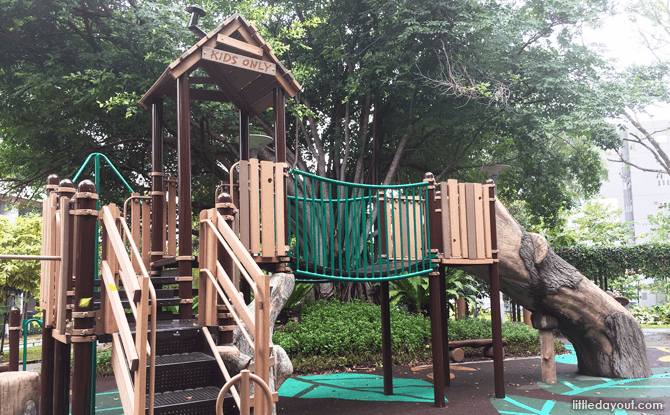 Near the green corridor away from crowds is a rustic looking playground called Rumah Tinggi Eco Park. The woodlands themed playground features a little tower and bridge that lead toa slide hidden in a log. The treehouse also has little planks for climbing and steps made of tree stumps. See the woody details here. 
---
Alice in Wonderland Playground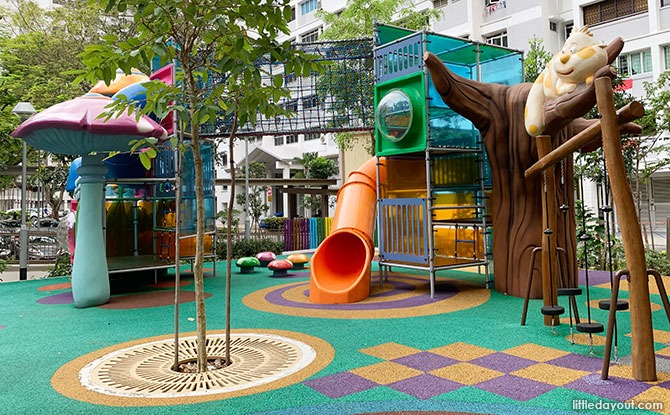 Entering the rabbit hole will bring you to this playground at Dawson Vista. Of course there is a "treehouse", without a hole to enter though. Spot the Cheshire cat on the branch, and slide down to see Twiddle Dee and Twiddle Dum. Plus you can see familiar items from the story Alice in Wonderland. Have tea with the Mad Hatter here.
---
Yishun N8 Park "Treehouse Playground"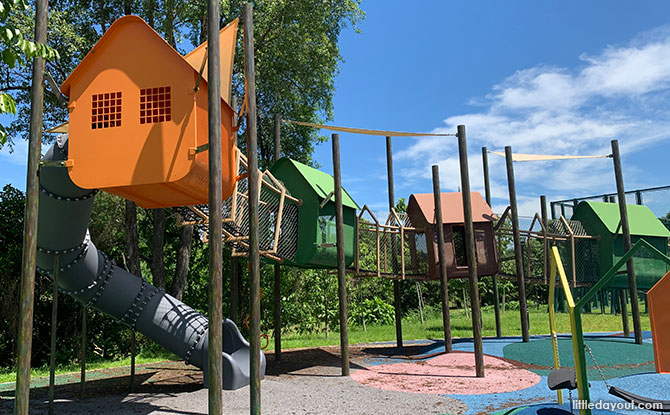 The "Treehouse Playground" at the Yishun N8 Park features a set of colourful huts on stilts. It may not have an actual tree but at least it is still fun for kids. Read more about this playground here.
Do you know of any other treehouses in Singapore? Drop us a note at hello@littledayout.com to let us know.