Located next to HomeTeamNS Khatib is the Yishun N8 Park, a neighbourhood park which provides a green space where residents, kids and families can gather together. Plus, the Yishun N8 Park playground, made up of colourful houses raised up on stilts, is pretty awesome too.
---
Yishun N8 Park Playground: Treehouse Playground with Houses on Stilts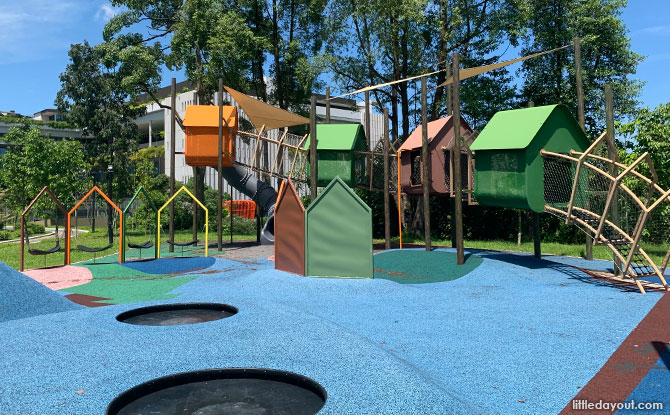 Found at the far end of the park is the Yishun N8 Park playground. This is the "Fun" zone, one of several in the park.
This section of the Yishun N8 Park playground, labelled the treehouse playground, is made up of three sets of interconnected, colourful houses elevated on stilts.
The tallest row of houses is made up of four shelters, connected together by netted bridges. There are multiple entry points including a net at one end and a ladder.
This first set of "treehouses" has a slide and a fireman pole too.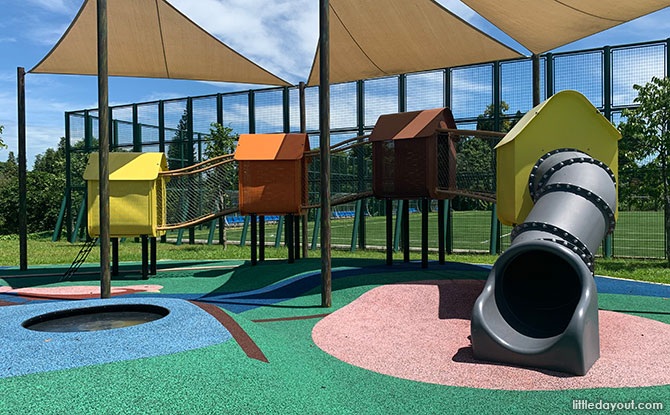 The second set of treehouses at the Yishun N8 Park playground is lower off the ground. This makes it more accessible for younger kids.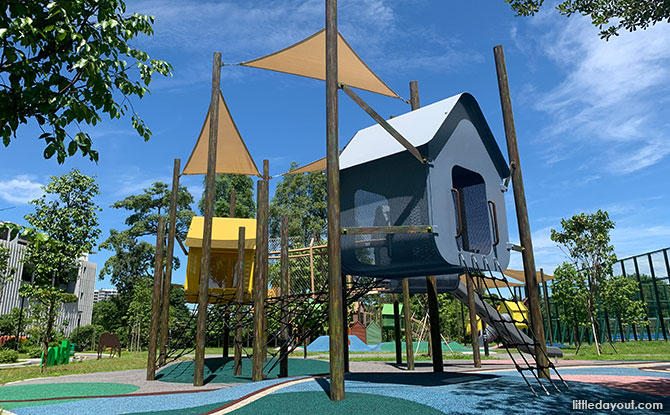 The last set of colourful houses is set part from the first two sets of houses.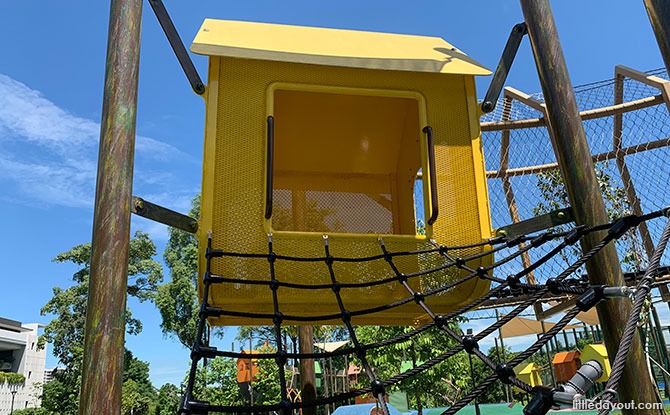 One distinguishing characteristic of these houses is the cargo nets which stretch out between the houses.
This part of the Yishun N8 Park playground also has a series of low swing hammocks.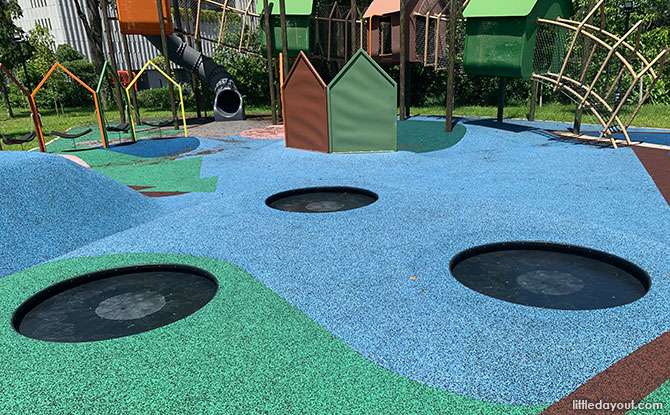 There is also a trio of trampolines built into the ground.
---
More Play Areas at the Yishun Neighbourhood 8 Park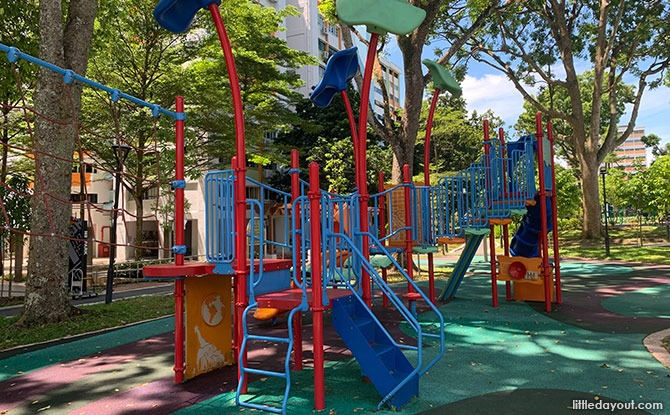 In front of Block 809 Yishun Ring Road, there is another older playground area with a climbing dome and some swings.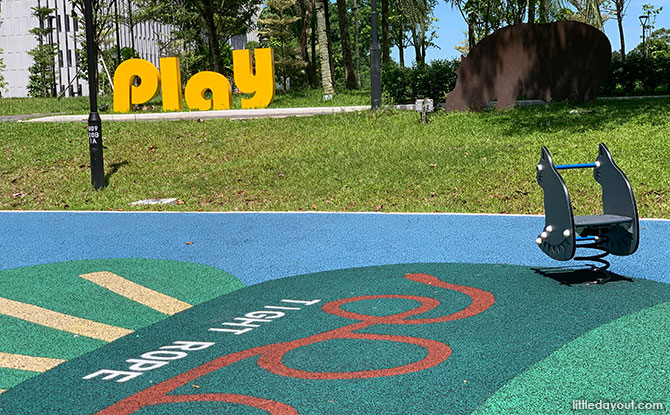 There is a toddler play area too, which includes markings on the ground for games like hopscotch.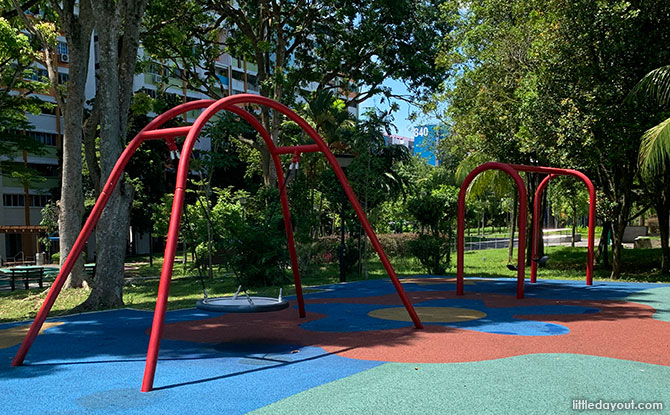 A set of swings, including a basket swing, can be found nearby.
---
Other Facilities at Yishun N8 Park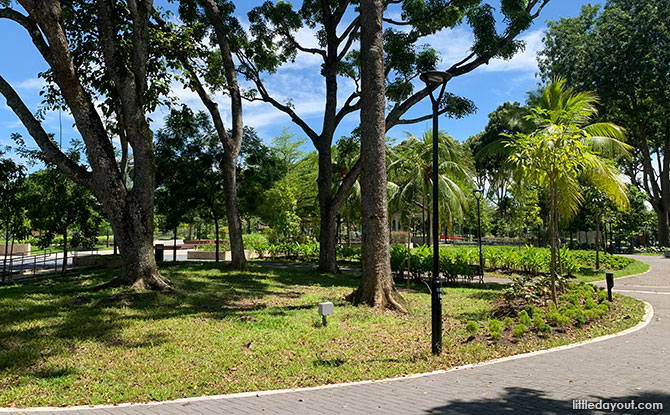 Yishun N8 Park also has many paths crisscross through greenery.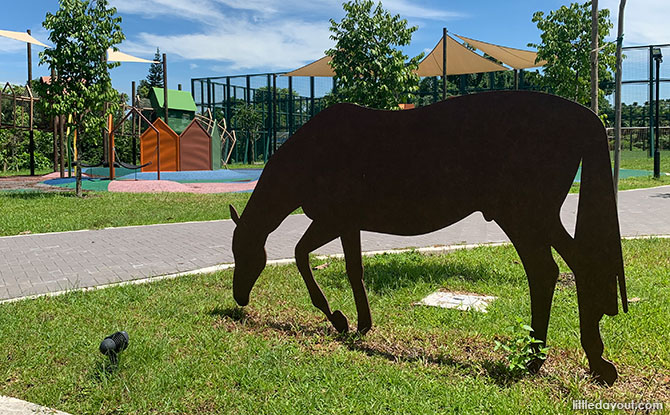 Walking along them, you will be able to spot cut-outs of animals such as deer and even a cow.
Another zone of the park is the Calm zone, where there is a blue structure which echoes the design of the treehouse children's playground.
Other facilities at Yishun N8 Park include a football area (currently closed).
There is a community garden and exercise areas.
Yishun N8 Park can be found between Blocks 809 and 810 Yishun Ring Road and HomeTeamNS Khatib, next to the MRT line.