The free Marina Square playground provides a spot for simple play within the shopping mall. Conveniently located close to shops like Kiddy Palace and Mothercare, it provides a place where kids can be distracted for a while, and has been recently undergone a makeover with a new space theme.
---
Space Play at the Marina Square Playground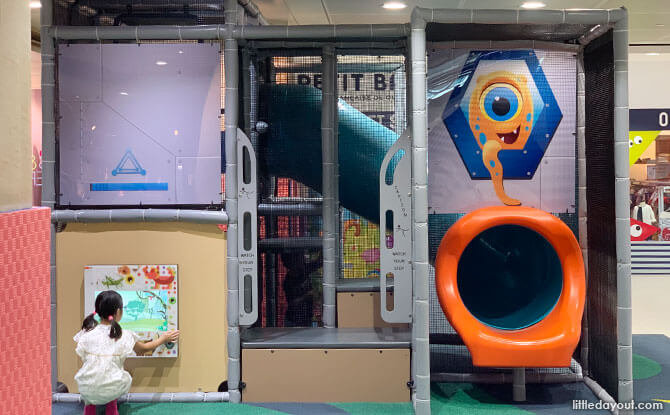 The main play structure at the Marina Square space playground is a grey, two-level climbing frame. With a dash of imagination, kids can play pretend that they are on a space station flying through space as they make their way up and down the cubic-shaped climbing frame.
The compact play cube even manages to squeeze in a short blue and orange slide where kids can jettison themselves out of the structure.
It also incorporates various play panels. However, these depart from the space theme and feature animals instead. Quite honestly, kids don't seem to mind.
What is in keeping with the space theme at the Marina Square playground are the smaller play elements orbiting the main climbing frame.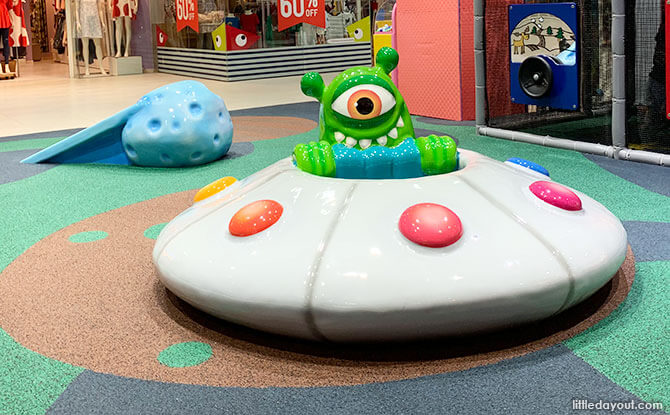 There is a UFO which is being piloted by a little green alien. Behind it is a blue comet complete with a "tail" that doubles up as a little ramp.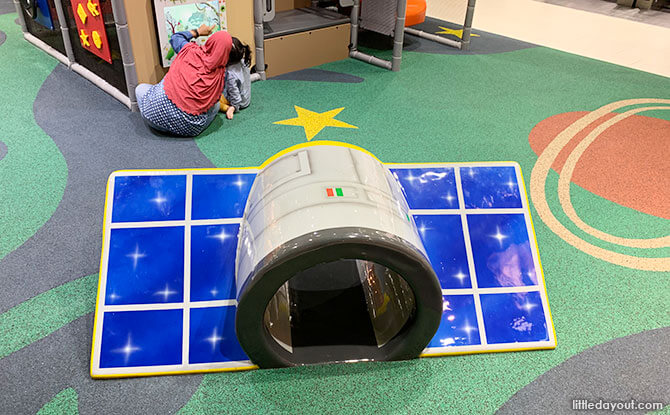 There is a satellite with a tunnel that kids can crawl through.
Even the Marina Square playground's soft padded floor has a stars-and-planet design.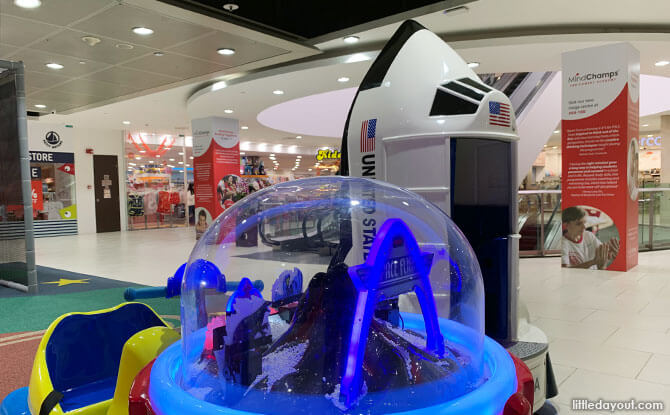 A nice touch to the playground's space theme is the two kiddy rides on the fringe of the padded area.
There is a space shuttle-shaped kiddy ride which children can climb into and imagine blasting off into outer space. Alongside it is a "Space Exploration" ride.
---
Free Marina Square Space-themed Playground
The free and refurbished Marina Square space playground is found on Level 3 of Marina Square.
In addition to this small play spot, there are two other paid indoor playgrounds at Marina Square – Kiztopia and Pororo Park Singapore.