Fun playground. Inviting barbeque pits. Clean, sandy beach. Where in Singapore could this be?
Located in the north of Singapore, where the road meets the coastline overlooking Johor, is Sembawang Park.
Its seclusion from the city is part of its charm, an idyllic reminder of days of yore. However, Sembawang Park is neither rustic nor rundown. In fact, it has recently undergone a major re-sprucing and it is bright, clean and welcoming.
Overview of Sembawang Park
Sembawang Park has strong historical links with the British colonial era and this would be evident as you head past the black-and-white bungalows on the way to the Park.
The luscious greenery of Sembawang Park is found next to Sembawang Shipyard, but its wide, open spaces will soon make you forget that.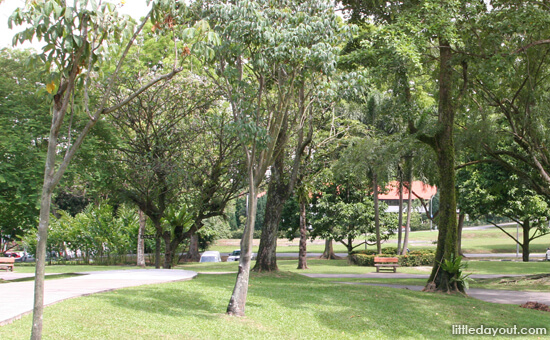 A distinctive motif found throughout the park is that of a die with a blue dot in the centre. Oozing charm from a time before the sophistication of sleek modern structures became the order of the day, we are thankful that these were retained after the park's renovations rather than being replaced with some soulless design. These dice provide a comforting reminder that even in modern Singapore, it is okay to be characterful and a little rough around the edges.
Sembawang Park is served by two car parks. Head past the first one. The second car park gives you easy access to the park's various amenities.
Sembawang Park Battleship Playground
Kids will go charging up the hill towards the new Sembawang Park playground.
Based on a warship design, complete with gun turret, smokestacks and even propellers and a rudder, this awesome playground is like no other in Singapore. It provides a fitting nod to Sembawang's naval heritage and pedigree.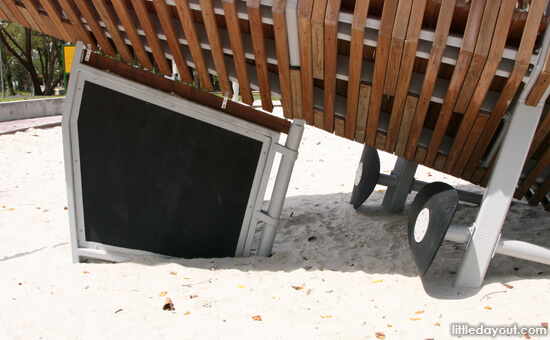 Kids can board the warship by monkeying up the "rigging" and make their way through different decks before zipping through one of the many escape hatches disguised as slides, twirling downwards back to the soft sand below.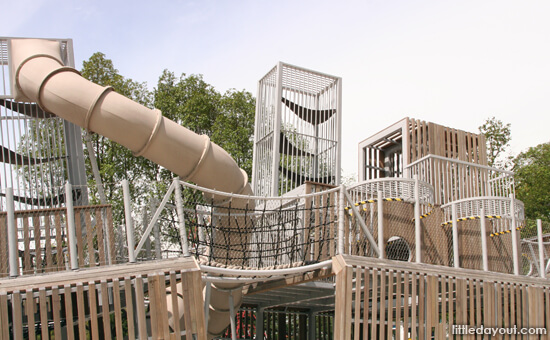 The battleship playground has sloping decks, almost as if the ship was breaking apart. This only adds to the fun factor on board the play structure as children will have to get their "sea legs" together to manoeuvre along its sloping decks.
Get ready for topsy-turvy fun at this surprising and delightful playground!
Rounding up the fun at the Sembawang Park playground is a bright red climbing net reminiscent of a naval flagstaff and a crazily fun pendulum swing. Hold on tight everyone!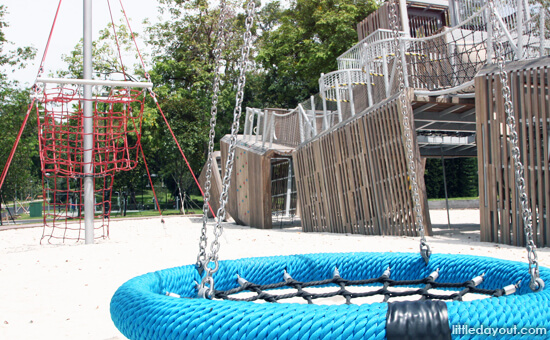 On a more practical note, toilets with taps just right for sandy feet, are located a stone's throw away from the playground.
It's the Pits – In a Good Way!
As Sembawang Park is so remotely located, once you get there, it may not be a bad idea to stay for a while.
One way to do so is to plan a barbeque at one of the barbeque pits located there. There are seven to choose from and it costs $12.00 to book a pit. You can either do so online at the NParks website or via the AXS Station that so happens to be located by the pits.
Sylvanian Family-like picnic tables are also available nearby.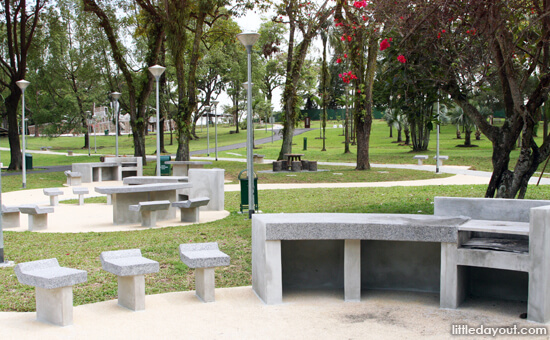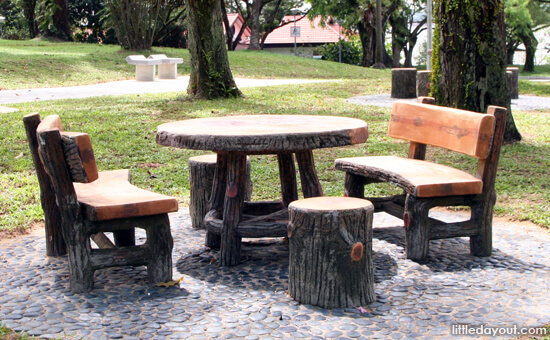 Venturing slightly away from the barbeque pits, you will come across another one filled with coarse sand. This is a petanque court for the French game of boules that was first introduced by the Singapore Sports Council to senior citizens as a leisurely form of exercise in 1985.
Nowadays, both young and old play petanque; just be sure to bring along the right gear if you intend to.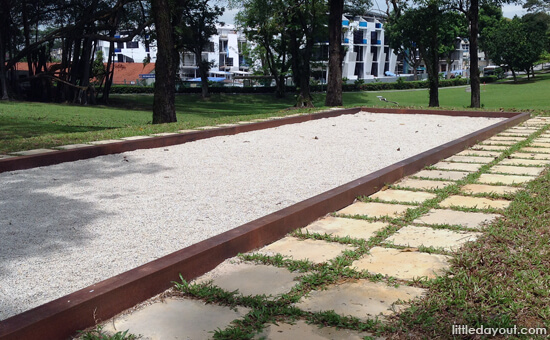 Dining in Heritage
Those not inclined to sweat it out over amber coals can head down to Beaulieu House for a meal instead. This historic seaside bungalow dates back to the 1910s when it was originally a private residential home. Up till the 1960s, it was still used by Senior Fleet Officers in the British Navy, who would monitor the ships heading to and from the Naval Base nearby. Nowadays, it houses a seafood restaurant that is open to the public.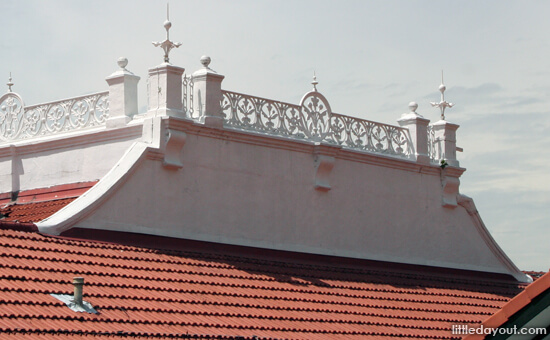 Another dining option nearby is the Woody Family Pub Café. Not located within Sembawang Park itself but along Andrew Avenue, off Sembawang Road, this restaurant offers old-school ambience and fusion Peranakan food.
Sembawang Beach
Before heading off, head down to the shoreline. Here, you will find one of only two natural sandy beaches in Singapore with the other one being Changi beach. At the right time, you may even be able to hear waves lapping along the sands of Sembawang Beach as you look across the Straits to Johor.
The nearby jetty is a popular fishing spot for anglers.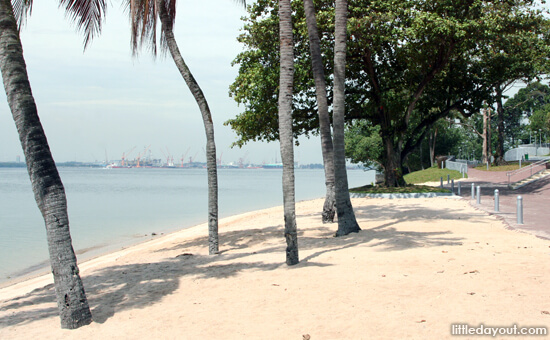 Fun Ahoy!
Sembawang Park is a little gem in the North of Singapore. Even though it takes a bit of effort getting to it, the new Sembawang Park playground and other renovated facilities make it a wonderful weekend getaway for families to escape from the rest of Singapore.
Once there, don't be surprised if you end up lingering a bit longer than you expected to in its laid-back atmosphere and relaxing charms.