Canberra is one of the newer estates in Singapore. Just next to Sembawang, it is home to a fleet of Canberra ship playgrounds, an homage to the nautical heritage of the area.
There are no fewer than six Canberra ship playgrounds. They are spread out across EastCreek, EastBrook, EastBank and EastDelta, the series of housing estates between Canberra Street and the waterway that runs out to the Straits of Johor.
---
Canberra Ship Playgrounds
The boats at EastCreek, EastBrook, EastBank and EastDelta playgrounds each offer something different. Each has a different variation on the naval and nautical theme.
We can imagine going from ship to ship for a sea-themed play excursion. Here's an overview of the six ship playgrounds of Canberra.
EastCreek @ Canberra Playground
Black Pirate Ship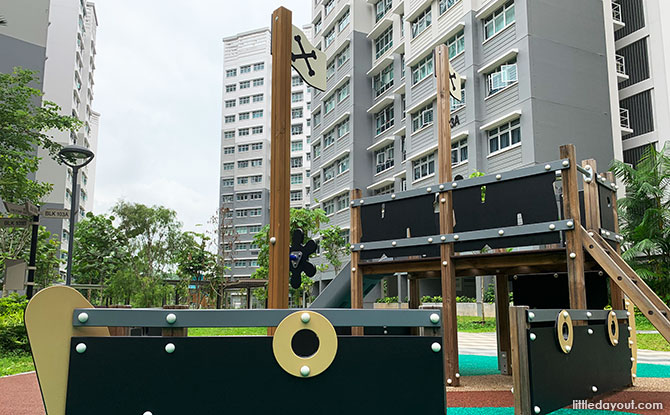 At EastCreek, there are two ship playgrounds. The first is a black pirate ship, complete with a cross-bone flag, beckons kids who are in search of treasured fun.
Kids can climb a ladder to the upper deck where a ladder awaits on the other side.
Besides the pirate ship, there are other play structures at this EastCreek @ Canberra Playground.
River Village Playground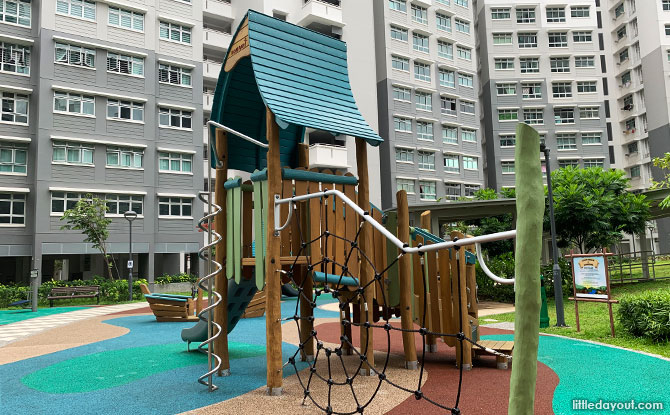 Not far from the pirate ship is the River Village playground.
This EastCreek @ Canberra Playground is a tip of the hat to Sungei Sembawang. It invites kids to imagine life in the past and has two huts on stilts where they can play make-believe.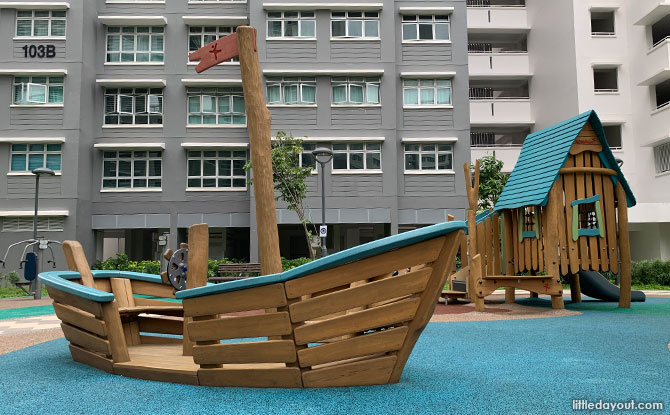 A wooden boat resembling a sampan is docked between the two huts.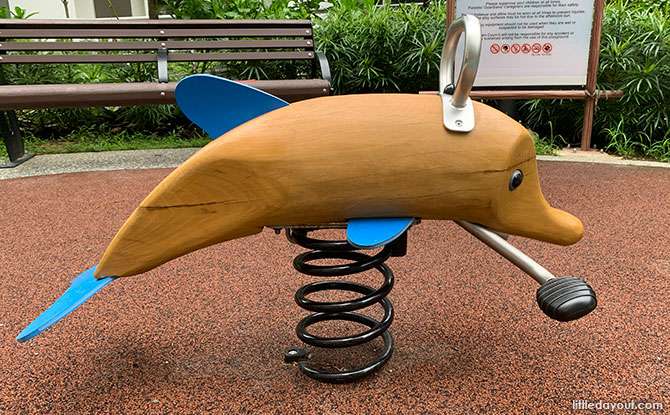 There is a wooden teeter-totter in the shape of a dolphin. A river dolphin, perhaps?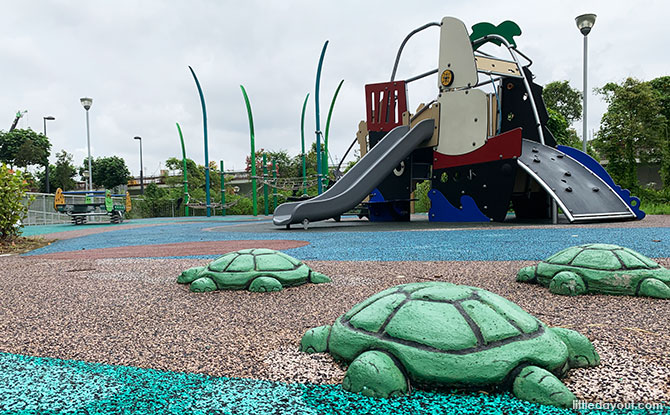 As if these ship playground was not enough, towards the waterway, there is yet another playground – one which has a little bale of turtles.
---
EastBrook @ Canberra Playground: Man-O-War
Ahoy there! A heavily armed Man-O-War ship stands imposingly at EastBrook @ Canberra.
The brown ship playground has two decks for kids to play on. High above, a Jolly Roger flag flies alongside its three sails.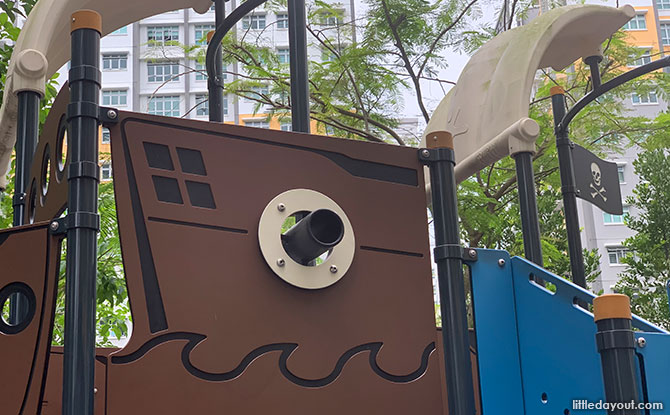 Rows of cannon point out from gun ports on either side.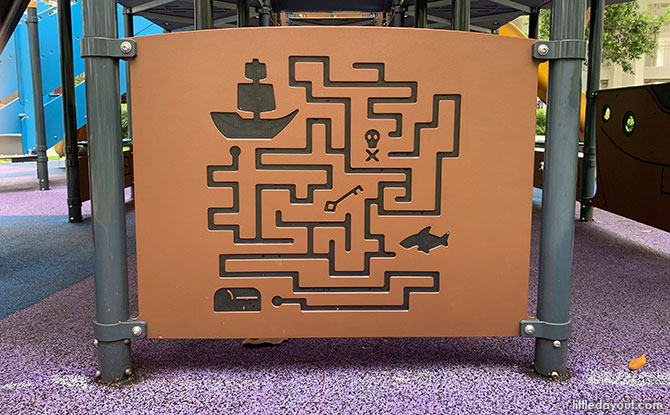 The EastBrook @ Canberra Playground has stairs and ramps for kids to get up and down to the upper deck. Inscribed on its sides are maps which point the way to adventure!
---
EastBank @ Canberra Playground: Red Steamship (Currently under renovation)
The playground at EastBank @ Canberra departs from the other swashbuckling ships.
For a start, you will find the EastBank @ Canberra Playground at the rooftop garden above the car park, instead of on the first floor.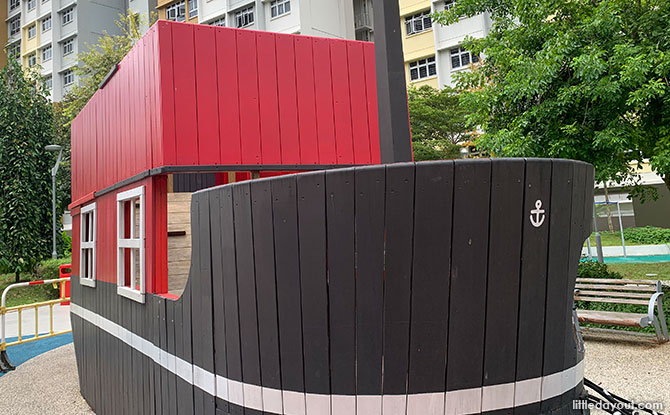 When we most recently visited it in November 2020, it was undergoing renovation works.
In its true form, it is a bright red steamship playground. Something unusual and unique.
---
EastDelta @ Canberra Playground: Spanish Galleon
EastDelta, slightly set apart from the other estates, is home to the last two ship playgrounds along this stretch of Canberra.
A cool-looking Spanish Galleon playground immediately catches the eye. It has a bowsprit at the front and a quarterdeck at the rear.
Rigging runs down the front and there is a rope bridge that connects the front of the ship to the rear.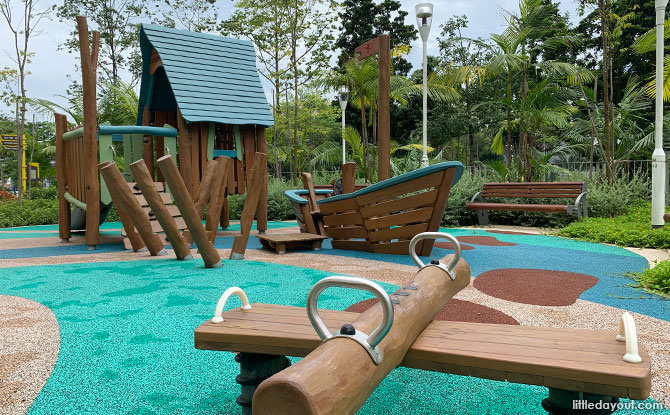 Not too far from the EastDelta @ Canberra Spanish Galleon Playground is another village playground with a small boat.
---
Bonus: EastLawn @ Canberra Playground
Surprise! There is one more boat playground. This can be found at EastLawn @ Canberra. It is similar to the pirate ship playground at EastCreek but perhaps less ominous.
---
Double Bonus: Sembawang Park Playground
If you are still looking for more ship-themed playgrounds in the area, the battleship playground at Sembawang Park, not too far away, is very fun too.
Happy adventuring!