You can find plenty of ship themed playgrounds in Singapore; however, what makes it a pirate ship playground?
While nautical-themed playgrounds are plentiful, pirate ship playgrounds are fewer. That's what we discovered. The king of all the pirate ship playgrounds was the Palawan Pirate Ship. Unfortunately, that closed in 2019.
Nonetheless, we decided to embark on a quest to find pirate ship playgrounds in Singapore.
---
What Constitutes a Pirate Ship Playground?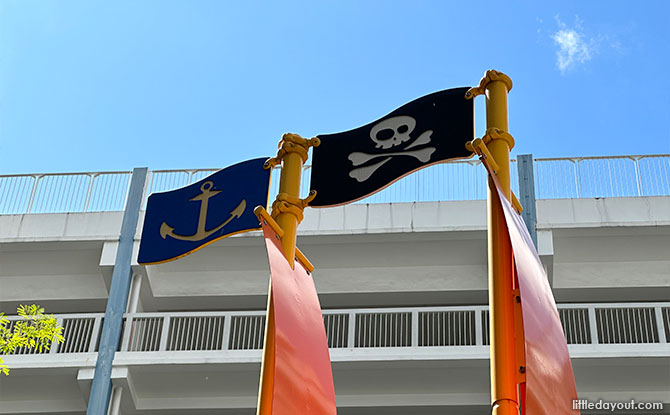 ---
-- Story continues below --
But first, what makes a ship a pirate ship? How do you distinguish between a regular ship and a pirate ship?
The most obvious sign that a ship is a pirate ship is if it flies the Jolly Roger flag. The skull and crossbones are a universal symbol of a pirate. So, that was the first criteria. Other flags don't count.
Another sign that a ship is pirate ship is if there is some sort of treasure map. This isn't essential but would be a good clue about the ship's crew's intent.
So here are some pirate ship playgrounds in Singapore.
---
Pirate Ship Playground at The Arena @ Keat Hong
The Arena @ Keat Hong has an awesome looking pirate ship playground. The pirate ship playground has the distinction of having a rampway, making it more accessible. Multiple slides add to the fun at this Choa Chu Kang playground.
Besides the pirate ship playground, there are two other plays structure at the same playground. Read more about the Choa Chu Kang Mega Playground.
---
Toa Payoh East Pirate Ship Playground
The pirate ship playground at Blk 23, Toa Payoh East is similar to the one found at The Arena @ Keat Hong, but with a fewer number of "add-ons" like slides.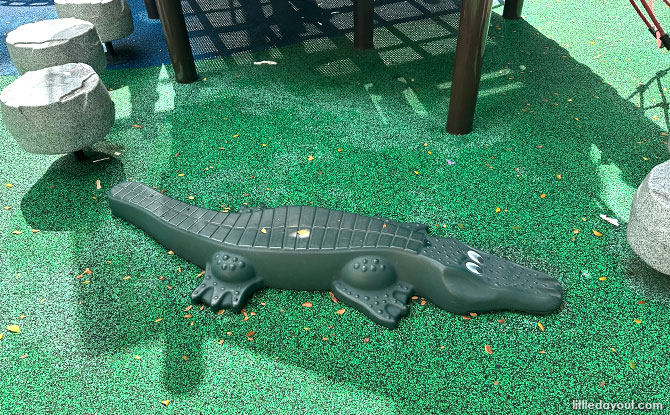 Still, kids can skill across the rocks and board the pirate ship. Keep a lookout for the crocodile if you don't want a peg leg!
---
EastBrook @ Canberra Playground
The brown ship playground at EastBrook @ Canberra has two decks for kids to play on. High above, a Jolly Roger flag flies alongside its three sails.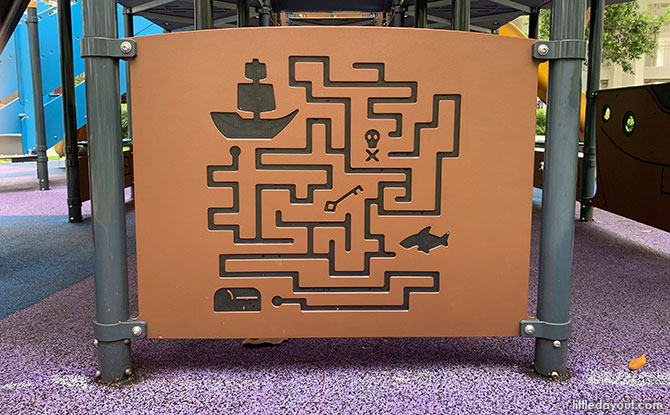 You will also find a treasure map where kids can try to decipher their way to the treasure.
Find out more about the ship playgrounds of Canberra.
---
Pirate Playground at Punggol Way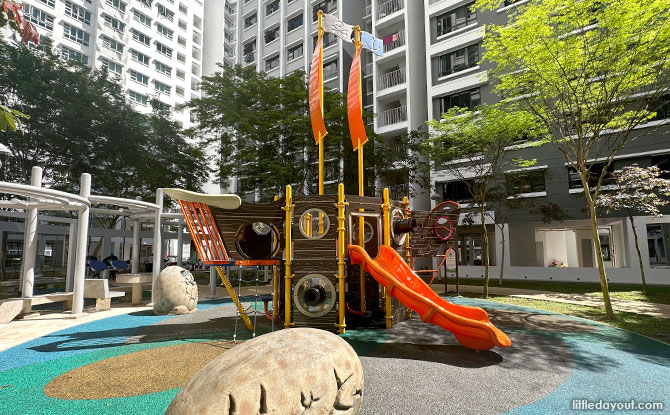 This is a fun little pirate ship playground in Singapore in front of Block 260C Punggol Way. Kids can climb on board directly to the quarter deck of the ship.
We also liked that the cannons have a "boom" to them.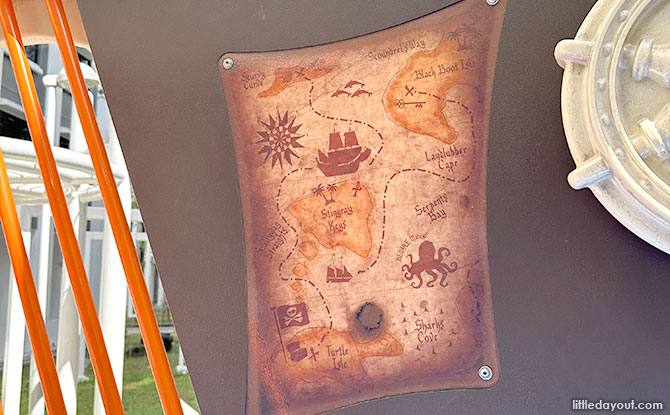 Plus, there's a treasure map too.
What confused us were the dinosaur eggs around the ship. Perhaps the pirate ship had gone back in time?
---
Pirate Playground at Sims Avenue East
Docked at the junction of Sims Avenue East and Lorong Marican is a pirate ship playground that looks similar to the one at Punggol Way.
Yet another similar pirate ship playground can be found 22 Telok Blangah Crescent.
---
Play @ West in Tampines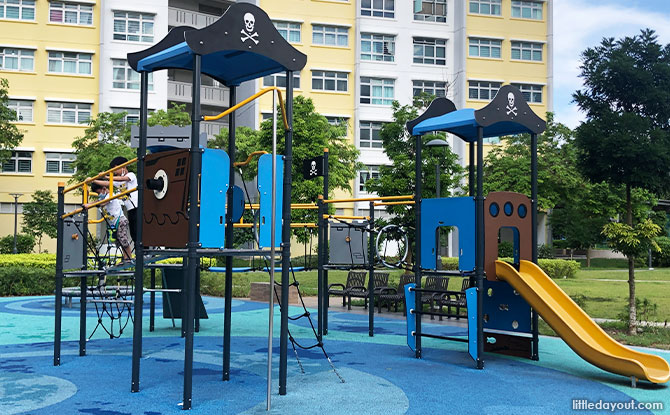 The Play @ West playground in Tampines isn't a ship but we thought to include it on this list as it is pirate-themed. Perhaps you can imagine you are on one of the pirate's land forts instead, holding out against an attacking navy.
Find out more about the playground at Play @ West in Tampines.
Do you know of any other pirate ship or pirate themed playgrounds in Singapore that are of a different design from the above ones? Let us know and share your discoveries with other parents by dropping us an email at hello@littledayout.com.