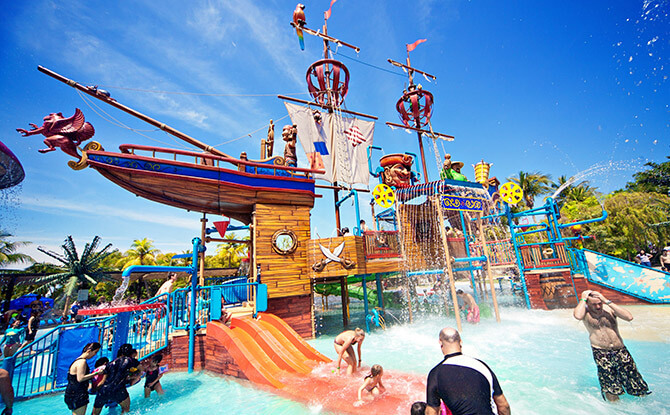 The Palawan Pirate Ship, the free water play area for children at Palawan Beach, will close from 15 April 2019 onwards. Its last day of operations will be on 14 April 2019.
Palawan Pirate Ship to Close to Facilitate Rejuvenation of Palawan Precinct
According to a Sentosa Development Corporation media advisory, the closure of the Palawan Pirate Ship is part of "continued efforts to refresh and rejuvenate the island's leisure offerings" and the redevelopment of the Palawan precinct.
Before throwing its doors open to families as a free water playground at the beginning of 2017, the water play area was part of the Port of Lost Wonder, a beach club for kids at Palawan Beach.
New Attractions to Be Announced
According to the Sentosa Development Corporation, the refreshed Palawan precinct will have new experiences for the family in the form of a variety of attractions. Existing family-friendly attractions at the Palawan precinct include KidZania Singapore and the Animal Encounters show area.
At the other end of Sentosa's beaches, Nestopia, a paid open-air playground operated by Shangri-la's Rasa Sentosa Resort and Spa has recently opened.
Visit Before the Palawan Pirate Ship Closes
If the kids want to splash around for a last hurrah, pay a visit to the water playground during the March 2019 school holidays or be sure to do so by 14 April 2019, the last day of operation before the Palawan Pirate Ship closes.