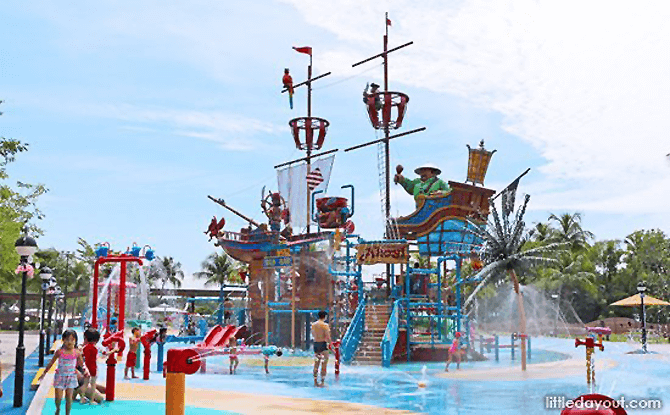 In December 2016, we said "adieu" to the Port of Lost Wonder with its closure. Now, in 2017, we can say "ahoy" to the Palawan Pirate Ship Water Playground as the massive centrepiece of the former beach club has reopened to the public with FREE admission.
Palawan Pirate Ship Water Play Area
The pirate-themed water play area has gushing fountains, splashing water and slippery slides. A swinging pirate-head sends bucket loads of water downwards at regular intervals.
The Palawan Pirate Ship water play area is suitable for children between three to 10 years old. Kids must be dressed in swimwear to enter the water play area. Only kids are allowed on the ship and its slides. Adults are not allowed for safety reasons as the play equipment is only designed for children.
Entry to the Palawan Pirate Ship area is between 10 am to 6 pm daily. Admission is free. Adults entering the play area will need to be accompanied by a child.
Amenities Available at Palawan Pirate Ship Water Play Area
Surrounding the water play area are rest shelters. There are also shower rooms, nursing rooms and paid locker facilities available.
It is possible to hold parties at the Palawan Pirate Ship Water Playground with party packages offered by Sentosa. There are two party packages to available. These include a party host, organised games, food, themed decor and invitation cards.
Other attractions close by include KidZania Singapore and MOSH! at Palawan Kidz City.
Closed Port of Call
Before ceasing operations on 27 December 2016, Port of Lost Wonder was billed as Singapore's first kids' club by the beach. As part of the admission fee, in addition to the use of the Pirate Ship water play area, there were organised activities such as foam bubble parties and crafts.
Palawan Pirate Ship
Location: Palawan Beach, Sentosa
Opening Hours: 10 am to 6 pm
For ages three to 10
Free admission
Website