The Jubilee Park playground, located on the western slopes of Fort Canning Park, is a family-friendly, recreational space. It occupies the spot where the National Theatre previously stood and is a throwback to a time when recreational facilities like the Van Kleef Aquarium and the River Valley Swimming Pool used to be found in the vicinity.
Since the Jubilee Park playground opened at Fort Canning Park on 27 May 2019, it has become a popular place for families.
The name Jubilee Park comes from the King George V Jubilee Park, a space which existed from 1935 to 1972.
---
Fort Canning Park Playground – Nature At Play
Jubilee Park is home to the outdoor Fort Canning Park Playground, a playground where kids get to enjoy play equipment that blends into the natural environment.
A series of logs, laid out in an almost-scattered fashion serves as a fun wooden bridge for kids to climb along in a test of balance. This nature playgarden invites kids to have fun while still connecting with the natural environment.
Swings set out in a circular formation allow kids to "catch some air". Amongst the swings at the Fort Canning Park Playground at Jubilee Park are bucket swings for young children and a ring-shaped swing.
Two inclusive swings are available for wheelchair users too.
Other play equipment at the Fort Canning Park Playground include seesaws and wobble boards, some of which can accommodate up to four persons at a time.
The sandy surface of the playground also makes it an attractive spot to have sand play.
A netted play structure – designed for walking, not jumping – gives kids a reason to get on all fours to climb and play. However, this netted play equipment is currently closed – presumably because of wear and tear.
---
Slides Built Into the Slopes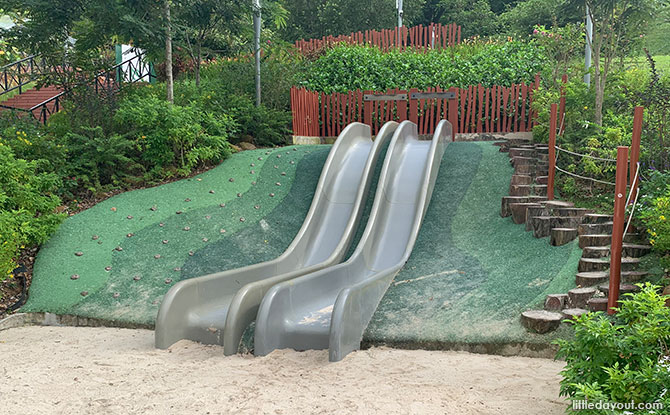 Taking a leaf from the slides at the Admiralty Park playground, Jubilee Park's playground also has slides which make use of the hilly terrain. If kids need any incentive to make the climb up the slopes of Fort Canning Hill, these slides should do it.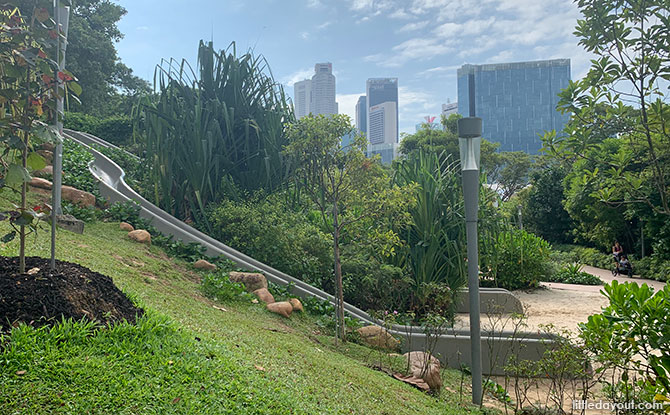 There are straight slides and those with curves too.
There are different spots to explore all around the park.
---
Wading Pool at the Forbidden Spring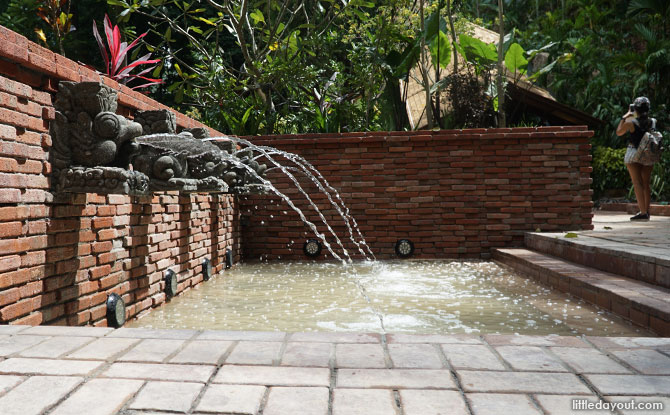 For those wish to explore more can make their way up the slope of Fort Canning Hill to reach Pancur Larangan or Forbidden Spring. This is a re-creation of the legendary spring where the ladies of the ancient courts bathed.
---
Jubilee Park at Fort Canning Park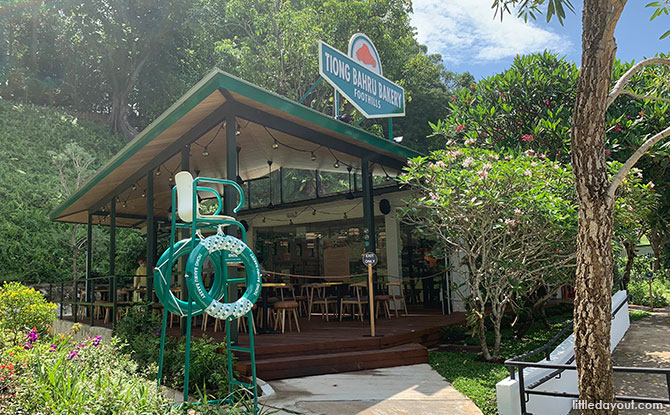 Also located at Jubilee Park is a Tiong Bahru Bakery outlet at the Foothills.
You can also view a marker that pays tribute to the old National Theatre at the slopes of the park.
Jubilee Park at Fort Canning Park is a welcomed spot in the city that families will enjoy. It is located opposite from the Fort Canning MRT station and former Liang Court site. There is a small car park at Jubilee Park which can be accessed from Clemenceau Avenue.