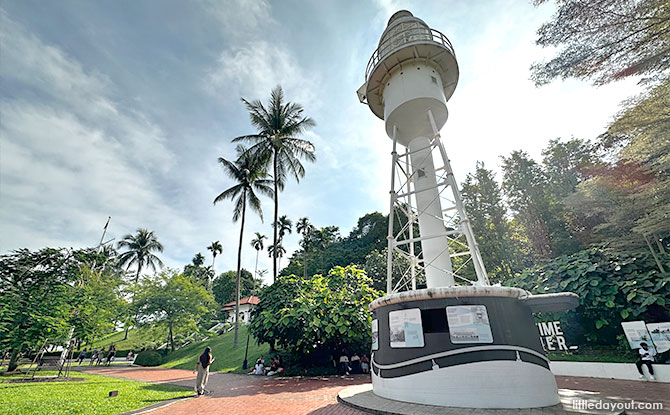 Fort Canning Park occupies a special place in Singapore's history. Once the seat of royalty in the days of Temasek, it was also central to the events leading to the dark days of WWII and now continues to be both a recreational space and historical repository.
With a history stretching as far back as 14th Century Temasek, there are few places in Singapore where the layers of history go down as deep as at Fort Canning Park.
One of the few remaining high points left in the city area (the others being Pearl's Hill in Chinatown, Mount Emily and Mount Sophia), it has been called by many names in its long history.
Previously known as Bukit Larangan or Forbidden Hill, tradition held it to be the site of the ancient Majapahit kings' palaces and their burial grounds.
---
-- Story continues below --
Want to pay a visit to Fort Canning Park and many things that you can do and see at the hill? Our Fort Canning Park guide provides an overview of its many different attractions, gardens and kid-friendly draws.
Let's get into it.
---
Overview of Fort Canning Park
Fort Canning Park is located in the Bras Basah Bugis precinct. It is not the tallest hill in Singapore by a long shot but it is one of the most accessible and historic ones in Singapore.
Around Fort Canning Park, you will find buildings and structures that date back to the British colonial era. These are a left over from the hill's ties with the British Army from the 1800s up till the 1970s.
There are also sites on Fort Canning Hill that allude to a time even longer ago when Fort Canning Hill was a seat of ancient kings. These include modern sculpture walls and sculpted gardened that pay tribute to the past. One place on Fort Canning Park where you can get a glimpse of the past is the open-air archaeological dig site where small artefacts found on the hill are on display.
Fort Canning Park is also a popular recreational space in the city. On the western side of the hill, there is a playground. On the eastern side is Fort Canning Green, where movies and outdoor events are held.
Themed gardens can also be found around Fort Canning Park, providing spots for nature-lovers to appreciate different species of trees and plants.
---
Things to See and Do at Fort Canning Park
As it is with visiting any park, a walk through Fort Canning Park is primarily a chance to enjoy nature and the outdoors.
However, there are also different sights around Fort Canning Park and here are some of them.
Fort Canning Centre & the Fort Canning Heritage Gallery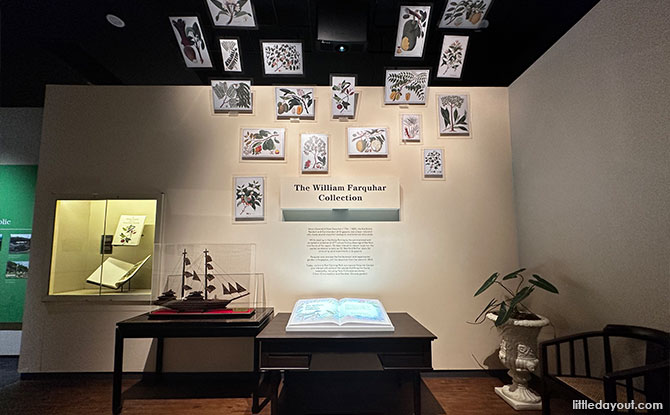 A good place to get an introduction to Fort Canning Hill's 700 years of history is at the Fort Canning Heritage Gallery at Fort Canning Centre.
The gallery is divided into an introduction zone and four themed zones across two levels at the Fort Canning Centre.
At the lower level of the Gallery, you can view a decent collection of artefacts excavated from the hill and also learn more about its role in during WWII.
The upper floor of the Gallery delves into the botanical side of Fort Canning Park and its place in more recent times. For example, in 2019, the Singapore Bicentennial Experience was held at the Fort Canning Centre and an excerpt of the experience can viewed at a mini-theatrette.
Take a moment to appreciate the Fort Canning Centre building too.
It was built by the British in 1926 and was used as army barracks.
In the 1970s, it was converted into squash courts and offices. In 1991, the building was named the Fort Canning Centre and used as a centre for arts and culture.
From 2013 to 2016, it housed the Singapore Pinacotheque de Paris which closed shortly after it opened to the public on 30 May 2015. It then housed The Bicentennial Experience in 2019 before reopening with the launch of the Fort Canning Heritage Gallery in 2022.
---
Recreations of Ancient Landscapes
Fort Canning Park is home to several gardens that reimagine its ancient past. Many of these are the result of a revamp in 2019. You can pay a visit to these gardens and imagine that you have travelled back in time.
Sang Nila Utama Garden
Named after the first king of Singapura, this tranquil spot reimagines the gardens that would have been found in the 14th century palace located on Fort Canning Hill.
The garden has features such as candi bentar or split gates and a symmetrical layout. This style of architecture trace their roots to the Majapahit Empire.
One section of the garden has a reflective pool that brings a sense of calm and serenity to this meditative location. The garden features plants such as magnolias, gardenias and fruit trees, along sculptures.
Pancur Larangan (Forbidden Spring)
When the British arrived in Singapore, they observed a freshwater spring flowing down from the side of the Forbidden Hill on the side facing Singapore.
According to legend, this was a bathing place for the ladies of the palace in ancient times.
This spring has been recreated on the western slopes of Fort Canning Hill in 14th century Javanese style. A mural, carved from natural volcanic rock, decorates this historic spot. It depicts three scenes – from ancient royal life to a 14th century settlement to a 19th century trade.
Look closely and you may be able to observe some plants and animals that can be found at Fort Canning Park in the mural.
Artisan's Garden
Formerly known as The Archaeological Dig, the Artisan's Garden was the site of craftsmen's workshops and living quarters in the 14th century.
It was here that fine goods were fabricated for the hill's royal residents.
Excavations at the site date back to January 1984, and it is Singapore's only retained archaeological dig site. interpretive displays share insights into the significance of archaeological finds made on Fort Canning Hill.
Badang Terrace
A small terrace on the western slope of the park gets its name from the legend of Badang, the strongman of Singapore.
According to the Sejarah Melayu (Malay Annals), Badang was so strong that in one competition, he picked up a large rock and threw it from Fort Canning Hill to the Singapore River, where it became known as the Singapore Stone.
Keramat Iskandar Shah
Iskandar Shah is closely associated with the Singapore and Melaka of the 14th and 15th century. He was either the ruler of late-14th century Singapore who subsequently founded Melaka, or the successor of the founder of Melaka. Some scholars also suggest that he is the same person as Parameswara, while others believe that he was Parameswara's successor.
On Fort Canning Hill, you will find a keramat or holy place named after Iskandar Shah. This site was around even before the arrival of the British in 1819 and still remains a place of worship to this day.
---
Pioneers of the 19th Century
Raffles Garden
The Raffles Garden showcases plant species that Raffles, who was a naturalist, encountered while in Southeast Asia. The planters at this garden are each themed according to various aspect of his work as a naturalist and collector.
Look closely and you may even be able find species such as a cacao tree (and maybe some fruit on the tree if the squirrels haven't got to them yet).
The garden also has a re-creation of the Fort Canning lighthouse, flagstaff and time ball, once important structures that were sited on Fort Canning Hill when the harbour was close by.
The Raffles House at the top of the steps is a reference to the original bungalow built by Raffles on Fort Canning on his third visit to Singapore in 1822 to 1823.
Walls at Fort Canning Green
Fort Canning Green was once a European cemetery in the 1800s. There were multiple burial sites on the hill but this one is the most prominent. It is marked out by the 1846 gothic gateways at Fort Canning Green. These gateways were built by Captain Charles Faber, for whom Mount Faber is named after.
Embedded in the brick walls of Fort Canning Green are tombstones. Even though many of these come from another cemetery, these provide an insight to the lives of those who settled in Singapore in the 19th century.
---
Botanical Ties
Fort Canning Park was also where Singapore's early botanical experiments took place.
Spice Garden & Spice Gallery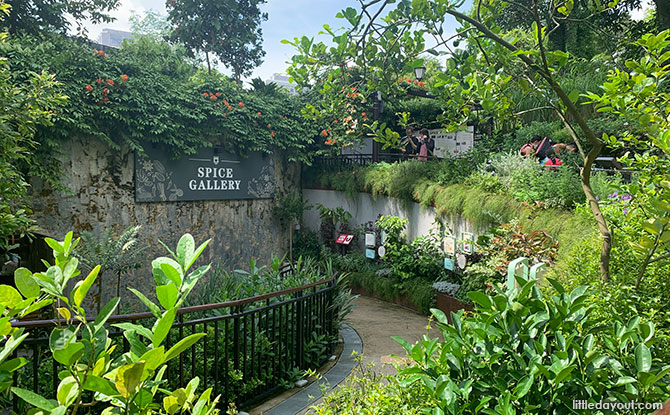 Fort Canning Park's Spice Garden is based on Raffles' experiments with spices and terraced plantations. The Spice Garden includes a gallery trail that highlights on the significance of spices to Singapore's history.
Farquhar Garden
Located at the foot of Fort Canning Green is the interpretive Farquhar Garden, named after the first resident of Singapore.
This garden showcases plants that William Farquhar founded noteworthy like gambier and guava. These have been "framed" to create real-life "natural history drawings".
First Botanic Garden
Singapore's first botanic gardens was established at Fort Canning Hill in 1822 as a place to experiment with economic crops. It eventually closed in 1829 and a new botanic gardens was established in Tanglin 1859.
The First Botanic Garden zone at Fort Canning Park extends to the streetscape between Fort Canning Hill and Bras Basah Road. Look out for boundary markers that show the extent of the original botanic gardens.
Armenian Street Park
This is a pedestrianised section of Armenian Street with plants in mobile planter boxes.
Look closely and you will find that there are synergies between the plants and the building around. For example, there are spices used in Peranakan cooking in the planters – a reference to the nearby Peranakan Museum and Vanda Miss Joaquim orchids close to the Armenian Church where Miss Agnes Joaquim herself once worshipped.
---
Military History
Fort Canning Park was once the Headquarters of the Far East Command Centre. The fort that was established on the hill gives it its present-day name.
Most of the original fort is gone but there still some spots around Fort Canning Park where remnants of the military past are evident.
Fort Gate & Old Married Soldier's Quarters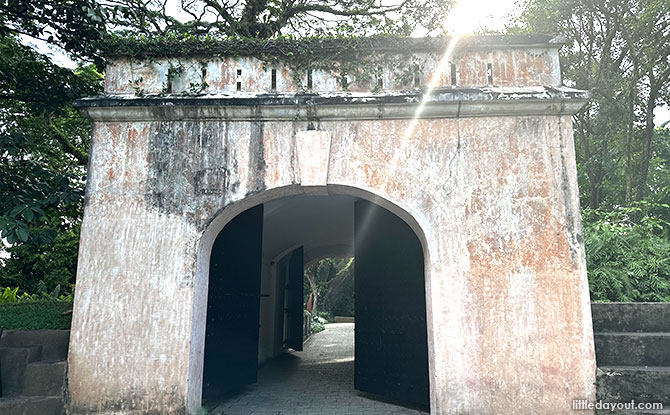 At the top of the hill is Fort Gate, once the fort's fortified entrance.
Fort Canning Hill was chosen as the site for a military installation because of its commanding position over Singapore town.
The fort was completed in 1861 and had barracks for European and Indian soldiers. It also housed a hospital and gunpowder magazine.
The fort was demolished in 1926. Built in its place was the Fort Canning service reservoir, which made use the height of the hill to provide water to the city area.
The area next to Fort Gate is an open, green area that can be used for recreational activities.
Hotel Fort Canning
Hotel Fort Canning is an 86-room hotel. Built in the Neo-Classical style in 1926, it was original the Administration Building of the British Far East Command HQ. The General-Officer-Commanding, Lieutenant General Percival, had an office in this building.
During World War II, the building was occupied by the Japanese Military before reverting back to the British after the war. In 1970, it became the Singapore Armed Forces Singapore Command and Staff College before it was vacated in 1976.
The building then took on a series of recreational roles before Hotel Fort Canning opened in 2010.
Battlebox [currently closed]
Built in 1936, the Battlebox was used an underground bunker used as part of the British Command during World War II. Most infamously, it was where the decision to surrender Singapore to the Japanese was made in just 15 minutes on 15 February 2023, leading to two-and-a-half years of suffering for the people of Singapore.
The Battlebox was open to the public from 2016 to 2023 as a museum. It has been closed for public access since 22 May 2023.
Read about what the Battlebox was like when it was open.
---
Recreational Park & Spaces
Fort Canning Park also has a long history of being used as a recreational space. It was once where you could find the Van Kleef Aquarium, along River Valley Road, at the foot of Fort Canning Hill, and where the iconic National Theatre (demolished in 1986) was located.
This stretches as far back as 1919 when YMCA opened a swimming pool in a disused salt water tank on Fort Canning Hill. The River Valley Swimming Complex was also located at King George V Park, part of present-day Fort Canning Park.
Here are some of the major recreational spaces around Fort Canning Park.
Jubilee Park
Jubilee Park, located on the western slopes of Fort Canning Park, is a family-friendly, recreational space. Jubilee Park is home to the outdoor Fort Canning Park Playground, a playground where kids get to enjoy play equipment that blends into the natural environment.
A nature playgarden in the form of a pile of logs serves as a fun space for kids to climb and test their balance.
Fort Canning Green
This huge space is often used for outdoor concerts, performances and events throughout the year.
Fort Canning Tree Tunnel
One of the most sought out spots at Fort Canning Park in recent years is the Fort Canning Tree Tunnel. This instagrammable location offers a dramatic shot with the canopy of a yellow rain tree above.
Lewin Terrace
Lewin Terrace is an open space just behind the Central Fire Station with a black-and-white bungalow where the Fire Director used to stay. The building used to house a restaurant but the entire area is currently closed as of June 2023 for upgrading works.
---
Fort Canning Park Food, Dining & Restaurants
There are very few food establishments at Fort Canning Park but there are plenty of dining options close to Fort Canning Park.
Tiong Bahru Bakery
Located at The Foothills along River Valley Road is Tiong Bahru Bakery.
Pick up a buttery croissant and a hot beverage at this charming location close to Jubilee Park.
Website: 70 River Valley Rd, #01-05, Singapore 179037
Website
Le Jardin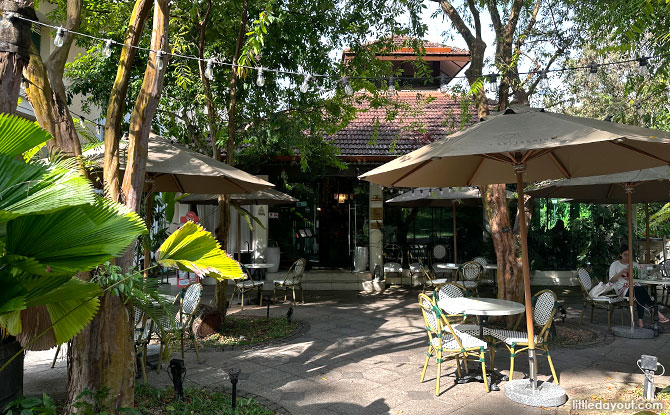 Located at Fort Canning Centre, Le Jardin serves French and European cuisine. There are both indoor and leafy outdoor seating options available.
Where: 5 Cox Terrace, Level 2, Fort Canning Centre, Singapore 179620
Website
Hotel Fort Canning Dining
Within Hotel Fort Canning, there is The Salon with a range of local and international dishes. The Tisettanta Lounge is hotel's lounge for a drink.
---
How to Get to Fort Canning Park
By MRT
The three closest MRT stations to Fort Canning Park are Fort Canning MRT Station (DT20), Clarke Quay MRT Station (NE5), and Dhoby Ghaut MRT Station (CC1/NE6/NS24).
From Fort Canning Station take Exit B and you be Jubilee Park on the western side of Fort Canning Park.
If arriving from Clarke Quay Station, come out from Exit E, turn left and walk along Coleman Bridge. Turn left again at the end of Coleman Bridge and head towards the pedestrian overhead bridge that is 100 metre away along River Valley Road. Cross the overhead bridge and you will enter Fort Canning Park.
From Dhoby Ghaut Station, exit the station from Exit B, cross Penang Road, turn left and keep a lookout for the tunnel leading to Fort Canning Park.
Other MRT stations close by include Bras Basah (CC2) and City Hall MRT (EW13/NS25) Stations.
Car Parks at Fort Canning Park
For those driving, enter via Canning Rise to reach the car park at the Registry of Marriages.
Another set of car park is off Fort Canning Road, in front of Hotel Fort Canning.
Or take Canning Walk to reach the car park lots opposite the rear of the National Museum of Singapore and leading up towards Hotel Fort Canning. This is the closest car park to Fort Canning Centre.
Along Clemenceau Avenue, there is a small car park just before River Valley Road. This car park is best to those heading to Jubilee Park and Tiong Bahru Bakery at the Foothills.
---
What Else is Around Fort Canning Park?
There are plenty of museums around Fort Canning Park that you can visit.
The National Museum of Singapore can be found on the northeastern edge of Fort Canning Park, while other museums to the east of the hill include the Peranakan Museum and the Children's Museum of Singapore.
At the Central Fire Station, there is also the Civil Defence Heritage Museum.
On the western side of Fort Canning Park is Clarke Quay which has restaurants (including this Korean BBQ place we recently visited) and Slingshot Singapore where you can get shot out of a volcano.