HANJIP Korean Grill House is a restaurant located at Clarke Quay that specialises in Korean barbecue as well as other dishes like pork bone soup and cheese buldak.
---
HANJIP Korean Barbeque at Clarke Quay
If you are hankering for some great Korean barbeque in Singapore, HANJIP Korean Grill House could be worth a visit to satisfy your taste buds.
The restaurant opened in 2020 and aims to be the most authentic traditional Korean barbeque restaurant in Singapore. It is already one of the largest at over 5,000 square feet in size.
Stepping inside HANJIP Korean Grill House, we were be struck by the darkish décor. The overall ambiance be best described as a bit corporate and sophisticated.
When we visited on a Sunday for lunch at noon, it wasn't too busy at first but it soon started to fill up. As such, advance bookings are recommended.
The servers were friendly and attentive. They quickly seated us once we had arrived.
---
HANJIP Korean Grill House Menu & Review
The food and drink options on HANJIP Korean Grill House's menu feature meats like beef and pork. Their signature cuts are aged Australian Wagyu and USDA Prime Beef.
We got the pork collar and boneless beef short rib. These were cooked for us by the server over the hot charcoal fuelled barbeque grill.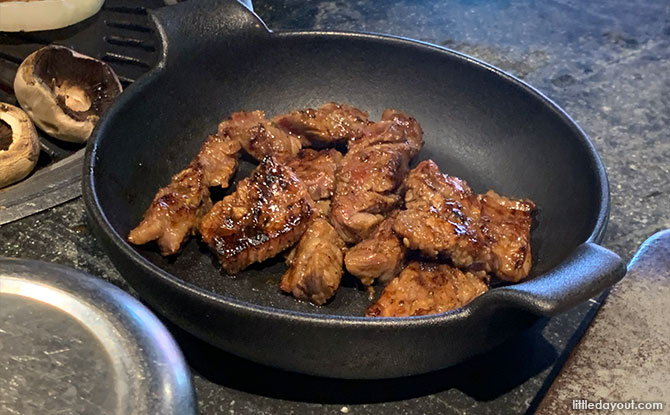 The grilled pork collar was mouth-watering and savoury. It was slightly caramelised on the outside, while remaining juicy and tender on the inside.
The charred bits of meat added an additional layer of flavour and texture to each bite.
Korean BBQ grilled beef short ribs, also known as "galbi," are a delicious and popular Korean dish. Grilled over the charcoal, the beef was tender and juicy. It had a caramelised exterior that added depth and texture to each bite.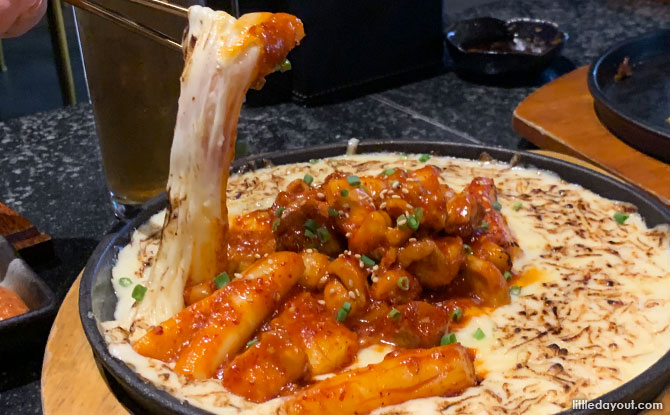 We also ordered the cheese buldak which was spicy chicken in a hot pan of cheese. This chicken and cheese combination felt rather decadent with the cheese balancing off the spicy chicken.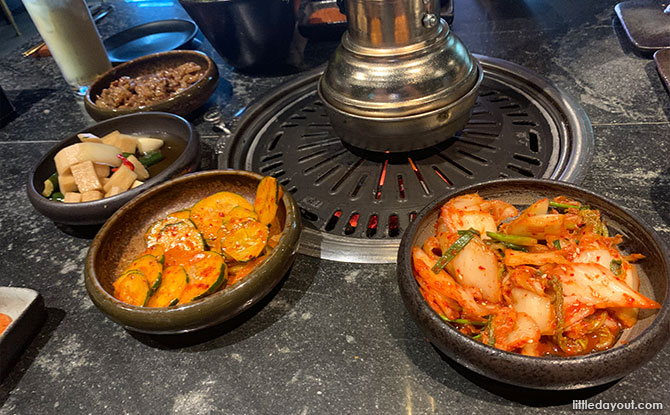 The banchan or side dishes are also worth a mention, in particular the anchovies and peanuts. It was a good thing that we could ask for a top up once we had finished them.
HANJIP Korean Grill House at Clarke Quay is a good place to enjoy Korean BBQ. It is good for a special occasion or celebration, especially if there is a meat lover amongst the party.
For the full menu and prices, visit the HANJIP Korean Grill House website.
---
Where to Find HANJIP Korean Grill House, Clarke Quay
Where: 3C River Valley Road, #01-11 Clarke Quay, Singapore 179022
Website
If you enjoy premium grilled meats, check out this yakiniku restaurant with wagyu beef.