Beaded slippers, sarong kebaya and ornate furniture. These are some of the objects closely associated with the Peranakans that you can view at the Peranakan Museum in Singapore.
Peranakans trace their ancestry to the marriage of Chinese men who came to the Malaya archipelago in search of work and the local women. This mixed parentage resulted in a blend of cultures and their descendants are the Peranakan or Straits-born Chinese.
At the three-storey Peranakan Museum, the culture, customs and traditions of Peranakans are presented through various galleries, each serving as a window into different aspects of the local, Peranakan culture.
Meet the Peranakans
The best way to get an introduction to the Peranakans is at the museum's ground floor gallery. A video presentation in the gallery explains what it means to be Peranakan.
Continue the journey into the world of the Peranakans on the floors above.
The charming three-storey building where the Peranakan Museum is housed used to be a Chinese educational institution, the Tao Nan School, from 1912 till 1982. Today, instead of school children learning their lessons, visitors to the building learn about Peranakan culture and how they lived through their dress, furniture and other household items.
Customs and Culture
Learn about marriage customs of the Peranakans on the second floor of the museum.
You can even step in the midst of a traditional Peranakan wedding procession to get a closer look at the wedding costumes.
A big part of Peranakan culture can be found in the food – a distinctive blend of Malay and Chinese cuisines. There is a kitchen display that shows where food would have prepared in a traditional household.
Colourful, patterned "nonyaware" or Peranakan tableware also get displayed.
Beliefs and Rituals
A gallery of the Peranakan Museum also deals with the Peranakan's religious beliefs and practices. Take note that there is also a section in the corner of the museum on funerary rites that features a coffin.
Peranakans, such as Tan Kim Seng, have also played a prominent role in Singapore's history. Paintings of these luminaries hang on the third-floor landing as if presiding over the museum.
Around the Museum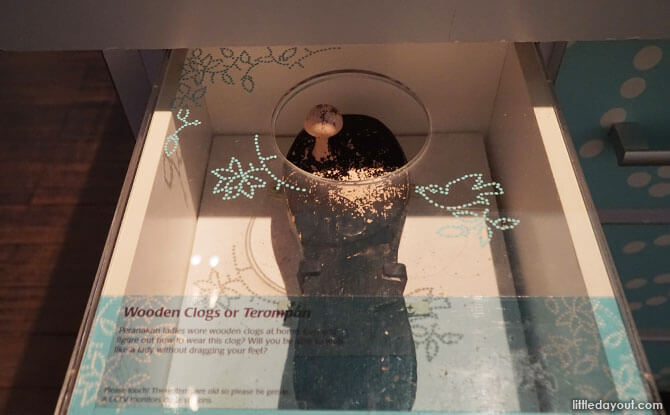 To encourage visitors (especially younger ones) to explore the exhibits, there are several stations throughout the Peranakan Museum where visitors can touch specially prepared exhibits.
Kids can also pick up an activity card and stamp it as they make their way around the museum.
For those who are new to Peranakan culture, particularly out-of-town visitors, the Peranakan Museum provides an introductory overview to the Straits-born Chinese. To fully experience this unique local culture, after feeding the mind at the museum, make the next stop a visit to a Peranakan restaurant to experience the culture through the stomach too!
Peranakan Museum
Where: 39 Armenian Street, Singapore 179941
Website
---
---