The Singapore Sports Museum at the SportsHub contains a collection of memorabilia and memories of Singapore's sporting endeavours. It provides a look at sports development in Singapore as well as the personalities that have made a nation's dreams come true.
Singapore Sports Museum is divided into several permanent galleries which trace Singapore's sporting history and pays homage to local sports heroes.
Development of Sports in Singapore
Building a Dream recounts the local sports clubs and associations where many of Singapore's sportsmen and sportswomen got their start. Clubs and associations represented here include the Singapore Swimming Club, Singapore Recreation Club and Singapore Yacht Club.
This first gallery is built upon in the Chasing the Dream gallery which chronicles Singapore's efforts towards sporting excellence.
---
-- Story continues below --
Tribute is paid to the Singapore sportsmen and sportswomen who have excelled in their field. There are individual displays dedicated to personalities such as Ang Peng Siong, Tan Howe Liang and Fandi Ahmad.
Among the memorabilia on display are medals, sports clothing and equipment.
Remembering the Old National Museum
The old National Stadium is remembered in the Dream Venue gallery.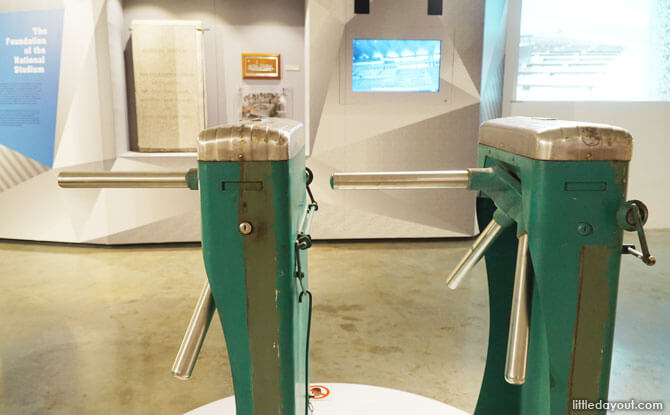 On display are artefacts preserved from the old stadium including gallery seats, lights and the stadium's turnstiles.
The old National Stadium is remembered not only as a place where large-scale sporting events took place but where music concerts and other events were held.
YOG Gallery & More
Inside the Singapore Sports Museum is an area known as the Singapore Youth Olympic Museum.
Designed to resemble a running track with turf at the centre, this section of the Singapore Sports Museum is dedicated to the first Youth Olympic Games which Singapore hosted in 2010.
The Singapore Sports Museum also provides insight into the life and training regime of an athlete and recounts some of the highlights in Singapore's sporting history such as the first Singapore Grand Prix and the Malaysia Cup campaign of 1994.
Guided tours are available on weekdays and sports-themed crafts for kids are available at the museum's Children's Activity Corner.
For more information, visit the Singapore Sports Museum website.
Singapore Sports Museum
Where: 6 Stadium Walk, Singapore 397698