Children's Season 2023 is back during the school holidays from 27 May to 25 June with more than 100 family-friendly programmes across 25 museums in Singapore.
This annual programme, jointly presented by National Heritage Board and the Museum Roundtable, coincides with the school holidays. It offers a chance for families to head out and explore the museum while engaging in fun activities.
The theme of Children's Season 2023 is Hopes & Dreams and children are invited to explore different occupations and inventions from past and present Singapore.
Perhaps, through the activities, they might discover who they want to be in the future.
Children's Season 2023 will also be Children's Museum Singapore's inaugural participation in annual event and there will be four programmes offered at the museum. But more on that later.
---
Highlights of Children's Season 2023
Here's a look at some of the exciting programmes that families can look forward to at this year's Children's Season 2023.
30 Comic Art Workshops in 10 Museums & Galleries
There will be a total of 30 Comic Art workshops conducted by 14 talented local artists and arts educators as part of Children's Season 2023.
The workshops will introduce the museums through hands-on and immersive experiences, impart visual communication skills and provide opportunities for families to spend time together.
Each participating museum will have its unique spin on the Comic Art workshop.
For instance, at The Peranakan Museum, participants can imagine what if Cinderella were nyonya and learn about the rich culture and heritage of the Peranakans.
At the Singapore Mobility Gallery, children can also dream up cars of the future, try doodling and transform random squiggles into cool cars.
One artist Josef Lee will be sharing his own story on how he became an illustrator and author. In his Comic Art workshop, he will be encouraging children to dream of their own occupation and drawing a comic with the character in mind.
Through the workshops, participants can also pick up skills such as story-telling, conceptualising story structures, drawing inspiration from everyday life, character design, drawing expressions, creating thought and word balloons, adding depth and dimension to drawings, producing mini-books, costume design and environmental design.
---
Other Family-friendly Programmes by Museum Roundtable members
Families can also look forward to the museums and galleries' curated programmes.
Get Curious! All About Food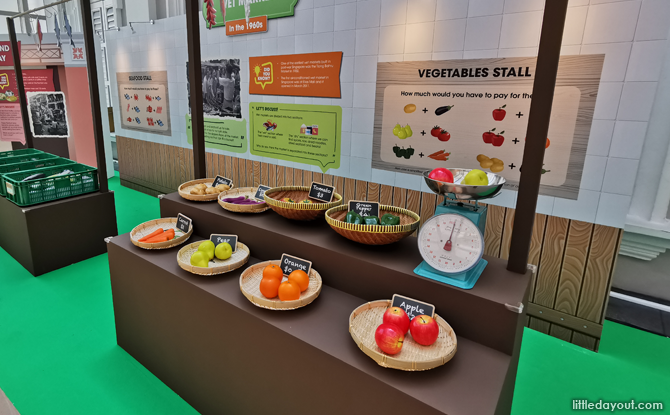 Head to National Museum Singapore to learn more about food. There are interactive spaces on level two dedicated to the children to find out about buying and selling food, preparing food, cooking food, packaging food and consuming food. Each space has hands-on activities for the children to participate in – from matching food types, weighing vegetables, calculating prices of fish, loading the charcoal stove in a 1930s' kitchen and more.
Be an Archaeologist for a Day!
Over at the NUS Museum, children can choose to be archaeologists for a day. Together with their families, they can excavate broken fragments and reconstruct their discoveries to uncover the hidden secrets of the buried artefacts. This Children's Season programme takes reference from real archaeological digs in Singapore and participants will be able to take home their artefacts.
Colour Your Own AR Toy
Children get to design their own Augmented Reality toy at MINT Museum of Toys. Children get to to express their creativity by colouring an artwork based on a toy from the museum's outer space collection. The artworks will then be projected all around them.
Children's Museum's Children's Season Programmes
There are four Children's Season programmes at the Children's Museum. UK-based designer and artist Diana Beltran Herrera will be leading two. She will be showing kids how to make their own pop-up garden and assortment of fruits.
Families can also view Diana's exquisite paper sculptures on display at the Imagine a Garden exhibition at the Children's Museum.
---
Start Collecting Stamps for your Children's Season Passport!
Of course, passport stamp collection is a must-do activity during Children's Season.
Families can visit any 25 participating museums to collect a "passport" and collect uniquely designed stamp imprints. Stand a chance to win special prizes once milestones are completed in the passport.
---
Fun Discoveries for Families around the Museums during Children's Season
Mr Goh Chour Thong, Director (International & Museum Relations), NHB, said: "We hope the theme of "Hopes and Dreams", and the very visual and free-flowing medium of comic art in particular will inspire children to express themselves creatively whilst exploring and discovering more about their heritage across the diverse range of participating institutions from the Museum Roundtable!"
For more details on programmes for Children's Season.
Get even more ideas of things to do during the June school holidays in Singapore.