The SG Mobility Gallery, located at Block 1 of Land Transport Authority (LTA) campus at Hampshire Road, provides a behind-the-scenes look at how LTA plans, designs and builds Singapore's land transport system.
The gallery has interactive and engaging exhibits, allowing visitors to not only learn about land transport in Singapore but to also get a taste of being a transport planner, experience training as a bus captain and more.
Since SG Mobility Gallery is free to enter and fully air-conditioned, it's a great place for kids and families to visit and learn something new, whether rain or shine!
Families with kids who are love all things to do with transportation will definitely want to visit the SG Mobility Gallery.
---
SG Mobility Gallery Zone: What To See & Do
Zone 1: Land Transport Hero Academy
Learn about the unsung heroes of land transport at this activity corner near the entrance of SG Mobility Gallery. Preschoolers can sit in child-sized chairs and tables to do some colouring and crafting, and even pose for pictures.
---
Zone 2: Moving Singapore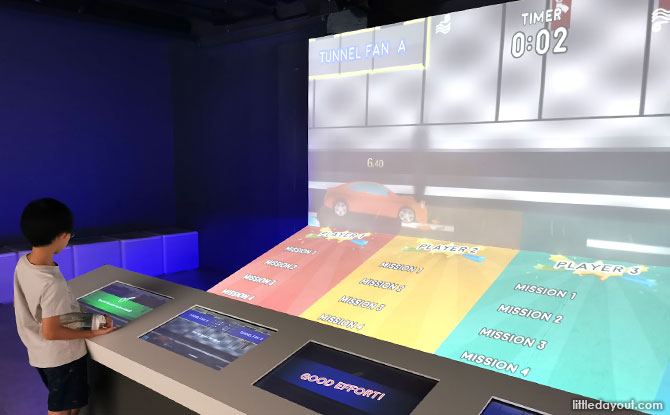 Ever wonder how Singapore's transport network is kept flowing smoothly? That's thanks to the LTA's advanced traffic system called the Intelligent Transport System or ITS.
This system even encompasses the Expressway Monitoring Advisory System, traffic light system and TrafficScan.
At an interactive station, you can experience managing congestion and responding to accidents as an Operations Executive.
For instance, you will have to choose the direction that the tunnel fan should blow when there is an accident, or select which emergency rescue tools to activate to response to a situation.
---
Zone 3: Connected Towns of Tomorrow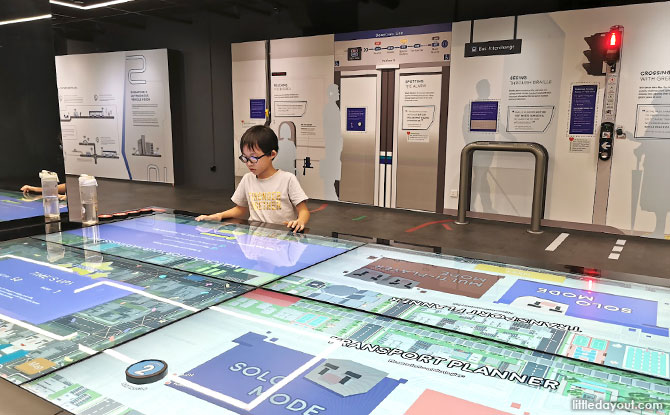 Leave behind Zone 2 and head towards the open space where you will find digital touchscreen panels. This is where visitors can try planning an efficient transport system to meet the public's needs.
Where should a bicycle parking bay be built? Where should the bus stop be located?
As an urban transport planner, you can design and lay out the infrastructure. You can even choose to pit yourself against other players in this interactive game.
---
Zone 4: Future Mobility
Did you know that our transport system is designed to meet the very diverse needs of the public?
At the Future Mobility zone, visitors can try out inclusive features found in our land transport system. For example, press a switch to activate the red signal that helps inform hearing-impaired commuters of the arrival of their bus or train.
Or, experience the hands-free automated fare collection system that wheelchair users use.
As a parent, I found this gallery to be an effective way to remind my child of how challenging it can be for the differently-abled to take public transport.
Thankfully, it is easier for them to be mobile and independent because of initiatives by the LTA to make the public transport system accessible to all.
---
Zone 5: Future Forward Theatre
This futuristic 270-degree panoramic theatre unveils what goes behind the scenes in order for the transport system to run efficiently.
We were quite surprised to learn that there are personnel cleaning the expressway tunnel walls, and that there were emergency exits every 100 metres within the tunnels.
---
Zone 6: Training Workers of Tomorrow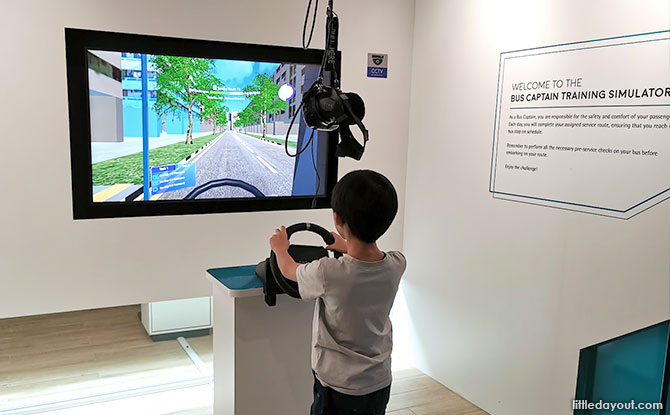 Want to experience life as a bus captain? Zone 6 is where one can learn about what it takes to be a bus captain at a bus service simulator, or what a rail technician does, and the workings of the bus service control.
The section uses AR and VR to provide an insightful, immersive and hands-on experience in various settings.
---
Zone 7: Commit to a Car-lite Singapore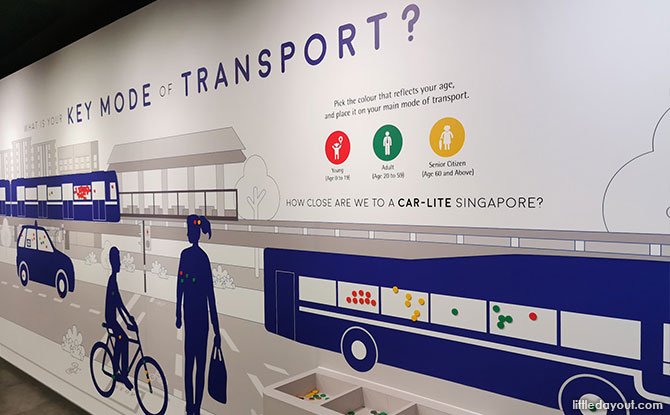 Would you contribute to a car-lite Singapore by walking, cycling or riding?
After a visit to LTA's SG Mobility Gallery, perhaps visitors would be more convinced to make full use of the public transport system rather than relying on cars.
At this zone, you can commit to helping make Singapore car-lite and indicate this commitment at a survey board.
---
Visiting LTA's SG Mobility Gallery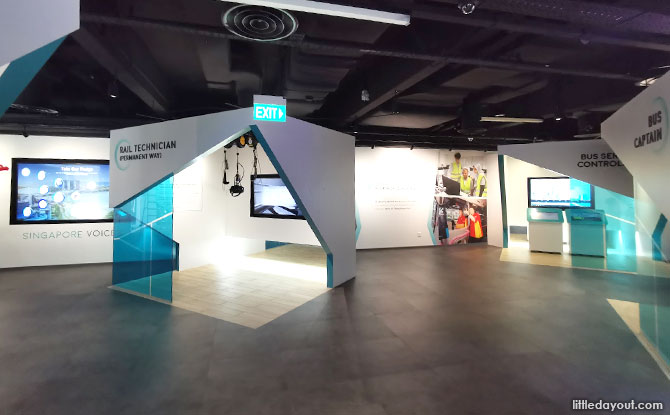 A visit to SG Mobility Gallery left us amazed by the effort and the knowledge required to run the land transport system effectively.
It also taught us to be more grateful to the efficient system in Singapore and to be more aware of the various challenges and complexities involved.
The next time we take a bus, train, or press the buttons as pedestrians to cross the road, we will pay more attention all the details that we otherwise have taken for granted.
And since the gallery is easily accessible via public transport (it is close to the Little India MRT Station), we would recommend going car-lite if you are paying it a visit.
Last but not least, don't forget to redeem a small gift at SG Mobility Gallery upon completing a short survey at the end of your visit!
Where: Land Transport Authority, 1 Hampshire Road, Block 1 Level 1 Singapore 219428
Nearest MRT station: Little India station, Exit F
Opening Hours: Mondays to Fridays 9.30 am to 5 pm (excluding Public Holidays)
Estimated length of visit: 1 hour
Visit the SG Mobility Gallery website and register your visit here
If you are planning a visit to SG Mobility Gallery, to maximise your time in the vicinity, you might also like to visit places like the Indian Heritage Centre, Gem Museum, Paintblush or simply explore Little India!