Like a time portal, Chinatown Heritage Centre takes visitors on a fascinating and immersive journey through the sights and sounds of Chinatown, from the past to present day.
Newly renovated and reopened in January 2016, the revamped Chinatown Heritage Centre hardly feels like a museum at all. Instead of staring at glass-cased exhibits, visitors get to "step into" the exhibits and experience Chinatown through the ages for themselves.
Life in Chinatown Past
Located within a shophouse setting along Pagoda Street, the first setting visitors encounter is an old-fashioned tailor shop in the first gallery.
Dark wood furniture and glass cases displaying the shop's handiwork line the walls. Tools of the trade lie on a work table, patiently waiting for the next customer to walk through the door. This scene, fast disappearing in modern Singapore, will seem strangely familiar to those who grew up in the 1970s and 1980s.
Less familiar is the next room – the backroom workshop where clothes are made. Spools of thread and Singer sewing machines stand ready to fashion the next order. You almost expect workers to step through the door at any moment and settle back down at their stations.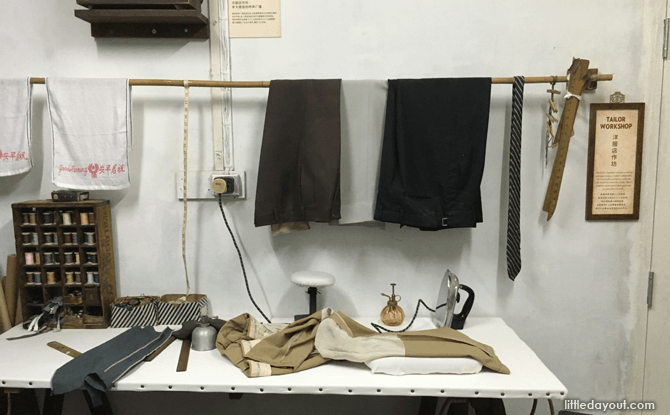 Venturing deeper into the shophouse, you come across the tailor's living quarters. The craftsman and his family would have lived here. In the past, it was not uncommon for tradesmen to live and work at the same place.
Once ready to move on, head up the stairs to a floor above where you can take a voyeuristic look at how the people who lived in the past in Chinatown.
Cubicle Living
In the olden days, a shophouse would have been divided and let out to people from different walks of life. Entire families would have lived and raised their children here in small rooms separated by simple partitions.
A dark and narrow corridor leads past rooms that have been set up to belong to tradespeople such as a clog maker, hawker and samsui woman.
What was the person like? Where did he or she come from? What were their daily routines like? Each room reflects the person's trade and is a visual treat that stimulates the imagination.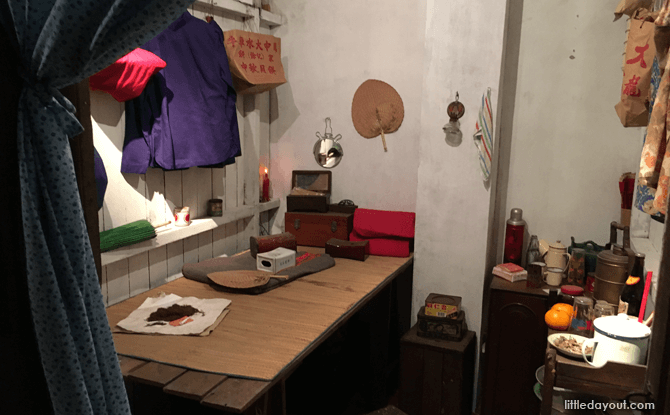 Pay a visit to the back of the shophouse where a small kitchen and rudimentary toilet can be found. These basic facilities would have been shared by all the residents of the shophouse.
Story of the Chinese in Singapore
On the third floor, the story of the Chinese diaspora continues. Find out their back stories and circumstances that led them to leave their homes in China to make the perilous journey to Singapore in search for a better life.
Upon landing in Singapore, many ended up working as coolies at the docks. Visitors can even try lifting a gunnysack as coolies would have done in days past.
In the 1800s, vices such as opium dens and gambling were rampant. These and other shades of Chinatown's early days are articulated through storyboards. Personal anecdotes add a nice touch and help you to imagine what life must have been like living in those days.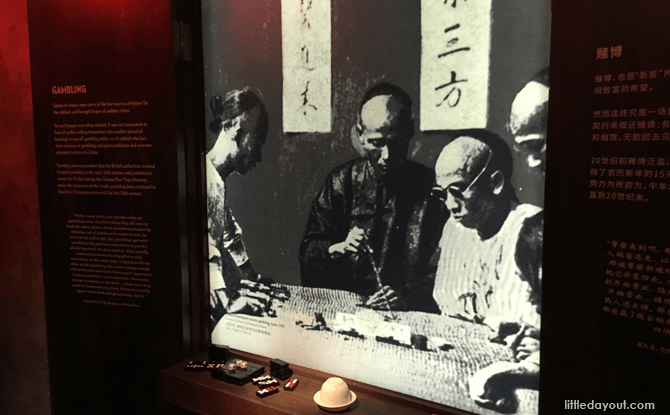 Modern technology such as interactive touch screen tabletops invite the exploration of Chinese traditions too.
There is also a gallery dedicated to Chinatown in the 1960s. A five-foot way street barber, roadside library and pushcart that screens films are some of the street scenes to explore.
In a quiet corner, you can even sit down and imagine being in the crowd, listening intently to a storyteller as he enraptured the audience with tales of adventure.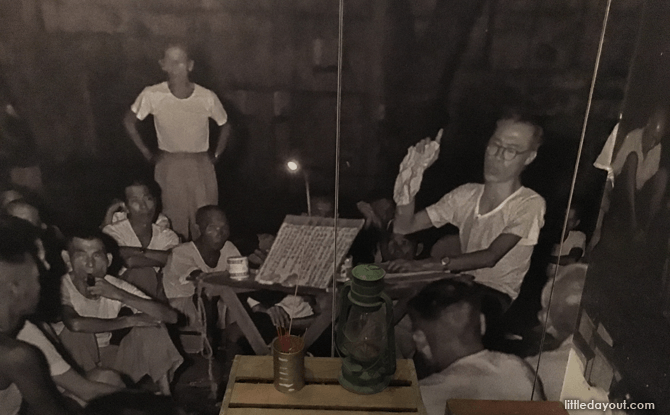 Sago Lane
Chinatown's Sago Lane was infamously known as the Street of the Dead. The old and ailing would check in to death houses found at Sago Lane and wait for the inevitable.
For the curious who wish to understand the origins of Sago Lane (and what has since become of it), Chinatown Heritage Centre's Sago Lane gallery provides a fascinating look into this grim part of Chinatown's past.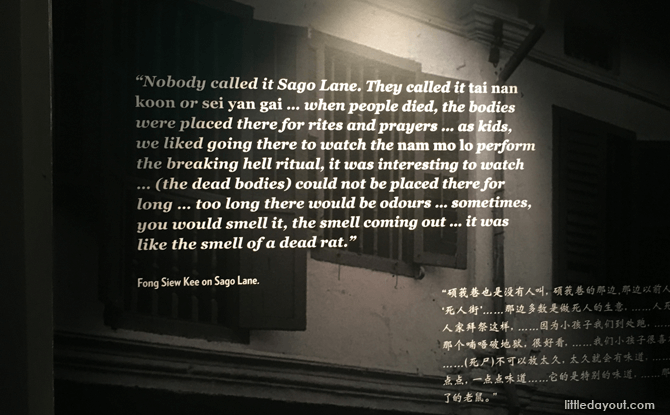 If the subject of Sago Lane does not appeal to you, you also have the option of bypassing it and moving on to the last gallery.
A tour through Chinatown Heritage Centre ends on a bright note – literally. The final gallery is located near the front window of the shophouse and captures Chinatown's ongoing and evolving story. Find out what is in store for Chinatown and you can even take a snapshot at a photo wall and add yourself to the Chinatown story too.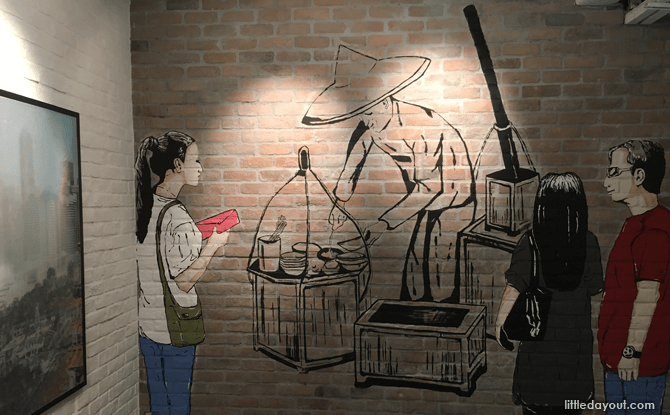 The Chinatown Heritage Centre is a gem. It is a fascinating place to visit and provides an authentic look into the historic precinct's past without trying too hard. Wandering its corridors, it is easy to wonder what stories its walls could tell if they could speak.
If ever in Chinatown, consider stopping by and paying the Chinatown Heritage Centre at Pagoda Street a visit.
CHINATOWN HERITAGE CENTRE
48 Pagoda Street, Singapore 059207
Opening Hours: 9 am to 8 pm, Daily
Admission Prices
Till 27 Jan 2016- $12 for adults and $8 for children. Senior citizens enter free if accompanied by a paying visitor.
After 28 Jan 2016 – $15 for adults, $11 for children and $3 for seniors accompanied by a paying visitor.
Website: www.chinatownheritagecentre.com.sg
More Stories on Chinese New Year: