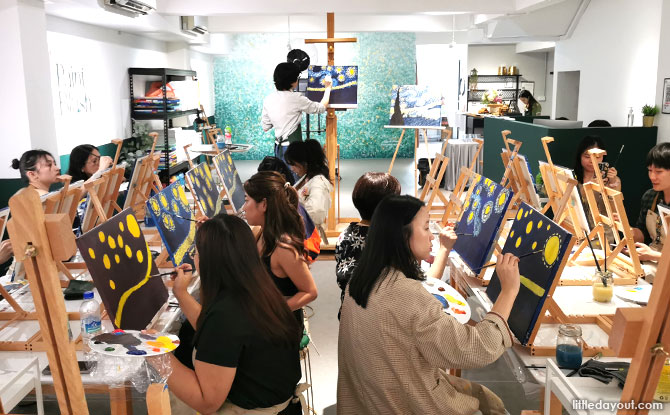 Painting and sipping wine is perfectly permissible at Paintblush's art studio. Sounds like a wonderful idea? We tried Paintblush's Sip & Paint signature session to find out what it would be like sipping wine, painting and chatting!
---
About Paintblush Art Studio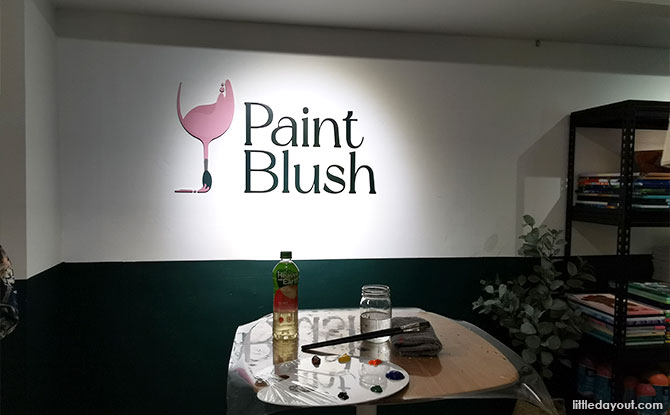 Located just two minutes from Rochor MRT, this art studio is a cosy and quaintly-decorated studio for any art sessions – art-jamming, lessons and group art paint sessions.
Besides painting, participants who sign up for Sip & Paint sessions can bring their own booze and platter for snacking. There is also an in-house photo studio for lovely post-art jam portraits!
---
-- Story continues below --
Our Arty Experience at Paintblush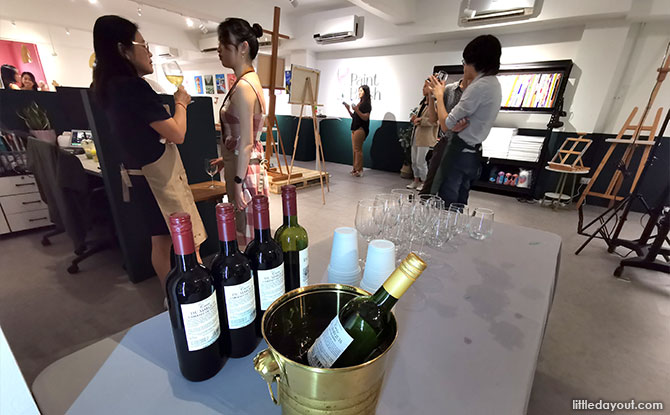 We had a taster of the Sip 'n Paint Signature Art Jam which was a three-hour session guided by an instructor on a choice of art.
Upon looking at "Starry Night" we were going to attempt, I felt rather intimidated. Could we complete such a complex painting? What if our version turns out really ugly?
Especially after being awed by Van Gogh's life and art, I was doubtful of how Van Gogh's pieces can be replicated under two hours.
As we began our artpiece, the blank canvas looked impossible to fill especially without our masterful strokes. Our instructor Justin changed our perspectives rather quickly. He explained each step and demonstrated how to transform our canvasses.
We were encouraged to paint it our way and adding elements we preferred. Rather than produce a cookie-cutter piece of art, we could use different colours, interpret it our way and include our style.
Through very simple instructions, Justin helped us to understand the few steps in progression. First we planned our canvasses and the positions of the stars and horizon before proceeding to paint the base layers.
This was followed by colouring in the stars and the famous swirls. Gradually as I painted more strokes and filled the canvas, I could then see the potential of the emptiness transforming into a masterpiece!
To achieve the impressionist feel, our instructor Justin taught us to use little strokes, colours and layers. His effective tips and tricks elevated our paintings to "impressionist" levels.
For people who struggle with painting, this session was an excellent way of calming the nerves and enabling even the most "non-artistic" to attempt an artpiece.
---
Paintblush's Sip & Paint Review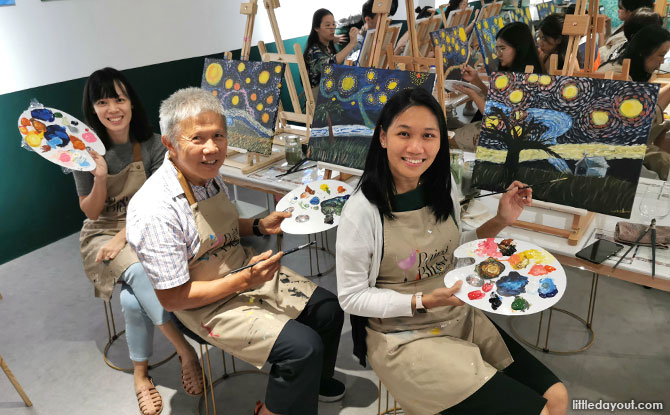 It was a lovely afternoon well spent completing our masterpiece which we must say we were proud of completing!
This novel concept of sipping wine, munching snacks while painting would help families, couples, teams bond. In a relaxed atmosphere, it was much easier to let our brushes loose and produce a fine piece of art.
We ended our session with bellies full, a relaxed mind and a tad more confidence in our art skills. Taking a picture together at the in-house photo studio concluded the bonding session on a wonderful note.
To experience Paintblush, there are various sessions to choose from – unguided and guided art jam sessions, Sip & Paint (bring your own wine and snacks) as well as customised sessions.
---
Paintblush
Where: 73, Dunlop Street #02-00
Join in the fun here.