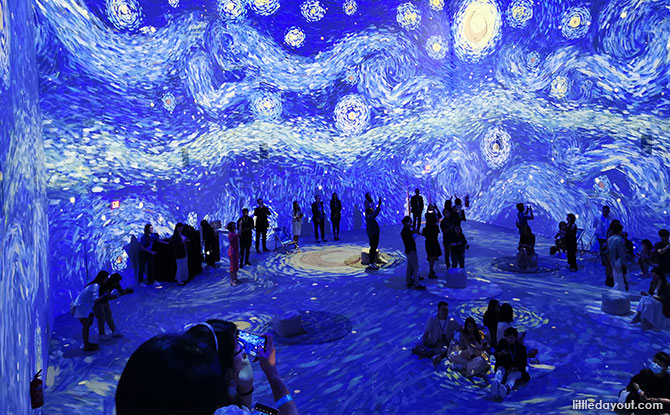 Finally, a chance to step into the world of Van Gogh from floor to ceiling! Van Gogh: The Immersive Experience began on 1 March 2023 at Resorts World Sentosa. Singapore is the travelling exhibition's first stop in Southeast Asia.
With a 360-degree digital show, 60 projectors, over 300 sketches, artworks and paintings come to life on floors, walls. If you haven't yet viewed the Van Gogh exhibition, you should definitely try to do so. It has been extended multiple times but looks set to close very soon.
We give you eight highlights of the Van Gogh exhibition experience that you should not miss out on.
---
Van Gogh Exhibition: About Vincent Van Gogh
---
-- Story continues below --
But first, how do you pronounce the name accurately? The common anglicised way of pronounciation is "van goff" or "van go", while the Dutch will say "fan hoh" as it is a Dutch name. Regardless, Vincent Van Gogh was a prolific Dutch Post-Impressionist painter who lived between 1853 and 1890. He produced a whopping 2, 100 paintings but remained in poverty having successfully sold one painting.
Exploring Van Gogh The Immersive Experience at Resorts World Sentosa
First walk through a long corridor filled with self-portraits of Van Gogh. See his sullnessness and brooding faces in some of them or his infamous bandaged ear.
Then enter the gallery about the artist, his life story and more on his family and how he died without his masterpieces gaining attention.
There are two smaller galleries Anamorphose and Japnonisme on interpretations of Van Gogh's works as well as his key influences and inspirations.
The largest space of all is the Immersive Room with a 40-minute digital projection mapping of Van Gogh's most famous artworks.
After exiting the Immersive Room, one can enjoy the Van Gogh VR experience, screening in the theatre on Van Gogh's life and a chance to colour in Van Goh's drawings.
---
Immerse Yourself into Van Gogh's paintings
The highlight of the exhibition is definitely the immersive experience. Step into Van Goh's paintings and see it come alive in this 40 minutes projection mapping showcase.
Take a seat in one of the deck chairs, relax and soak in every stroke, every colour and every change of scene.
My favourites were definitely the Starry Night and wheatfields.
---
Atmospheric Soundtrack & Quotes of Van Gogh
As you stroll through the galleries and admire the many pieces of artwork, lend an ear to the music and voice. The music is by composer Luca Longobardi with snippets of Handel, Mozart and Edith Piaf.
Get taken on an emotional rollercoaster experienced by Van Gogh every step you take through his world.
Quotes of Van Gogh are interspersed through. "If you truly love nature, you will find beauty everywhere" is just one you can listen out for.
---
Self Portraits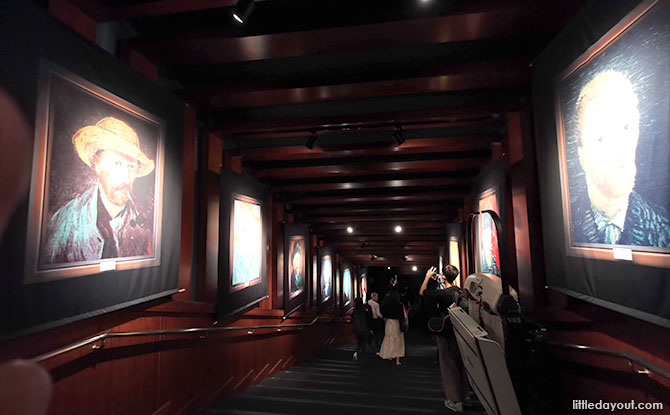 Heading down the long corridor full of Van Gogh's self-portraits gave you insight into his melancholy, troubles and perhaps how tormented he was.
One interesting fact was that – he did the portraits mostly in Paris to practise painting people as he lacked the means to hire models.
---
How did Van Gogh become famous?
Many would know that Van Gogh died penniless and his art was not known to the world. In fact, no one not even his sisters appreciated his paintings.
The credit goes to his sister-in-law, widow of Theo who promoted his work fervently. More details can be found at the exhibition.
---
Van Gogh's Friend and the Cutting of the Ear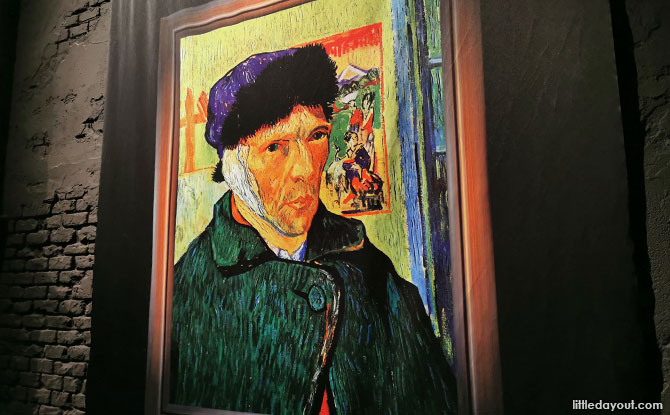 The infamous ear-cutting incident happened due to a dispute with a legendary artist cum housemate Gaugain. Both experienced a rather tumultuous relationship due to differences in perspectives and temperaments.
After an argument, Gaugain stepped out of the home to clear his mind and when he returned, was confronted by Van Gogh with a razor. This prompted him to spend the night in a hotel.
By the time he returned to the house the next day, the ear-slashing episode had occurred with Van Gogh sound asleep with a crowd mobbing the residence. Part of the left ear had been cut off, wrapped in an envelope and sent to a favourite brothel.
---
Trick-Eye Recreation of Van Gogh's Bedroom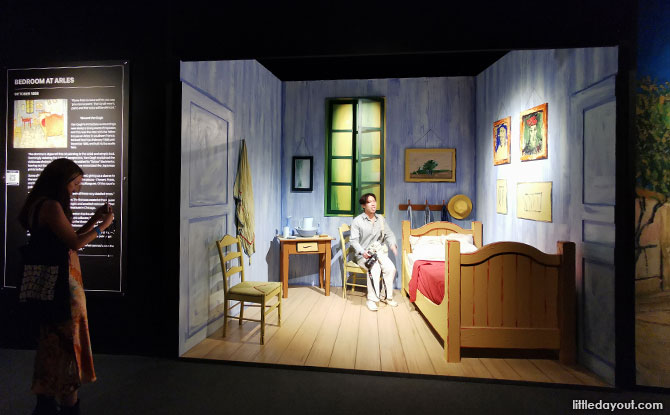 Did you know there are three versions of "Bedroom"? See for yourself the differences between the versions. Step into the painting and take a seat on the iconic yellow chair. This is one instagrammable spot you don't want to miss.
---
Inspiration from Japonisme movement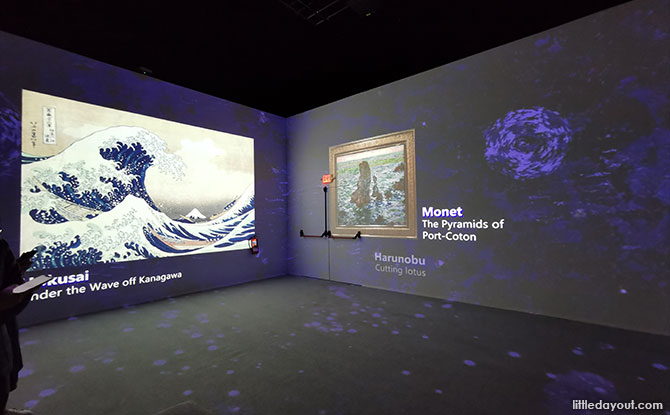 Did you know Van Gogh was greatly influenced by Japonisme movement in Europe in the late 1800s? Apart from Van Gogh, artists like Monet, Degas, Klimt were also familiar with the rise of the Japonisme movement. For instance, you can see the solid bed in Bedroom that seems to violate the rules of perspective.
Van Gogh wanted his picture to resemble the Japanese prints, thus "flattening" the interior and leaving out shadows.
Part of the exhibition debuts the homage to Asian cultural practices with novel introductions featuring traditional Japanese art style woodblocking and printing, as well as matcha tea demonstration.
---
VR – Van Gogh's Life in Arles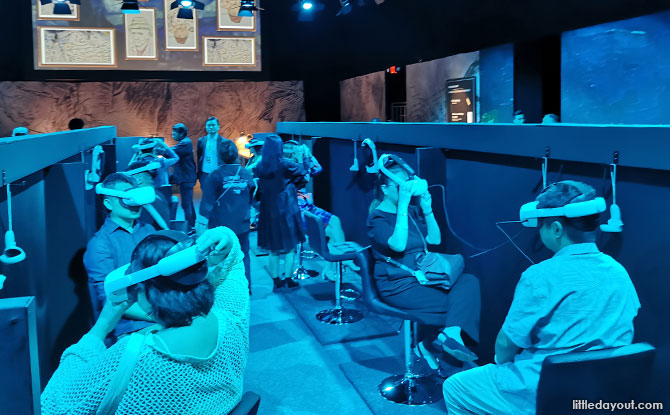 The add-on VR immersive experience lets visitors drift into the world of Van Gogh and live a day in the life in Arles.
I loved being transported into Van Gogh's world – the vivid colours, inimitable strokes and soundscape was a fantastic experience.
It is a 10-minute experiential journey that is multi-sensorial, encouraging one to examine his artworks like Starry Night, Wheatfield With Crows and Starry Night Over The Rhone in detail.
Do note that the VR experience is an add-on. The VR experience costs $5 and can be paid either via PayNow or in cash.
---
Taste Van Gogh-inspired high-tea sets and cocktails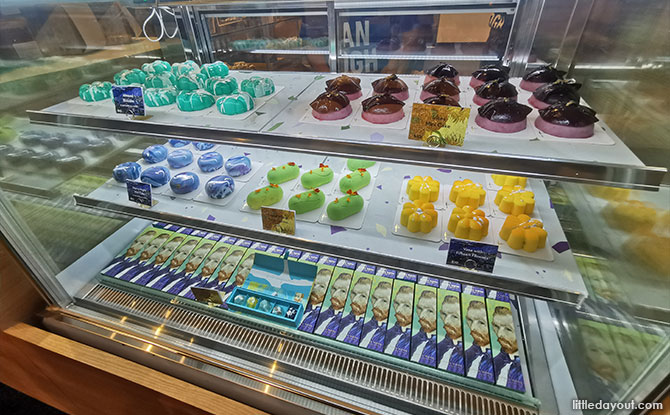 End the experience on a sweet note with Van Gogh-inspired high-tea sets and cocktails at the café.
The desserts and canapes are crafted by none other than chef Janice Wong. It is located right next to the gift shop where you can purchase souvenirs.
---
Art & Technology at the Vincent Van Gogh Exhibtion
The marrying of art and technology brings a whole new dimension of appreciation art. If you love art, history and getting into the psyche of a world-famous artist – here's your chance!
"Our focus on total immersion starts from the moment you enter and stays with you long after you leave. This wholly new way to experience art, provides our guests with a deeper appreciation of Van Gogh's genius in a truly transcendent environment," said Mario Iacampo, CEO and Creative Director for Exhibition Hub.
---
Tickets to Van Gogh: The Immersive Experience, Resorts World Sentosa B1 Forum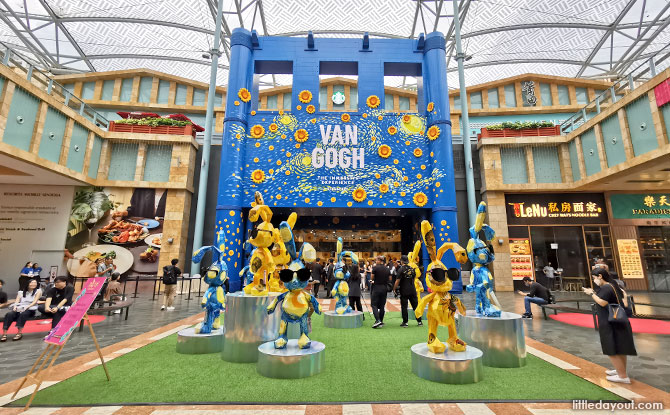 Ticket Prices: $15 for children, $24 for adults, $64 for Family bundle of 4
From 1 March 2023 onwards
Opening hours:
Mondays, Wednesdays & Thursdays 11am to 8pm
Fridays and Saturdays 10am to 9pm
Sundays 10am to 7pm
Estimated length of visit: 60 to 75 minutes
Visit www.vangoghexpo.com/singapore for more information.