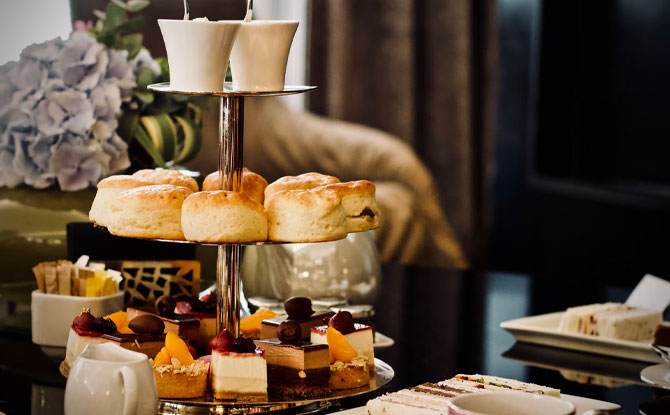 Been busy recently? Do you find your waking hours filled with endless chores and a task list that stretches to the floor? Sometimes, what helps is creating space for a mid-day break – more specifically, an afternoon tea break.
Where to Find High Tea in Singapore
Go on, pamper yourself and get together with some friends even with your kid in tow. From affordable to luxe, here are some spots, many of which are kid-friendly, and will hit that sweet spot when you need a dose of high tea in Singapore.
L'Espresso at Goodwood Park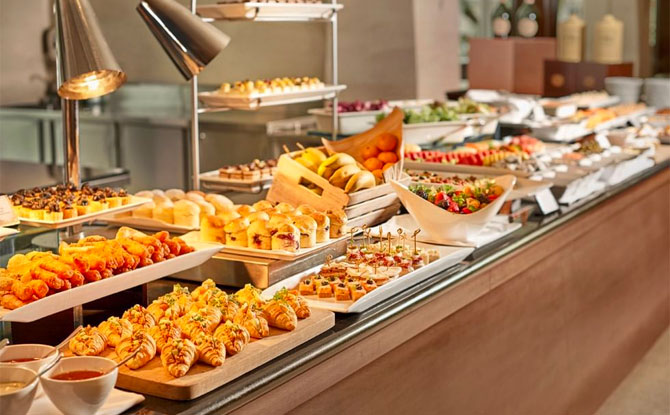 Escape the bustle with an elegant English afternoon tea at L'Espresso, a lounge cafe with a breezy poolside terrace. Bring an empty tummy – the spread is substantial!
What's On The Menu: Scones served with Strawberry Jam, Nutella, Devonshire Clotted Cream and Butter, Poached Prawn with Pineapple & Avocado Salad, Classic Pork Stew with Cannellini & Chorizo, Crumbed Chicken with Honey Mustard, Ondeh Ondeh Cake and more.
Sets you back: From $60 per adult; $36 per child (including two servings of coffee or TWG tea)
When to go: Monday to Friday
12pm to 2.30pm | 3pm to 5.30pm
Saturday to Sunday
11am to 1pm | 1.30pm to 3.30pm | 4pm to 6pm
---
Anti:dote at The Fairmont
Explore a leather-clad jewellery chest laden with sweet and savoury gems. A selection of curated small bites await at Anti:dote at Fairmont.
Sets you back: Dependant on the afternoon tea menu. See the website for more details.
When to go: Afternoon tea is served daily from 12 pm to 2 pm; 3 pm to 5 pm. Call ahead to make reservations.
---
Marmalade Pantry
The Marmalade Pantry is known for its pasta, cupcakes and weekend brunches. It is also a great place for afternoon tea. Diners can enjoy various sweet treats and savoury bites, with the menu catering to the ongoing festivities. Afternoon tea is offered at their Ion, Downtown, Novena and BHG Bugis outlets.
What's On The Menu: Marmalade Petite Cupcakes, Plain & Raisin Buttermilk Scones with strawberry preserve, orange marmalade and clotted cream, Cranberry Chicken Sandwiches, Truffle Egg Mayo Sandwiches, two pots of tea by Monogram and more.
Sets you back: $68++
When to go: Teatime hours vary depending on the location. Check the website for more details.
---
Tea Lounge at Regent Hotel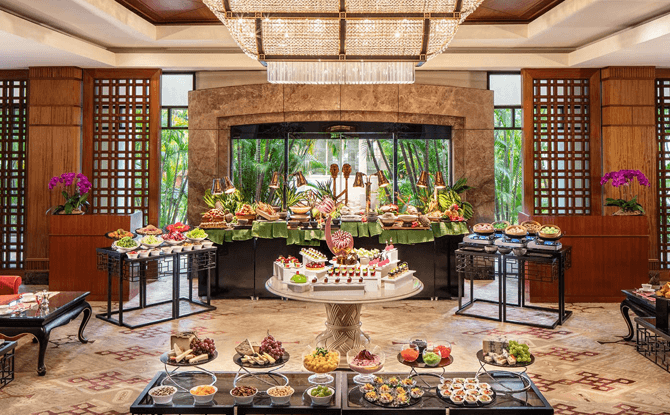 Credit: Regent Hotel
A posh, quiet affair, this English afternoon tea lounge does not disappoint. On weekdays, an English three-tier afternoon tea set comes with a choice of tea, coffee or TipTree mocktail or cocktail. But it's the weekend high tea buffet that shines with a mix of western and eastern, and a plethora of local flavours.
Sets you back: Check the website for more details.
When to go:
Weekday Afternoon Tea (Monday to Friday):
2 pm to 5 pm
Weekend High Tea Buffet (Weekends & Public Holiday):
12 pm to 2.30 pm (1st seating)
3 pm to 5.30 pm (2nd seating)
---
The Courtyard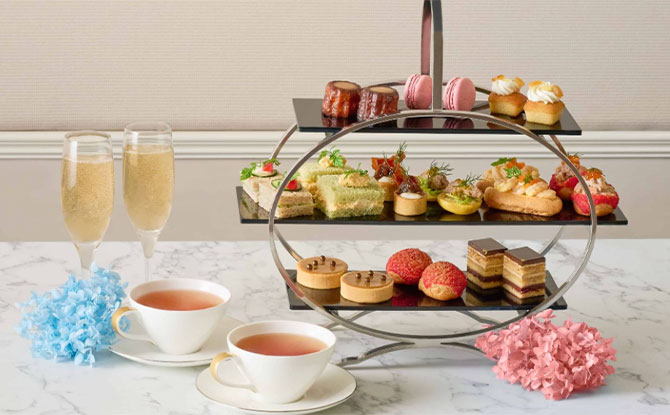 Located in The Fullerton Hotel Singapore's sunlit atrium lobby, The Courtyard is a lively and timelessly elegant setting for leisure dining with delicious local and international specials and the traditional three-tier English afternoon tea. There are sandwiches of various flavours and sweet treats like Vanilla Mont Blanc Tarts and Classic Scones with clotted cream.
Sets you back: Dependant on the afternoon tea menu. See the website for more details.
When to go: Dependant on the afternoon tea menu. See the website for more details.
---
The Landing Point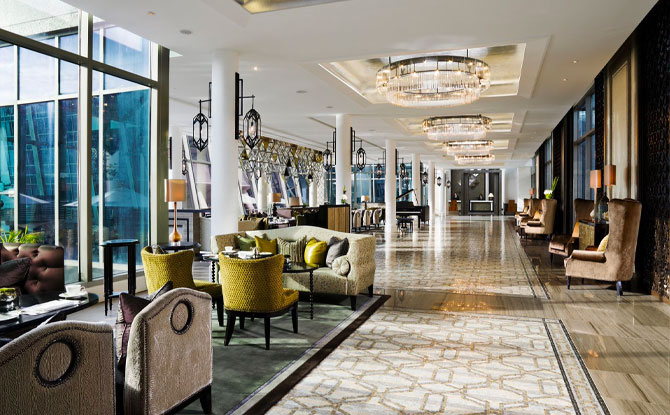 Those looking for an elegant setting to enjoy their afternoon tea can consider The Landing Point. Sit back and enjoy your afternoon tea while taking in a panoramic sweep of Marina Bay's waterfront while surrounded by an elegant indoor promenade paved with bespoke marble mosaics and gold hues.
Sets you back: About $60+ per adult, S$30+ per child (6 to 11 years old)
When to go:
Monday to Friday, 3 pm to 5.30 pm
Saturday, Sunday and Public Holidays
First seating, 12 pm. to 2.30 pm
Second seating, 3.30 pm to 6 pm
---
LeBar at Sofitel Sentosa
How about doing high tea with some French flair? LeBar's Afternoon Tea à la Française might win you over with its accompaniment of Sofitel Sentosa's tranquil surroundings, and a charming jewellery box filled with food.
What's on the menu: Finger sandwiches, scones and jam, cakes, savoury amuse-bouches and mini pastries. Do note that the menu is subject to seasonal changes.
Sets you back: $68++ (serves two persons)
---
Lime Patisserie at PARKROYAL COLLECTION Pickering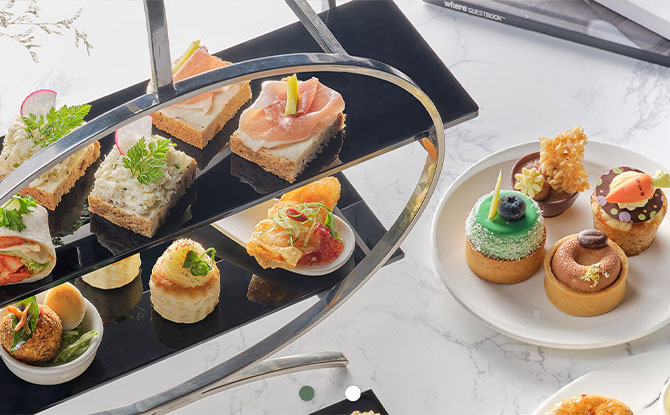 Lime's crowd-pleasing Tiers of Joy Afternoon Tea has undergone a makeover and now offers a refreshed menu that is creatively infused with sweet and savoury local flavours.
What's On The Menu: Peanut Butter Crunch with Gianduja Chantilly, Pandan Coconut Tart, Earl Grey Cappuccino Tart, Crispy Prawn Beancurd Roll and Chicken Tandoori Roll, Mini Shepherd's Pie, Nasi Lemak Ball, Parma Ham Sandwich and more.
Sets you back: From $68++ per adult
When to go: Monday to Friday, 3 pm to 5 pm. Saturday and Sunday: 3.30 pm to 5.30 pm.
---
TWG Singapore
When you think of good quality tea, many will associate it with our homegrown brand, TWG Tea. With outlets in Marina Bay Sands and Ion Orchard, customers can enjoy tea time menus starting at an affordable price and paired with a good cup of tea and some delicious bites on the side.
What's On The Menu: Freshly baked Muffins or Scones served with TWG Tea jelly and whipped cream, Crabmeat tart infused with Black Nectar Tea garnished with a mild curry mayonnaise and charred pineapple, Brioche with Thai basil chicken, chilli and mango infused with Savannah Dawn Tea, Sandwich with roasted portobello mushroom and white truffle béchamel sauce infused with Emperor Pu-Erh and more.
Sets you back: From $20++ to $35++
When to go: Daily from 2 pm to 6 pm