It has been two years since redevelopment works started at Marine Cove and it's finally done! Marine Cove at East Coast Park is back with a new open-concept look and family-friendly amenities. Most importantly, it is also where you can find the AWESOME Marine Cove playground.
Yes, that's right! Singapore's East Coast Park finally has the children's playground it deserves.
Spread over 21,500 square metres, the new Marine Cove has been designed as a recreational space for families. Even the footpaths leading to the new recreational space are broader to accommodate baby strollers and wheelchairs.
Marine Cove's Children's Playground
Undoubtedly, the highlight of Marine Cove is its outdoor children's playground.
This 3,500 square metre playground will keep kids from the ages of two to 12 years old occupied with oodles and oodles of fun.
You will find a bright red, eight-metre tall play tower at the centre of the Marine Cove playground.
The tower is modelled after a lighthouse and accessible by a funnel net in the middle. It features three slides set at different levels for kids to swoosh down. One of the slides is even wide enough to accommodate two kids coming down at the same time.
Leading out from the tower, like a secret escape route, is a suspended rope bridge. Kids can make their way through the bridge to two "crows' nests". The bridge ends in a cargo net that leads back to terra firma.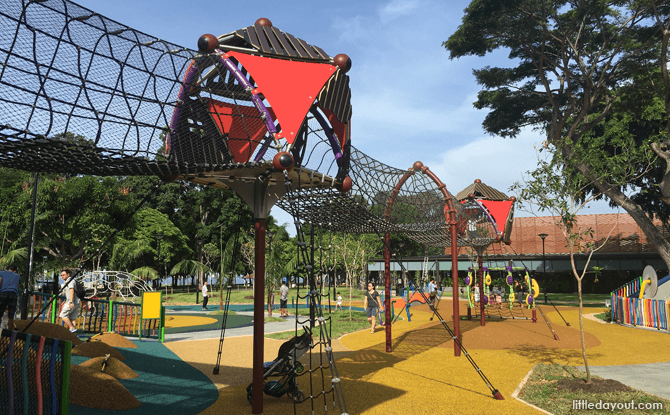 There are plenty of other play spots around the rest of the playground too.
Kids can scale a rope pyramid, conquer a climbing dome, kick up on swings and ride a see-saw.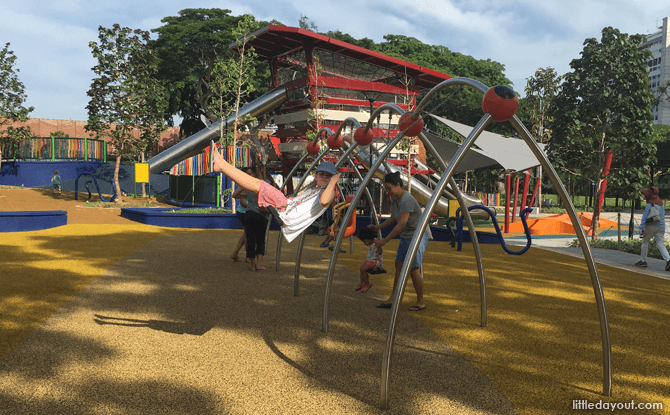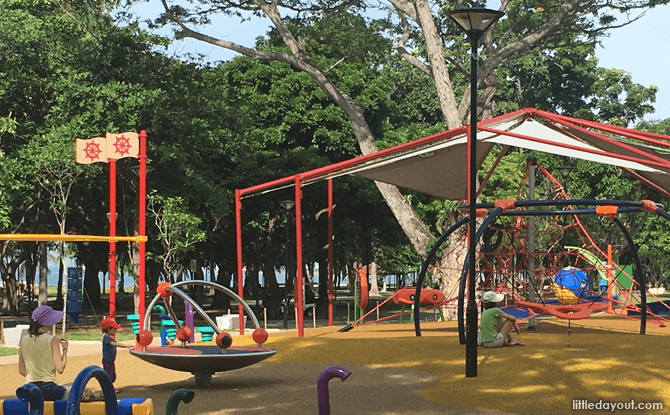 There is even a quirky slope which looks like it was transplanted from the surface of Mars.
Marine Cove Playground for All Ages
With two toddler play areas, younger children between the ages of two to five years old are not left out either. One play area is fitted with spinning wheels and crazy mirrors while the other has toddler-friendly play equipment, slides and a little grass maze.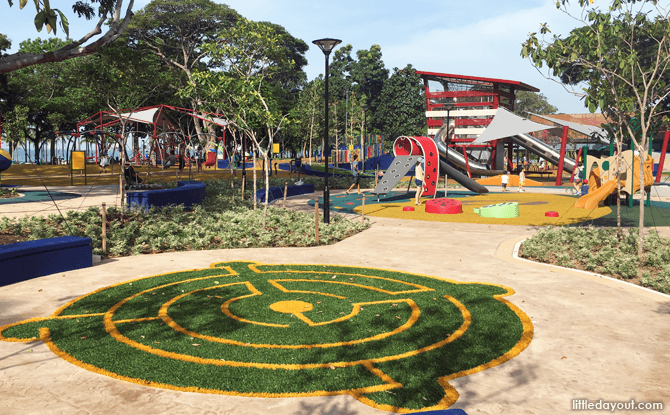 Popping up around the playground like snakes are brightly-coloured talking tubes and little ones can beat on drums to explore sound and music.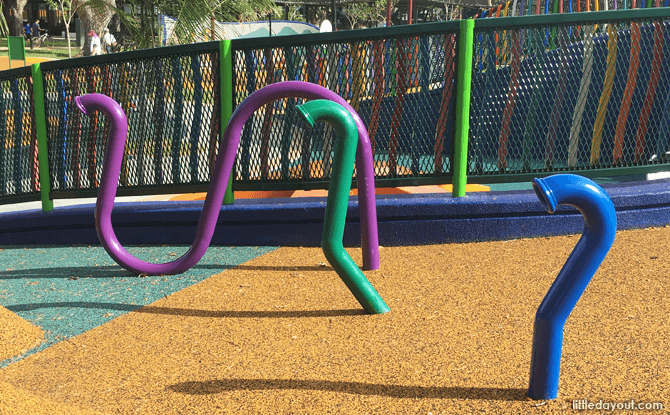 Another special feature of the playground is the inclusion of play elements that encourage children of all abilities to play together.
These include a swing designed for kids that need to be strapped-in securely and sensory play panels which help stimulate the sense of discovery, motor skills and hand-eye coordination.
Beneath the tower are suspended swings designed to improve muscle control through a range of motions such as spinning, rocking and swinging.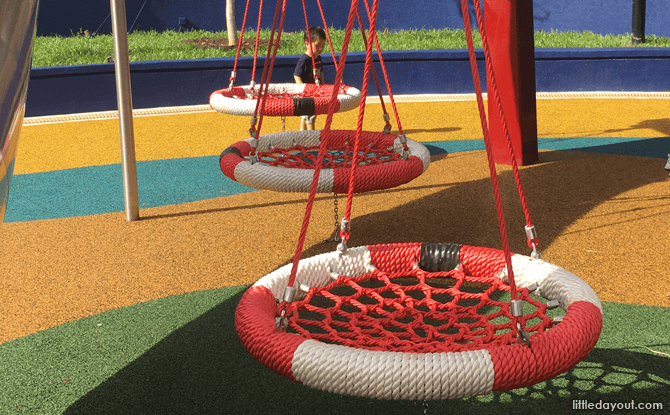 Dining Options at Marine Cove
You will find a row of food establishments at Marine Cove. These will progressively open from 28 June 2016 onwards. These food outlets are Babalicious, Hill Street Coffee Shop, McDonald's, My Briyani House and The Coffee Bean & Tea Leaf.
Carrying on the family-friendly theme, Babalicious has a Peranakan-themed play area inside the restaurant and My Briyani House has a section with lower seating for kids.
Other family-friendly amenities at Marine Cove are kids toilets close to the playground.
How to Get to Marine Cove
You will find Marine Cove located at East Coast Park Area C and accessible via East Coast Park Service Road. It is a five-minute walk from the underpass linking Marine Terrace to Car Park C3.
The closest car parks are Car Park C3 and C2.