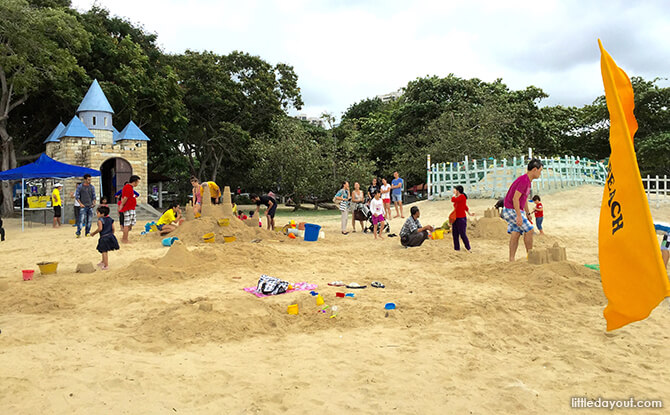 Unplug from that Playstation or Xbox, iPad or TV, and put on some outdoorsy wear for a day of fun-filled activities for kids at East Coast Park.
Here are our picks of the best things to do – play, eat and chill – at this well-loved beach in Singapore.
Castle Beach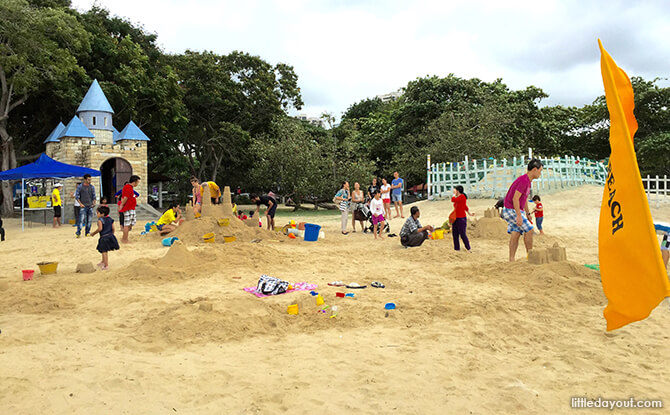 Sandcastle building just got a little more fun, as families with kids can do it together with a community at Castle Beach. Volunteers from the non-profit organisation provide sandcastle-building lessons for the public on the weekends from 3 pm to 7.30 pm, which foster family bonding, teamwork, and creativity on the sandy shores of East Coast Park.
---
-- Story continues below --
East Coast Beach
Near Carpark E2 and East Coast Lagoon Food Village
Kaboodle Kids [Update – This has closed]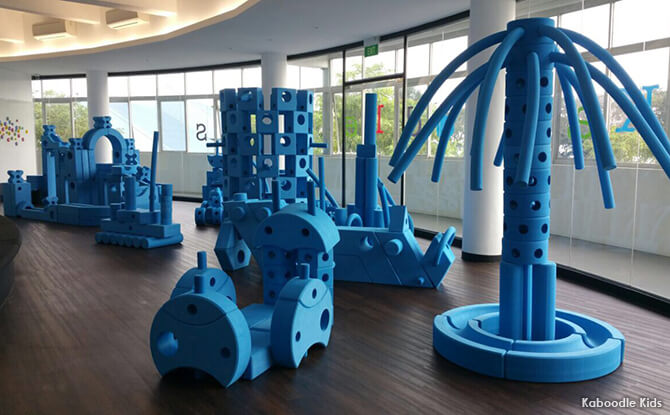 Don't be surprised by the lack of slides and toys. Kaboodle Kids is a playland of the mind, as kids are encouraged to use their imagination and – we suppose – problem-solving skills to create larger-than-life creations using the giant foam blocks in free play. It's like giant Lego, but with holes and various shapes. Be sure to go early, as this indoor playground closes by 6 pm.
902 East Coast Parkway
Big Splash Blk B, #02-05B
LilliPutt – Funtastic Singapore in 18-Holes [Update – This has closed]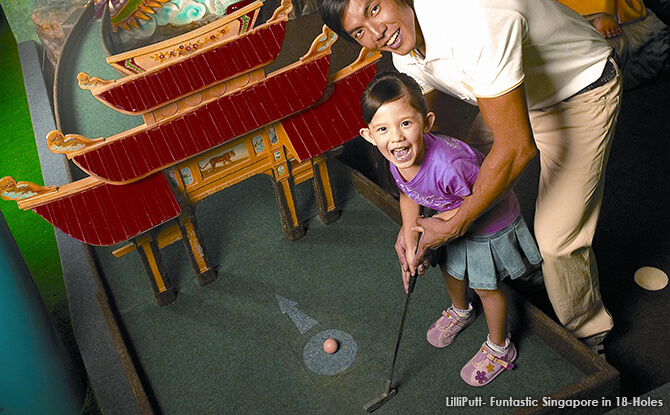 Traipse through 18 holes of mini-golf at LilliPutt with the littlies at Singapore's first themed course. Modelled after iconic Singapore landmarks, you can expect to putt through the Zoo, the MRT and Mount Fable Cable Car. The best part is, you don't even need to know golf to play here – just turn up with socks!
902 East Coast Parkway
Big Splash Block B, #03-05
Alpha Gymnastics [Update – This has closed]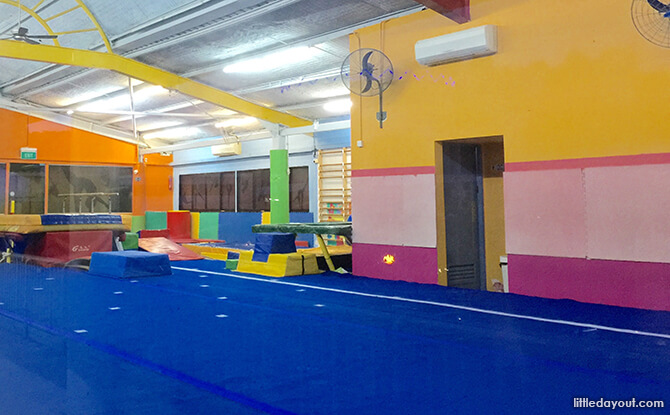 Offering a variety gymnastic programmes for toddlers and beyond (yes, this is for adults too), Alpha Gymnastics looks like a large, cheery playground – except that there are professionals coaching the tykes. For instance, the Rompers programme for the age group of walker till three years old includes training of gym skills, as well as complex daily tasks which stimulate the two sides of the brain and encourage early development of the child.
902 East Coast Parkway
Big Splash Blk B, #02-07
Fish@BigSplash [Update – This has closed]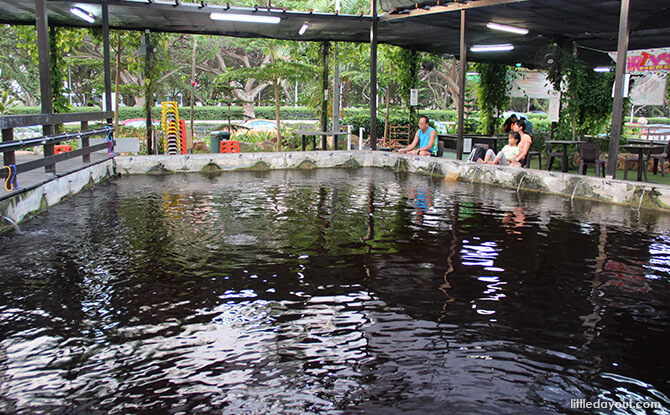 Hark back to the days of "longkang" fishing, where kids rolled up their shorts and, with little nets in hand, waded in drains to catch fish. Fish@BigSplash recreates parents' nostalgic form of play, offering their landscaped "longkang" pond – fish include guppy, baby koi, goldfish, swordtail, tiger barb, red fish, molly as well as shrimps – for kids two to 12 years old. Fish@Big Splash is Singapore's first garden-resort concept fishing and prawning pond.
902 East Coast Parkway
Big Splash Block H, #01-30
Polliwogs [Update – This has closed]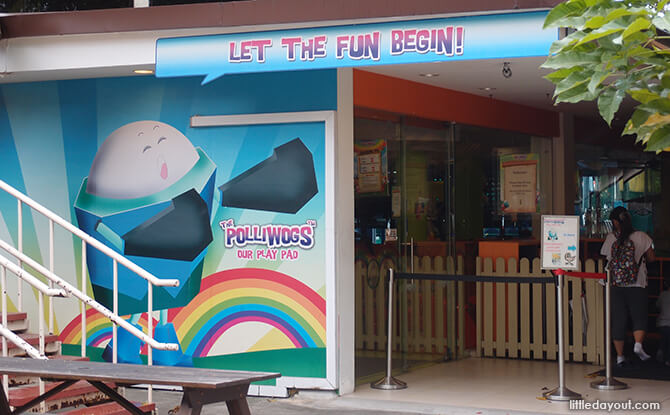 The Polliwogs is a themed playground located just by East Coast Beach with an indoor play arena and an outdoor bouncy (available only at Polliwogs' East Coast outlet). There is also a toddler's play area and a cafe for adults.
1020 East Coast Parkway
Near Carpark C4 and Burger King / Long Beach
Family "Chariot" Biking [Update – This has closed]
Have an unplugged-vehicle day with these family bikes, and a leisurely ride with the whole family (two adults and two kids) like royalty on these quadcycles. Integrated Recreation Centre at Big Splash offers these cool chariots for rent, as well as normal bikes.
902 East Coast Parkway
Big Splash, Block C,  #01-20/21
Road Safety Park
Parents of young kids will no doubt have fun memories of riding a bike, "driving" a car, or strolling along as a pedestrian at Road Safety Community Park, the go-to place for school excursions in the 1980s. The Park offers a mini traffic environment, where kids can role-play cyclists, go-kart drivers, or pedestrians and practise their road safety skills with the real mini traffic lights, road junctions, and pedestrian crossings. There is even a mini SHELL service station, SBS transit station and VICOM inspection centre! While it's open 24 hours to the public for free, the operation of traffic lights, bike and go-kart rentals, as well as road safety role-playing game sessions are by appointment only for local schools and organisations. Bring along your tyke's kick scooter or bike and have fun role-playing with your child, and take the chance to teach these road safety guidelines.
East Coast Park Service Road
Near Carpark B2
Parkland Green
This recreation and lifestyle hub of restaurants, cafés, sports shops and fun activities is a nice place to kick back at East Coast. Besides the Starbucks, Killiney Kopitiam, and bakery and bar St Marc Cafe that you will find there, there is also Sandbank, a restaurant by the same folks behind The Bank Bar + Bistro at One Shenton. Sandbank's unique feature is a 15-metre-long plunge pool. Or haul up for a game of indoor laser tag at Tag Team @ ECP Parkland. Be sure to stretch out those legs and give the kids a good run-around at the 1-hectare grassy lawn. For more on Parkland Green, see our story here.
920 East Coast Parkway
Near Carpark C1
With so many fun-filled activities for children and families, we're sure that you will have many a great Little Day Out at East Coast Park!