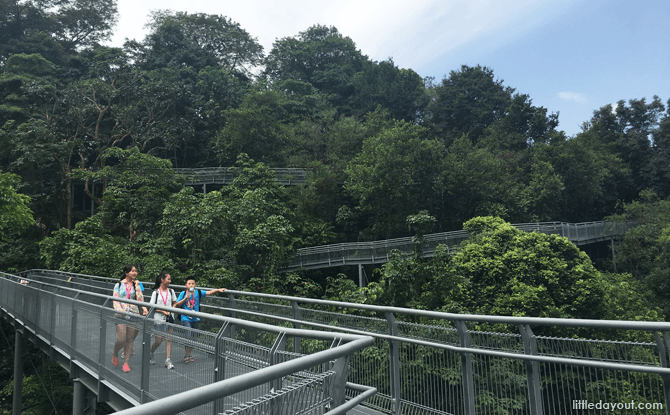 Connecting HortPark to Telok Blangah Hill Park and Henderson Waves, Alexandra Arch and Forest Walk form part of the 9 km Southern Ridges Walk. Together, they provide trekkers with a scenic walk over stretches of forest found beside Gillman Barracks.
Alexandra Arch
Alexandra Arch is a pedestrian bridge that spans Alexandra Road. It was designed by Singaporean firm LOOK Architects and is inspired by an open fig leaf. The arch of the steel-and-concrete bridge leans over the traffic passing by below at a 70-degree angle.
Completed in 2008, Alexandra Arch is 80 metres long and 4 metres wide. In the evenings, Alexandra Arch is awash with different shades of colours from 7 pm to midnight.
Forest Walk
Connected to Alexandra Arch is the Forest Walk. This steel pedestrian walkway carries on from where the Alexandra Arch ends.
---
-- Story continues below --
Built on trusses and supports that raise the walkway high above the forest floor below, it provides an easy connection between Alexandra Road and Telok Blangah Hill.
The Forest Walk initially runs alongside Lock Road, providing glimpses of the colonial-era houses in the quiet neighbourhood. After leaving behind the row of houses, cuts across a secondary forest towards Telok Blangah Hill.
At Telok Blangah Hill, the walkway then starts a gentle incline, making its way up the hillside by way of three switchbacks. It eventually winds up at the hilltop of Telok Blangah Hill Park.
The entire stretch of walkways from Alexandra Arch to Telok Blangah Hill Park is approximately 2.4 km.
From the Forest Walk's elevated walkway, you can get a view of the trees of the secondary forest. However, for a real forest walk, head beneath the steel elevated walkway is a path known as the Earth Trail.
Earth Trail
The Earth Trail runs largely parallel to the Forest Walk's elevated walkway. It provide a ground level view of the forest.
The Earth Trail is well marked out and, save for a set of stairs mid-way through, largely runs across level ground.
It can accessed from the Forest Walk elevated walkway via stairs mid-way through the Forest Walk, or at the Telok Blangah Hill end of the walk.
Whichever path you choose, Alexandra Arch, Forest Walk and the Earth Trail makes for a pleasant walks. One additional piece of advice, bring along some insect repellant; it is a forest out there after all.
Alexandra Arch & Forest Walk
Location: Off Alexandra Road, close to HortPark. Also accessible from Telok Blangah Hill Park