HortPark is a gardener's wonderland. Filled with garden plots that showcase different flora possibilities, it is park filled with inspiration for those with green fingers.
Even if you aren't a budding gardener, a stroll through HortPark provides a sensorial experience with plenty of things to see and appreciate.
Here are some things you can see and do at HortPark.
1. Swing by an English Garden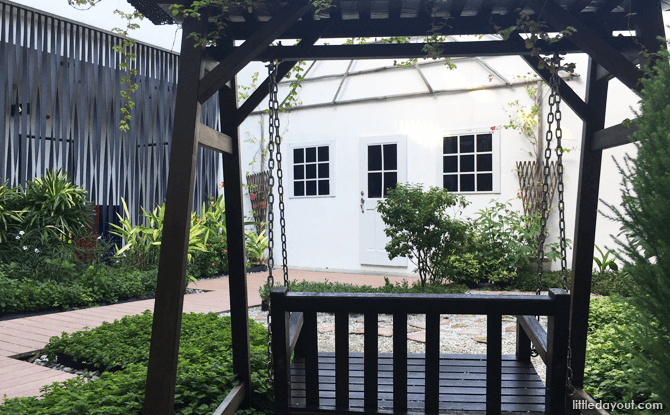 At HortPark's visitor centre are two English Gardens. One is styled as a formal garden while the other is an English cottage garden. Before venturing out into the rest of Hortpark, "swing" by here for a quick snap.
2. Feed the Fish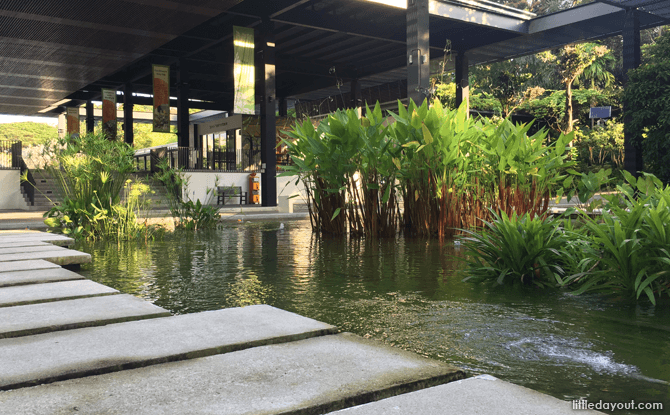 At the Water Garden by the Visitor Centre, you can buy some fish food to feed to the fish found there.
3. HortPark's Children's Playground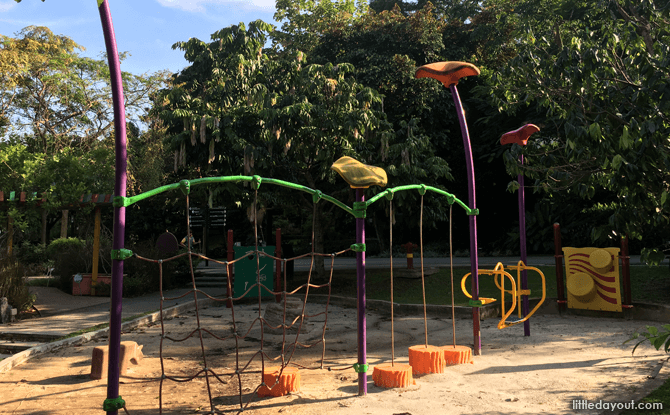 HortPark has a playground area with four contrasting playgrounds for kids to play at. Each playground is by a different playground vendor. Around the playgrounds are little plant-related activities that kids can engage in as well.
HortPark also has nature playground too.
4. Singa Spotting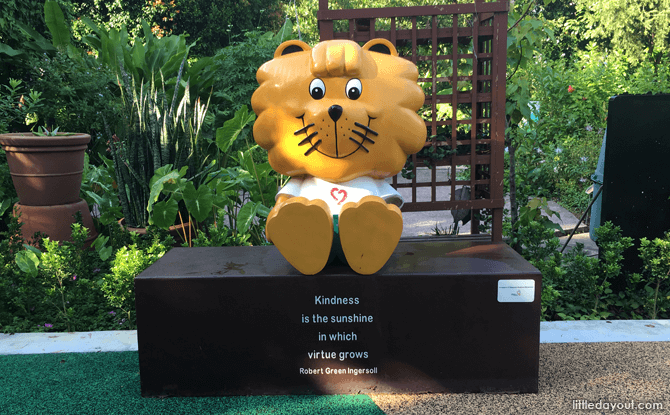 Singa the Lion makes an appearance at the children's playground. In fact, there are three statues of Singa at the park, each accompanied by a lovely quote about kindness.
In addition to everyone's favourite lion, look out for a unique rhino at the HortPark playground too.
5. SG50 Community In Bloom Garden
The SG Community In Bloom Garden is our favourite garden at Hortpark.
Unveiled in 2015 as part of Singapore's Golden Jubilee celebrations, the garden was the work of more than 250 community gardeners.
The SG50 CIB Garden is hard to miss as it is prominently marked out by large replica of the iconic Toa Payoh Dragon Playground. This display, Play Mosaic, consists of stacked gardens along the dragon's spine.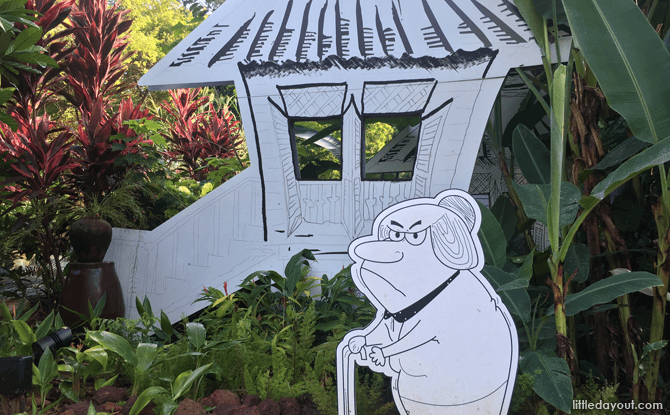 Another themed area at the SG50 CIB Garden is Balik Kampung. View edible crops and look for cute black-and-white cutouts of comic characters.
Blk 50 is modeled after an HDB flat with apartments, corridors and other shared spaces.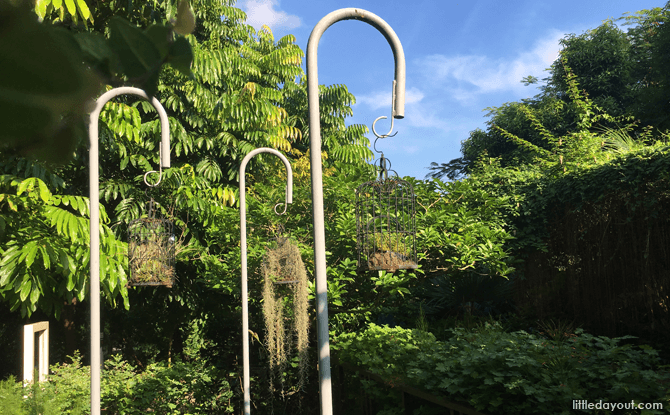 Talk Bird, Sing Song is an area made to look like an area for bird-singing, a traditional pastime that provided a shared communal space for neighbours to meet and chit-chat.
6. Streets of Singapore Walk
While at HortPark, keep an eye out for trees from the Streets of Singapore Walk. Marked out with signboards, the Walk features 15 trees that have lent their names to places and roads in Singapore. These include the Keranji, Tempines and Tamarind trees.
7. Botanic Gardens in Miniature
Parts of the park reminded us of Singapore Botanic Gardens. There is a smaller version of the Gardens' iconic white bandstand.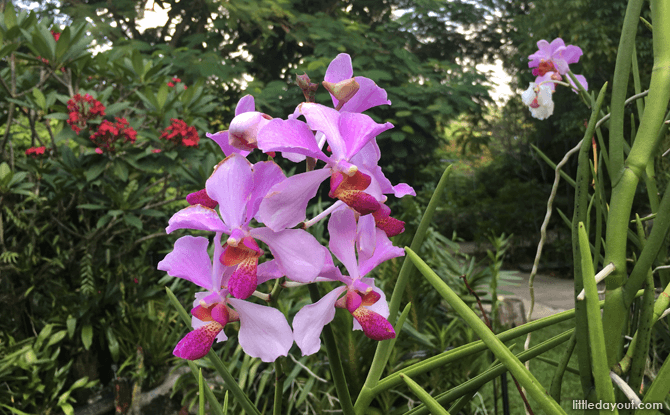 A wall of Vanda Miss Joaquim orchids resembles those found at National Orchid Gardens.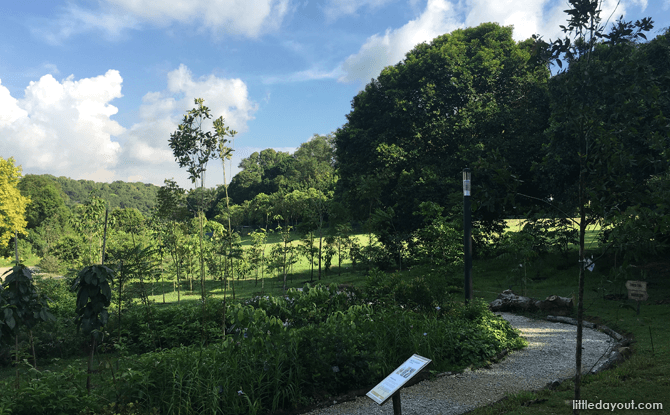 Also within HortPark is the Native Garden. This holds a collection of more than 100 plants local to Singapore.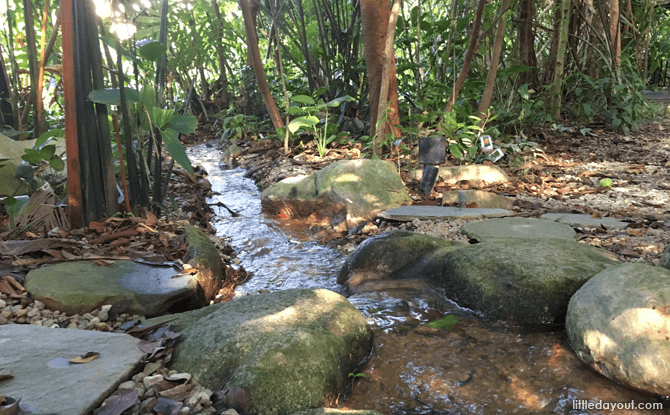 We especially like the Mangrove Swamp area of the Native Garden which has a fun little boardwalk, stream and pathway to explore.
Dining & Event Spaces
HortPark has various indoor and outdoor event spaces. The Lawn is a popular spot for outdoor wedding ceremonies. There is also a French-Italian restaurant, Vineyard at HortPark.
Gardeners' Day Out, a gardening event organised by NParks, is also regularly held at HortPark.
HortPark
Address: 33 Hyderabad Road, Singapore 119578
Opening Hours: 6 am to 10 pm, daily