HortPark is a gardener's wonderland. Filled with themed garden plots that showcase different flora possibilities, it is park filled with inspiration for those with green fingers.
Even if you aren't a budding gardener, a stroll through HortPark provides a sensorial experience with plenty of things to see and appreciate.
HortPark, the gardening hub, is divided into five zones: the Ornamental Zone, Community Gardening Zone, Tranquility Zone, Exploratory Zone and Streets of Singapore Walk. Here are some things you can see and do at HortPark.
---
-- Story continues below --
What to See and Do at HortPark
1. Swing by an English Garden
At HortPark's visitor centre, known as HortCentre, are two small themed gardens. One is styled as a formal English Garden. Before venturing out into the rest of Hortpark, "swing" by here for a quick snap with the brightly coloured murals of the flora and fauna at HortPark.
---
2. My Backyard Kitchen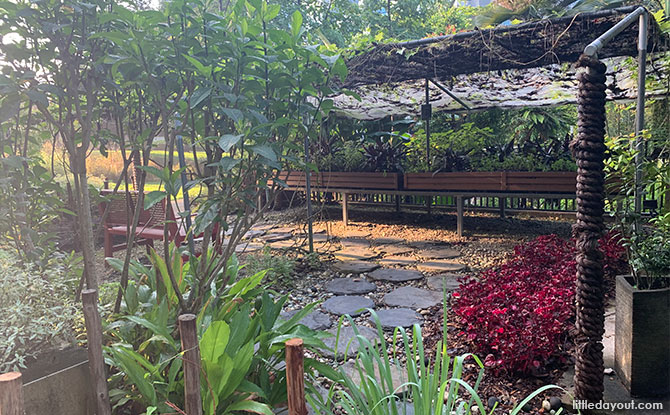 This garden plot is based on the idea of the backyard garden being an extension of the kitchen. It showcases edibles that are used in the preparation of snack, beverages and desserts.
---
3. SG50 Community In Bloom Garden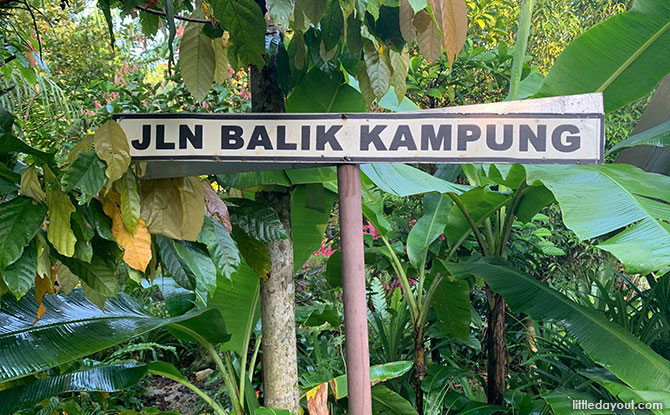 The SG Community In Bloom Garden was unveiled in 2015 as part of Singapore's Golden Jubilee celebrations and the work of more than 250 community gardeners.
It has a large replica of the iconic Toa Payoh Dragon Playground. Another themed area at the CIB Garden is Balik Kampung where there are edibles planted.
Talk Bird, Sing Song is an area made to look like an area for bird-singing, a traditional pastime that provided a shared communal space for neighbours to meet and chit-chat.
---
4. HortPark's Children's Playground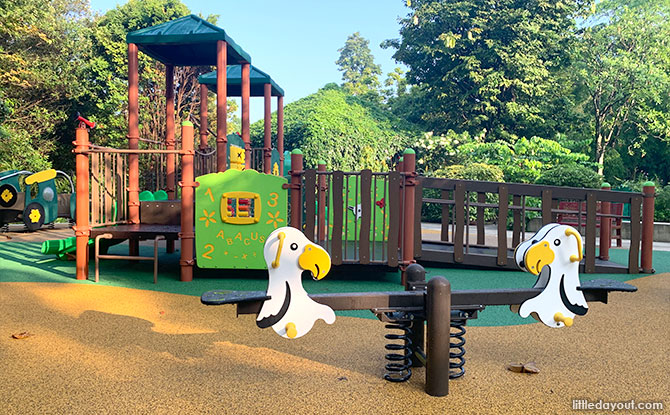 HortPark has a playground area with contrasting playgrounds for kids. Amongst these are a play structure for young children, a climbing frame that was once located at National Museum of Singapore, and a little mound with a slide.
Singa the Lion also makes an appearance at the children's playground.
---
5. Therapeutic Garden @ HortPark
Exposure to greenery has benefits to a person's mental and physical health. These benefits are reinforced at HortPark's Therapeutic Garden. This area consists of several areas including a display plot and a trellis area. The restorative zone has a smaller version of the Gardens' iconic white bandstand.
---
5. Nature Playgarden
The HortPark Nature Playgarden is intended for preschoolers and provides them with a chance to engage with nature and the outdoors, and natural materials.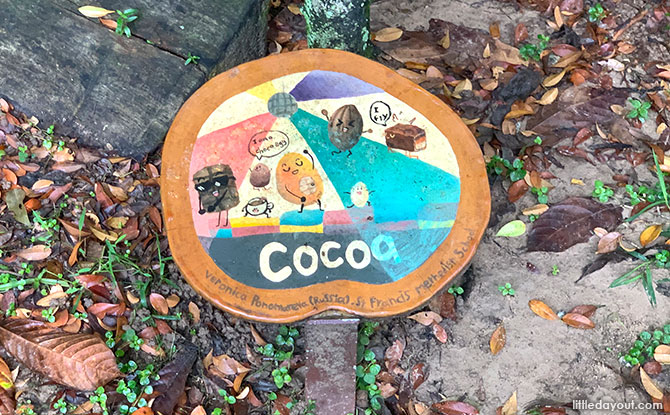 It is also a good place to spot different types of trees, like the cacao tree which gives us chocolate.
---
6. Streets of Singapore Walk
While at HortPark, keep an eye out for trees from the Streets of Singapore Walk. Marked out with signboards, the walk features 15 trees that have lent their names to places and roads in Singapore. These include the Keranji, Tempines and Tamarind trees.
---
8. Butterfly Garden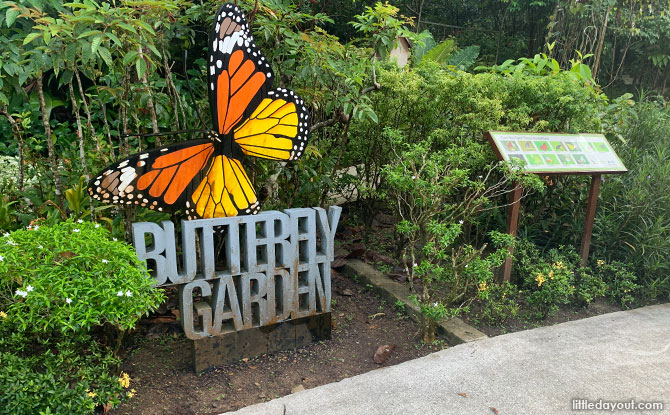 The Butterfly Garden is planted with plants that attract butterflies. Pay it a visit to learn about the role that butterflies play in the eco-system.
Find out more about all the butterfly gardens in Singapore.
---
9. Orchid Area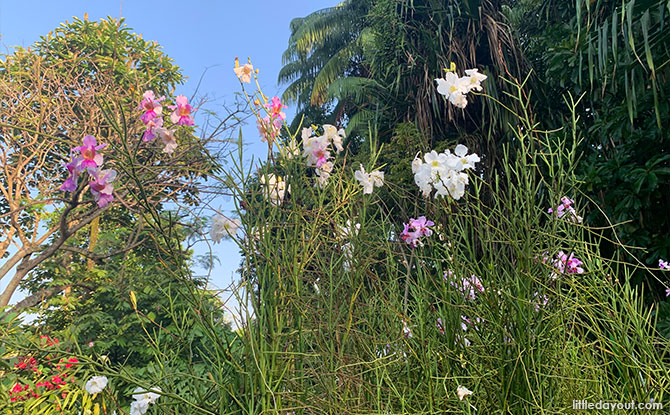 If you love orchids, don't forget to stop by the orchid area close to the Butterfly Garden where you can view blooms like the Vanda Miss Joaquim.
---
10. Native Garden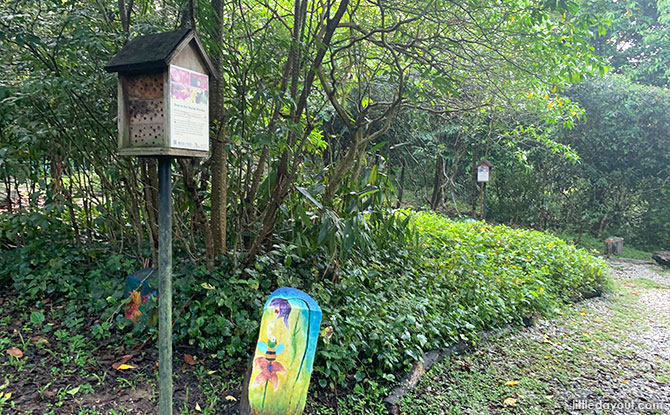 Also within HortPark is Native Garden. This holds a collection of more than 100 plants local to Singapore. Look out for the bee hotels littered throughout the Native Garden.
---
11. Rock Garden
Located across the main path from the HortPark children's playground, the Rock Garden is named after the rocky path which creates a small loop around the little alcove. Even though small, it is filled with interesting and unusual looking plants waiting to be discovered.
---
12. Canopy Cafe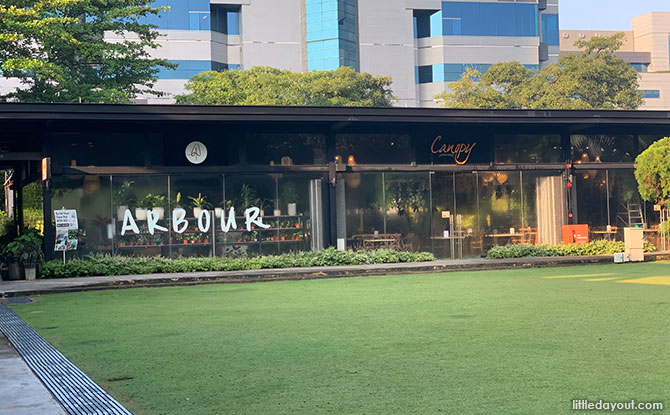 Canopy at HortPark is an all-day, family-friendly garden cafe. Beside it is a gardening retail space.
---
13. Vineyard at HortPark
There is also a French-Italian restaurant, Vineyard at HortPark's HortCentre.
---
14. HortLawn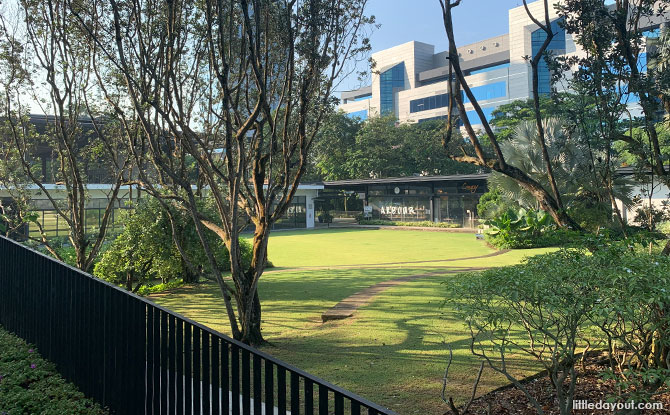 HortPark has various indoor and outdoor event spaces. The HortLawn is a popular spot for outdoor wedding ceremonies.
---
Other Useful Things to Know about HortPark
Gardeners' Day Out, a gardening event organised by NParks, is regularly held at the HortPark's HortCentre.
There are vending machines with drinks and snacks at HortCentre and at the Hands-on House close to the Therapeutic Garden.
---
HortPark
From HortPark, you can also connect to Kent Ridge Park from the western side of the park.
Address: 33 Hyderabad Road, Singapore 119578
Opening Hours: 6 am to 11 pm, daily