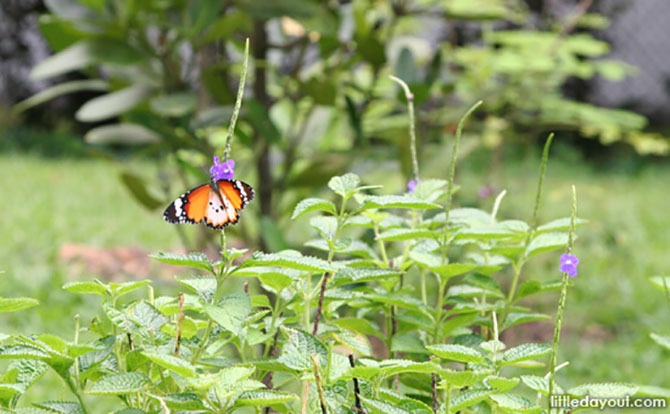 While butterflies can be found all over Singapore, if you pay a visit of the butterfly gardens in Singapore, there is a greater likelihood of seeing them amongst the flowers, sipping on the nectar of the blooms found there.
And, did you know that there are quite a number of butterfly gardens in Singapore? These have been carefully cultivated with butterfly-attraction plants and flowers to attract the beautiful winged insects. These include "nectaring" plants which provide energy-rich nectar for butterflies and "host" plants which are fed upon by caterpillars.
Some common butterflies to look out for in Singapore include the Common Rose, Lime Butterfly, Painted Jezebel and Plain Tiger.
---
Butterfly Gardens in Singapore
Butterfly Maze, Jurong Lake Gardens
---
-- Story continues below --
Part of Jurong Lake Gardens' therapeutic gardens, the Butterfly Maze is one of the nicest butterfly gardens in Singapore, combining an element of play with learning. Explore various paths and learn about the lifecycle of butterflies while enjoying the outdoors at the Jurong Lake Gardens Butterfly Maze.
---
Bukit Gombak Park
Trek up the hill at Bukit Gombak Park and be rewarded with a chance to see butterflies at the park's Butterfly Garden. A little trail will lead you to amongst pretty flowers which attract different species of butterflies. Read more here.
---
Tampines Changkat Butterfly Garden
This quiet neighbourhood park has been developed specifically as a place where visitors can enjoy the company of butterflies in the Tampines neighbourhood. It has different terraced levels which you can explore. Read more about it here.
---
Bukit Panjang Butterfly Garden
The Bukit Panjang Butterfly Garden is a little green spot within the estate at Petir Road. The small butterfly garden was established in 2013 and the brainchild of a grassroots activist who was also a butterfly enthusiast. It is not far from Zhenghua Nature Park. Read more about it here.
---
Butterfly Garden, Nanyang Lake
Located at the corner of the picturesque Nanyang Lake is a butterfly garden. It is one of the things that you can see while visiting the lake and adjacent Yunnan Garden. Read more about Yunnan Garden and Nanyang Lake.
---
Butterfly Habitat, Bishan-Ang Mo Kio Park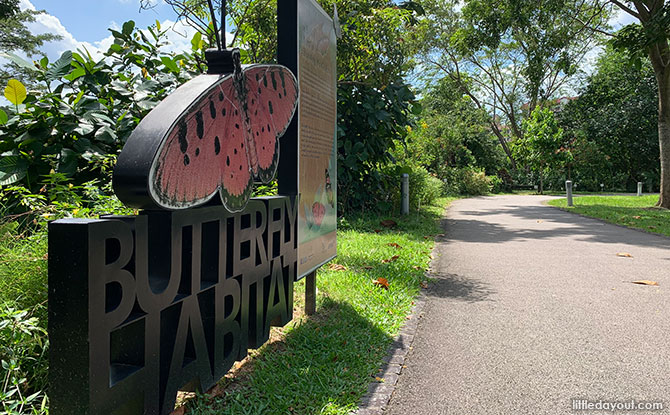 Found at the eastern end of Bishan-Ang Mo Kio Park, the Butterfly Habitat was created to attract butterflies to the neighbourhood park. Stop by to see if you can spot these fluttering insects flying about the shrubs and bushes.
---
Garden Hill Park
Garden Hill Park in Bedok has a small but flourishing butterfly garden. The colourful butterflies add a dash of vibrancy to the area and provide a relaxing setting for its corner of the neighbourhood park.
---
Pasir Ris Park Butterfly Garden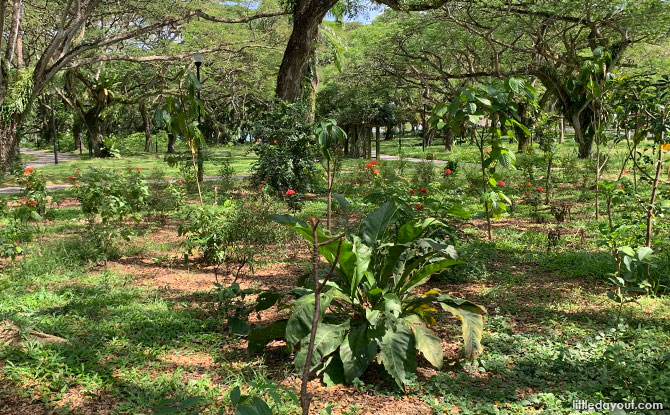 Next to the Kitchen Garden at Pasir Ris, a stone's throw away from Car Park C, is an area is a butterfly garden. It is not very well marked, (at least we couldn't find any markings), you will know that you have reached the right spot when you see all the butterflies flying about.
---
Butterfly Hill, Pulau Ubin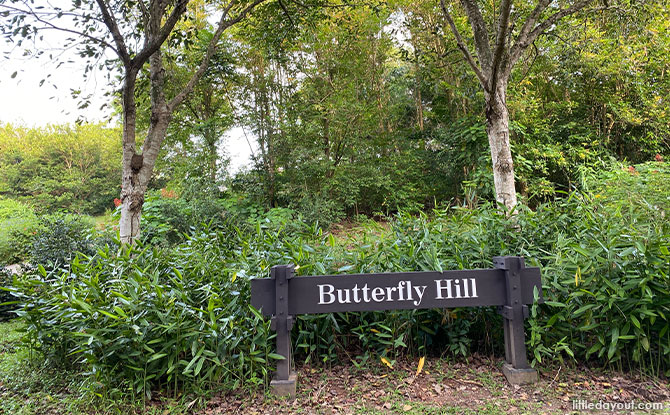 About a football field in size, Butterfly Hill at Pulau Ubin was specially created to conserve and showcase butterflies. It is said to attract about 140 species of butterflies. That's no wonder since there are 50 butterfly- attracting plant species planted there.
---
Butterfly Trail at one-north Park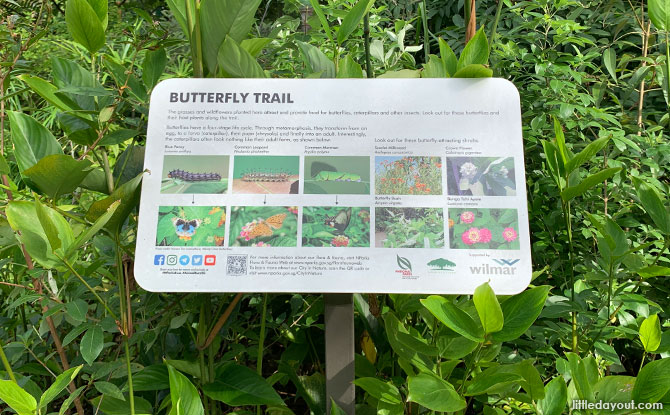 Few know that at Fusionopolis Park, there is a butterfly trail which was planted to attract butterflies to the area. The short trail attracts species of butterflies like the Common Tiger and Blue Pansy. And best of all, it is close to an awesome nature playgarden too.
---
Butterfly Corner, Marsiling Park
Finally, a shout out needs to go to the Butterfly Corner at Marsiling Park. If you need to find it, simply look for the butterfly playground, a fun spot for kids; the bushes planted around the butterfly playground are intended to attract butterflies.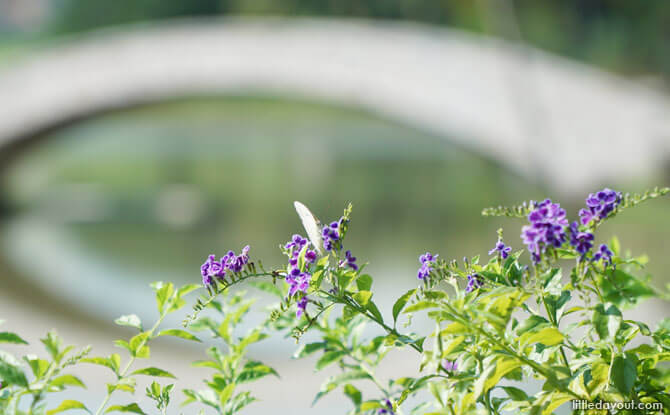 Plus, you can also go in search of butterflies around the rest of the park too.
If you are thinking of creating your own little butterfly garden, check out this guide here.