A visit to Yunnan Garden will get you feeling as if you have gone overseas on a trip to China. However, no plane needed. Instead, head over to a beautiful garden in the far West and the scenic park at Nanyang Technological University (NTU).
While the journey to NTU at Jurong West can be a tad intimidating for those who stay far away, you will be rewarded with a picturesque scene of tranquility and Chinese-inspired gardenscape at Yunnan Garden.
In fact you may find few people there, and you can take plenty of photos and while enjoying the space all around.
Yunnan Garden: Get The Overseas Feels in Singapore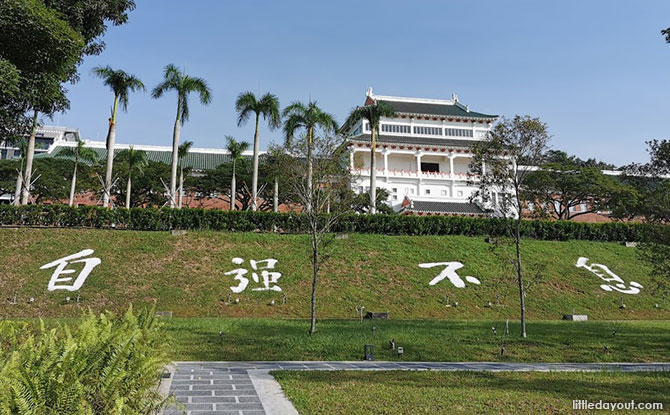 Yunnan Garden is located just next to Chinese Heritage Centre, another landmark at NTU.
It has boardwalks, a waterfall and different trails with sprawling greenery. It boasts over 80 species of trees as well as herbs, orchids, pitcher plants and others.
---
Pavilions, Rest Spots and Stroller-friendly Paths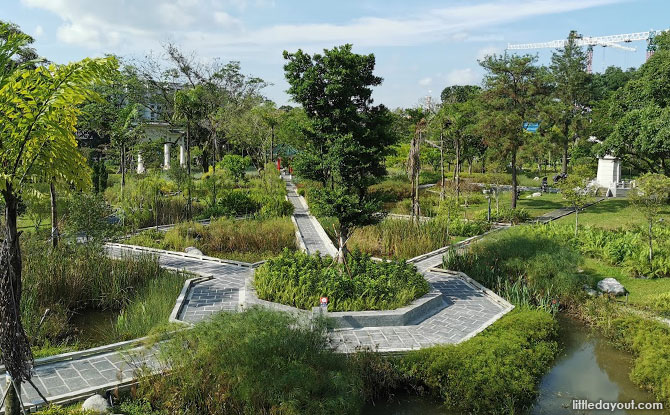 The heritage garden, built in the 1950s, is a significant spot in NTU.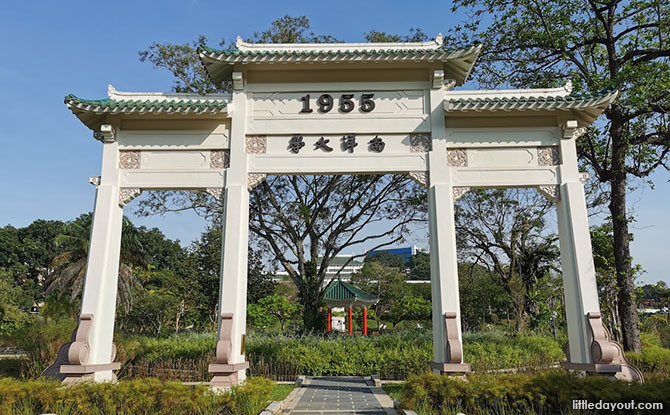 The Jurong West Nantah arch still stands majestically at Yunnan Garden, and pavilions dotting the landscape.
We loved the paths which were stroller and wheel-chair friendly. There were also different ramps for the different corners of the garden for easy access.
We felt like we were whisked away back in time to a tranquil lake in China, sitting on the stone chairs at the Chinese pavilion enjoying the breeze midst the willow trees, with koi fish swimming freely in the pond. It was such an idyllic sight.
We reckon this garden would be ideal for a lantern walk as well!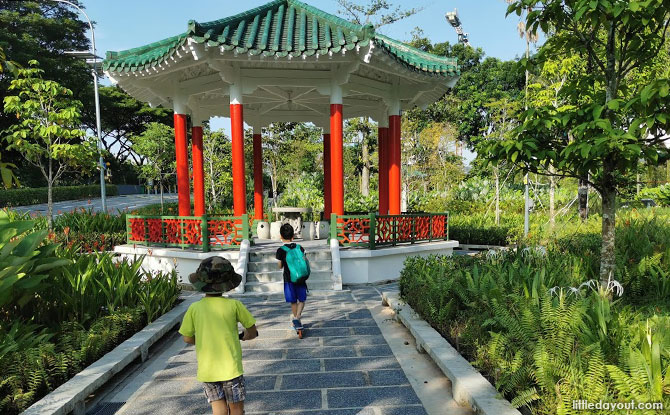 Yunnan Garden is great for a visit to admire the lush green foliage. The garden could do with more shade from the trees, but that would need to wait till the trees grow.
There are a total of 19 trails to take – from the orchid trail, herbal trails, bio-cosmetic trails to art and literature trail. This meant plenty of learning while exploring about the different types of plants and the heritage of the place.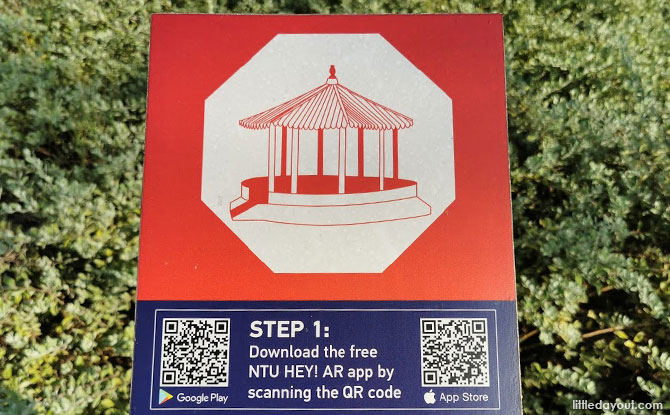 Look out for panels with QR codes in Yunnan Garden, scan the codes to get more information about different physical structures such as the pavilion as well as the bridge. You can even see what animals you can spot at the waterfall using the NTU HEY! app.
---
Learning about Plants at Yunnan Garden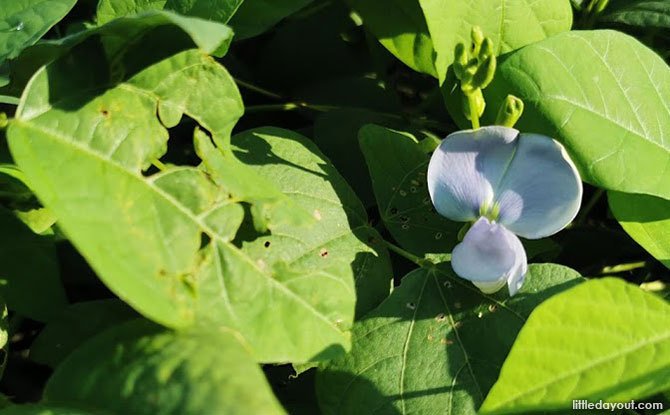 Our favourite trails at Yunnan Garden at NTU were the orchid trail, herbal trails and bio active trails.
Home gardeners would certainly appreciate the variety found in this park. The orchid trail features different types of orchids, from national flowers of Southeast Asia to more exotic ones.
Of course, we also spotted the Vanda Miss Joaquim.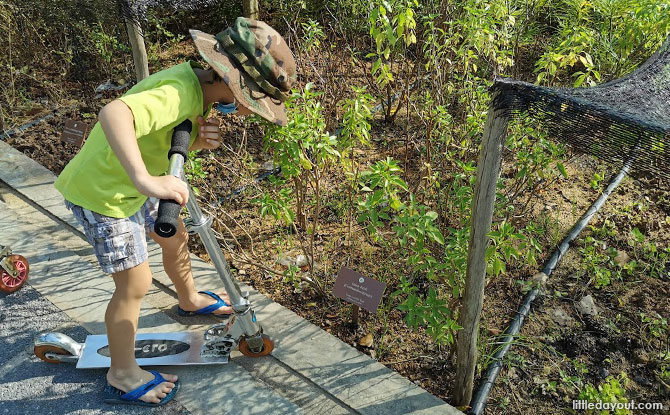 Different types of crops were also seen planted – potato, sweet potato, tomato, corn, Chinese celery. We could observe which crops seemed to do better and also identify the different crops from the type of leaves.
You can learn about the types of plants that help purify the air, clean the water and land. There are a lot of benefits to growing plants – that's if you have a green thumb.
Apart from observing, you could try sniffing out the different scents of the plants. The Osmanthus plant, for instance, is made into perfumes. We also smelt the sage and basil plants, and spotted the fruiting ones such as the pepper and brinjal plants.
See if your children can spot the Elephant's Foot plant! This plant is known for medicinal use – leaves can be used to treat ulcers and eczema.
But as with any garden, please do not pluck and self-medicate. The last thing you want is any allergic reaction the size of an elephant's foot!
---
Majestic Waterfall at Yunnan Garden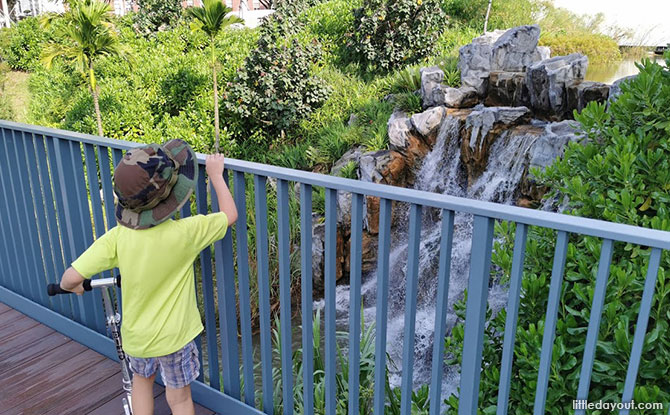 On the northeast side of the garden is Nanyang Lake, which has a 5.6-metre-tall man-made waterfall and artificial wetlands. Plants are used in the water filtration system to help remove pollutants. There are also boardwalks here to spot fish in the lake and to cross over to the fitness stations.
One part the boys really enjoyed was going up and down on their scooters on the long ramp headed towards the viewing point of the waterfall.
We enjoyed hearing the soothing sounds as we stood at the viewing platform and also got a bird's eye view of Yunnan Gardens. There are plenty of photo opportunities as well.
---
Getting to Yunnan Garden at NTU
For drivers, the nearest parking to Yunnan Garden at NTU is at Block 26, Hall 4. If you would like to visit Chinese Heritage Centre as well, park at carpark Q near the hard-to-miss Hive building. Do take note that visits to Chinese Heritage Centre are by appointment only.
For residents in Jurong West, they can cross a bridge from Block 910, Jurong West for a stroll to Yunnan Garden across the PIE.
---
Other Tips for Visiting Yunnan Garden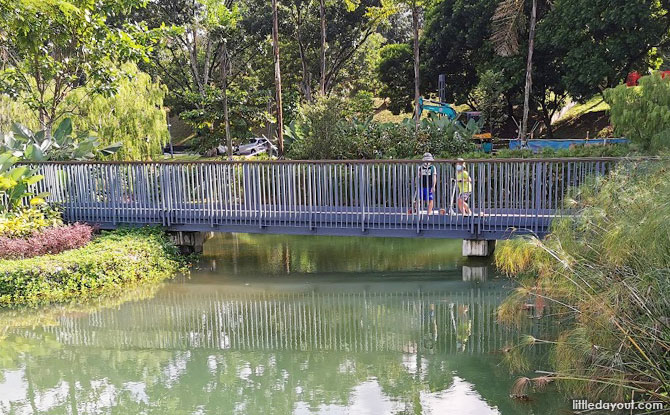 We really enjoyed the spaciousness of Yunnan Garden and the amount of information about plants we never knew.
Do remember to bring your own trash bags for trash as there are very few bins in the grounds so you leave no trace. There are a few water coolers, so bring a bottle for refilling purpose as it can get quite hot in the day.
The waterplay feature in front of Chinese Heritage Centre was not switched on at the time of visit, but children are free to play there. Do bring a change of clothes, and there is no washing point. The nearest washrooms are at Chinese Heritage Centre, so do visit the washrooms before exploring the park.
Have fun and tag us @littledayout when you visit Yunnan Garden!