Jacob Ballas Children's Garden always brings back fond memories and is an often frequented playspot by children. It is a garden made for children and entry is only permitted to children 14 and below, and adult visitors must be accompanied by a child. Jacob Ballas is also Asia's largest garden dedicated to children, it is no surprise it is so well-loved as a place to play, explore and learn.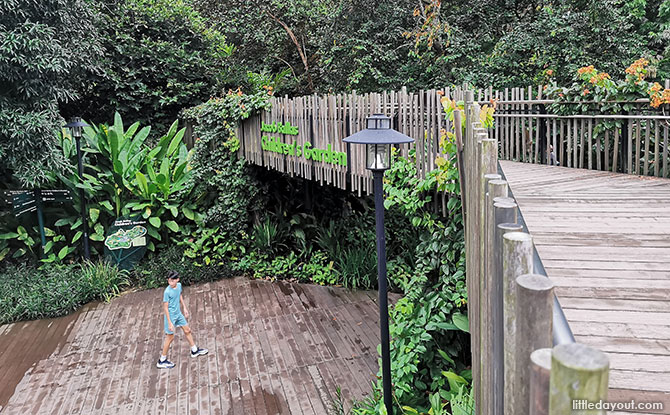 Before parenthood, I used to visit Jacob Ballas Children's Garden with a friend and her child. It was an annual ritual whenever her family was in Singapore. Watching its evolution from pre-parenthood days to recent times is a wonderful experience. It has grown considerably in size given its recent extension.
It first opened in 2007 and its theme of "Life on Earth Depends on Plants" aims to educate and nurture a love for nature in children. Evidently, the garden is full of plants – flowers, herbs, trees, forests, ponds, stream even a waterfall. Play areas also incorporate the theme of plants and even use plants as its play structures.
Jacob Ballas Children's Garden – Map, Areas & Overview of Things to Expect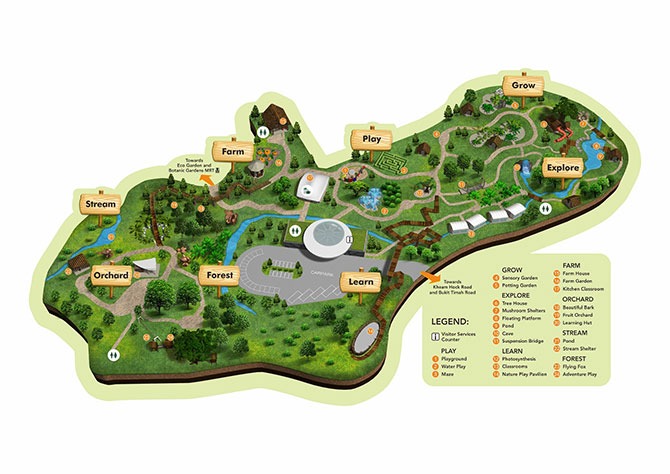 There are eight main areas of Jacob Ballas Children's Garden and three main themes of trails to explores: Adventurer, Naturalist and Gardener. Even after visiting umpteenth times, there is still lots to discover!
For easy reference, the garden can be divided into two main sections – East and West connected by two bridges. To head to the East first, simply make a right turn when entering the garden and a left turn if you would like to see the Western bit first. Both areas are easily reached through the bridges.
The eight areas are: Play, Grow, Explore, Learn, Forest, Orchard, Stream and Farm.
Play, Grow, Explore and Learn are on the East side while Forest, Orchard, Stream and Farm are on the West.
---
The Entrance of Jacob Ballas Children's Garden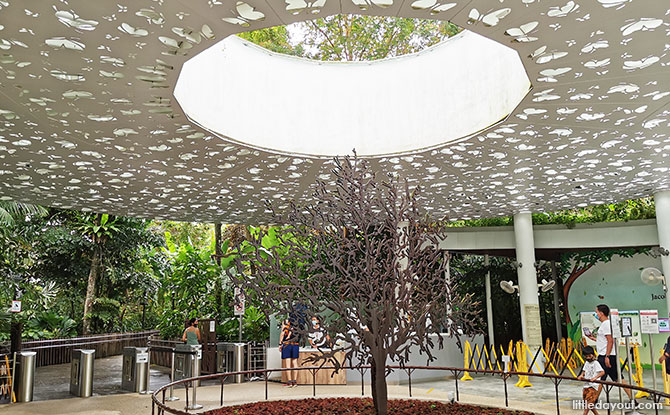 You will be greeted by the Mystree, a sculpture by Zadok Ben-David at the entrance of Jacob Ballas Children's Garden. It is a magnificent sight right under the opening in the roof, where light shines through casting a glow onto the 500+ little figurines on the tree. As you gaze upwards, see the many butterflies on the ceiling, the diecast patterns clearing showing as light comes through.
There are also responsive touchscreens with activities and information about the park, plus an interactive map that allows little visitors to plan their route. Waiting for friends to gather or waiting for transport? Just colour in the rainbow, leaves while learning about plants!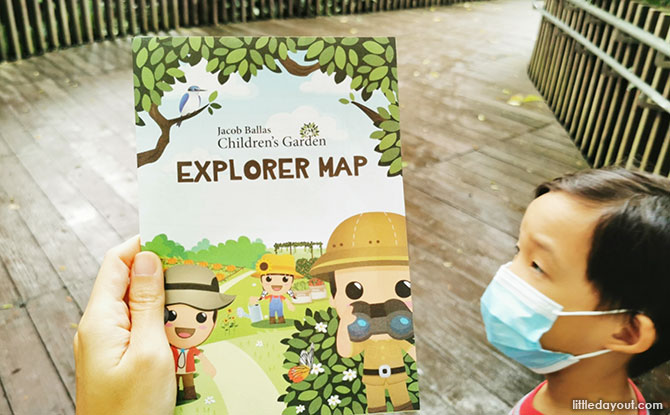 Visitors will need to leave their bicycles and scooters at the entrance as they are not allowed in the park. Don't forget an Explorer Map!
---
Main Play Areas at Jacob Ballas Children's Garden – Sand Play & Playgrounds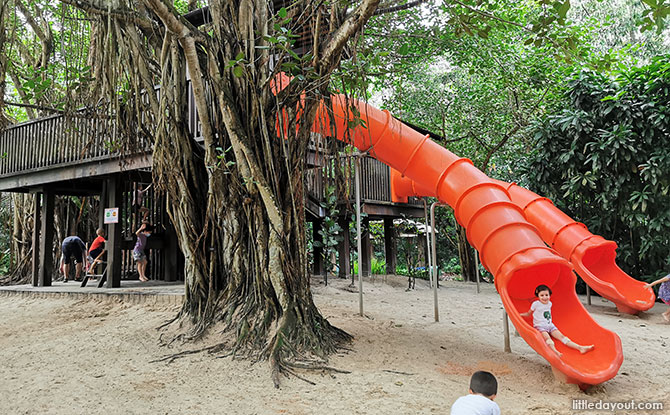 There are three main play areas at Jacob Ballas Children's Garden, two are in the Eastern wing of the garden while the other is at the Western Wing.
If sand pits and water play* are your child's favourite, head Eastwards for the sand playground, Treehouse playground and the water play spots.
However, as at July 2021, the water play and Photosynthesis play area are currently closed. Pity though, as these used to be the highlights of my children's playdates at JBCG.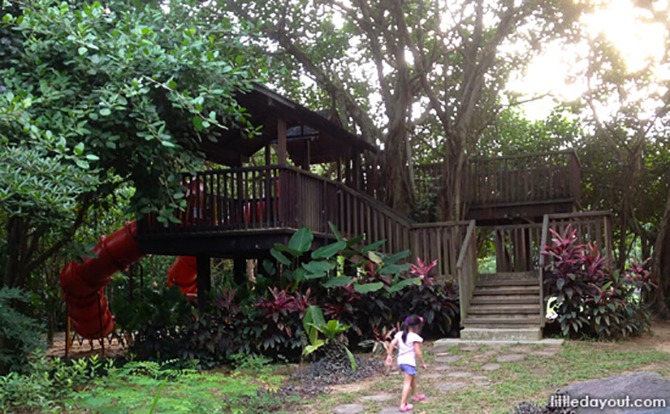 Nonetheless, the Treehouse playground features two slides, plenty of sand play opportunities, climbing structures and the chance to feel like Tarzan. This playground like the one in the West wing features huge Indian Banyan trees.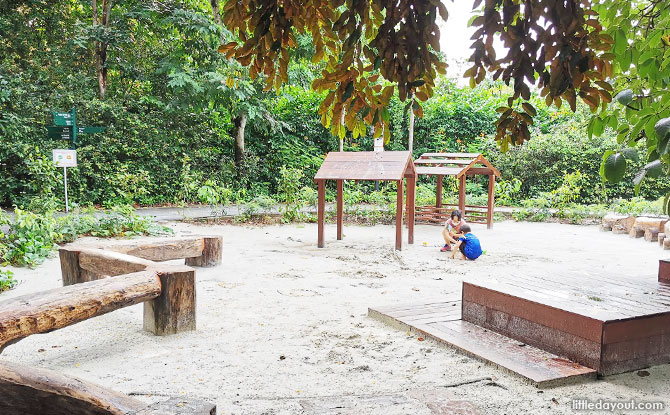 The sand playground has also been recently revamped. Gone are the excavator and the giant spinning disc days. There are balancing beams, raised platforms with steps and little wooden shelters. I think the younger children will love this spot for some sensory fun!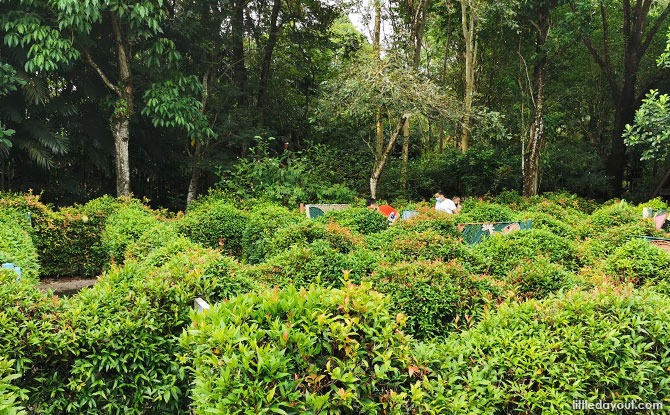 Nearby is the well-loved hedge maze. Time to get lost in some fun. Hedges are short enough for adults to peer into it to ensure their children are safe and sound.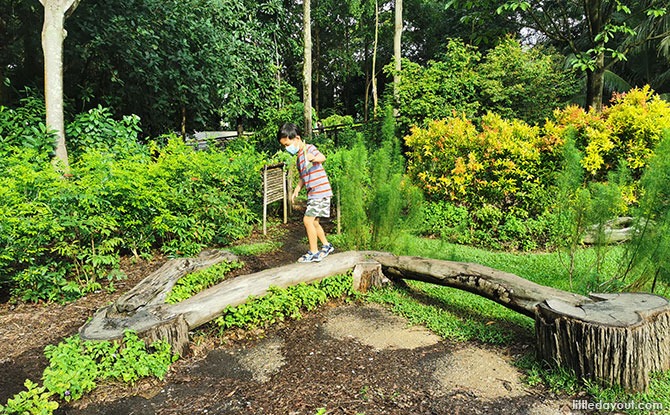 There is also a balancing beam made with logs.
---
Play at the West Wing of Jacob Ballas Children's Garden – Flying Fox, Climbing Ropes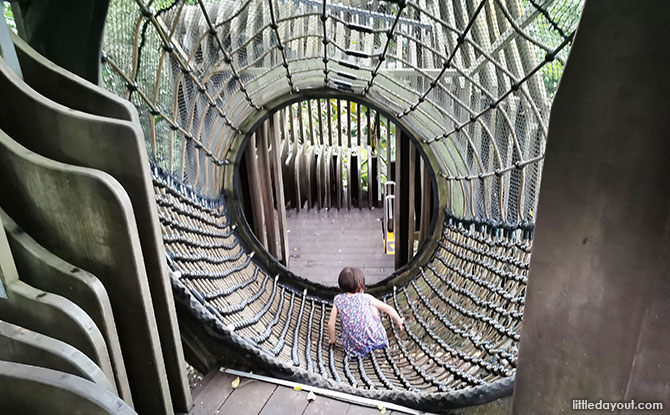 The Westside features a nature playground with an elevated swing rope bridge, a flying fox* and climbing ropes. The playground at forest zone brings children to a height that enables them to see the branches of the huge trees surrounding the playscape and perhaps they might even observe some wildlife scampering about just like themselves.
The draw here is of course the flying fox which is currently under maintenance.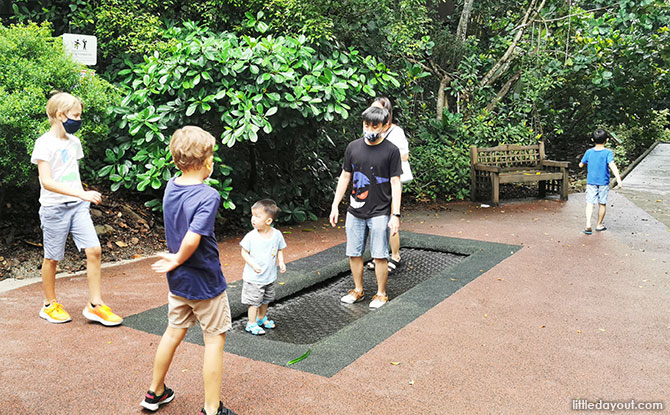 There is also a bouncy trampoline for some bouncy fun! Wheelchair users can also enjoy the fun here.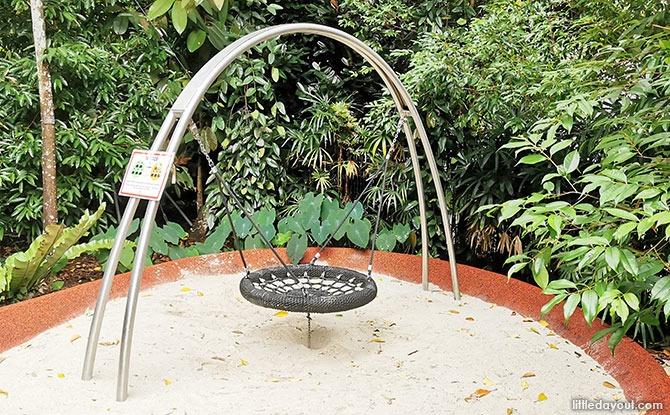 Plus a nest swing for a relaxing time in pendulum motion.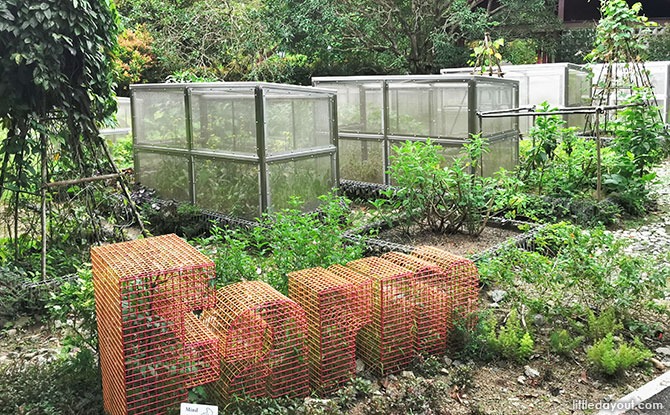 In this half of Jacob Ballas Children's Garden, you can also pay a visit to the Farm which has different plots of crops like corn and basil. Some of these crops are housed in protective sheds, to help protect them from the weather elements and pests. Stop by to see what's growing.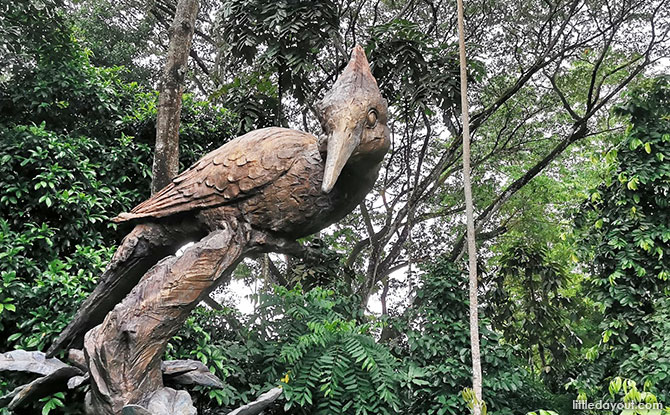 You can also spot the rumped woodpecker sculpture perched majestically. Perhaps it is telling you to look out for its kind in the gardens.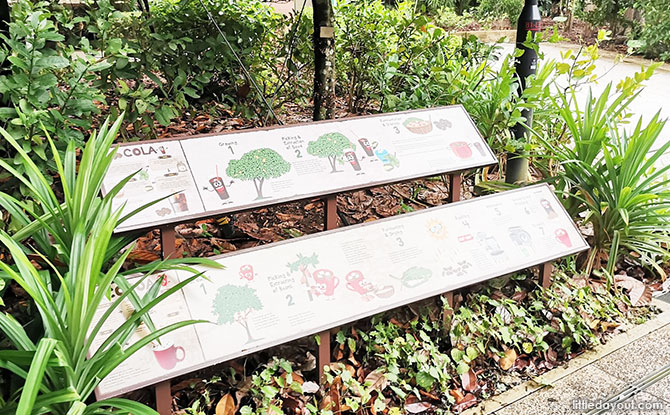 Over at the Orchard, look out for fruit trees. Learn about how a favourite soft drink, cola, and chocolate are made. Try to spot the plants yielding those fruits!
Near it is another stream where dragonflies flutter about. You can also see the different water plants and why the plants have adapted to the aquatic environments.
---
Exploring & Learning at Jacob Ballas Children's Garden's East Wing
Take the time to stroll through the gardens to see what you can learn at the eight different areas. All of them have colourful signboards with graphics, fun facts and explanations.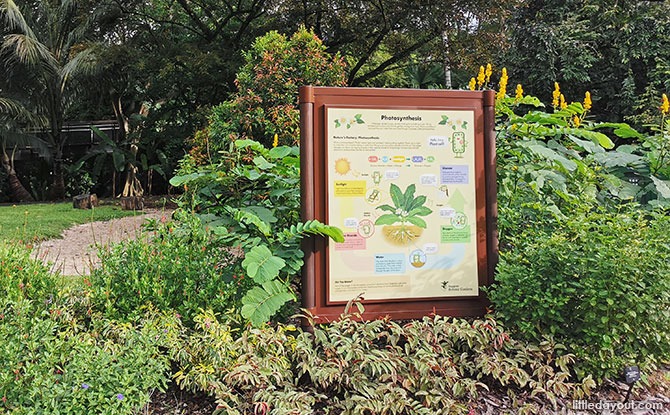 At Play for instance, near the Photosynthesis play area is a board explaining what photosynthesis is all about. It gives young ones the ability to understand through graphics and sensory play!
You will also see trails leading to different kinds of plants.
Use your sense of smell and touch at different spots. Signs with "smell" and "touch" is a wonderful sensory learning opportunity for the children.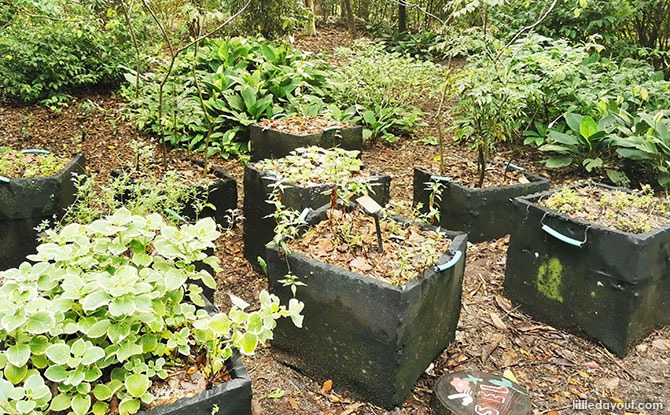 Walk on to see the Potting Garden and then look out for the trails off the beaten path which lead you to the forests. Gaze up to see the rich foliage and the height of the trees.
Observe how plants sprout out from the forest floor and then make their way up higher and higher, some assisted by trees.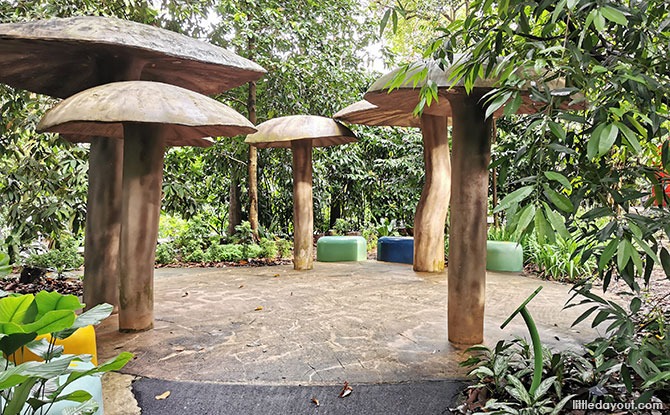 Near the Treehouse playground is the Mushroom Shelters. The magical spot makes one feel like a fairy or gnome.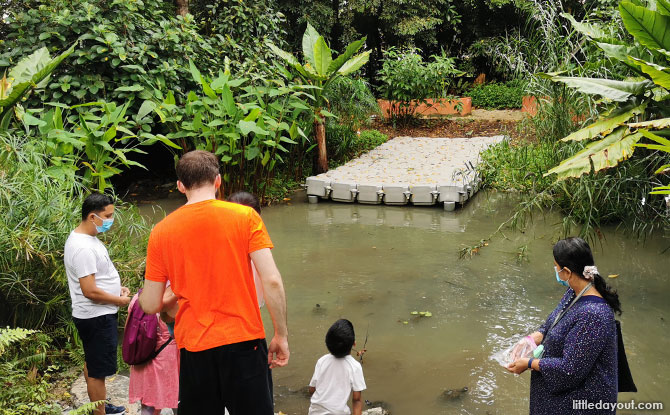 You can also see a stream where turtles are, study the aquatic and semi aquatic plants found in the pond and tanks.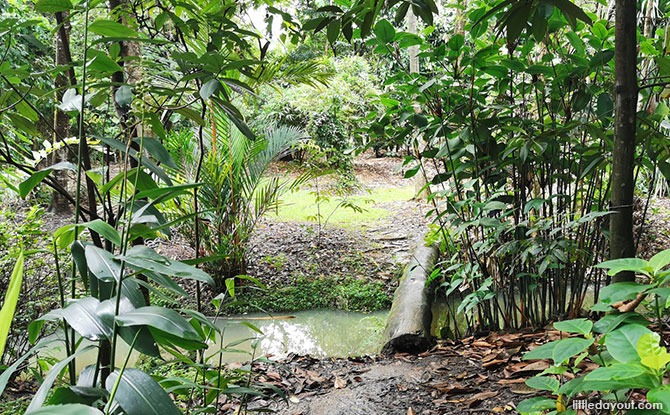 Cross a log to get to the other side of the stream.
Or walk on to see a cave and the waterfall. This path also leads one to the washrooms and living classrooms.
Nearby is the suspension bridge where wobbling is part of the fun. What an adventure!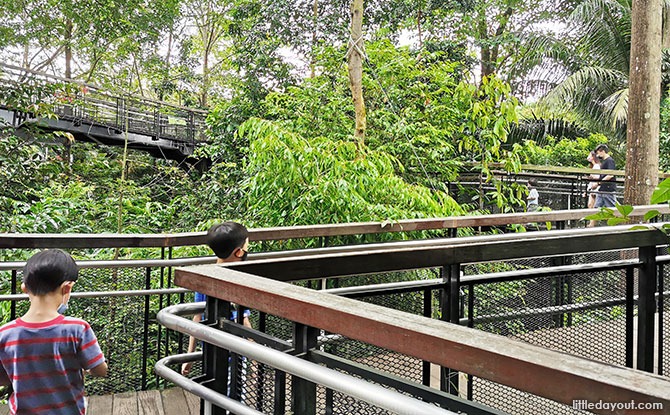 If exploring the Eastern bit is sufficient, go on the bridge to cross over to the Learn zone of the children's garden.
---
Crossing the Boardwalk to Jacob Ballas Children's Garden's Learn Zone
An overhead boardwalk bring visitors across a road. Here you can observe squirrels scurrying around the branches, see the birds like sunbirds up close as the bridge brings you closer to the trees.
As you exit the bridge, you might be able to spot some interesting finds. Keep your eyes peeled!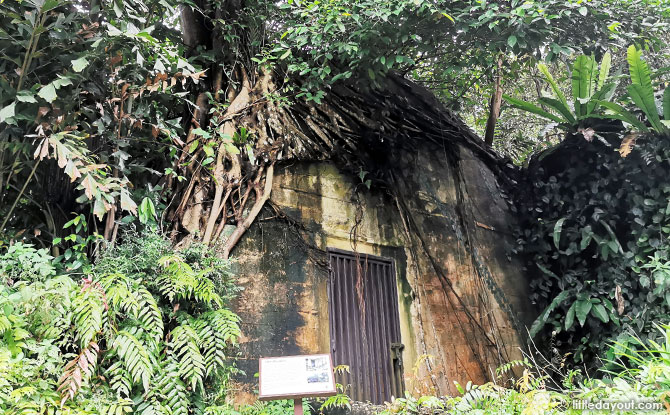 Look out for a World War 2 air raid shelter almost overtaken by a ficus tree and on its left – 19th century graves. These are also mixed marriage gravesites dated in the 1840s.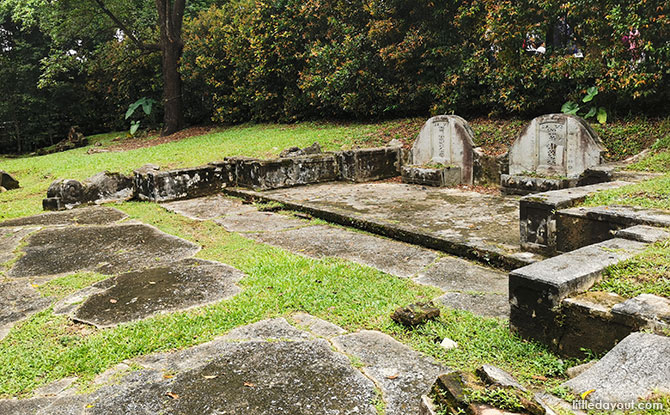 The structures are also evidence of the history of the gardens and its rich heritage.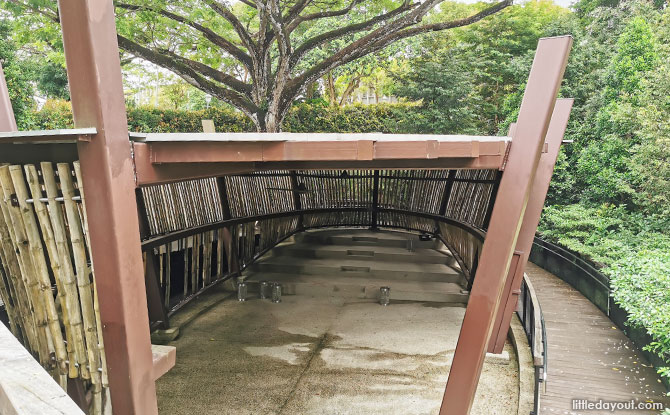 This area also has a A large pavilion is where you can rest and perhaps enjoy a picnic.
---
How to Get to Jacob Ballas Children's Garden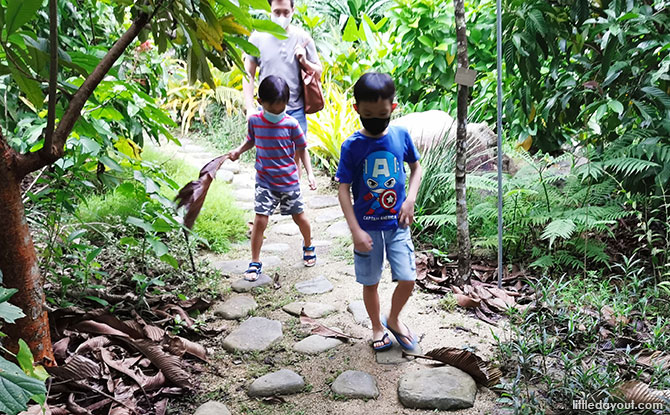 Visit Jacob Ballas Children's Garden for some experiential learning and be wowed by how much you can see. It is a favourite playspot for many and it is easy to see why with the amount of space and potential exploration trails!
The garden is nearest Botanic Gardens MRT with a 10 minute walk and the nearest bus stop is at Bukit Timah Road or NUS Bukit Timah Campus.
Opening hours are from 8am to 7pm, with last admission at 6.30 pm. Jacob Ballas Children's Garden is closed on Mondays, except when it is a public holiday.
To pre-book your visit and find out more, click here.
* As at July 2021, the Water Play, Photosynthesis Play Area, Flying Fox are temporarily closed for refurbishment.