Singapore Botanic Gardens is an iconic place to be – for both tourists and locals alike. Its lush greenery in the middle of the city, rich historical background, plant collections and stunning variety of flora makes it a must-visit. From rare orchids, towering trees, tranquil ponds, playgrounds, the national gardens are a hub of nature, art, heritage and a favourite place for walks and jogs.
---
Introduction to Singapore Botanic Gardens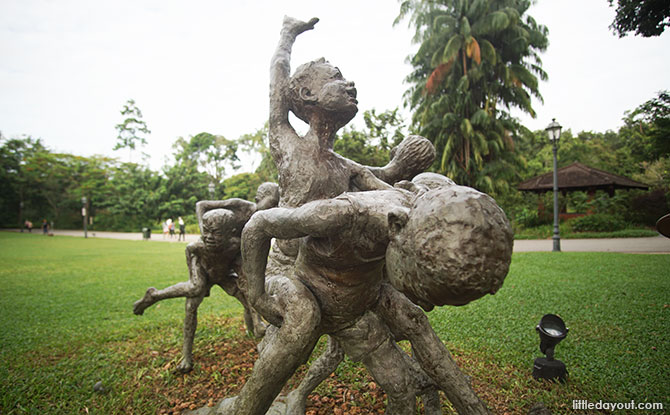 Singapore Botanic Gardens is a UNESCO World Heritage Site and a popular spot for both locals and overseas visitors alike. Its verdant grounds provide a relaxing recreational space for those seeking respite from the bustle of the city.
The Singapore Botanic Gardens is about 82 hectares. View a map of Singapore Botanic Gardens.
---
-- Story continues below --
It extends from Holland Road at one end to Bukit Timah Road at the other side.
---
Entry & Opening Hours of Singapore Botanic Gardens
The park is open from 5 am to 11.59 pm daily.
---
Significance of Singapore Botanic Gardens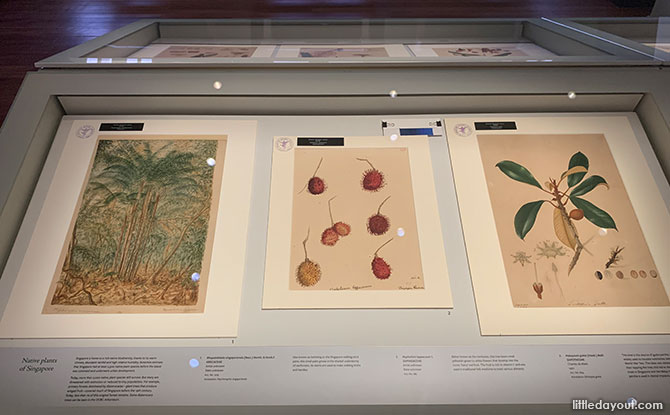 The Singapore Botanic Gardens is the first and only tropical botanic garden on the UNESCO's World Heritage list. It is the first in Asia with the accolade and the third botanic gardens inscribed in the world. It achieved this status on 4 July 2015.
Uniquely situated in the heart of the city, Singapore Botanic Gardens demonstrates the evolution of a British tropical colonial botanic garden that has become a world-class scientific institution used for both conservation and education.
It has been an important centre for science, research and plant conservation and played a critical role in the cultivation of rubber plantations since 1875.
The Singapore Botanic Gardens is a well-loved spot by locals and tourists alike. It is also a green lung for the bustling city.
With over 150 years of history, the Gardens has remained intact and even expanded over the years.
---
History of Singapore Botanic Gardens
Singapore Botanic Gardens, at its present site, was established back to 1859. Before it was established, there was an earlier botanical garden set up at the foot of Government Hill (present-day Fort Canning Hill).
Singapore Agri-horticultural Society was granted 32 hectares of land in Tanglin by the colonial government which it had obtained from the merchant Whampoa, in exchange for land at Boat Quay.
At the start, the gardens was an experimental site for growing cash crops and economically valuable plants such as rubber, spices and orchids.
Over the years, the gardens evolved under the stewardship of directors and botanists thus expanding its collections.
Singapore Botanic Gardens was critical to the region's rubber trade boom in the early 20th century when its first scientific director, Henry Nicholas Ridley, led research in the rubber plant's cultivation. His technique is still in use today as it expanded output rapidly.
---
Key Attractions and Things to Do at Singapore Botanic Gardens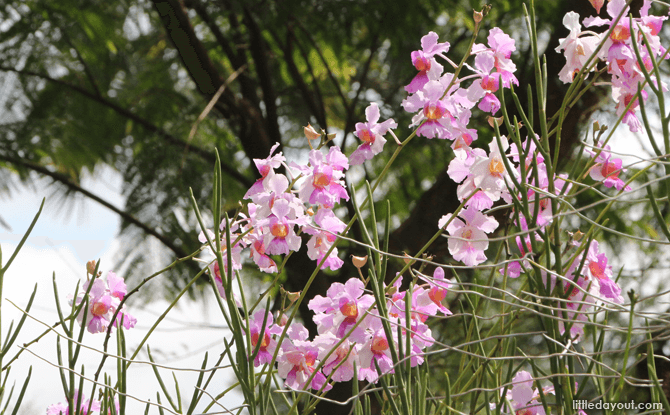 One of the key attractions found within the Singapore Botanic Gardens is the National Orchid Garden where orchids, including ones named after famous visitors to Singapore, can be viewed.
There are also other themed gardens within the Singapore Botanic Gardens. These include the Healing Garden, Learning Forest and Evolution Garden to name a few.
Families would also love visiting COMO Adventure Grove and Jacob Ballas Children's Garden.
The Singapore Botanic Gardens is made up of several zones – Tanglin, Nassim, Bukit Timah, Tyersall and Gallop. Here are some of the key highlights at each zone.
---
Tanglin Section
The Tanglin section is the oldest part of the Singapore Botanic Gardens. It is filled with historic landmarks and spots that have been well-loved by generations of Singaporeans.
Bandstand
An icon of Singapore Botanic Gardens, this octagonal structure was built in the 1930s and used to host performances by military bands.
Now, the only music you will hear are the birds chirping away around it.
The Bandstand is a serene rest stop and photo spot at top of the knoll where it is situated.
Swan Lake
A short distance from Tanglin Gate is Swan Lake, a large, shallow pond named for the graceful white swans that inhabit the body of water. If you head toward the wooden bridge at the far end of the lake, you may be able to get a closer view at them as that is where their feeding tray is located.
The pond is also home to fish and amphibians. If you are lucky, you may even be able to spot otters frolicking in the waters of the lake.
$5 Note Tembusu Tree
Tembusu tree found at the back of Singapore five-dollar notes still stands at Singapore Botanic Gardens' Lawn E. It overlooks Swan Lake and has a distinctive branch which grows perpendicularly away from its trunk.
Read more about the $5 note tree at Singapore Botanic Gardens.
Sundial Garden
Designed in the style of a formal garden, the Sundial Garden feels like a throwback to olden times. Approach the sundial at the centre of the garden to try to decipher the time or take a seat at one of the shaded areas at either end of the garden.
Rain Forest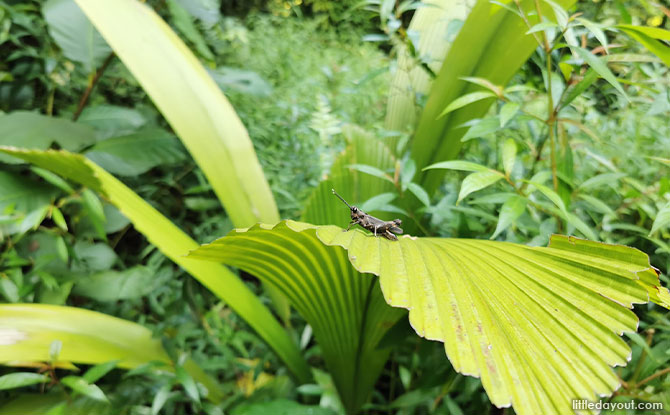 Amazingly, there is a patch of primary rainforest that still remains at Singapore Botanic Gardens. Some of the trees here date back even before 1819. Be sure to look up to view the layered eco-system that the forest provides.
---
Nassim Area
Palm Valley & Shaw Symphony Stage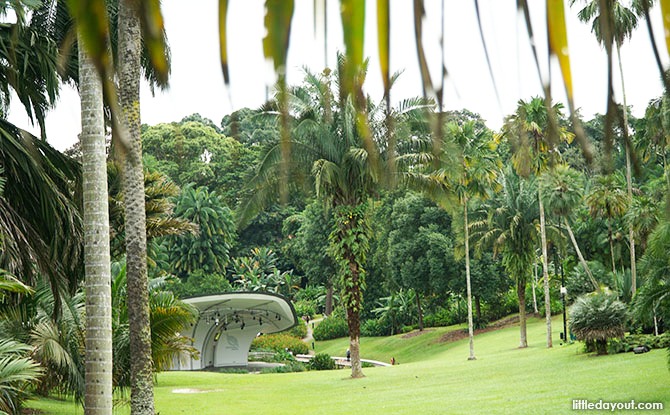 Lined with palms, the gentle slope of the Palm Valley seems made for laying out a picnic mat and taking a break to enjoy the beauty of nature. With its wide open space, it is also good for those who enjoy organising outdoor games and activities. And when there are concerts in the park at the Shaw Symphony Stage, this is exactly what happens.
Ginger Falls
The waterfall and its cave at the Ginger Gardens is a picturesque place where you can take a walk behind the curtain of splashing water.
Evolution Garden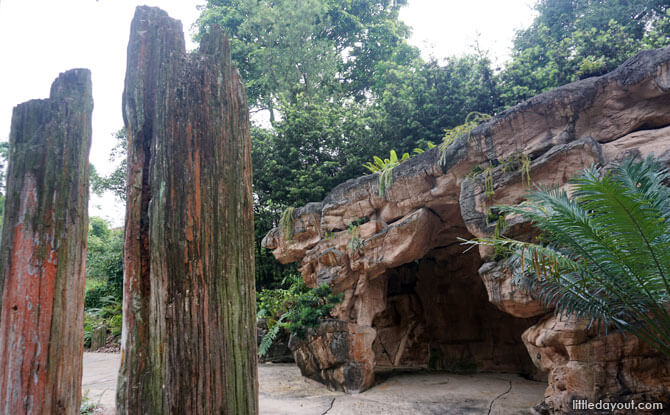 Evolution Garden presents a walk through time starting with primitive plants such as whisk ferns and horsetails before entering the world of lush ferns and flowering plants.
This garden showcases the fascinating journey of plant evolution.
Healing Garden
The Healing Garden at Singapore Botanic Gardens holds a collection of plants from the Southeast Asian region regarded to have medicinal value.
Visitors can learn about the healing properties of the plants and their role in holistic well-being.
---
Bukit Timah (North Section near Botanic Gardens MRT)
Ethnobotany Garden
Devoted to the relationship between man and nature, the Ethnobotany Garden at Singapore Botanic Gardens is both picturesque and educational. Discover how people have harnessed botanics for the purposes such as medicine and housing for generations.
Eco-Lake
Found at the Bukit Timah Core, Eco-Lake and the surrounding greenery is a popular outdoor spot for a lazy Sunday afternoon. You will be delighted to find black swans and other water fowl. Head down to the water's edge and have fun trying to figure out what they are up to.
Jacob Ballas Children's Garden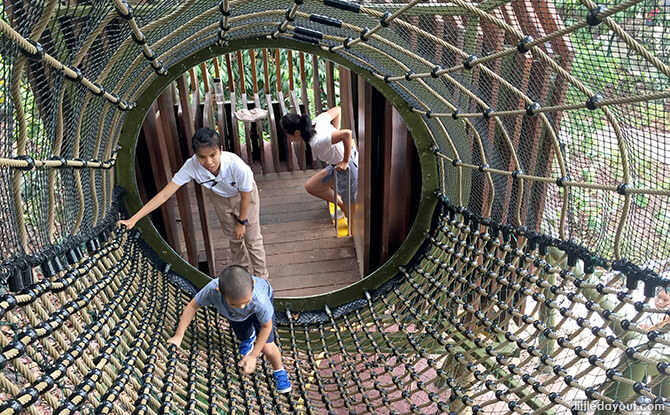 Jacob Ballas Children's Garden is a garden made for children and entry is only permitted to children 14 and below, and adult visitors must be accompanied by a child.
Jacob Ballas Children's Garden is also Asia's largest garden dedicated to children. Its theme of "Life on Earth Depends on Plants" aims to educate and nurture a love for nature in children.
Evidently, the garden is full of plants – flowers, herbs, trees, forests, ponds, stream even a waterfall. Play areas also incorporate the theme of plants and even use plants as its play structures.
---
Tyersall Section
National Orchid Garden
Singapore's National Orchid Garden, located within the Singapore Botanic Gardens, is a picturesque attraction that showcases the world's largest family of flowering plants – orchids. These flowers makeup 10 percent of all flowering plants and have a long association with Singapore Botanic Gardens.
National Orchid Garden houses the largest orchid collection of 1,200 species and 2,000 hybrids.
Singapore's "orchid diplomacy" honours visiting head of states, dignitaries and celebrities by naming the finest hybrids after them, these are displayed at the VIP Orchid Gardens.
Learning Forest: Discovery Wetlands & Walk of Giants
From the waters of the wetlands to the heights of the trees – these are some of the experiences that await visitors at Singapore Botanic Gardens' Learning Forest.
The 10-hectare Learning Forest is the result of work to restore part of the forest to the lowland forest and wetland habitats that once surrounded Singapore Botanic Gardens.
It forms part of the Garden's Tyersall-Gallop Core and has been carefully designed to integrate with the Gardens' existing rainforest.
The two highlights at the Learning Forest are the Keppel Discovery Wetlands and the SPH Walk of Giants.
Keppel Discovery Wetlands
Located with the Learning Forest, the Keppel Discovery Wetlands is a 1.8 hectare restoration of a freshwater wetland habitat. Opened in 2017, it recreates the freshwater eco-system that was historically found at the present-day Singapore Botanic Gardens.
Trails and boardwalk run through the Keppel Discovery Wetlands, making it a pleasant place to visit and enjoy nature.
SPH Walk of Giants
The SPH Walk of Giants' boardwalk provides visitors with a good view of the forest mid-forest level which they otherwise would not be able to see. They can also peer up to the canopy above and observe the natural phenomenon known as crown shyness. This is when the tops of individual trees do not come into contact with each other.
This 260-metre long elevated boardwalk takes visitors up to a height of eight metres above the ground under towering trees that can grow up to 60 metres in height.
---
Gallop Extension, Southeast Section
COMO Adventure Grove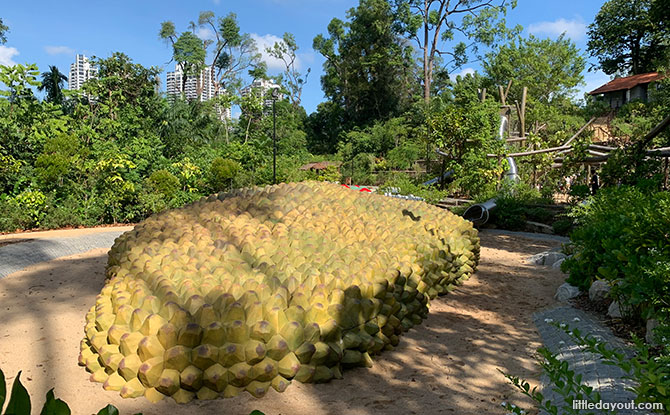 COMO Adventure Grove at Singapore Botanic Gardens' Gallop Extension is a wonderful nature playgarden for children. This family-friendly section of Singapore Botanic Gardens is filled with play elements which draw inspiration from the greenery of natural habitats.
The Singapore Botanic Gardens playground provides plenty of fun opportunities for kids to explore and reconnect with nature through play.
The highlights would include The Weeping Fig Tower with two long tube slides, giant Chempedak and enormous Saga seeds.
Ramblers Ridge & OCBC Arboretum
The Mingxin Foundation Rambler's Ridge is a walking trail at the Gallop Extension. Its design is inspired by the forest habitats of South East Asia's tropical hills and connected to the Learning Forest by HPL Canopy Link bridge that goes over Tyersall Avenue.
Gallop Extension & Gallop Valley
The Gallop Valley is a tranquil retreat which features of a series of switchback earth paths that lead up and down the side of the valley. It connects the Gallop Extension's attractions like the COMO Adventure Grove playgarden, the Botanical Art Gallery and the Forest Discovery Centre to Woollerton Drive.
The Gallop Extension is perfect for a picnic particularly in the evenings, after playtime at COMO Adventure Grove.
There is also a gate that leads the Gallop Extension from Farrer Road.
---
Popular Activities at Singapore Botanic Gardens
Many head to Singapore Botanic Gardens for exercise and sports, apart from a pleasant walk or playtime for children and pets.
Another popular activity is to attend a concert at the Shaw Foundation Symphony Stage. These free concerts are normally held on weekends and attract many visitors who also bring along their picnic mats and baskets and enjoy the lively atmosphere.
Tours are also regularly conducted around Singapore Botanic Gardens, providing an educational look at various spots around the UNESCO World Heritage Site.
---
Special Events at Singapore Botanic Gardens
Heritage Festival
Heritage Festival at Singapore Botanic Gardens takes place around the June and July each year. Look out for guided tours, workshops and craft activities.
Singapore Garden Festival
Singapore Garden Festival is amongst the top flower and garden shows internationally. In addition to nurturing interest in greenery and nature, it gives local industry players the chance to showcase their talent and a platform for community gardeners and hobbyists to participate.
Trees of the World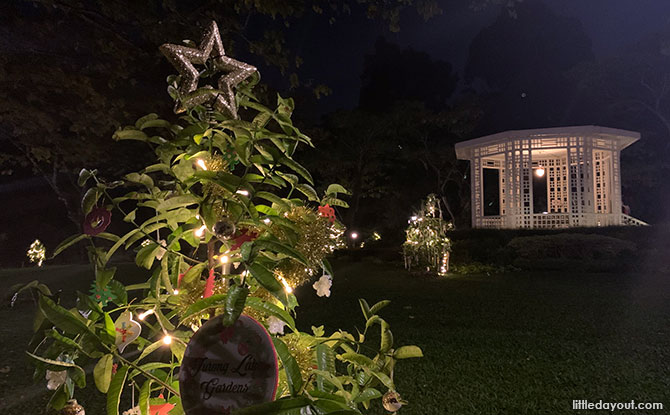 When Christmas comes, the lit Christmas trees at Singapore Botanic Gardens are a highlight of the season.
The event named Trees of the World feature trees decorated by donors, beneficiaries or members of the public. See the uniquely decorated trees and take a quiet stroll to check out the Christmas lights.
---
Indoor Galleries of Singapore Botanic Gardens
If the weather is too warm, head to the air-conditioned areas for indoor learning!
There are several places that may be considered "museums" within the Singapore Botanic Gardens.
These include the Singapore Botanic Gardens Heritage Museum, Forest Discovery Centre, the Centre for Ethnobotany, Botanical Art Gallery, National Biodiversity Centre, CDL Gallery and the Seed Bank.
---
Singapore Botanic Gardens Food and Dining
There are a variety of food options at Singapore Botanic Gardens ranging from takeaway kiosks to Michelin-star restaurants. For a casual dining spot, head to Fusion Spoon café at Tanglin Gate or an al fresco brunch experience at Bee's Knees at the Garage.
For those looking for a more luxurious dining experience, head to Halia Restaurant, The Villa, Corner House, Botanico, or Pangium Restaurant.
Read about kid-friendly dining places where there are playgrounds.
---
Sculptures and Statues at Singapore Botanic Gardens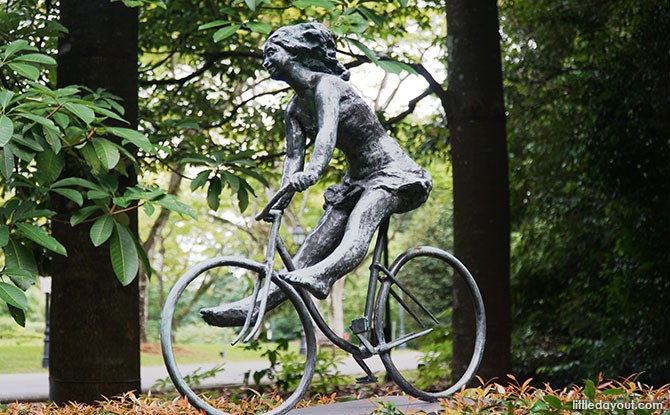 There are many different statues throughout Singapore Botanic Gardens. These sculptures help to accentuate various locations and also serve as points to take a pause and reflect.
Read about some of our favourite sculptures at Singapore Botanic Gardens.
---
Getting to Singapore Botanic Gardens
The closest section of Singapore Botanic Gardens to Orchard Road is the Tanglin section. From Orchard Road, buses 7, 106, 123 and 174 will take you to Napier Road, which is where the Tanglin Gate of Singapore Botanic Gardens can be found.
To get to the Bukit Timah side, take bus 171 from Orchard to reach there.
Singapore Botanic Gardens is served by two MRT stations.
The Botanic Gardens MRT Station (DT9/CC19) on the Downtown Line / Circle Line which will take you to the Bukit Timah end of the Gardens too, allowing you to enter in via the Eco Garden.
The Napier MRT Station (TE12) on the Thomson-East Coast Line come out along Napier Road, a short walk away from the Tanglin Gate.
Find out more about Singapore Botanic Gardens.