Singapore's National Orchid Garden, located within the Singapore Botanic Gardens, is a picturesque attraction that showcases the world's largest family of flowering plants – orchids. These flowers makeup 10 percent of all flowering plants and have a long association with Singapore Botanic Gardens.
The National Orchid Garden underwent an refresh the addition of new areas such as the Tropical Montane Orchidetum.
---
Visiting the National Orchid Garden at Singapore Botanic Gardens
As early as the 1870s, an Orchid House was established at the Gardens.
The present National Orchid Garden was opened on 20 October 1995 by Mr Lee Kuan Yew and features over 1000 species of orchids.
There are several beautiful fountains …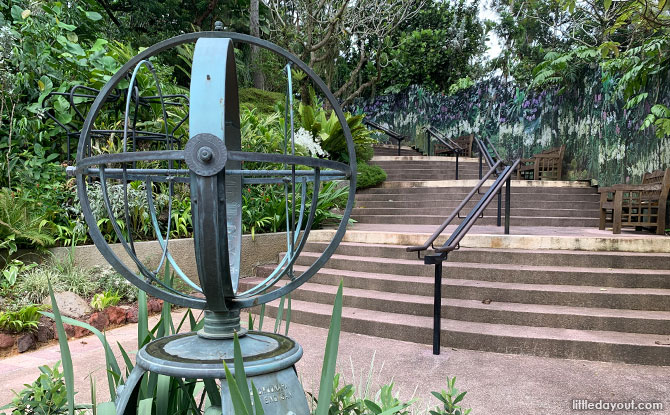 … as well as two sundials and other sculptures within the National Orchid Garden.
Here are some of our favourite sights and spots at Singapore's National Orchid Garden.
---
Sights at National Orchid Garden, Singapore Botanic Gardens
1. Tropical Montane Orchidetum
The tropical Montane Orchidetum simulates the experience of ascending through a tropical montane forest and showcases a diversity of orchids and other plants from the rich low to high-elevation mountain forest. It includes a Cool House, the Yuen Peng McNeice Bromeliad Collection, the Tan Hoon Siang Mist House and the Secret Ravine. Read more about it here.
2. Golden Arches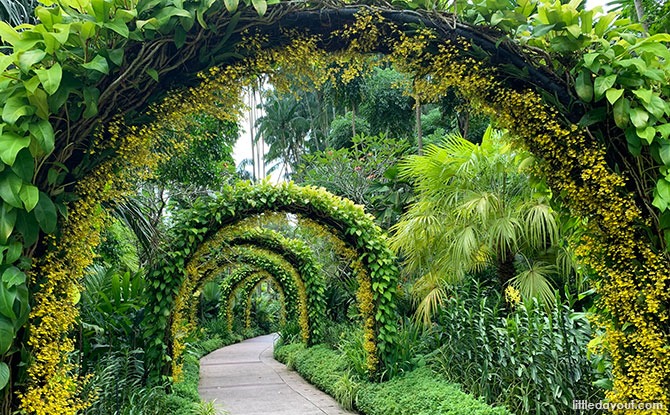 Not far from the National Orchid Garden entrance is the Golden Arches. It is one of the many photo spots at the Garden.
We like it because of the flowers, which we call "dancing girls". Can you tell why?
---
3. Enchanted Garden
Another pretty spot at National Orchid Garden is the Enchanted Garden. The centrepiece of this area is an oversized birdcage which you can step inside for a photo.
---
4. VIP Orchid Garden
Orchids at the VIP Garden have named after visiting dignitaries such as Ban Ki-moon, former Secretary-General of the United National and Baroness Margaret Thatcher, former Prime Minister of United Kingdom, on the occasion of their visits to the National Orchid Garden.
There is also an elegant white orchid that was named "Dendrobium Memoria Princess Diana" for the late Princess Diana after her death in 1997.
This was viewed by her son Prince William and the Duchess of Cambridge when they visited Singapore in 2012.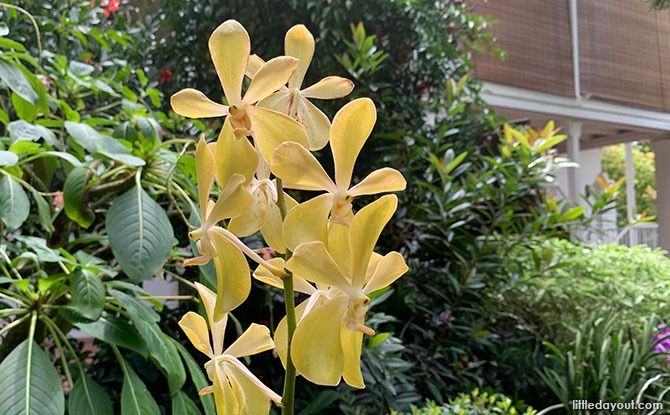 Another orchid not to be missed is the Aranda Lee Kuan Yew, a hybrid named in honour of Singapore's founding father. The hybrid was registered on 24 March 2015.
Besides foreign dignitaries, there have been orchids named after celebrities. These orchids are kept in a special Celebrity Gardens. Orchids include those named for movie star Shah Rukh Khan and Singapore's own songstress, Stephanie Sun.
---
5. Vanda Miss Joaquin Collection
Singapore's National flower is the Vanda "Miss Joaquim", an orchid hybrid that was originally discovered by Agnes Joaquim, an Armenian lady living in Singapore in the late 1800s.
A pavilion now stands in Tanjong Pagar, close to where she lived.
It was chosen as Singapore's national flower in 1981 from among 40 flowers for its vibrant colours, hardiness and resilience. The Vanda "Miss Joaquim" blooms throughout the year and you can find a collection of them beside a Weeping Willow.
---
6. Burkhill Hall
Sitting at the highest point of the National Orchid Garden is Burkhill Hall.
This plantation house was used as a residence for the Director of the Botanic Gardens up till 1969.
It was named after two Directors, father and son Isaac and Humphrey Burkhill. Today, visitors can learn more about the orchid's history and association with Singapore inside its walls.
---
7. Weeping Tea Tree
Just off to the side from Burkhill Hall is a wispy tea tree, next to the Vanda Miss Joaquim collection. It is just a picturesque spot which gives as an idyllic vibe. The tree has had to have its branches propped up but that can't detract from the feeling it gives us.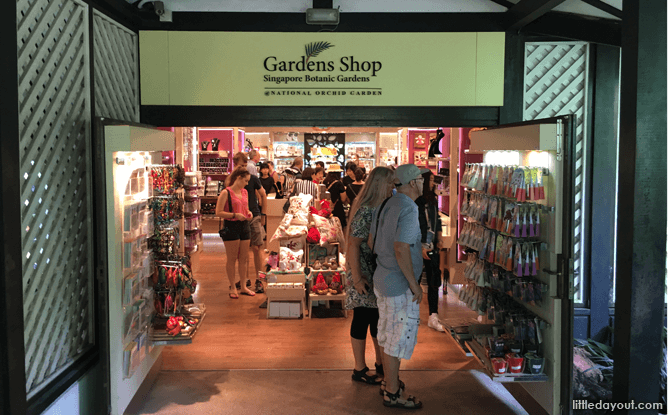 Before leaving the National Orchid Garden, pay a visit to the Gardens Shop located at the exit where you can buy an orchid-inspired souvenir of your visit.
---
From the Archives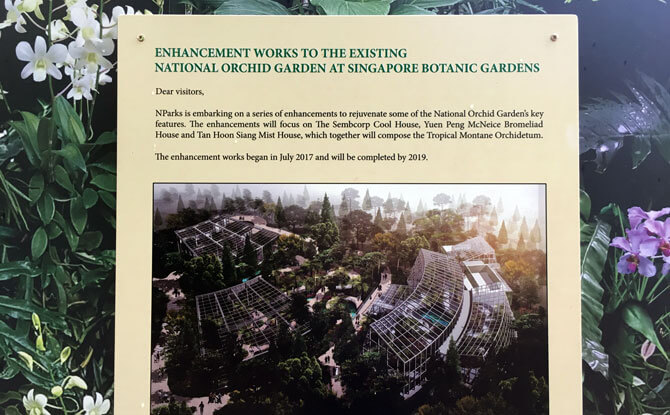 Take note that a large section of the National Orchid Garden is currently closed due to enhancement works. These include the previous the Tan Hoon Siang Mist House, Yuen Peng McNiece Bromeliad Enclosure and Cool House.
Here's a look at some of these previous attractions at the National Orchid Garden.
---
[Archived – Tan Hoon Siang Mist House]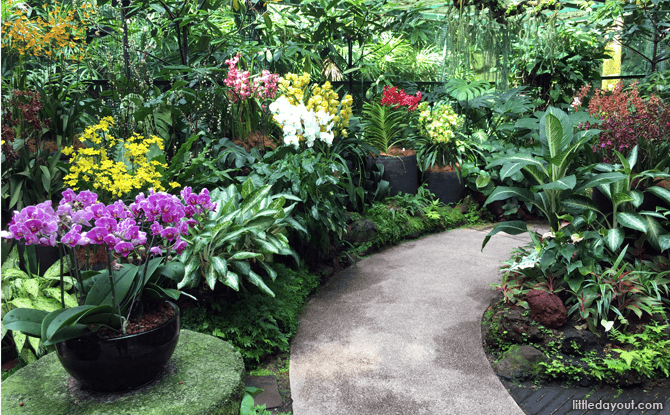 The Tan Hoon Siang Mist House was one of the most colourful spots at the National Orchid Garden.
It had brightly coloured orchids like the Dendrobium Frost Dawn.
---
[Archived – Cool House]
Before the Cloud Forest dome at Gardens by the Bay, the Cool House simulated the conditions found in tropical mountains.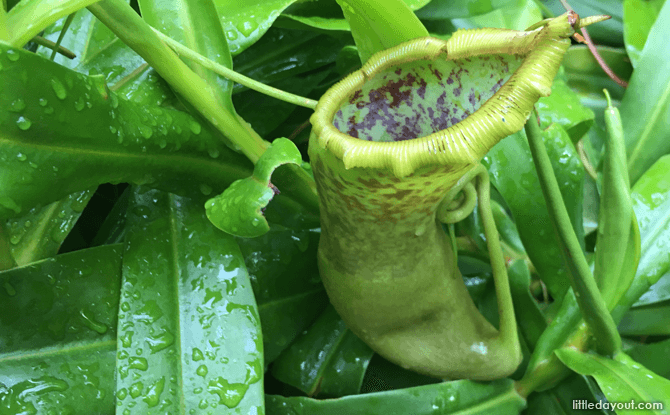 Besides orchids, another interesting group of plants that were at the Cool House were carnivorous plants like pitcher plants.
---
[Archived – Yuen-Peng McNiece Bromeliad Collection]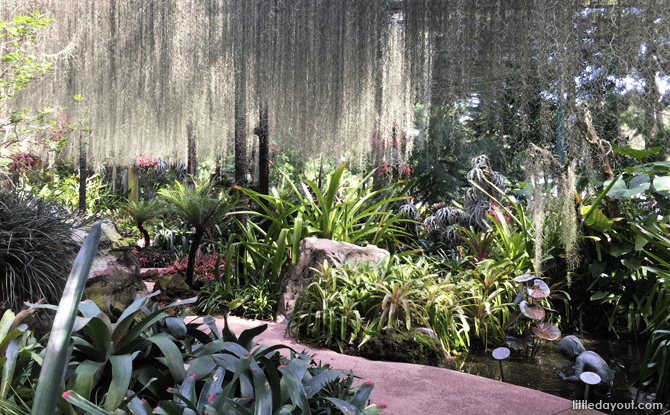 Lady Yuen-Peng Mcneice, also known as Loke Yuen Peng, was a Malaysian-born nature born conservationist, social worker and philanthropist. In 1994, she acquired a collection of 20,000 bromeliads from a nursery in the United States and donated them to the Singapore Botanic Gardens.
Even though bromeliads are not orchids, they previously found a place at theYuen-Peng McNiece Bromeliad Collection at the National Orchid Garden.
The space which was previously occupied by the three attractions above is now boarded up. We look forward to the new enhancements in its place opening in the future.
---
National Orchid Garden
Address: Singapore Botanic Gardens, Tanglin Core
Opening Hours: 8.30 am to 7 pm (last entry at 6 pm)
Admission Fees: Adults – $5; Students & Seniors – $1; Free for children 12 years and below.
Website