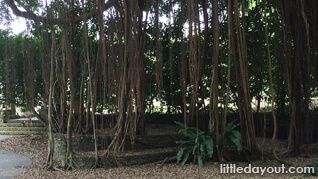 Singapore Botanic Gardens has been beloved by generations. It is no wonder that so many of us were ecstatic when the 156-year-old botanical site was awarded the status of UNESCO World Heritage Site on 4 July 2015.
Recognised for its role in the development of economic crops such as rubber, it is also the only English-style garden in the tropics. Singapore Botanic Gardens is Singapore's first UNESCO World Heritage Site.
Tracing its history back to a garden laid out on Government Hill (now Fort Canning Park) in 1819 by Raffles, the botanic gardens was established at its current location in the Tanglin area in 1859.
The present-day Singapore Botanic Gardens now stretches out from Tanglin Road to Bukit Timah Road and is also home to the National Orchid Garden.
---
-- Story continues below --
Hidden Spots within Singapore Botanic Gardens
Popular for its wide open lawns and concerts in the park, there are several hidden spots within Singapore Botanic Gardens especially if you do not wander off the beaten path.
Here are 12 "hidden" corners you may not have known about around Singapore Botanic Gardens.
1. Frangipani Grove
Frangipani trees and garden swings may seem like odd bedfellows but they work well together at the Singapore Botanic Gardens. 12 garden swings lure passer-bys to pause for a moment and sway along with the breeze under the frangipani trees.
2. Marsh Garden
The Singapore Botanic Gardens used to house a zoo with a rhinoceros wallow and alligator ponds. While the menagerie of animals has moved out ages ago, you can still visit their ponds at the Marsh Garden.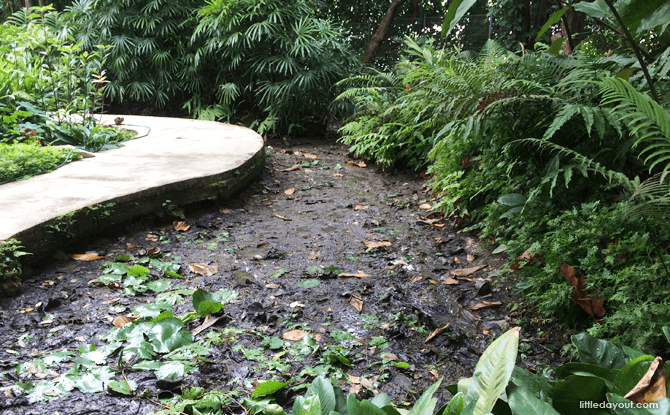 3. POW Stairs
Ordered to make bricks by their captors during the Japanese occupation of Singapore, prisoners of war marked out arrows into the bricks as a sign of defiance. These red bricks were used to construct a set of stairs that can down be found leading down to Singapore Botanic Garden's Plant House.
4. Plant House
Constructed back in 1882 as a spot to display ornamental plants and hold flower exhibitions, the Plant House once had a roof. Today, tucked away from the main thoroughfare of the Gardens, it feels like an elegant secret garden for those in the know.
5. One of Singapore's Oldest Rainforests
You can visit one of the few remaining patches of primary rainforest at Singapore Botanic Gardens, all from the comfort of a boardwalk. Established as part of the Botanic Gardens back in 1859, it is home to 314 species of flora across its three layers of foliage – the emergent, the canopy and lower tree layers.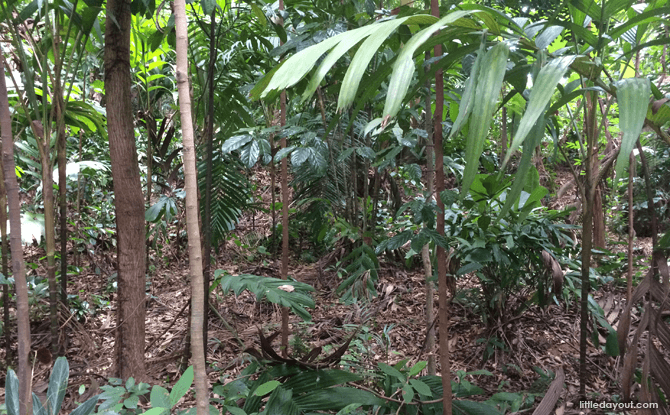 6. Fish Pond
Most people are aware of the fish pond next to the information counter at Tanglin Gate's Green Pavilion. Not as many folks are aware that there is another, less busy, pond just behind that first pond. Here, you can also feed the fish, including some large koi, away from the crowds.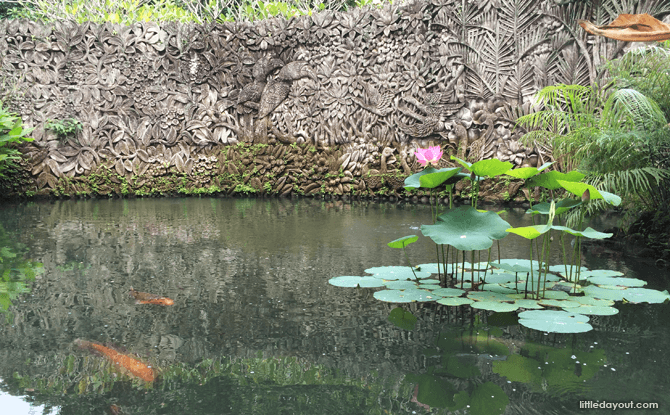 7. Curtain of Roots
Hanging down like a veil of red, these aerial roots belong to the Princess Vine, a close relative of the common grape. Make your way gently through them as you venture into the Garden from the Botany Centre.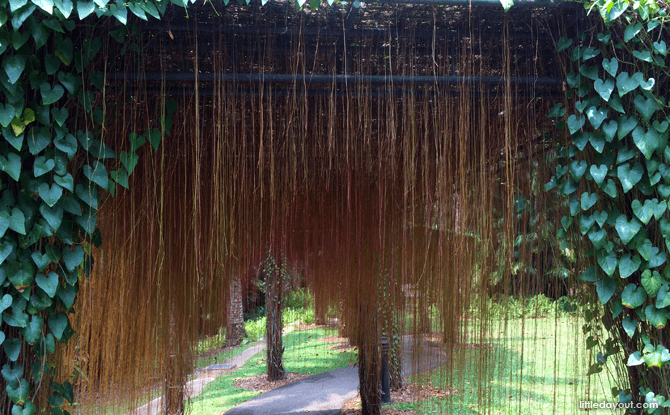 8. Sundial Garden
This tranquil sundial garden was originally laid out in 1929 by the Director of the Botanic Gardens Eric Holttum whose wife designed the sundial with its enigmatic inscription. Four water lily tanks were added in the 1970s and four Grecian statues in 2006.
9. Evolution Garden
Laid out to show the development of plant-life, stepping into the Evolution Garden is a bit like a journey back in time.
10. Library of Botany and Horticulture
The oldest reference library in Southeast Asia, the Library has various horticultural displays as well as a herbarium that documents plant specimens. If you are lucky, you may even get to see the librarians preparing the plant specimens.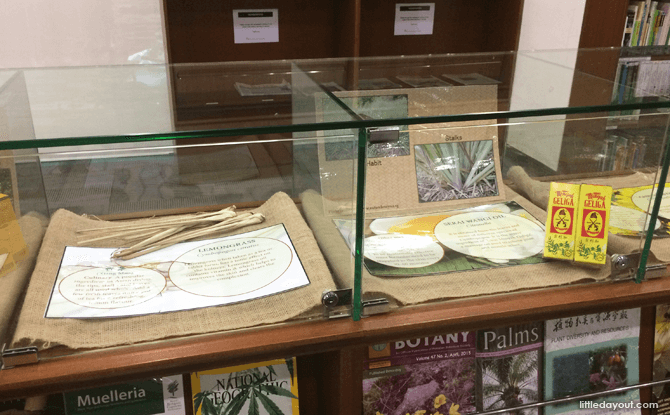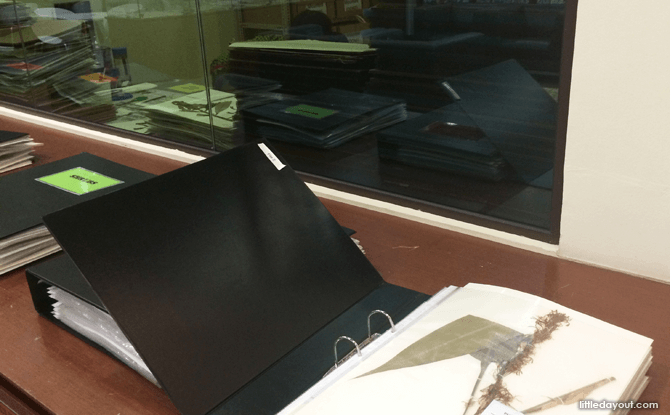 11. Fruit Tree Collection
Found at the Botanic Garden's Bukit Timah core, is this collection of fruit trees. Visit at the right season and you may be able to spot some delicious fruit hanging above.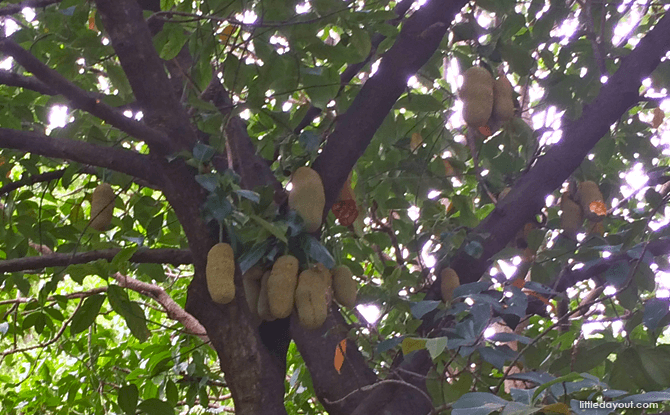 12.  Shaded Seating Area
Tucked away under leafy foliage and cloaked by hanging roots, this quiet sitting corner is easily missed, even by those visiting the nearby Frangipani Grove and iconic white bandstand. For those who can find it, take a seat under the shady tree and sit back for a while to watch the world pass by from this little hidden spot at the Singapore Botanic Gardens.