NParks' Festival of Biodiversity takes place on the opening weekend of the June school holidays, 27 and 28 May 2023, with online and onsite activities that include Festival booths, Festival walks, workshops and more.
---
Festival of Biodiversity 2023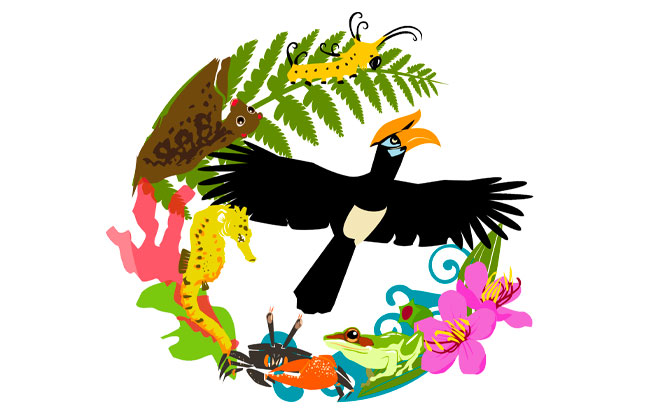 The Festival of Biodiversity has been an annual event since 2012 and aims to increase the awareness and appreciation of Singapore's natural heritage. Organised by NParks, it has grown to include the participation of many different biodiversity-related interest groups as well as Non-Governmental Organisations.
Here's a look at what you can expect at this year's Festival of Biodiversity.
---
-- Story continues below --
---
Festival Booths
One of the most interesting aspects of the Festival of Biodiversity is the chance to meet people who are actively involved in protecting the local biodiversity. Also present at the Festival are those who may be showcase their efforts and actions.
This year, some of the booths at the Festival of Biodiversity include:
Cicada Tree Eco-Place: They will be sharing about what they do and also having matching games, storytelling sessions and colouring activities at their booth.
Herpetological Society of Singapore: Visit their booth where they will be show casing specially preserved reptile specimens and the projects they are working on. The booth will also have stickers for sale.
Jane Goodall institute (Singapore): At the charity organisation's booth, participants can experience a VR walk through a nature reserve.
Mandai Nature: Learn more about globally threatened species like the Raffles' Banded Langur and the Sunda Pangolin.
Nature Society (Singapore): Want to learn how to get involved conserving our natural environment? Pay a visit to the Nature Society (Singapore) booth to find out more about what they do.
These are just a handful of the Festival Booths that will be at the Festival of Biodiversity this weekend.
---
Talks and Workshops
What to learn about Singapore's coral reefs and marine life? There will be a talk on Rebuilding Our Reefs: Creating Underwater Cities For Singapore's Marine Life on 27 May.
Then, on 28 May, discover interesting facts about Singapore's spiders at a talk in the morning.
You can choose to attend these talks in person or online via Zoom. Get more details here.
---
Craft Templates
If you can't go down but wish to also have some fun appreciating Singapore's biodiversity, the Festival of Biodiversity website also has a series of crafts for parents and children to do together.
Access the craft templates here.
Find out more about the Festival of Biodiversity taking place on 27 and 28 May 2023, 10 am to 8 pm here.