A four-metre high sub-canopy walk, a marsh habitat, freshwater streams and a new species of plant discovered only in 2015. These are some of the sights that can be found at Windsor Nature Park, which also functions as a gateway to the Central Catchment Area and the Treetop Walk.
Located off Venus Drive at Upper Thomson, the Windsor Nature Park area was most often visited by those on the way to the TreeTop Walk. After a two-year effort, its environment has been enhanced to not only be able to accommodate the flow of trekkers passing through, but to support additional biodiversity within the Park.
There are now a total of 3.85 km of trails in Windsor Nature Park. A Visitor Pavilion has also been added at the entrance of Windsor Nature Park as a venue for nature-related workshops.
---
Windsor Nature Park's Hanguana Trail
---
-- Story continues below --
The Hanguana Trail is a new addition to Windsor Nature Park. It is a showcase of Singapore's native plants.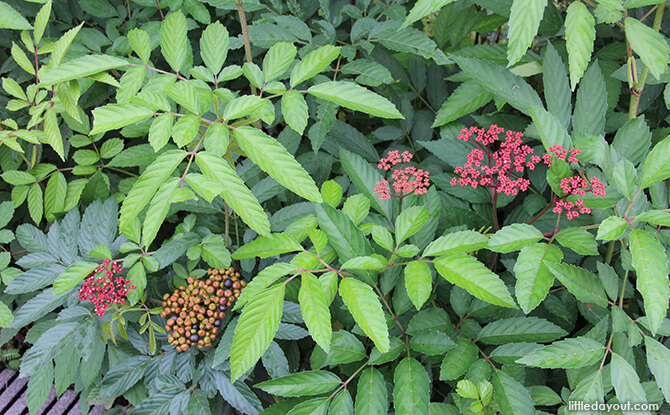 These include the Hanguana rubinea and Hanguana neglecta for which the trail is named after. The Hanguana rubinea was only discovered in 2015 and has a ruby-red fruit. It can be found close to small streams.
Others plants along Windsor Nature Park's Hanguana Trail include the spindle-shaped Singapore ginger and something every local is familiar with, the Singapore durian.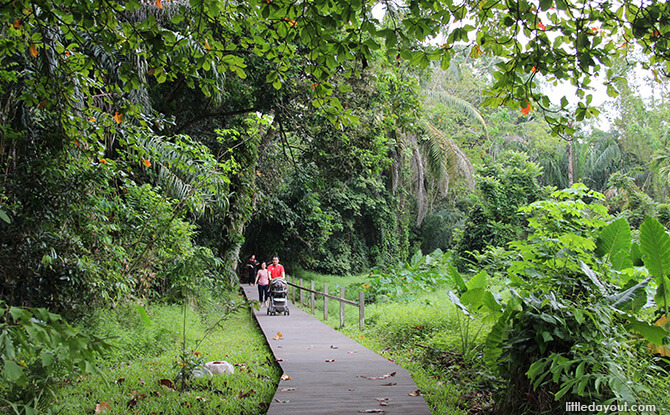 The 350-metre long Hanguana Trail is a short, easy walk. With the flat boardwalk here and along Venus Loop, it is a quiet respite for parents with babies and strollers in tow.
---
Squirrel Trail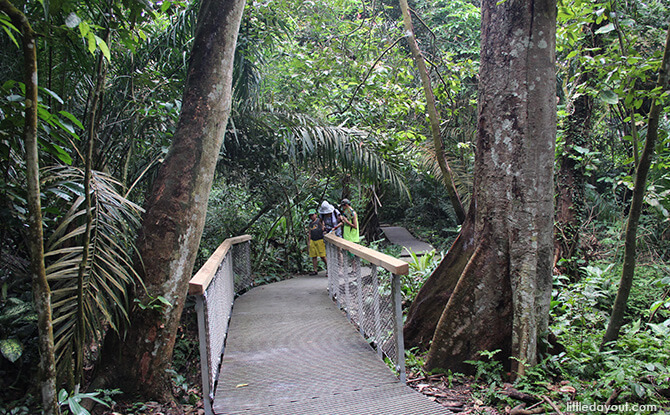 Just off Venus Loop and before Drongo Trail, the Squirrel Trail is parallel to Venus Link. The Squirrel and Dongo Trails make an easy 2.2km walk that should take about an hour.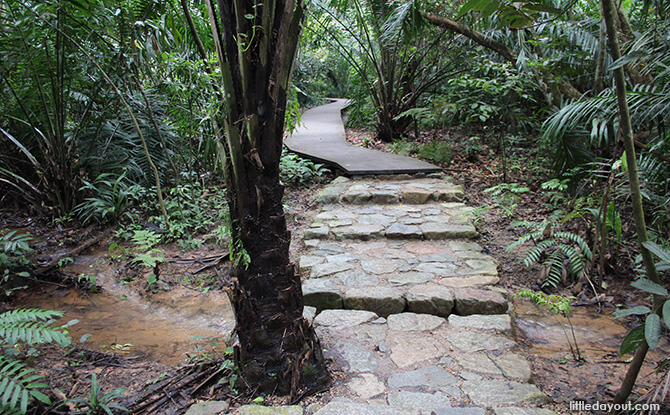 With raised boardwalks and cobbled paths where streams flow, the Squirrel Trail is a quaint, manicured walk compared to natural path of Venus Link.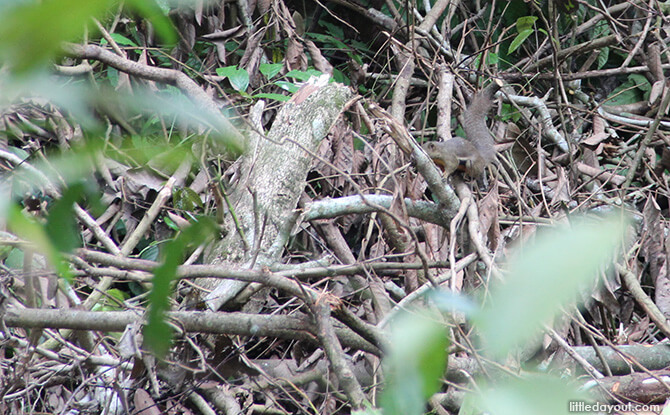 Stop in your tracks when you hear leaves rustling as a bushy-tailed creature may be passing by. It is here and along Drongo Trail that you're likely to be able to spot a squirrel or two.
---
Drongo Trail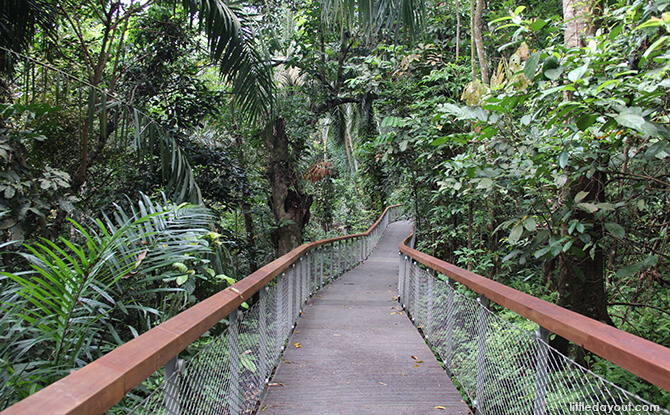 At the Drongo Trail, raised boardwalks have been installed over a period of two years.
A highlight of the Drongo Trail is a 150-metre long elevated walkway. This provides visitors with a seamless experience while on their way to the TreeTop Walk.
At four metres above the ground, trekkers get a good vantage point to view the vegetation found between the ground and the canopy, also known as the understory.
If you are lucky, you may be able to spot the Greater Racket-tailed Drongo, a noisy, glossy black bird with red eyes. It can also be identified by its slightly forked tail.
The sub-canopy walk along the Drongo Trail is the first in the Central Catchment Nature Reserve.
---
Marshes and Streams at Windsor Nature Park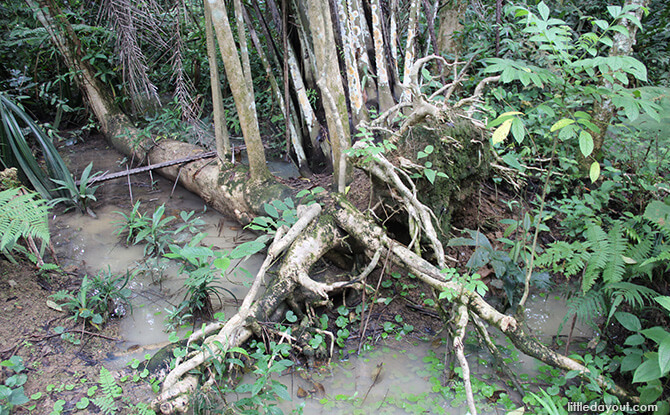 Along the Drongo Trail, keep a look out for a marsh habitat with reeds and other native places such as the Aquatic Ginger.
Half of the number of species of dragonflies found in Singapore has been spotted here and around the Hanguana Trail.
Look out also for pondskaters at these streams and ponds.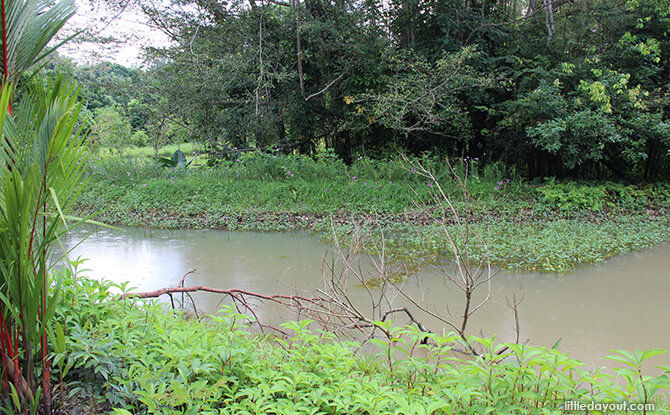 Another feature at Windsor Nature Park are freshwater streams.
Bridges cross these bubbling streams, allowing you to peer down to the naturally filtrated water below.
---
Buffer Nature Parks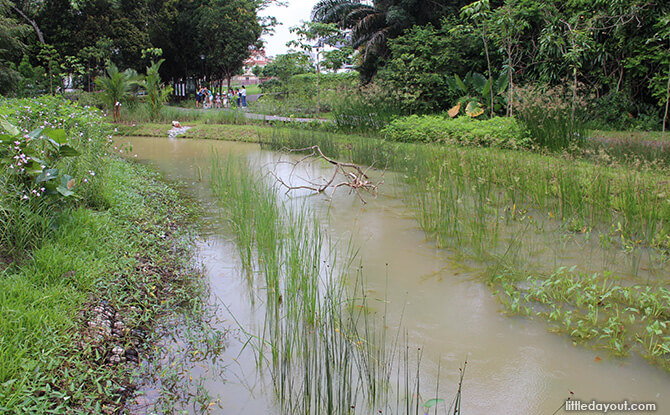 Windsor Nature Park is the sixth buffer park to surround the Central Catchment Nature Reserve. The other buffer nature parks are Hindhede Nature Park, Dairy Farm Nature Park, Springleaf Nature Park, Zhenghua Nature Park and Chestnut Nature Park.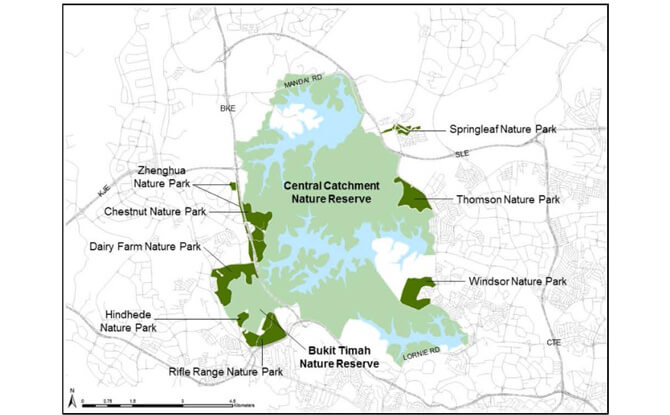 At the official opening of Windsor Nature Park on 22 April 2017, it was announced that a new 67-hectare nature park, Rifle Range Nature Park would be developed and opened in 2020.
Windsor Nature Park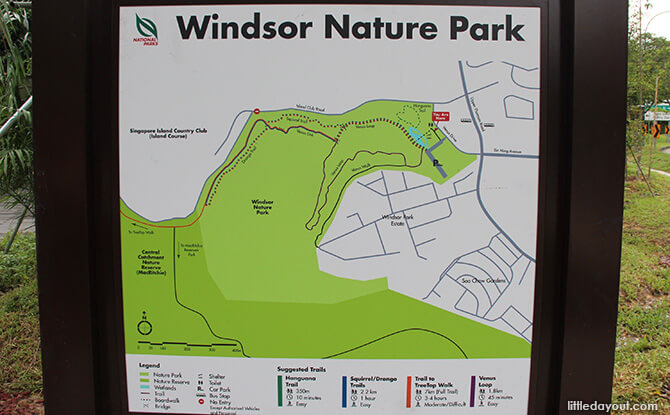 Location: Off Venus Drive at Upper Thomson