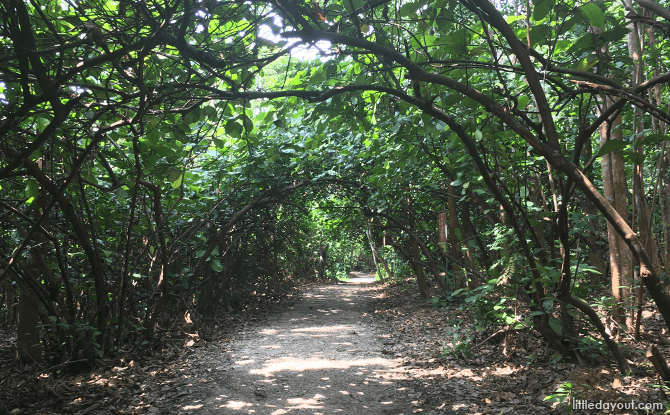 Chestnut Nature Park is Singapore's largest nature park. Found along the western edge of the Central Catchment Nature Reserve, it can be accessed by car via Chestnut Avenue, close to Bukit Panjang. Here are 12 things you need to know about Chestnut Nature Park before paying a visit.
1. Chestnut Nature Park is Made Up of Two Parts
Chestnut Nature Park consists of Chestnut Nature Park (North) and Chestnut Nature Park (South). The southern portion of the Park opened in April 2016 while the north section of the Park opened in February 2017.
The north section of the Park is approximately four times the size of the south section of the park.
The two halves of the nature park are divided by Chestnut Avenue, a narrow two-lane road that runs from Petir Road to Chestnut Avenue Waterworks.
In total, Chestnut Nature Park is 81 ha and serves as a green buffer between the nearby urban areas and the Central Catchment Nature Reserve.
2. Hikers and Bikers Have Separate Trails
NParks has designated separate trails for hiking and mountain biking. These trails run side-by-side at times, but they are clearly marked out and separated by barriers.
This makes it much safer for both hikers and mountain bikers. Be sure to stay on the correct trail at all times.
3. Limited Accessibility (Sort of) and Car Parking
Chestnut Nature Park is very inaccessible. Well part of it at least.
The closest bus stop is at Block 202 Petir Road, a 2 km walk away.
It does have a small car park which can be reached by driving along Chestnut Drive, under the BKE, up a hill, before arriving at the car park on the left.
However, at busy times, you can expect the car park to fill up really fast. This results in drivers having to park along Chestnut Drive and start their hike sooner than expected as they make their walk to the nature park.
We do have a little tip. If you wish to visit the northern end of Chestnut Nature Park, you can actually do so from Bangkit Road. There is a track that runs under the Bukit Timah Expressway which will lead you to the northern side of the park.
4. Amenities are at Chestnut Point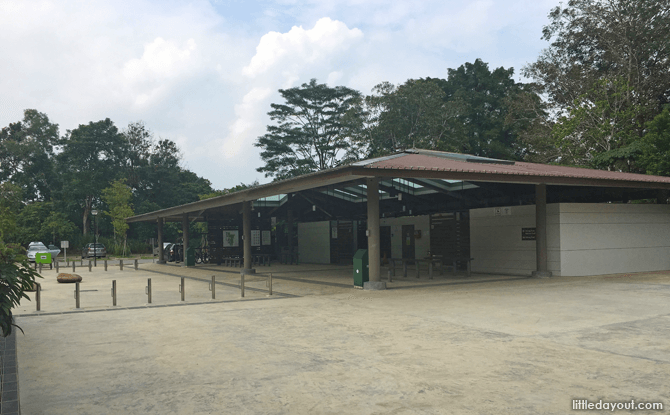 Next to the car park is Chestnut Point. Here, you will find toilets, a mountain bike rental shop, an open area to host community events and… well, that's it.
We didn't spot any vending machines here, just some drinking fountains. Be sure to bring your own water bottles.
The toilets at Chestnut Point are the only ones that we spotted in Chestnut Nature Park – unless you consider vegetation an option.
5. Choose from 3 Hiking Trails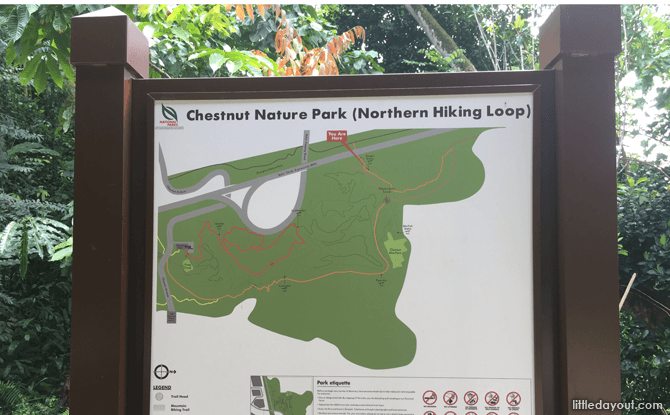 In total, there are three hiking trails to venture along – two in Chestnut Nature Park (North) and one in Chestnut Nature Park (South).
The two trails in the northern section of the park are the Northern Trail (2 km) and the Nature Trail (1.5 km).
The trail in the southern portion of the park is 2.1km long. It consists of two sub-trails, the Sunbird Trail and Drongo Trail.
6. The Northern Trail is NOT a Loop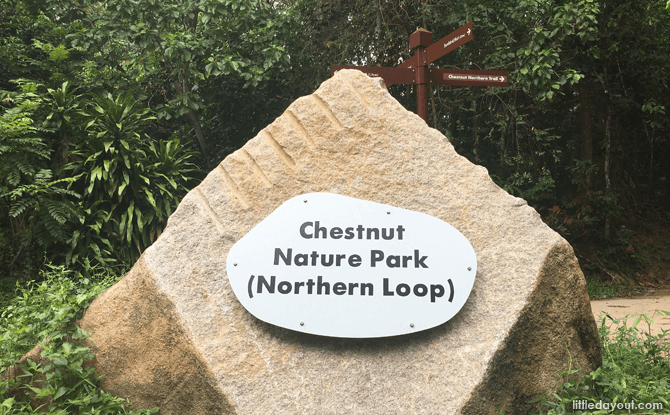 The hiking trails at Chestnut Nature Park are rather confusingly referred to as trail loops. And, if you look at the onsite map, the northern section of trails are referred to as the Northern Hiking Loop.
However, take note – the Northern Trail does not form a loop within Chestnut Nature Park.
Instead, if you start from Chestnut Drive and make your way north along the trail, the trail ends at a hut. From here, you can choose to press onward – out of Chestnut Nature Park – to Zhenghua Nature Park (and Bukit Panjang). Alternatively, you can turn around and RETRACE YOUR STEPS back to Chestnut Drive.
If you are going to make the return journey back to Chestnut Drive, be sure to factor this "loop" to your plans.
Having said that, the Northern Trail is an enjoyable trail to explore.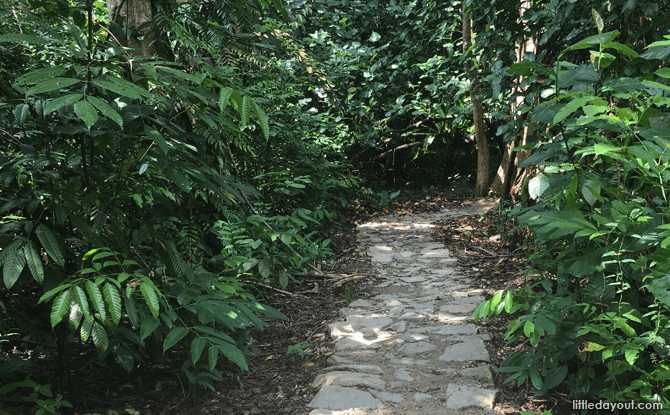 It starts off with a paved road before becoming a meandering walk along an almost-cobbled-stone pavement, and then a dirt track.
The trail also heads under a scenic grove of trees before ending in a clearing.
The clearing is where an observation tower, Chestnut Tower, is stands.
7. The Nature Trail is the "Water Trail"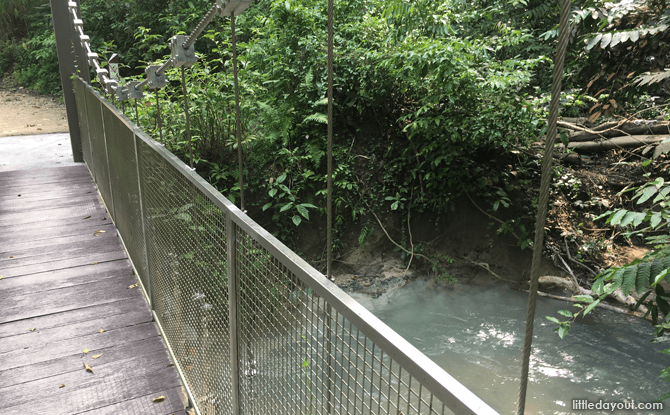 The second hiking trail in the northern Chestnut Nature Park is the Nature Trail. This can be accessed just off the car park.
The Nature Trail takes hikers along dirt tracks, up and down undulating terrain. Keep a lookout for durian trees and remnants of old kampong buildings. A highlight of the Nature Trail is the bustling stream that you will encounter along the route.
Sections of the trail follow beside the stream, and the sound of rushing water makes a pleasant accompaniment to the hike.
8. The Southern Trail is the "Rocky Trail"
A characteristic of the Southern Trail is the rocky granite boulders that dot the trail.
The rocky terrain is contrasted by sections of the trail that lead across fields of lalang the height of a man.
The Southern Trail forms a loop starting and ending at Chestnut Drive.
9. Look Out for Maps, Huts and Markers
As you walk along, maps on the trail allow you to get your bearings.
There are also huts where you can take a rest on a bench or shelter in the event of inclement weather.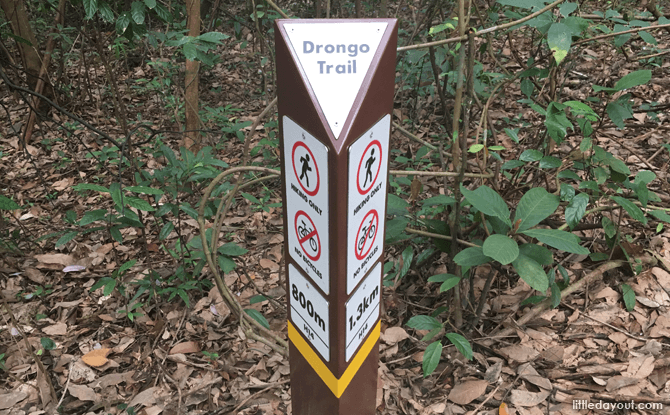 Another useful feature you will come across are trail markers. These triangular-shaped markers have been placed every 100 metres. They can be read from both sides. One side shows how far you have walked and the other side showing how much further you have to go.
10. Pets are Not Allowed in Chestnut Nature Park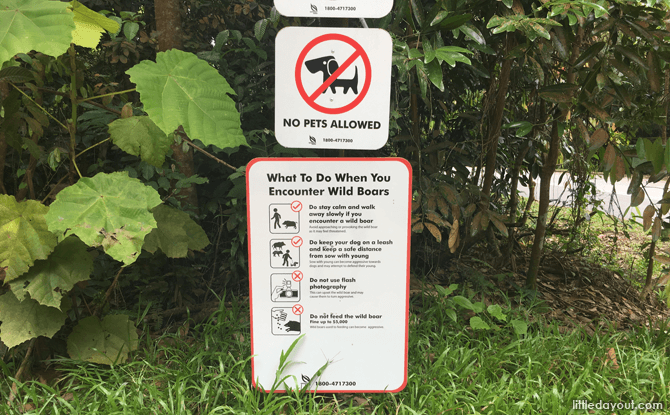 The only animals allowed in Chestnut Nature Park are the wild ones. You can expect to see macaques, monitor lizards and other wildlife. There are even instructions on how to behave if you encounter a wild boar.
However, domestic pets aren't allowed in Chestnut Nature Park – so leave Fi-Fi at home if you are planning a visit.
11. Keep Your Ears Open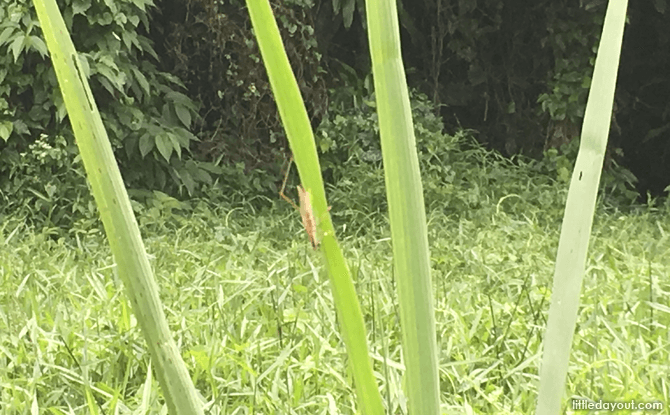 When in nature parks, you often hear the creatures around you first before you see them. Listen to the sounds coming from the forest around you and you will hear birds calling, insects chirping and the rustling of leaves above you. These are opportune times to pause and try to spot the wildlife in the nature park.
12. Pump Track for Mountain Bikers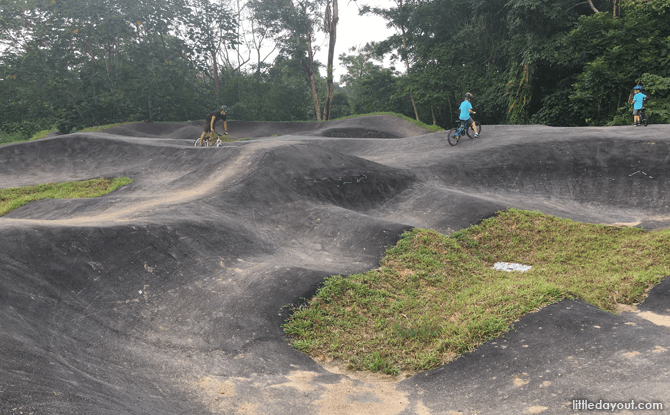 There are a total of 11 mountain biking trails at Chestnut Nature Park. These range in difficulty level from easy to extremely difficult.
In addition to these biking trails, there is a pump track at Chestnut Nature Park. It is located beside the car park.
A pump track is an off-road circuit for mountain bikers – even kids – to practise their skills at manoeuvring bumps and banks. The name "pump track" refers to the pumping motion made by the rider's upper and lower body as they make their way around the circuit.
[Editor's note: The pump track is closed for maintenance till end of March 2020]