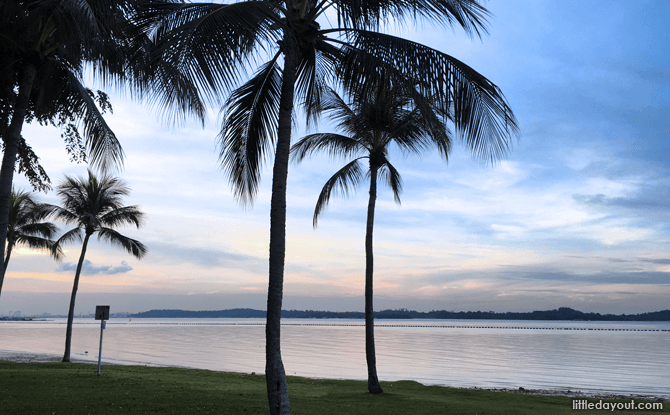 Guess which park's name means 'beach bolt-rope', implying a narrow beach? If you guessed Pasir Ris Park, you are right!
Pasir Ris Park is a wonderful choice for a fun family day out. Much more than just a long narrow beach (which isn't really narrow in our opinion), there are plenty of fun activities along the 6+ km long park. It is no wonder that Pasir Ris Park and its surroundings are a popular choice for outings and short, in-country getaways.
Pasir Ris Park is perfect for a day of fun and exploration. Here are nine reasons why Pasir Ris Park is just awesome.

1. Cycling and Skating
As with all parks, cycling and skating is a great way to appreciate the flora and fauna of the area, not to mention it is a great form of exercise. Bring your own bike or rent one from one of the Pasir Ris bike kiosks. Check out our article where we tell you where you can rent a bike or skates in Pasir Ris Park area!
---
2. Camping at Pasir Ris Park
If you have ever wanted to fall asleep under the starry night sky and wake up to the sound of the birds chirping and the smell of the sea, well, this next activity is definitely for you.
Pasir Ris Park is a great location for your next overnight outdoor adventure. There are two areas – Area 1 and Area 3 – where camping is permitted at Pasir Ris Park. Simply apply for a camping permit at any AXS station and get "campy"!
---
3. Playground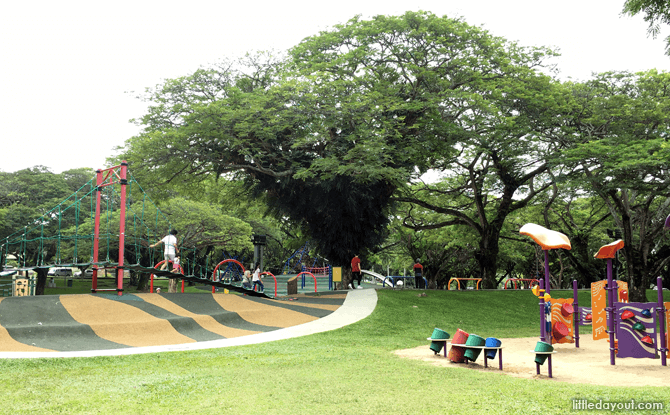 Swings, slides, hills, a bridge, a mini maze and more…all in one playground? That's right! The Pasir Ris Park playground is a great place for children to have fun. We especially love the large number and variety of swings in the park, the play structures that encourage imaginative play and self-expression.
We have a detailed article on what you can expect, and because Pasir Ris Park Playground is one of the largest in Singapore, we even designed a map for your reference. Check it out here.
---
4. Bird Watching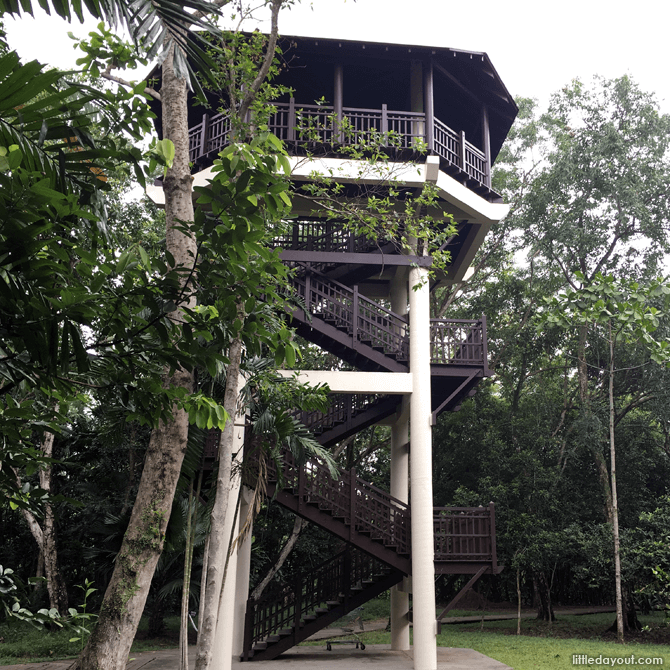 Did you know that Singapore has over 300 species of birds? Grab your binoculars, camera and hat for a great spot to find a variety of birds. Within half an hour, we saw a variety of birds in the area that included a bright yellow black-naped oriole and larger birds of prey.
Bird watchers can also observe birds in their natural habitat from the three-storey high bird watching tower located within the mangrove forest. Pasir Ris Park is great because there are many flat surfaces directly in front of the trees which make it good for the setting up of tripods.
On that note, if you spend enough time walking, you'll probably see a chicken or two running around as well. That counts as bird watching…right?
---
5. Pasir Ris Mangrove Boardwalk
Take a walk through the carefully preserved six-hectare mangrove forest.
The mangroves at Pasir Ris Park are an essential part of our eco-system with multiple functions. It acts as a buffer between land and sea and is also home to many species of animals and fish which can hide in its dense roots.
The educational stroll encourages you to look out for unique plants such as the Nipah Palm, which bears the attap chee fruit, commonly used in our yummy ice kachang, and listen out for the calls of birds such as kingfisher. Sharp eyes can also be kept peeled for mud crabs, mudskippers and water monitors.
Note that for safety reasons, cycling is not allowed on the boardwalk.
---
6. Pasir Ris Park Maze
Test your navigation skills without the help of Google Maps in the Pasir Ris Park maze. This challenge is sure to be fun for visitors both young and old. Young ones should go in with adult supervision as there are many corners in the maze as well as protruding branches.
---
7. Visit Kitchen Garden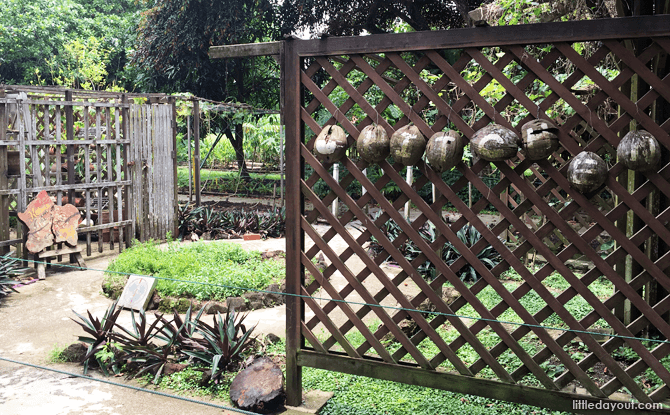 Enter Pasir Ris Park's very own secret garden, the Kitchen Garden, and get up close and personal with the herbs and plants we consume in our daily lives. Here, you will find herbs, flowers and plants that have aesthetic, medical and culinary uses. You even be inspired to grow your own herbs and vegetables at home! From familiar plants such as lemongrass and mint to others such as the guava plant and tapioca plant, you are sure to see something new and interesting.
The garden is run and cared for by dedicated volunteers. Just like at Singapore Botanic Garden's Healing Garden, visitors are not allowed to pluck or remove any plants from the garden so that others can enjoy and learn about the plants too. Also, to protect the plants in the garden, cycling is not allowed.
---
8. Gallop Stables
With its pioneering branch founded in Pasir Ris Park itself, Gallop Stables gives the opportunity to everyone, young and old, to go horseback riding without the hassle of being a member of a riding club. The Pasir Ris Park outlet has been under renovation for a while but is said to be opening sometime in the upcoming months. The facilities there are already built and ready to host both the four legged and two legged occupants. Check out the Gallop Stables website and social media pages for more updates and other available outlets.
---
9. Dining at Pasir Ris Park
After spending the day at Pasir Ris Park, hungry bellies can easily be fed at any of the dining outlets near Carparks C, D and E. Dining outlets include "Five Rabbit's Bistro and Bar" or "Georges @ The Cove". For those who prefer to do it themselves, rent one of the 65 pits along the beach and organise a feast for family and friends while enjoying a view of the beach.
A barbecue pit permit is required and can be applied at any AXS Machine or at www.axs.com.sg.
There are probably more than nine things to do here at this wonderful park in the East, so be sure to keep a look during your explorations on your next little day out!