Chalets in Singapore are typically located away from the hustle and bustle of the city. This gives you a chance to have a rejuvenating getaway near the coast or closer to nature. In this Really Useful Guide, we provide an overview of all you need to know about booking a chalet in Singapore
Chalets offer a bigger space for a quick getaway, gathering with extended family or planning a birthday party for your loved ones. Many families and friends choose to book chalets in Singapore which tend to be spacious, equipped with a kitchen plus a living room area ideal for hosting a party.
Let's take a look at chalet options in Singapore for those who would love a joyful BBQ gathering or a frills-free staycation!
---
Chalets In Singapore (in the East)
National Service Resort & Country Club Bungalows
The National Service Resort & Country Club or NSRCC is located at the eastern end of East Coast Park.
---
-- Story continues below --
Its spacious seaside bungalows offer an ideal getaway for families and friends. Each bungalow has two bedrooms, kitchen equipped with basic necessities such as a fridge, freezer, microwave oven, electric air pot, induction cooker and cutleries, living and dining area plus a sheltered BBQ pit.
Within the NSRCC premies are sports facilities like tennis courts, basketball court, pools, bowling lanes, arcade and a playground.
Read our review of the chalet staycation experience at National Service Resort & Country Club.
Where: 10 Changi Coast Walk, Singapore 499739
Rates: From $135 per night per bungalow from 1 August 2023 onwards for NSRCC members; from $250.56 for Citizens.
Website
---
East Villa at HomeTeamNS Bedok Reservoir
The East Villa at HomeTeamNS Bedok Reservoir is comprised of a total of 10 villas, six of which have unobstructed views of Bedok Reservoir.
Set on a hill slope, the villas are three storeys with a rooftop terrace and infinity pool plus BBQ pit. They come with in three different configurations – Deluxe Garden, Deluxe Reservoir and Superior Deluxe Reservoir. Each types has three bedrooms but with different configurations.
While staying at HomeTeamNS Bedok Reservoir, you can also enjoy various activities. Action Motion is an indoor obstacle course for the adventurous, while the sheltered Aqua Adventure water park offers water fun whether rain or shine.
Where: 900 Bedok North Road, Singapore 479994
Website
---
Civil Service Club Changi Chalets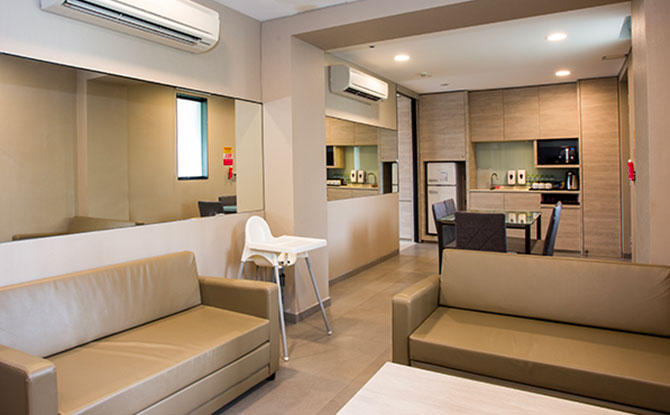 Located in Changi, Civil Service Club Changi offers various accommodation options ranging from suites to standalone chalets. On the club grounds are swimming pools, sports facilities, dining options as well.
Civil Service Club Changi chalets are divided into two locations: CSC @ Changi I and CSC @ Changi II.
CSC @ Changi I has single suites, family suites and villas. BBQ pits are located either on the rooftop of the villas or at BBQ pavilions.
The chalets at CSC @ Changi II at Fairy Point were once the residences of senior British Officers. They vary in sizes. All come with outdoor BBQ pits.
There are different rates available for Civil Service Club members, the Public Officers and the Public.
Where:
CSC @ Changi I is at 2 Nethevaron Road, Singapore 508503
CSC @ Changi II is at 30 Nethevaron Road, Singapore 508522
Website
---
Civil Service Club @ Loyang
Civil Service Club @ Loyang (previously known as Aloha Loyang) is open to the public and offers different accommodation types, ranging from terraces to bungalows. These come with eiher garden, pool or sea views. These chalets in Singapore have four bedrooms, bathrooms, living and dining areas plus sheltered BBQ pits.
Amenities include a water sports rental centre, swimming pool, kids playroom and a multi-purpose court. It is not far from the Pasir Ris Park Nature Playgarden too.
Civil Service Club Loyang also has four dog-friendly bungalows where fur-friends can be part of the party.
Where: 159W Jalan Loyang Besar, Singapore 507020
Website
---
Heritage Chalet Pasir Ris
The Heritage Chalet at Pasir Ris, just a stone's throw away from the Pasir Ris Park playground and the therapeutic garden, sports a retro look and are simple two storey affairs that come with an outdoor BBQ pit, kitchen, living area and car porch.
The chalets at this Pasir Ris chalet can accommodate up to 12 people, which is great if you are intending on holding a large party.
There are is also a glamping options with tents decorated with fairy lights, dining facilities and BBQ pits.
One of the interesting features at the Heritage Chalet is the tiled elephant playground, the last remaining mosaic playground of its kind.
There are also other activities at Heritage Chalet like archery and prawning.
Where: 125A Pasir Ris Road, S519121
Website
---
Cherryloft Resort
A frills-free chalet option in Singapore is the brightly coloured Cherryloft Chalet located in Loyang. Choice of accomadation include two-bedroom and six-bedroom units.
Facilities available at Cherryloft Resort include BBQ pits and outdoor spaces.
You may also want to read the reviews about Cherryloft Resort at Loyang before deciding whether or not it is suitable for you.
Where: 159 Jalan Loyang Besar, S509404
Website
---
D'Resort at Downtown East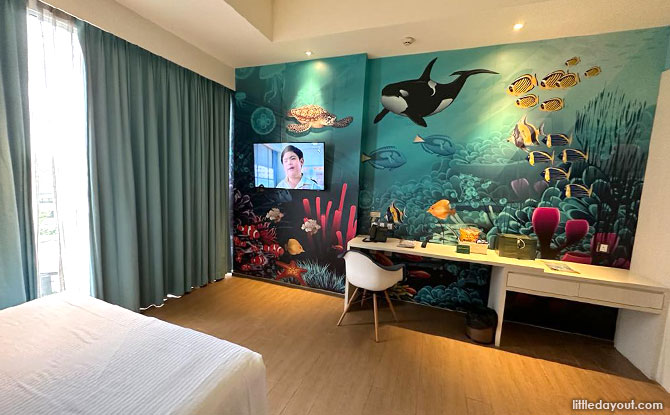 Located in Pasir Ris, D'Resort @ Downtown East has different suites with various themes.
Amongst the eight room options is the Rainforest Family and Beach Cove-themed rooms.
At the Rainforest themed family rooms at D'Resort @ Downtown East, you can expect a queen-sized bed and a bunk bed for the kids. The family room comfortably sleeps two adults and two children and is equipped with child-friendly features like a built-in toddler toilet seat.
While it is more a resort than a chalet, it is located close to the many amenities at Downtown East including Wild Wild Wet water park, Pasir Ris Park, Hi Roller indoor skating rink, and Upwall Climbing.
Discounts are available for NTUC members.
Read our review of our stay at D'Resort.
Where: 1 Pasir Ris Close, S519599
Rates: From $198.40 per night for a room for four
Website
---
Aranda Country Club
Although Aranda Country Club's suites are not chalets, its suites are suitable for families and larger groups.
There are a total of 38 suites including 20 luxury suites at Aranda Country Club. Each suite has one master bedroom and one twin-sharing room plus two toilets.
Facilities include swimming pool, gymnasium, barbecue pits, gymnasium, karaoke, food, reading room and play room.
Where: 60 Pasir Ris Drive 3, S519497
Rates: From $194 per night
Website
---
Chalets in the West of Singapore
Did you know there are chalets in the West as well? Here are a few to consider.
West Villa at HomeTeamNS Bt Batok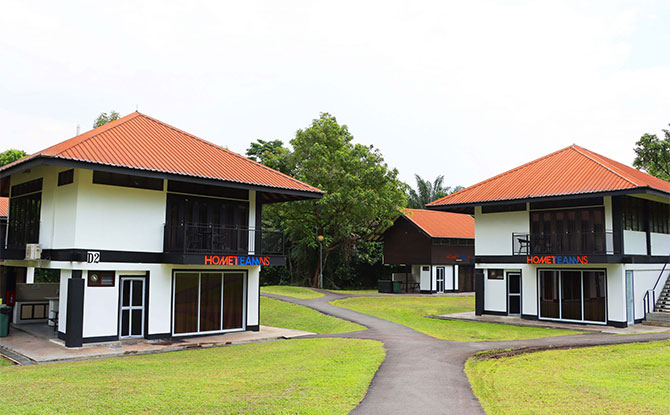 There are several villas that can be booked at at HomeTeamNS Bukit Batok.
Each villa comes with beds for four people to five people. There are dining and living areas along with a private BBQ area and outdoor benches.
Visitors can also make use the facilities like the futsal court, playpen, the Adventure Centre, gym, games room, golf range, laser quest, indoor playground and swimming pool.
Booking rates are different for HomeTeamNS Ordinary/Associate Members, SAFRA/JOM/Social/Passions and general Guests.
Where: 2 Bukit Batok West Ave 2, S659003
Website
---
The Chevrons Jurong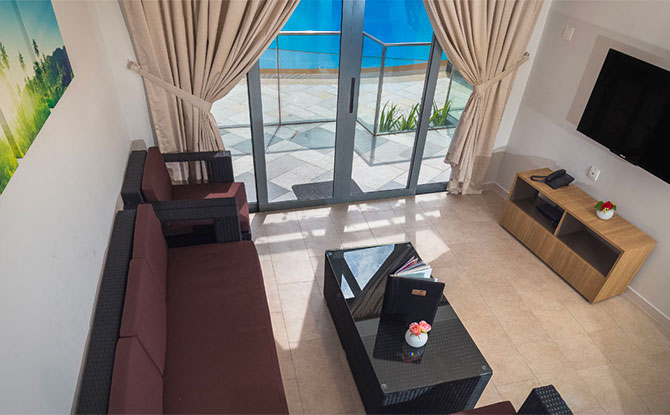 Choose between bungalows and chalets at The Chevrons Jurong.
Bungalow units consist of two storeys with four bedrooms as well as a BBQ pit. Each bungalow unit comes with one bedroom on the first floor, and three bedrooms, including a master bedroom, on the second floor. They are large enough to accommodate large family gatherings.
The six chalets at The Chevrons Jurong are double-storey with two bedrooms, dining area, kitchenette and sheltered BBQ pit.
Facilities at The Chevrons Jurong include a pool, gym, bouldering gym, dining areas, café, lounge, darts & pool room and a spa.
The facilities are open for both Members and the Public with Members enjoying preferential rates.
Where: 48, Boon Lay Way, S609961
Rates: From $255 per night for bungalows, $155 per night for chalets
Website
---
Chalets in the North of Singapore
Kranji Sanctuary Resort
Kranji Sanctuary Resort is located in the northwest of Singapore surrounded by the Kranji Countryside and its farms.
Vacationers have five options to choose from at the resort: Standard Room, Superior Room, Executive Room and Family Room.
The rustic villas are cosy and homely for a relaxing time in the countryside. It is located just a short distance away from the entrance to the Kranji Marshes.
Where: 10 Neo Tiew Lane 2
Rates start from $180 per night
Website
---
Farmstay Villas Gardenasia
If you have dreamt of staying in a "black and white", here's your chance!
The three farmstay villas in Gardenasia are designed like the colonial houses from the past. The villas have unique interiors: English, Oriental and Contemporary designs. Each villa comes with a Queen-sized bed.
Each villa can accommodate a maximum of four guests.
One of the villas is pet-friendly.
It is situated next to the popular Bistro by Gardenasia where stayers can enjoy a discount.
The Farmstay Villas at Gardenasia are just a short distance away from Sungei Buloh Wetland Reserve. You can also pay a visit to other sights around the Kranji Countryside and farms like Hay Dairies Goat Farm.
Where: 240 Neo Tiew Crescent, Singapore 718898
Rates: $380 per night and above
Website
---
Head for a Getaway & Rent Chalets in Singapore
Organising a chalet getaway in Singapore can be an interesting way to celebrate a special occasion with family and friends, or simply to get together and enjoy grilled food or takeaways.
Chalet staycations always make great memories and make retreats out of the city an opportunity to recharge.