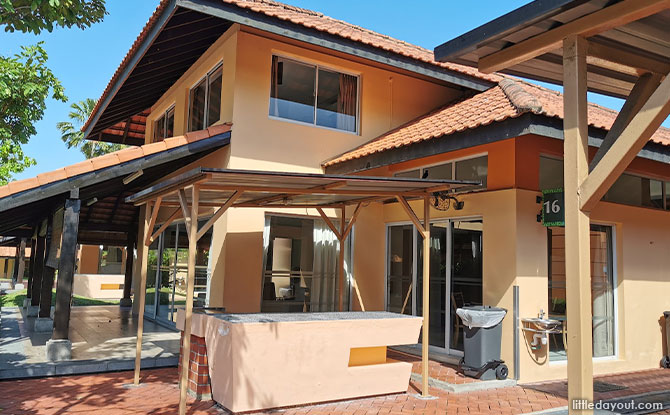 Memories of the sea breeze, barbecued food, cycling, mahjong are perhaps some of what comes to mind when we talk about chalets in Singapore. And that is part of what we experienced on an NSRCC Chalet Staycation at the National Service Resort & Country Club.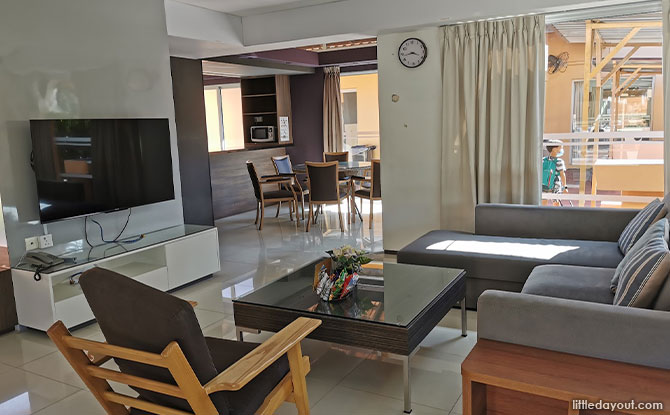 We share some of the highlights and family-friendly activities that we experienced at the NSRCC chalet staycation apart from BBQ night at a local getaway!
NSRCC Chalet: Spacious Seaside Living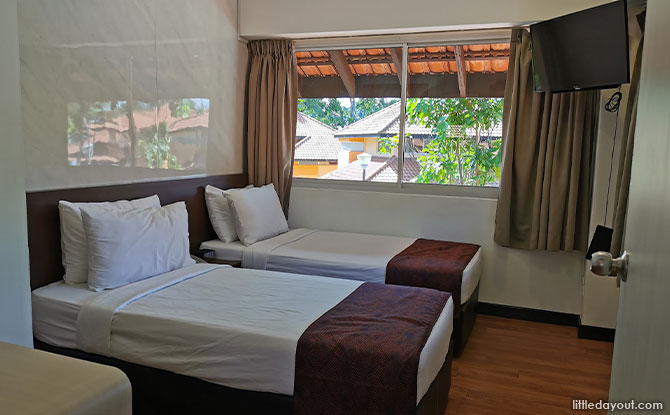 ---
-- Story continues below --
The two-storey bungalows at NSRCC are spacious homes away from home perfect for a family, with two bedrooms upstairs, a living room, a dining area, equipped kitchen, two bathrooms and a BBQ pit.
The NSRCC chalet we stayed at was located just off the eastern end of East Coast Park; one can enjoy the views of the golf course or the beach and soak in the sea breeze.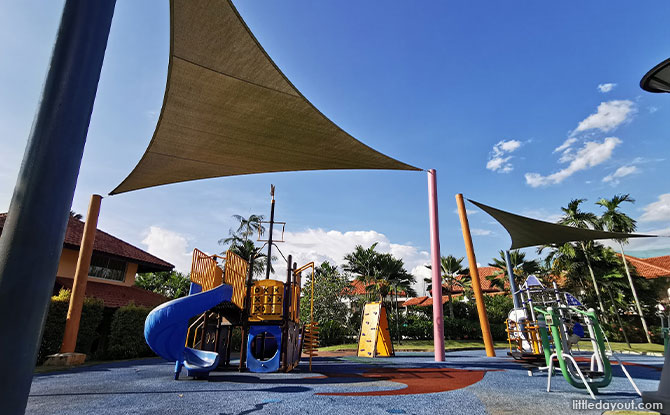 Children will enjoy the spaciousness as well as the opportunity to explore ponds, green foliage surrounding the bungalows. We could also play a game of badminton at the open spaces, making the most of our mini holiday.
Look for the playground nearer the reception, it has an old-style merry-go-round apart from the usual slide as well as an exercise corner.
---
Swimming Pool & Hand Paddle Boats
A pool is a must-visit in our tropical climate! We were delighted to see pools for various kinds of swimmers at chalet we were staying in, pools for babies, experienced swimmers and those keen on water play!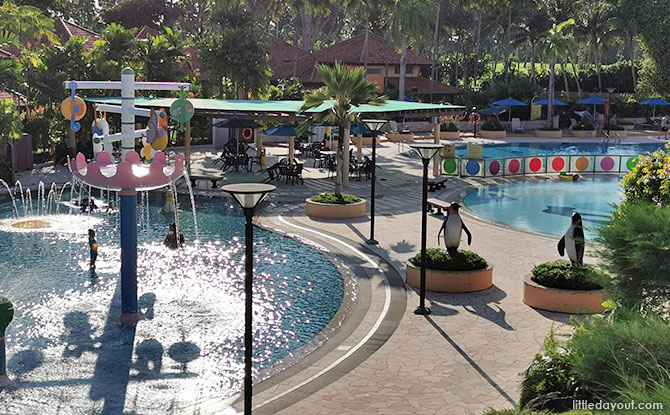 There were mini hand paddle boats for the children, splash zones with buckets of water spilling as well as a lap pool ideal for serious swimmers.
---
Bowling Alley, KTV Rooms and Arcade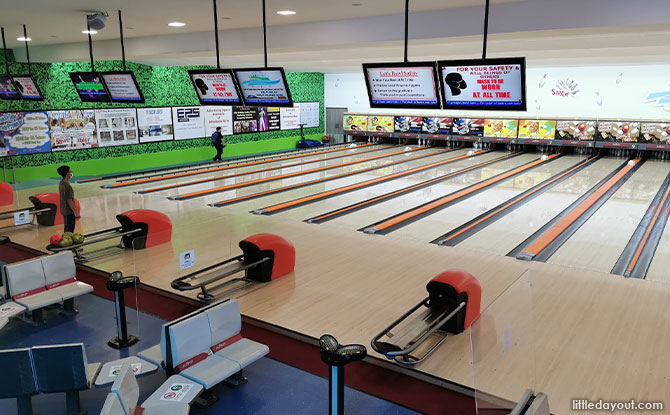 At the NSRCC chalet, we wouldn't recommend spending all the time at the bungalow as there are plenty of activities at the clubhouse. We headed to the bowling alley with 20 lanes for some bowling fun! You can also sing your hearts out at the KTV rooms, one room is also dedicated to Nintendo Switch gaming. Just next to the bowling alley is the Family Zone comprising of arcade machines, kids play area and massage chairs.
Each chalet was entitled to 1 free bowling game, discounts off arcade coupons, KTV rates and Switch gaming rates.
---
Cycling at East Coast Park and Jurassic Mile
The NSRCC at Changi is the perfect spot to cycle to either East Coast Park or Jurassic Mile.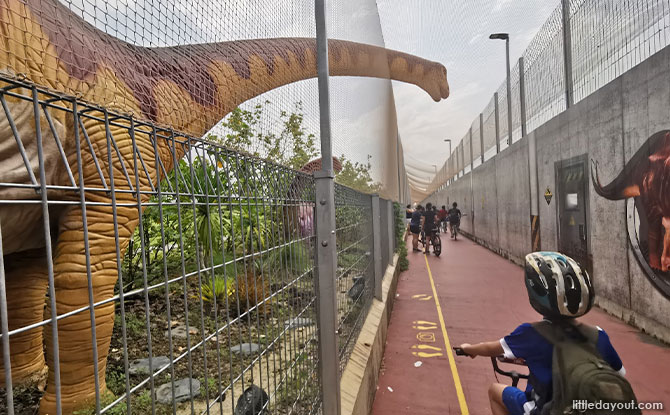 Jurassic Mile is a mere 20 minute ride away and Changi Airport is within reach. Apart from admiring the dinosaurs, cyclists can also see planes take off or land along the Tanah Merah Coast Road.
East Coast Park was also accessible and a 30-minute ride to Marine Cove, the nearest large-scale playground. Even if one chooses a short walk, the nearest beach and breakwater is within a 5 minute walk.
Do note that there are only adult-sized bicycles for rent from NSRCC bicycle kiosk. For the nearest kiosk for rental of children bikes, you would need to cycle 20 minutes towards East Coast Park.
---
Food & Beverage, Other Meal Options
Most might choose to do a BBQ for family and friends at the chalet as there was a BBQ pit, a wash point, a wall fan and an "island". We could get the essentials from the resort – fire starter, charcoal, serviettes, tongs and metal grill.
The kitchen was fairly well-equipped, but missed items such as kitchen scissors and tongs. It did have a chest freezer, refrigerator and microwave oven for some light cooking.
There was also the choice of food outlets such as Fu Lin Men, Passion Café, Bistro Bowl or Sky Bistro within the resort. There is also a seaside restaurant – Stella Seaside Lounge, a six-minute walk away from the resort.
---
More Group Activities & Exciting Sports
If you reckon you have more energy levels than we did, there are tennis courts, a multi-purpose court for basketball as well as the Sea Sports centre. Enjoy special rates for courses on Stand-Up Paddling, Windsurfing and Laser Sailing.
---
A Quick Getaway Without A Passport at the National Service Resort & Country Club
We all enjoyed the chance for a quick getaway without the hassle of flying nor fussing over passport validity to get to a spot of tranquillity.
The bungalows at NSRCC are perfect for multi-generational families, with plenty of activities for everyone!
If you were to go there, our tip would be to choose a unit that's further away from the carpark as inconsiderate guests may be pretty loud in the middle of the night. A bungalow overlooking the golf course or East Coast Park would be perfect.
If you enjoyed reading this story, you may also enjoy this one on the chalets in Singapore.