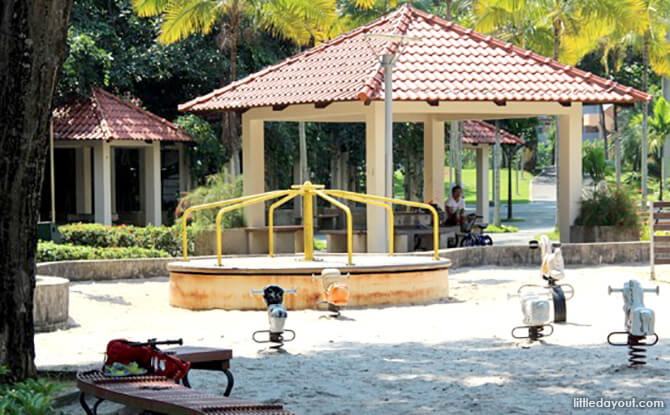 Does anyone still remember the old merry-go-rounds that could be found in Singapore? The large and heavy steel play equipment that you would have to give a big heave before hopping on board once the momentum picks up?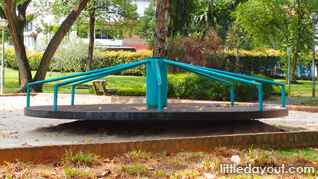 In the past, there were a couple of these relics still around. There was one at Begonia Road and another at Tiong Bahru Park.
Sadly, these original, old-style merry-go-rounds have all been replaced.
Nowadays, you can find smaller versions of these old-style merry-go-round in Singapore. These are characterised by grab bars which look like flying buttresses  joining a central spindle. Presumably, these merry-go-rounds have been updated to be safer compared to their old-school predecessors.
Old-Style Merry-Go-Rounds in Singapore
Yan Kit Playfields
Yan Kit Playfields at Tanjong Pagar has a little silvery merry-go-round with three bays for kids to stand on once the spinning begins. It can be found alongside the rest of the play equipment at the park.
---
Labrador Park Machine Gun Pillbox Playground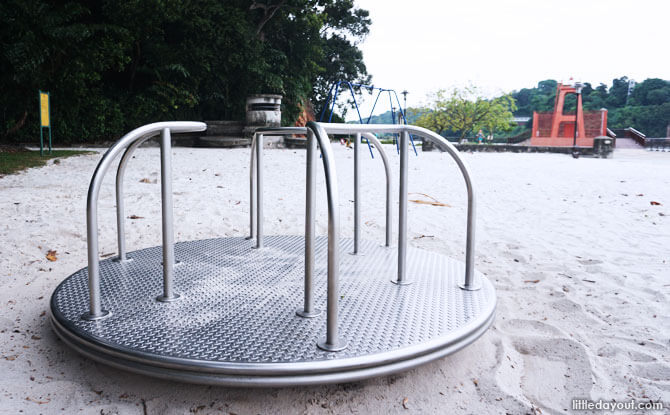 Located in front of the machine gun pillbox at Labrador Nature Reserve is a little playground with some old school vibes. This is in part due to the merry go round where kids can spin around and around. Even though it doesn't have a central spindle, we're going to include it into the list.
---
Watten Heights Playground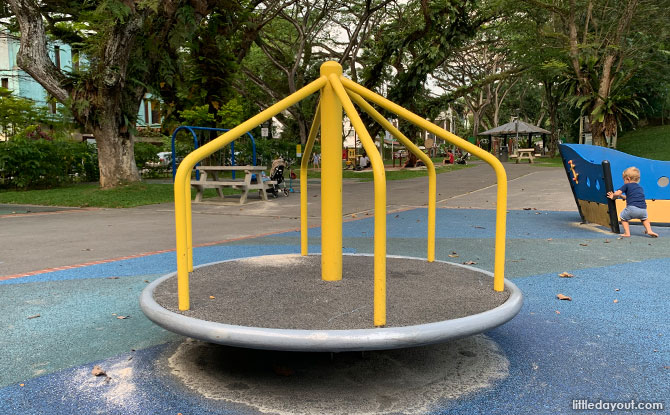 A classic-looking, yellow merry go round can be found at Watten Heights Playground. It's part of the park's fun play equipment which includes a zipline.
---
Firefly Park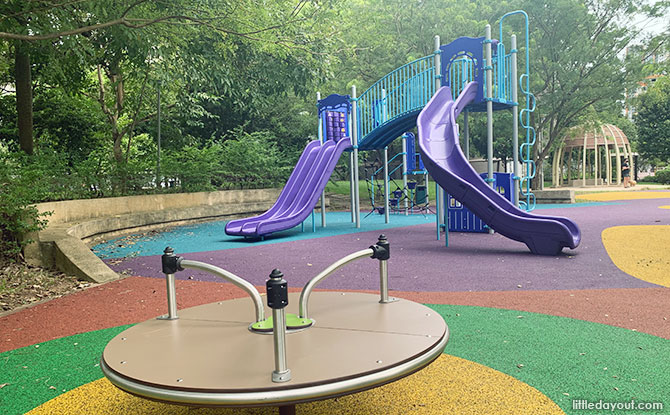 Firefly Park in Clementi has a little mini version of an old-school style merry go around. It sits beside the large purple play structure in the neighbourhood park.
---
Telok Kurau Park
This playground has a mix of both old-school play equipment such as a blue and red merry-go-round, swings and a sandpit, as well as more "modern" play areas such as mini rock climbing wall.
---
Bangsawan Park
There is a mini merry go round at this eastside park at Opera Estate. Find out more about Bangsawan Park.